Studying has to be done with complete focus, and a good studying environment will not just help you focus better, but also help you feel less tired. That includes a good table lamp, which can help you read with less eye strain than when you do without one.
Reading something for long periods of time on your desk makes your eyes feel stressed, and it's obviously caused by the fact that reading with dim lighting in your room is just simply more difficult. Once your eyes are tired, it's mentally exhausting to keep your eyes on every word you see.
Fortunately, there are many good choices of affordable study table lamps that reduce eye strain. With one or more of these products, you will not just experience less eye strain, but also a better focus to help achieve better grades and get more things done.
#1 Flexible desk lamp to study anywhere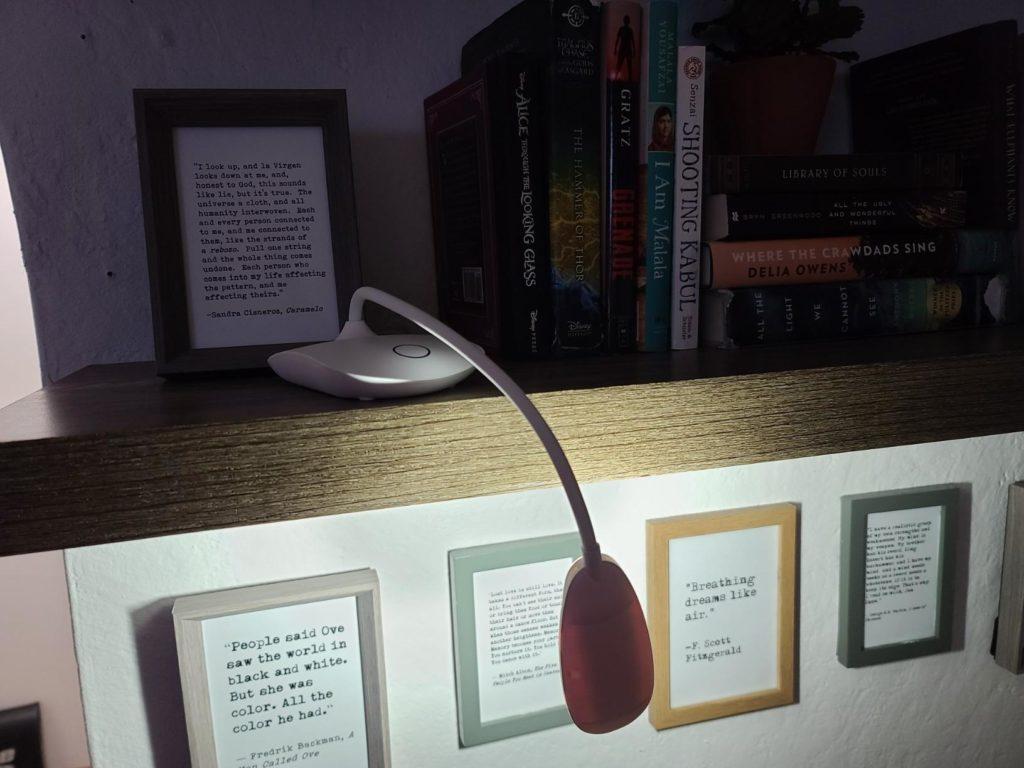 Studying while traveling can be a challenging activity, especially when the room isn't bright enough so you have to make interior changes to allow sunshine spread throughout the room, or position your old study lamp to light up where you study.
Thanks to this foldable study lamp with its 360° flexibility, you can now study or work wherever you're without it costing too much space on your baggage, and, you get to position the study lamp in any form and position where you need it.
---
#2 Dimmable study lamp for the best study comfort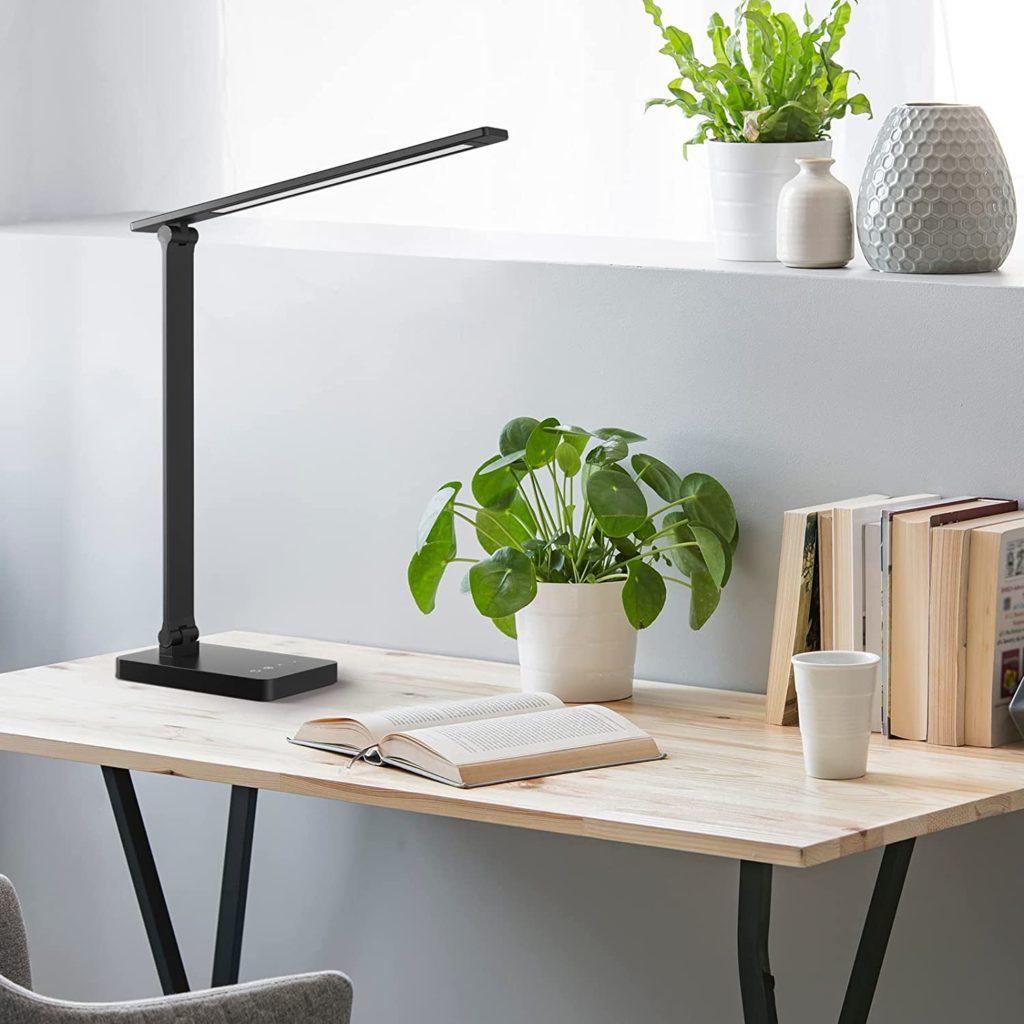 Sometimes it's not that your room is too dim that makes it uncomfortable to work or study, and a regular study lamp wouldn't help that either, as it might be too bright, especially when you can't control the brightness level.
With this dimmable study lamp, you can now choose 15 different light settings that help reduce glare and control the color temperature using its touch screen feature, making it super-comfortable to study during the day with the window is opened.
---
#3 USB-powered office lamp to help work anywhere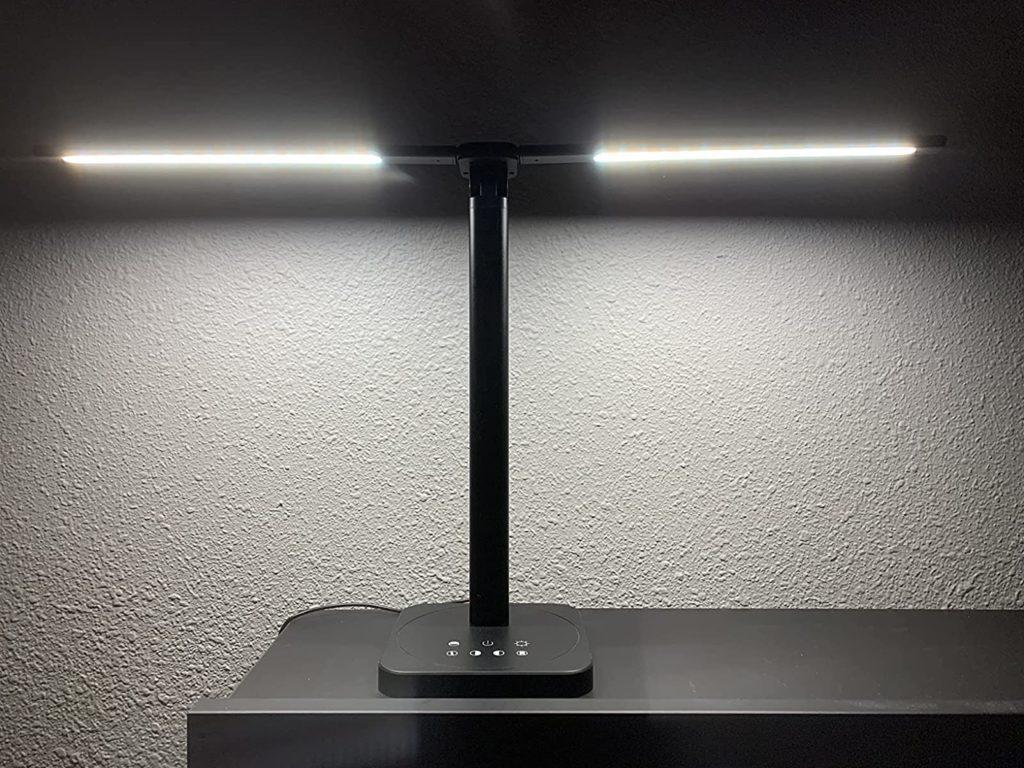 Studying or working shouldn't be difficult when you're traveling, especially when there's no or limited electrical outlet nearby. It's only enough to power your laptop and phone, but not enough to keep it comfortable to read your books for your eyes.
That won't happen again with this USB-powered study or work lamp. When there's no outlet, simply power it with your laptop or a power bank. It saves more electricity, too.
---
#4 Study lamp that can wirelessly charge your phone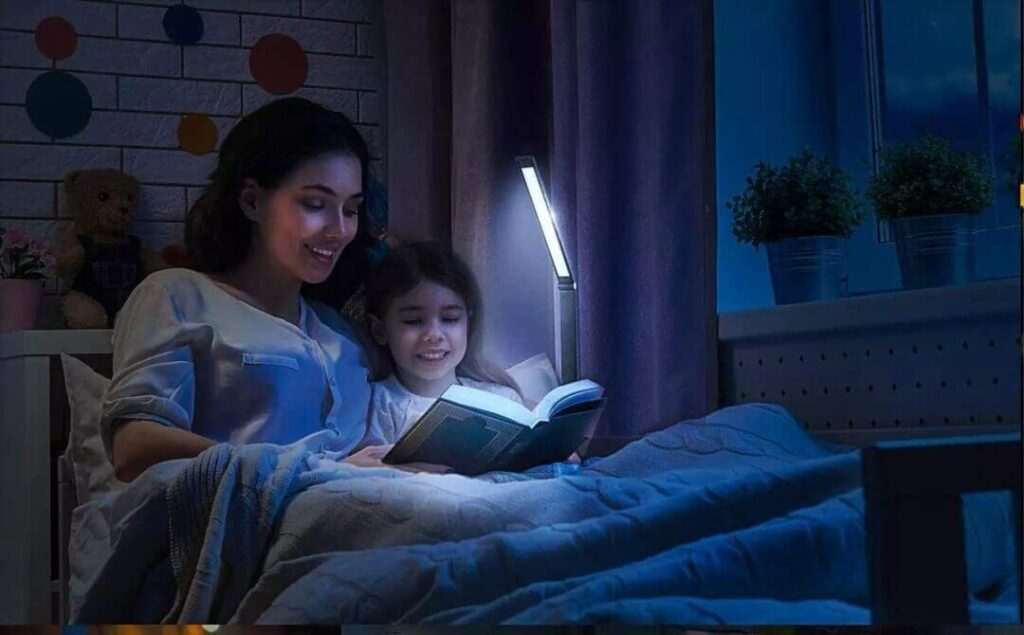 Students today need to be on their phones all the time, including when studying, and it takes more effort to plug in the charger when you also already plug in your study lamp to read easily. But, both cost more space on your studying desk.
With this study lamp, you can simply put your phone above the lamp's base, let it charges your phone wirelessly, and continue studying with complete focus.
---
#5 Study lamp with a night light and timer to aid sleep
Studying at night can make it more difficult to sleep, especially for people with insomnia. The blue light from the lamp, combined with your laptop and phone, affects your sleep quality negatively, and that's not good for overall health.
Fortunately, this study lamp won't compromise your sleep quality over school grades. Thanks to its gentle lighting that allows you to fall asleep right after a complete focus of studying.
---
#6 Cordless study lamp with a clamp to lighten up anything
A regular study lamp can be a hassle. It's large and heavy. With its messy cable, it clutters your studying desk and is distracting. The effort you put to read your book easier paradoxically makes the process more difficult.
Well, with this small, cordless study lamp, you can study effectively with the least effort and distraction possible. Better yet, it has a clamp that allows you to lighten up your worksheet without costing more space on your desk.
---
#7 Study lamp with pen holder to unclutter your desk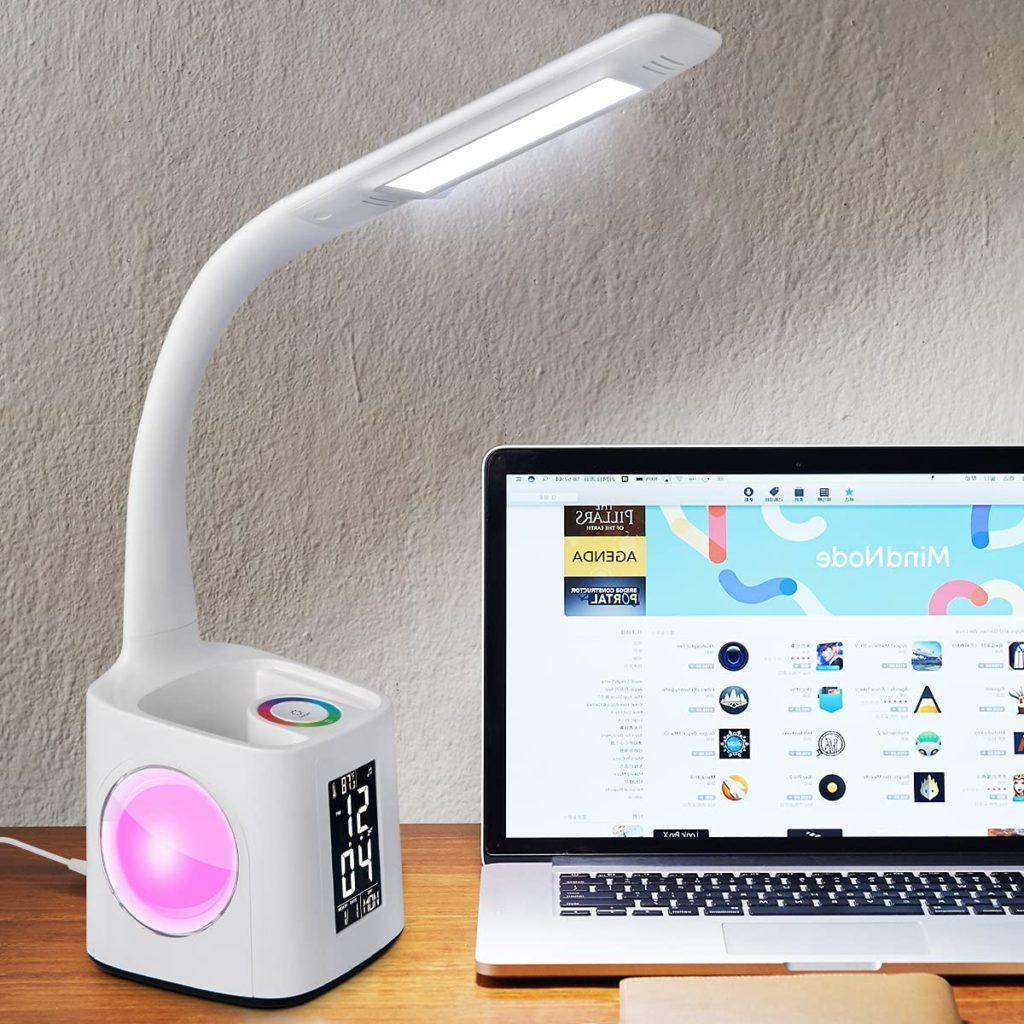 Saving more space on your desk isn't easy. Your smartphone, pens, highlighters, rulers, pencils, and any other stuff you regularly use are scattered around your desk. Thinking of buying a study lamp? That would add additional mess.
This study lamp wouldn't. Better yet, it will fix your cluttered desk by providing a holder for your pens and other stuff. Additionally, it gives you an LCD clock so no need to check your phone for time anymore.
---
#8 Truly portable study lamp that's foldable and lightweight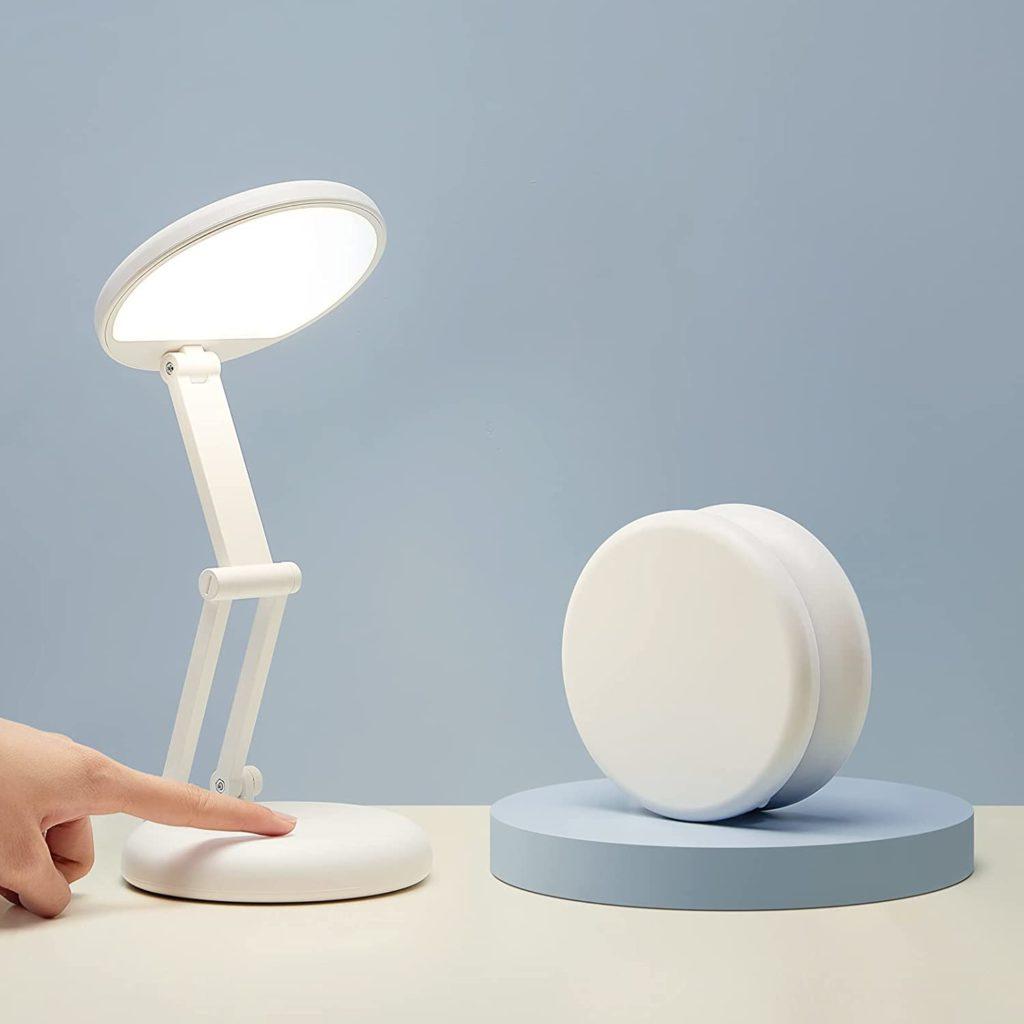 Most study lamps cost too much space, and you wouldn't think of bringing one inside your bag. The messy cable and the weight also make it more of a hassle, but you realize you have to study for the exam anyway.
That hassle is now gone with this truly portable study lamp. Simply fold it, and it forms a lamp case of its own, so you don't need to worry about combining it with your laptop and phone. No need to worry about how you're going to study anywhere as well.
---
A good study lamp doesn't just reduce eye strain and helps you read better. The most significant benefit you will get is improved productivity in the long-term and that helps you achieve better grades and get things done. There's no need to search for one when you can look at the above list.