Losing a wallet may happen to anyone. Of course, it is frustrating and can ruin our day, especially when you are about to leave your house or pay for something. Wallets are usually used to hold some amount of cash, cards, and also licenses, and it is a big problem if we lose them all. Fortunately, today's technology can help us track our valuable things, one of which is the AirTag from Apple.
Air Tag can bring us peace of mind when it is attached to our wallet. To make this happen, we need a special wallet which is called as the Airtag wallet, a wallet that is designed with a special pocket just for Air Tag so that it stays secure and doesn't fall out.
Here is some recommendation for the best Air Tag wallet that you may consider buying.
#1 Hawanik Slim Pocket Wallet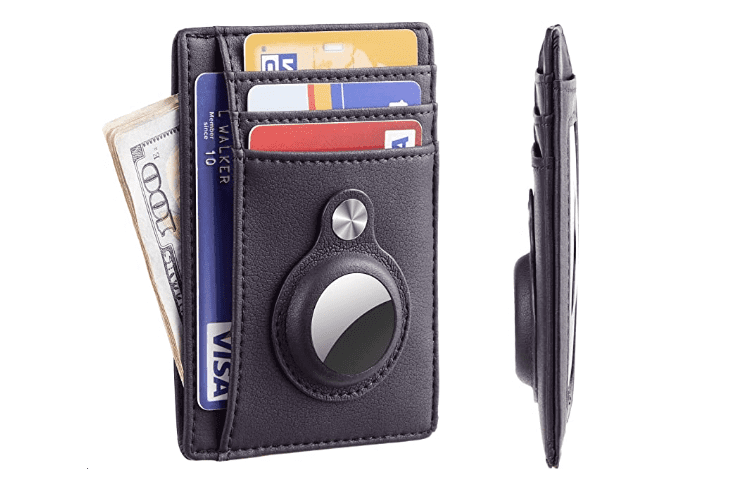 Made from a premium leather lining, the Hawanik Slim Pocket Wallet is built for you who are looking for an affordable air tag wallet. It has a built-in space designed solely for an Air Tag. This minimalist product comes in the size of 3.3 x 4.1 x 0.12 inches (8.3 x 10.4 x 0.3 cm), allowing you to put it easily into your pockets or bags without bulky appearance.
The Hawanik Slim Pocket Wallet has enough space to store an ID card, 5 debit or credit cards, and 6 folded bank notes, a good choice if you don't like to put a lot of cards or cash. The holder has a strong buckle snap, protecting your AirrTag finder securely, and is easy to install and connect. There are 11 color variants available that you can choose to match with your style.
---
#2 Raptic Tactical Wallet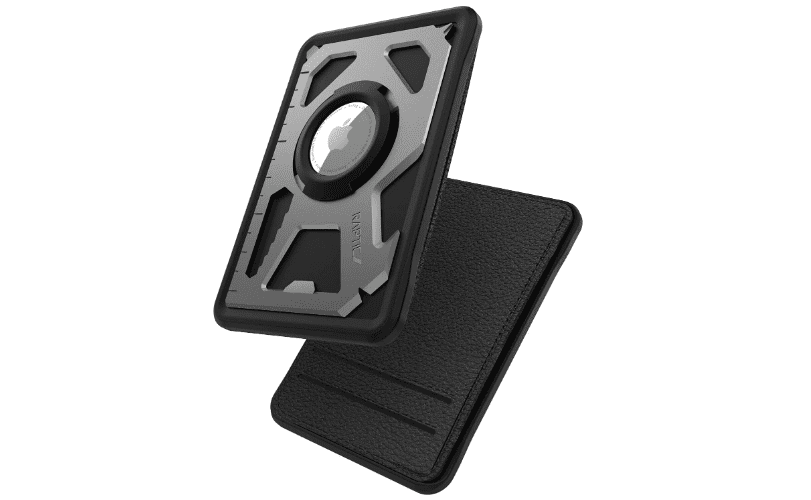 As its name suggests, the Raptic Tactical Wallet comes with a tactical design and intense look. It is equipped with an integrated Air Tag holder to help you to do easy wallet tracking. There are 8-in-1 detachable and durable stainless steel multi-tool that includes a pair of screwdrivers, a wire cutter, a letter opener, a pry bar, a bottle opener, a hex head wrench, and a 3 inches ruler.
The Raptic Tactical Wallet has a dimension of 4.09 x 2.83 x 0.51 inches (10.3 x 7.1 x 1.2 cm). This slim wallet can hold 4 cards or 2 cards with folded bills or cash. It can help you to keep organized and prepared for any occasion. Made from premium vegan leather, this Air Tag wallet is stylish, soft, and made for outstanding durability.
---
#3 Spigen Wallet S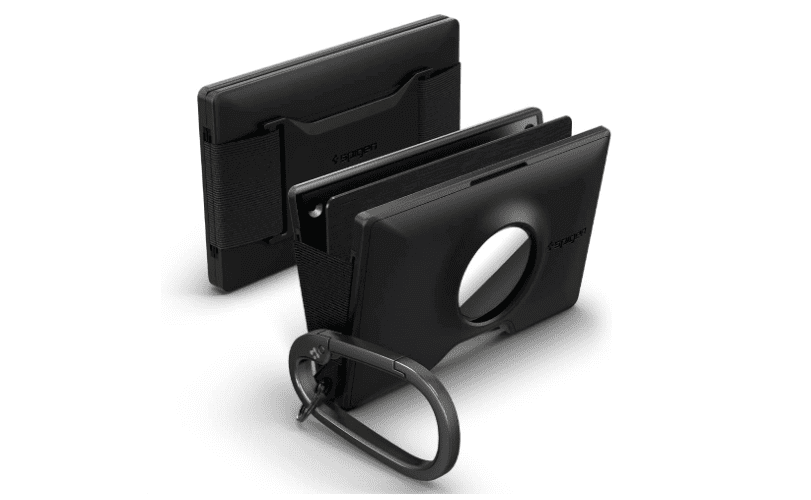 The Spigen Wallet S is featured with RFID blocking protection that prevents your card from being scanned even with the most powerful RFID chip readers. Its integrated nylon elastic cash strap with circular silicone pads inside keeps your money in place and does not slip. It can hold up to 12 different cards without stretching and keeping its dimension slim.
This air tag wallet comes in 1.18 x 3.15 x 1.97 inches (3 x 8 x 5 cm) dimensions with two color variants; black and gunmetal. It has a detachable polycarbonate cover that allows you to insert the Air Tags inside the wallet. Spigen also offers a bundling package with key rings and metal plate accessories so you can hang it around anywhere.
---
#4 Walldo Slim Premium Wallet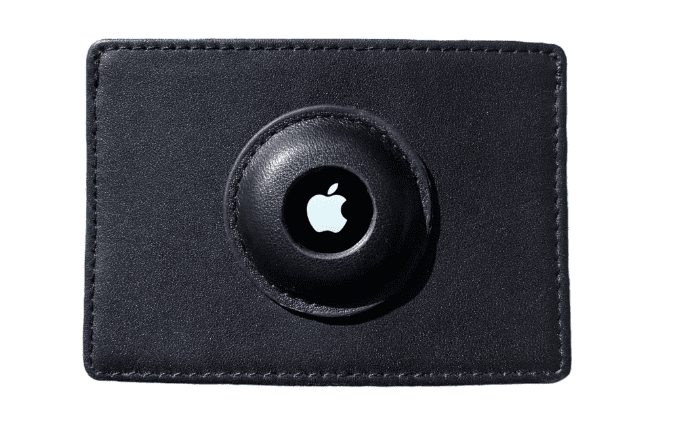 This premium air tag wallet offers not only good functionality but also good looks. Its minimalist front pocket design secures the Apple AirTag without getting bulky, while the patent-pending dual flap setup ensures the thinnest front pocket wallet dimension. Walldo Slim Premium Wallet is made from premium genuine soft textured cow leather and soft-touch RFID blocking lining.
It is possible for you to bring this Walldo wallet to the pool without worrying about misplacing it. With an IP67 water and dustproof resistance rating, the AirTag wallet can withstand being immersed in water for up to one meter for 30 minutes. It is already tested to ensure cards are safe and secure when held in the wallet.
This wallet design allows the Apple logo from the Air Tag can be viewed through a window cut-out, a good choice for those who love the Apple brand. It has a 2.76 x 0.59 x 3.94 inches (7 x 1.5 x 10 cm) slim minimalist dimension with the ability to hold up to 6 cards, an AirTag, and 3 bills or cash. Since it has premium packaging from a soft touch felt lined foam, this Walldo Slim Premium Wallet can be considered as a premium gift.
---
#5 Typecase Bifold AirTag Wallet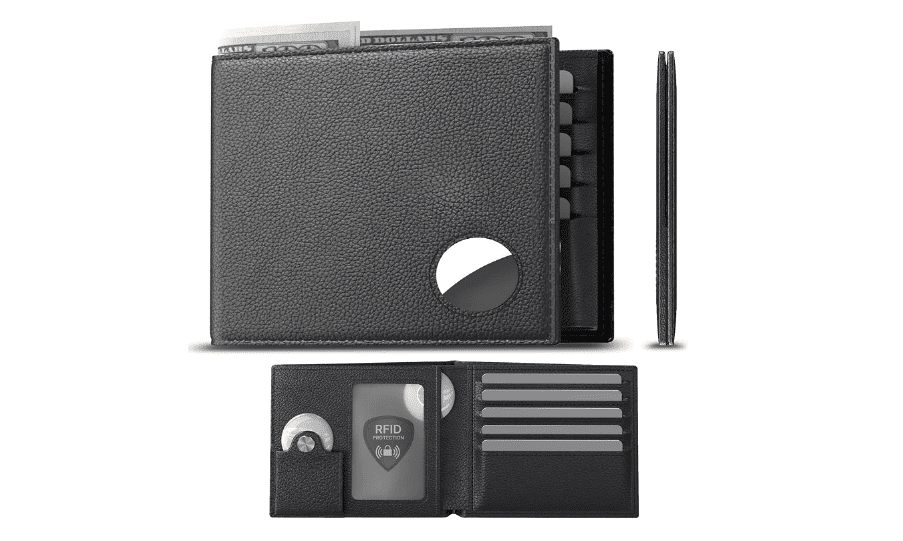 For anyone who likes to carry much more cards or cash and prefers the traditional bi-fold design, this Air Tag wallet from the Typecase brand can be considered. This product is made from natural, top-grain leather and lining, providing a soft surface and grained texture. It gives an excellent grip, is water resistant, and is easy to clean. Typecase Bifold wallet has 3.7 L x 4 W x 0.3 H inches (9.3 x 10.1 x 0.7 cm) of dimension, which is slim and fits in your suit and jacket pockets.
It includes 2 built-in holders for AirTag with strong flat snaps, 2 bill compartments, 6 horizontal credit card slots, 2 vertical pockets, an ID window with a thumb slot, and features the RFID blocking layer. Typecase provides 2 Air Tag placement modes with 2 inner pockets for different uses. The stealth mode holds the AirTag in a hidden compartment, while the space-saving mode sets AirTag in a tight round window for unparalleled thinness. Both of the ways provide peace of mind since it is equipped with strong and flat snaps that secure the AirTag into its place and prevent it from falling out.
---
#6 Furid Airtag Wallet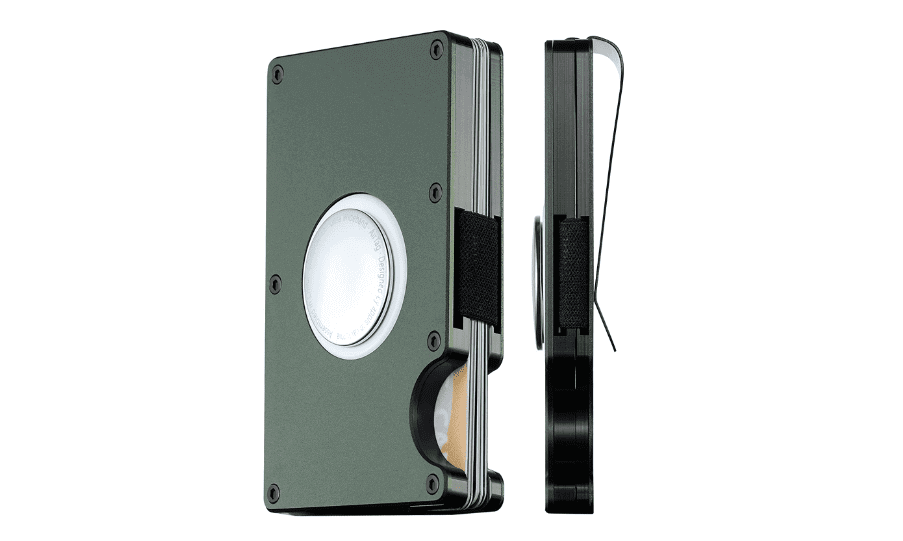 This air tag metal wallet can be an option to choose for you who often can't find your wallet. As a trendy wallet maker, Furid offers a fashionable appearance and meets the customers' expectations. This Air tag wallet is made from selected high-quality metal materials to create sturdy wallet quality, precision-cut edges, and provides complete control over your card storage.
The Air Tag has an integrated space within the wallet. You just have to open your phone to find the wallet easily when it is missing. The money clip in this wallet can easily hold up to 12 cards with a slim, minimalist, and compact size of 2.1 x 3.4 x 0.2 inch (5.3 x 8.6 x 0.5 cm). Its flexible webbing can improve the card holding capacity, which is very convenient for card carriers. Designed for men, this product is lightweight, fashionable, and convenient to bring. There are 22 color variants available that give a lot of style options.
---
#7 WXM Wallet with Air Tag Holder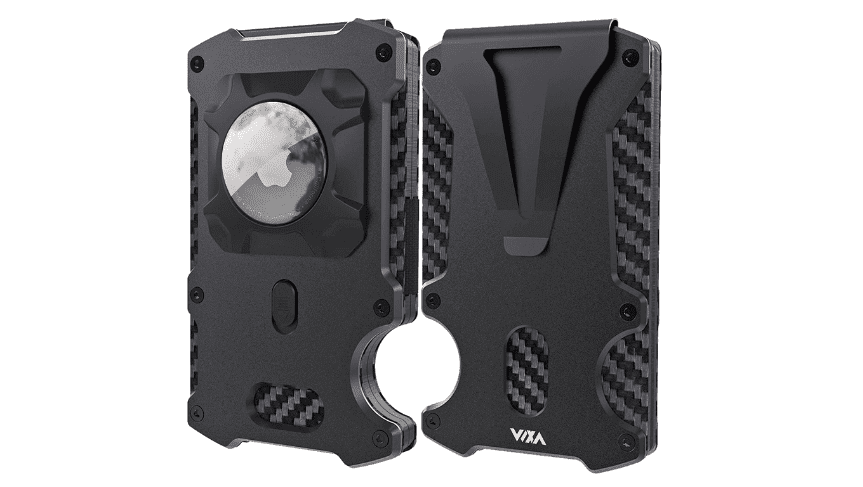 Made from military-grade materials such as 100% carbon fiber and aluminum alloy, the WXM Air Tag wallet is built to be light and robust. It easily handles daily use and will outlast traditional leather wallets. This product can securely hold up to 15 cards with some cash or bank notes. Comes with an AirTag Holder, WXM wallet can be used to hold the Airtag in place firmly.
This product has an outside notch allowing you to push out the cards easily. Equipped with RFID-blocking technology, your cards will be protected from even the most powerful RFID Chip Readers. Comes with 5.04 x 4.96 x 0.67 inches (12.8 x 12.5 x 1.7 cm) of dimension, this wallet is minimalist but still enough to bring what you need without a bulky shape.
---