Soundbars are a great way to improve your TV's audio without spending a lot of money. But if you want the best possible sound, you'll want to get a soundbar with a subwoofer.
A soundbar with a subwoofer can improve the audio quality of your TV or home theater system by providing deeper bass and a wider soundstage. Additionally, the subwoofer can help reduce the amount of vibration and noise coming from your TV or home theater system.
It's not easy to find the perfect soundbar on the market. But don't worry, we've rounded up the best soundbars you can find on the market, and they all come with a subwoofer for thumping bass. All under $300.
#1 Samsung's HW-A450/ZA Soundbar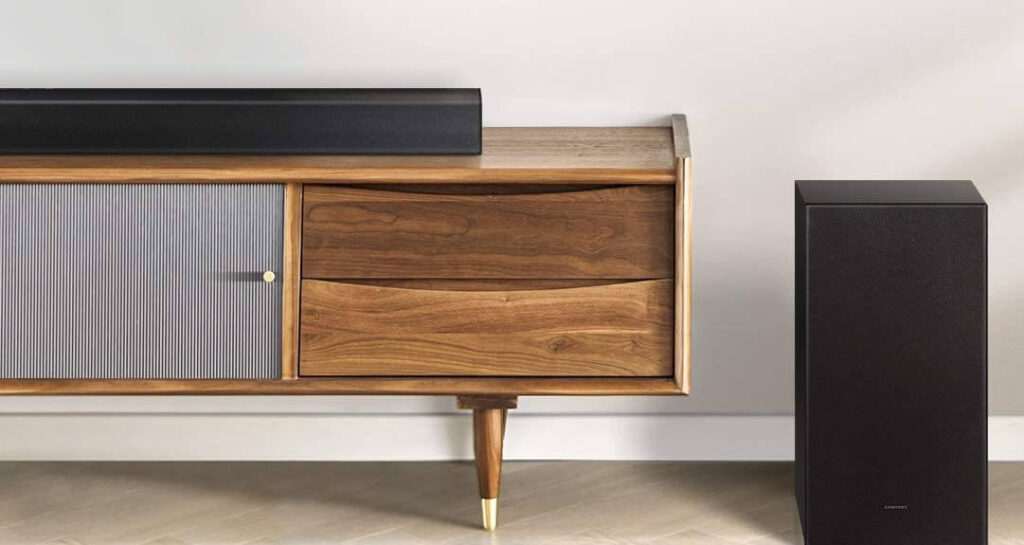 Samsung's HW-A450/ZA soundbar is a great way to improve your Samsung TV's audio, whether you use it for watching movies or gaming. The soundbar comes with a wireless subwoofer, so you can really feel the bass, and there's even a button to boost the bass even further. It works with your Samsung TV's remote, taking less space for your table.
You don't need to keep adjusting the volume when you watch, as the soundbar is also equipped with a feature that automatically equalizes the volume of background music. Gaming will be more immersive thanks to the game mode that enhances the audio to match the action on-screen.
---
#2 TCL Alto 6+ 2.1 Channel Dolby Audio Sound Bar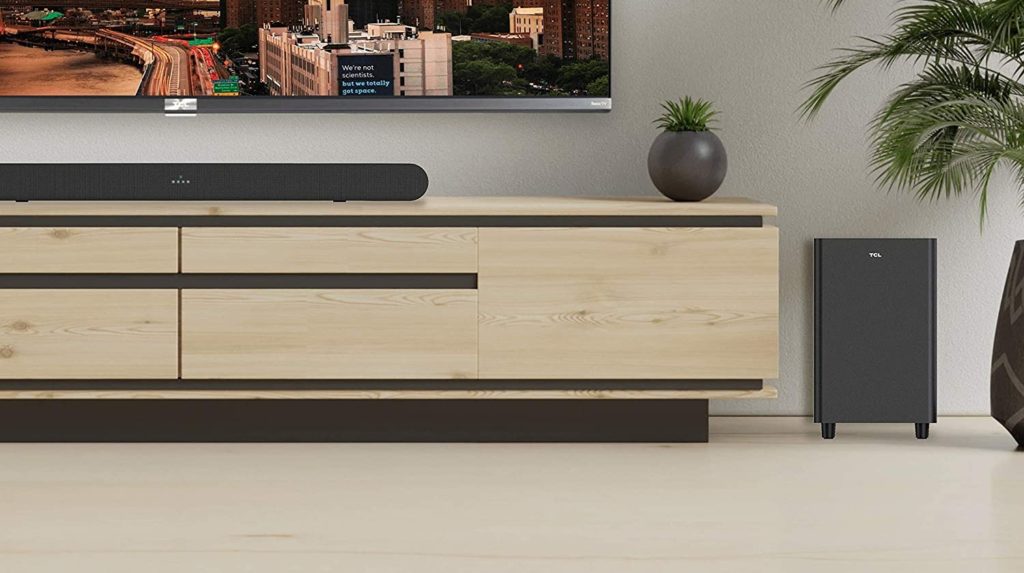 TCL Alto 6+ 2.1 Channel Dolby Audio Sound Bar is sleek and stylish. It features Bluetooth streaming to let you enjoy music from Bluetooth-enabled devices and Dolby Digital sound that creates stunning, room-filling virtual surround sound for a more movie theater-like experience at home.
The wireless subwoofer adds a lot of depth and bass to the sound, making it feel like you're in the midst of the action. Different sound modes to watch news, movies, and listen to music, which is great to optimize the sound output for different content types.
---
#3 VIZIO V-Series 5.1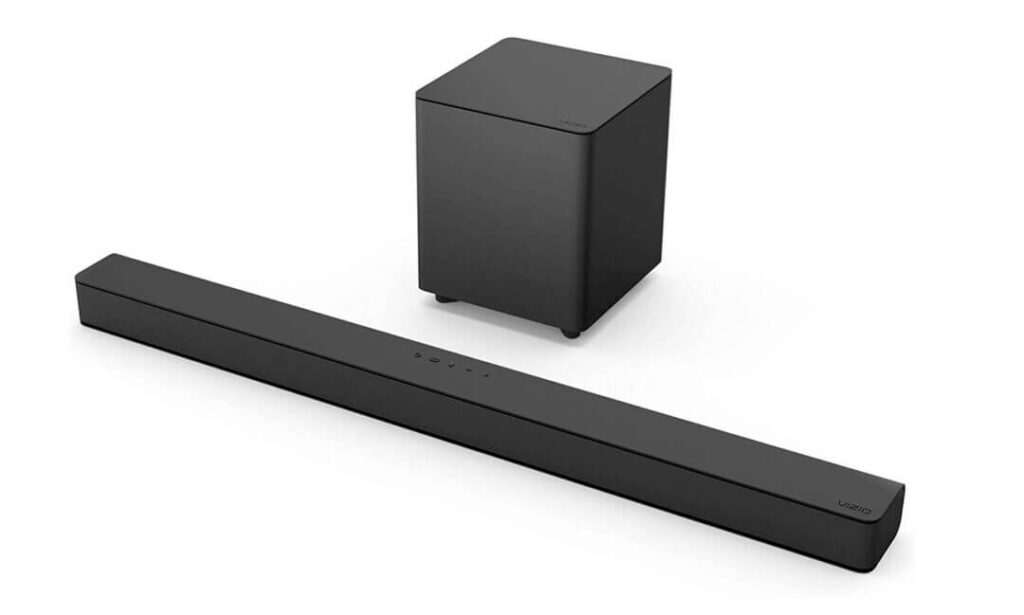 VIZIO V-Series 5.1 create an immersive experience in your home theater. With Dolby Audio 5.1, you'll get realistic, lifelike sound. The 96dB sound pressure level creates a more accurate sound. the DTS Virtual:X delivers room-filling virtualized 3D sound.
The 5″ wireless subwoofer creates more depth for the bass. The front surround mode is ideal for smaller spaces, while the dual stereo mode lets the sound fills the entire room. You can also control the soundbar with your voice assistant on your phone through Bluetooth, making it easy to adjust the volume or change the input.
---
#4 Bestisan Soundbar with Subwoofer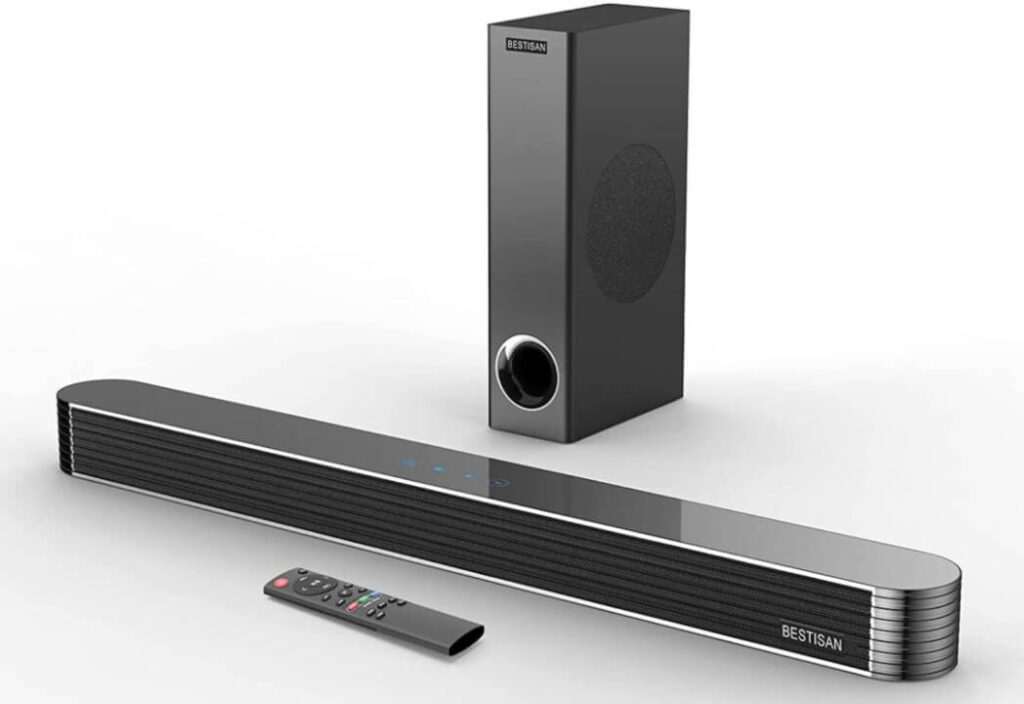 Bestisan Soundbar with Subwoofer produces a rich, powerful sound that will make you feel like you're in a movie theater, thanks to the subwoofer that produces deep, thumping bass that will add an extra dimension to your music and movies. It also can be easily mounted on the wall for a minimalistic setup.
The soundbar has three different equalizer modes that you can choose from, depending on what you're listening to. And it's easy to connect to any device, thanks to the multiple input options. You can also control the soundbar with the touchscreen or remote, making it easy to adjust the volume, change the mode, or add treble or bass.
---
#5 Sony HT-S350 Soundbar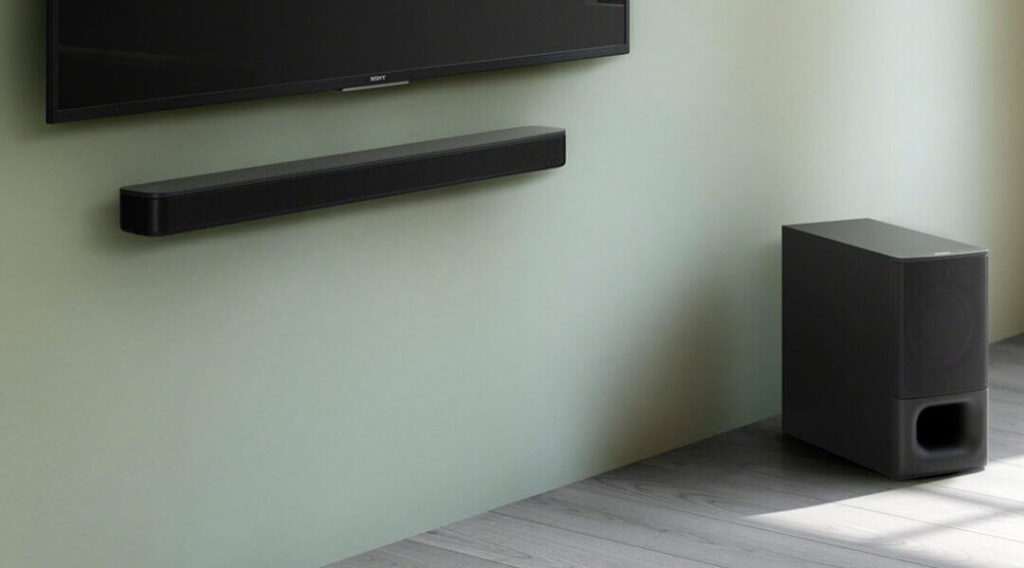 The Sony HT-S350 Soundbar is a great addition to any television setup. Its 320W total power output delivers more sound clarity and incredible volume. The large 6.30-inch subwoofer with 6.16-gallon volume creates rich, powerful sound, while the S-Force Pro creates virtual theater-style surround sound.
The soundbar also has seven sound modes for auto sound, standard mode, music, cinema, news, game, and sports to enjoy a great sound regardless of content types. It's Bluetooth compatible, making it easy to stream music from your smartphone or tablet for a more concert-like experience.
---
#6 PHEANOO Soundbar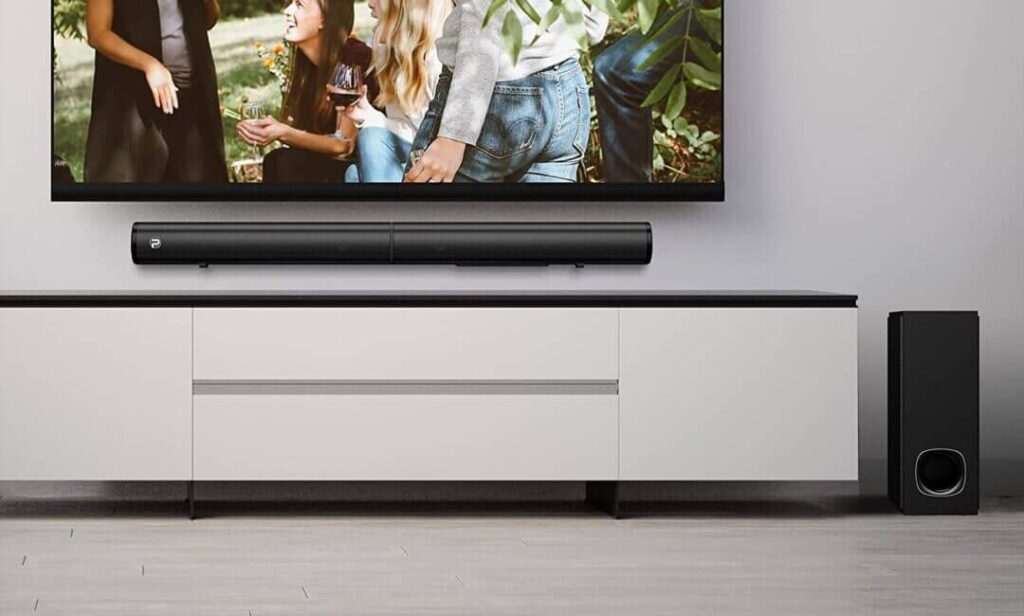 PHEANOO soundbar is one of the most stylish soundbars on the market, coming in at just 29″ wide. Despite its slender frame, the soundbar is still able to deliver impressive audio quality thanks to its Dolby Digital support and 240W PMPO. The soundbar also comes with a dedicated wired subwoofer for an even better bass response.
Enjoy clear dialogue thanks to its specially tuned dialogue setting. You can turn off the LED light so it doesn't distract you while watching movies. The soundbar is also detachable for easy storage. It is Roku TV certified, so if you own Roku TV, there's no need to worry about compatibility.
---
#7 Majority's Everest 5.1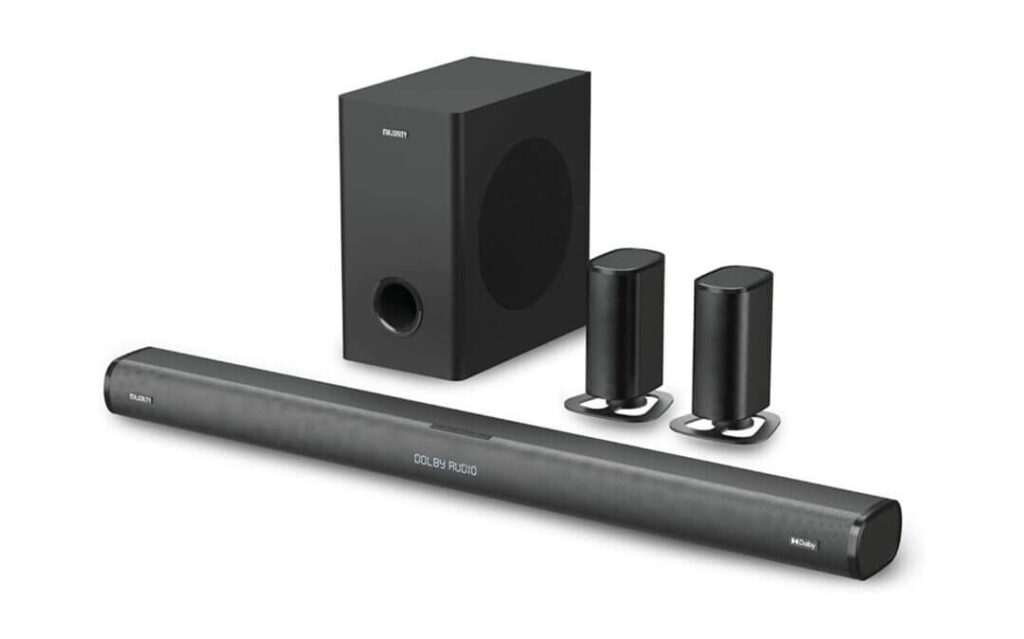 Everest 5.1 is a great way to improve your home theater experience. The soundbar delivers rich, detailed sound, and the wireless subwoofer provides deep, powerful bass. The satellite speakers are detachable, making it easy to move them around your room to get the best sound.
The system also includes HDMI ARC and Bluetooth connectivity for easy integration with your existing home theater setup. The three sound modes are a great way to customize the sound to your liking. The satellite speakers are rechargeable and last up to 8 hours after a single charge.
---
#8 Wohome Sound Bar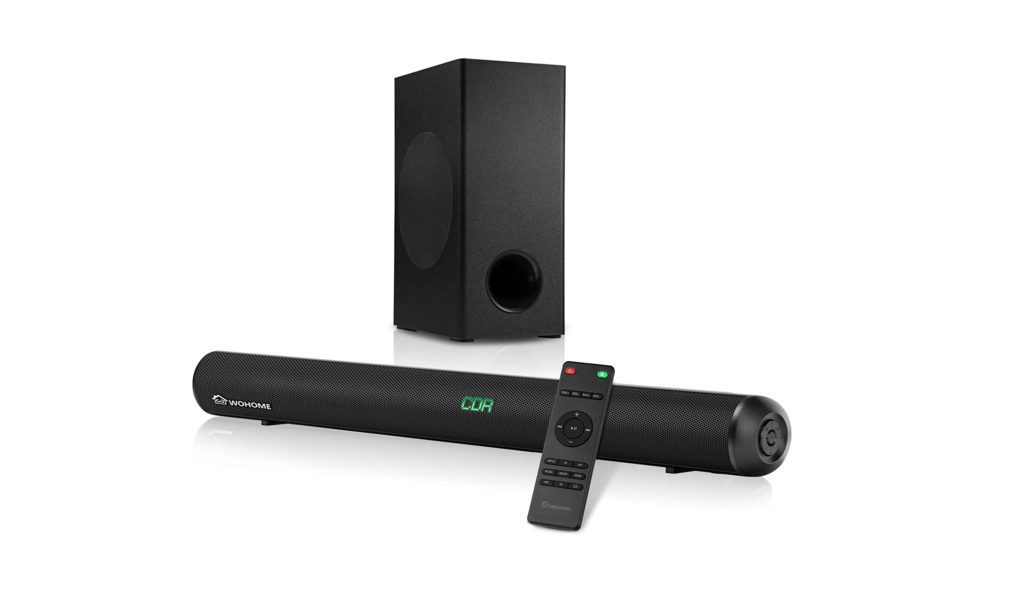 Wohome Sound Bar is only 2.5 inches high, making it easy to place under your TV. It has four full-range speakers and one subwoofer, providing great bass to bring theater experience at home. Adjust the soundbar's equalizer to get the perfect sound for dialogue, gaming, music, or movies.
It supports multiple connections, including Bluetooth, optical, aux, and HDMI-ARC. Plus, the USB 2.0 port lets you play MP3 files from a USB flash drive. It also has DSP technology for more sound clarity, letting you hear clear dialogue when watching movies.
---
If you're looking for a great way to improve the sound quality of your TV without spending a lot of money, then a soundbar with a subwoofer is a great option. Soundbars are relatively inexpensive and can dramatically improve the sound quality of your TV.
There are many different options available on the market, so finding the right soundbar can be a challenge. With the above list, you can find one of the best on the market to improve the sound quality of your TV.