If you're looking for a way to boost your productivity and improve your mental clarity, essential oil diffusers are a great option. With their ability to purify the air and create a relaxing atmosphere, essential oil diffusers can help reduce stress and promote focus.
For those who work in an office, including the WFH office, having a compact essential oil diffuser can be especially beneficial. Not only do they take up minimal space, but they also provide a constant source of aromatherapy throughout the workday.
To help you find the perfect diffuser for your workspace, I've rounded up 10 of the best compact essential oil diffusers for a desktop office. From sleek and modern to cute and colorful, there's a diffuser on this list that will suit your style and needs.
Table of Contents
BBSKIN Mini USB Essential Oil Diffuser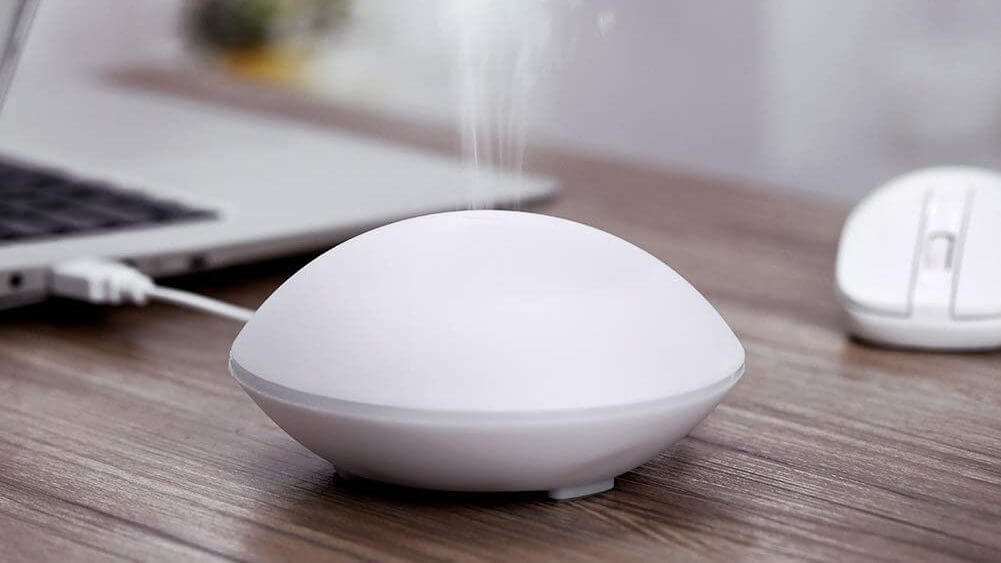 The BBSKIN Mini Kids USB Essential Oil Diffuser is an 80ml portable and elegant aroma diffuser with a 7-color-changing LED mood light and waterless auto-shutoff feature. It can be used as a diffuser, air refresher, or humidifier and is safe to use. With a minimalist design, it is easy to operate and can be charged using a laptop, computer, power bank, or car USB power supply.
The ultrasonic mist humidifier will continuously improve the air around you, thus making it perfect for use at home, office, study, yoga, spa, nursery, or any small area. This product is a perfect way to create an atmosphere in any small space, including your office cubicle.
---
InnoGear Oil Diffuser
The InnoGear Oil Diffuser is a 150-ml premium ceramic diffuser that produces a cool mist and helps create a relaxing environment. It has two mist modes and an independent LED light, perfect for use at night. The diffuser also has a safe auto-off feature and a noise-reducing inner lid. The elegant design complements any decor scheme, making it an excellent addition to your home or office.
It can also be used as a humidifier or night light, or even as a piece of home decor. This stone diffuser is sturdy, dirt resistant, and easy to clean while also boasting an elegant style that complements any decor scheme. The InnoGear ceramic oil diffuser makes a great gift idea for family and friends on any occasion.
---
Earnest Living Essential Oil Diffuser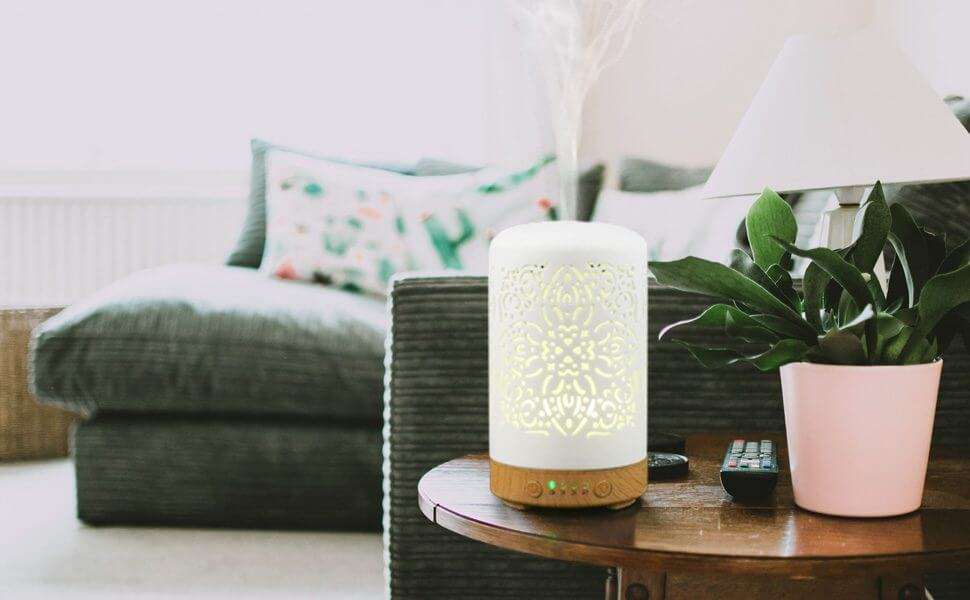 Earnest Living's Ceramic Oil Diffuser emits plant therapy to provide a calming sensation to the air. It is multi-functional and can be utilized as a humidifier, night light, and home decor. With four timer settings, the diffuser helps you achieve short-term goals. By diffusing water and essential oil particles into the air, it also helps soothe itchy skin, reduce static electricity, and improve breathing environments.
Additionally, the unique cutting technique used to craft the diffuser makes it the best-quality ceramic diffuser in style and in the material. Its 100 ml water capacity and ability to diffuse essential oils make it perfect for aromatherapy use, while its 7-color night light function pairs well with your focused tasks or meditation practice.
---
Scentcares Waterless Diffuser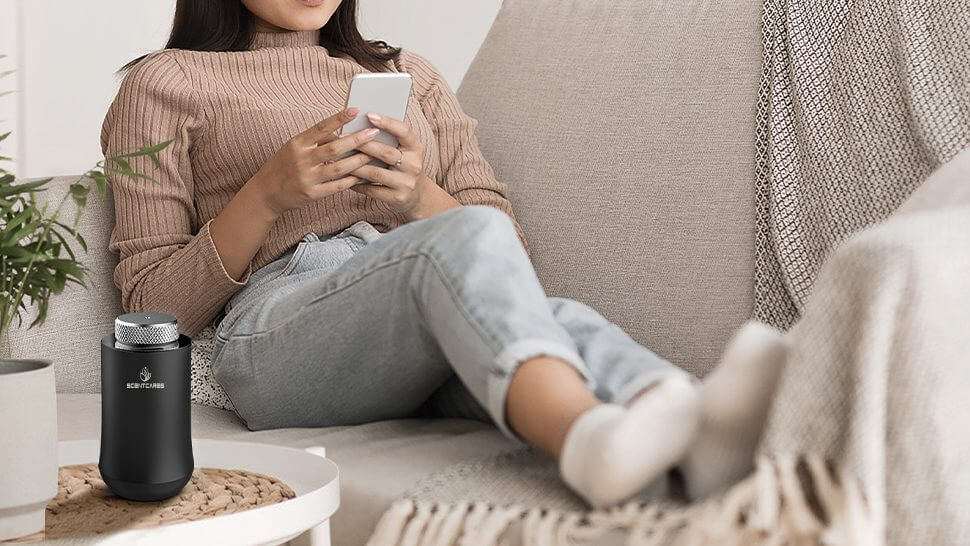 Scentcares Waterless Diffusers offer fragrant and undiluted cold mist through a nebulizing diffuser that runs quietly with advanced air pump technology. You can use it with 100% pure essential oils to experience therapeutic effects completely. The diffuser comes with three mist intensity levels and an auto power-off function, making it energy efficient to use.
Its portable design is perfect for carrying during travel or work, with USB charging capability and eco-friendly aluminum alloy construction. The diffuser's small size allows it to fit inside your car cup holder. Choose the appropriate mist settings to scent 400ft rooms or small areas, without the use of water.
---
ASAKUKI Essential Oil Diffuser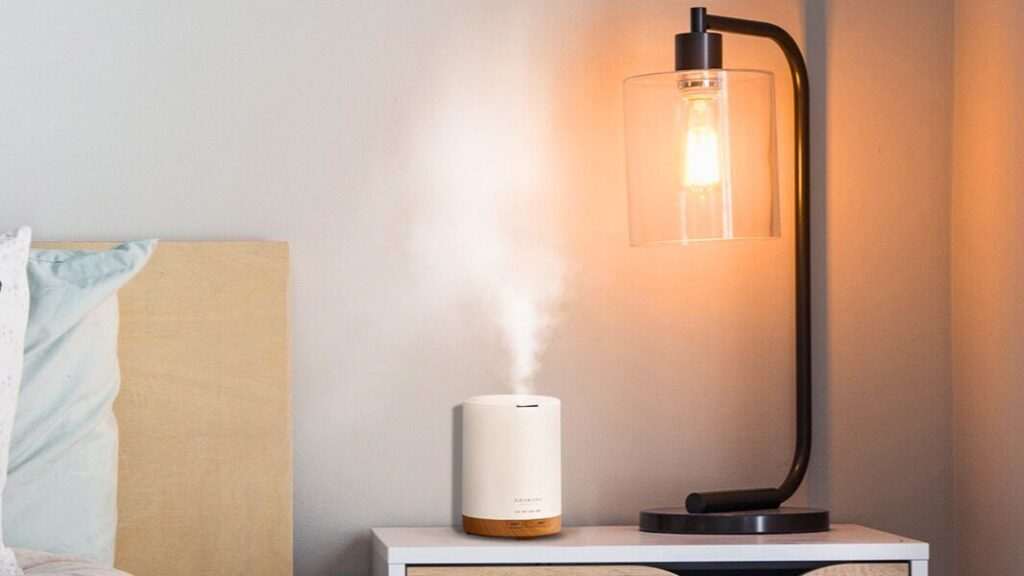 ASAKUKI Essential Oil Diffuser creates a peaceful environment by humidifying the air. With 4 timed settings, ambient light, and an auto shut-off button, it is suitable for use in homes, workplaces, or yoga classes. Made with globally sourced materials, including raw ingredients from around the world, the low boiling point extraction procedure effectively preserves the scent of oranges and lavender without carriers, alcohol, or animal testing.
With its blend of design, style, and functionality, it makes for a thoughtful and practical gift. It efficiently disperses fragrances with minimal water, making it ideal for medium-sized rooms. While a few users had issues with the oils, the overall consensus praises this product's performance and recommends it for its price and functionality
---
HATHASPACE Marble Essential Oil Diffuser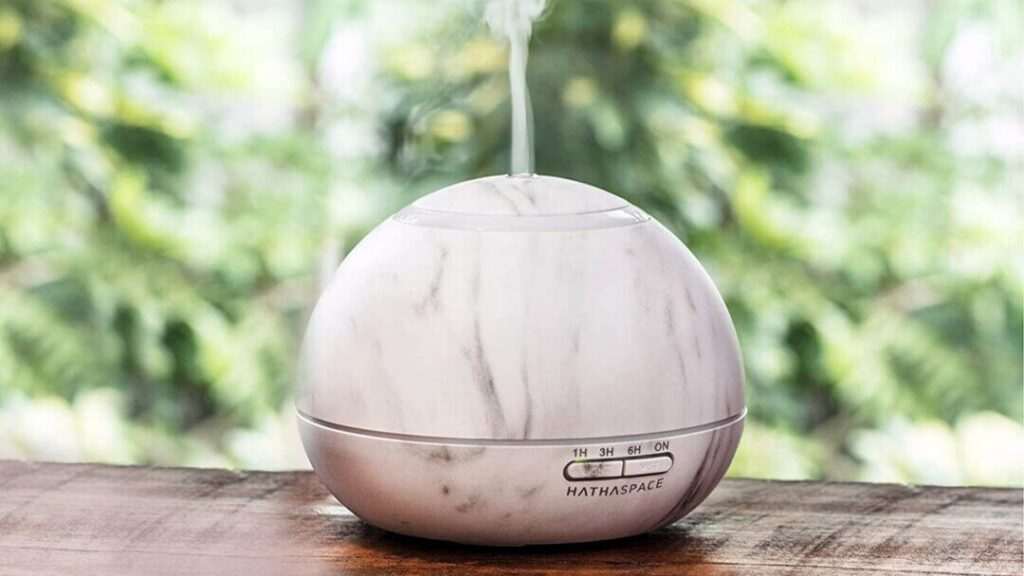 The Hathaspace Diffuser is designed to naturally purify your home's air with the help of essential oils. Its chic and modern design can blend into any indoor decor, making it suitable for a home, office, dorm, yoga studio, spa, or your favorite reading nook. With its ultrasonic technology and two mist modes, every drop of your favorite essential oil transforms into a cool fragrant mist.
The diffuser illuminates seven soothing colors with an auto-cycle mode, making it perfect for balancing the mood and promoting good sleep. The diffuser has a coverage area of up to 300 sq. ft with a 350ml reservoir capacity and an auto shut-off feature, which makes it safe to use and suitable for most rooms.
---
Vitruvi Stone Diffuser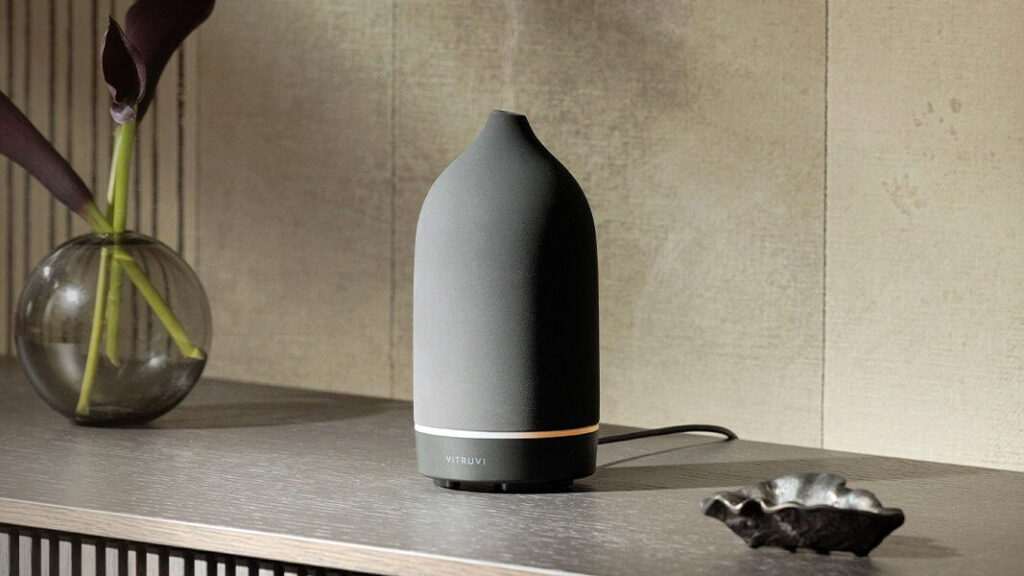 The Vitruvi Stone Diffuser is a stylish and effective way to incorporate aromatherapy into your daily routine. Its ceramic exterior blends seamlessly with any home decor, and the ultrasonic technology makes it easy to use. Simply fill it with water, add a few drops of your favorite essential oil, and enjoy the gentle mist that fills the room.
Despite its compact size, this diffuser is powerful enough to fill both small and large rooms with a pleasant fragrance. It operates quietly, allowing you to relax and enjoy the aromatherapy experience.
---
URPOWER Aroma Essential Oil Diffuser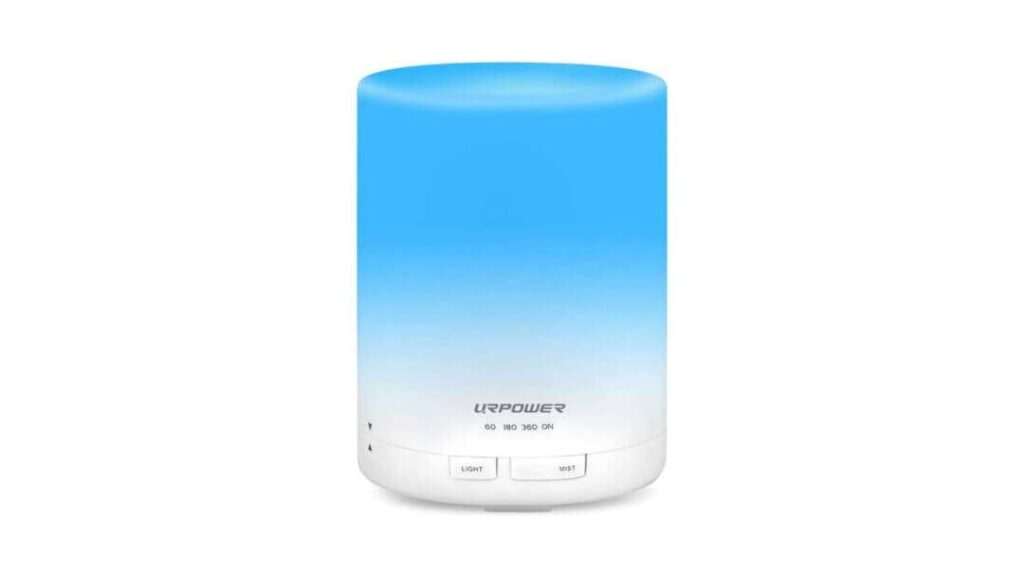 The URPOWER Essential Oil Diffuser is the perfect choice for larger spaces. With a capacity of up to 300 milliliters, it allows you to enjoy your favorite essential oils for longer periods. The diffuser offers four convenient settings: 60 minutes, 180 minutes, 360 minutes, and continuous ON mode. It features four bright LED lights that create a soothing ambiance in various colors.
The diffuser operates quietly, emitting a soft hum, and the option to choose different LED colors enhances your mood and relaxation experience. Remember to use pure, organic oils for optimal results and clean the unit regularly to maintain its performance. With its reliable functionality and positive customer reviews, this diffuser is a highly recommended product from this list.
---
Onaboviva Essential Oil Diffuser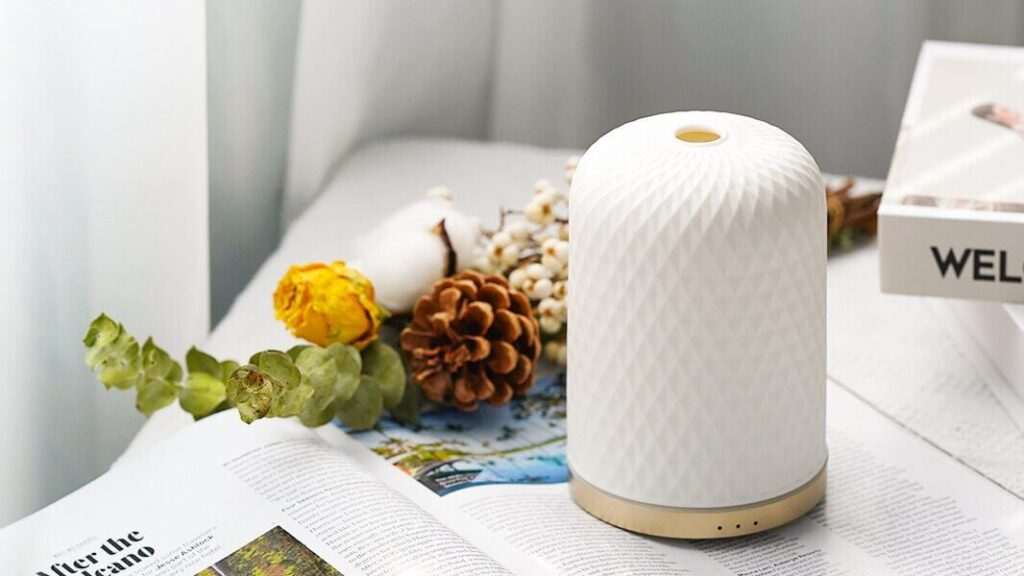 The OnabovivaEssential Diffusers Minimalistic Aromatherapy MOS-M32 is a beautiful and high-quality diffuser that doubles as a light. Its sleek design features a ceramic top that emits a warm white light, adding an elegant touch to any space. With multiple mist and light modes, you can customize your experience.
Although the mist might be slightly weaker compared to other diffusers, it still provides a pleasant aroma when using about 10 drops of essential oil. This diffuser is perfect for those who prefer a minimalist look and want a reliable and visually appealing diffuser.
---
Zeigga Lab Essential Oil Diffuser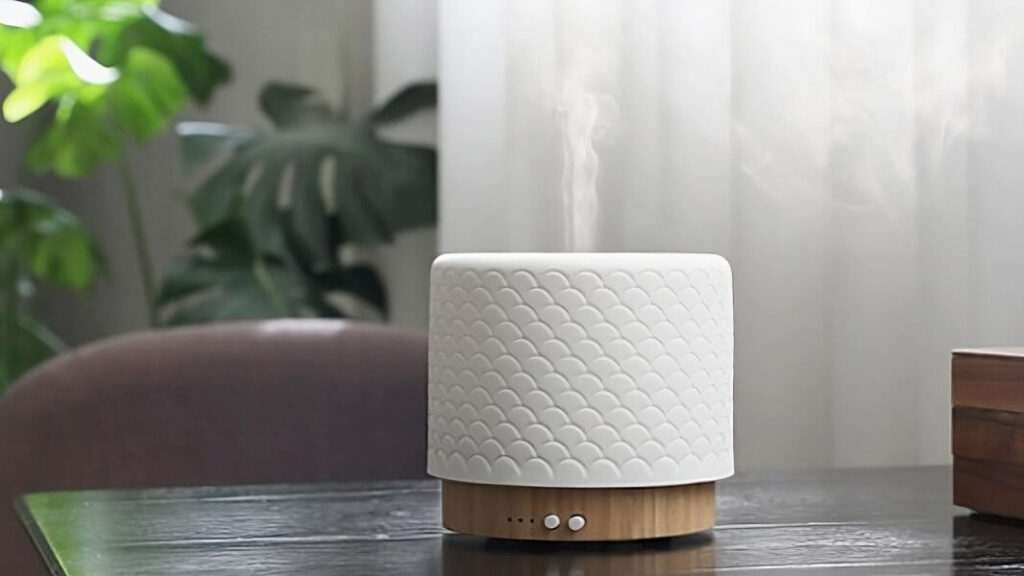 The Essential Diffuser by Zeigga Lab is a stylish and easy-to-use product that enhances any space. With its beautiful ceramic top, it adds an elegant touch to your decor. The timer settings are straightforward, allowing you to enjoy the continuous fragrance for hours. The diffuser has a good mist output and works well with various brands and scents of essential oils.
Its compact size makes it perfect for offices or small rooms. With a ceramic top and bamboo base, it can run for up to 10 hours and cover a 20-30m² area. Just add a few drops of essential oils to relax your mind and enjoy the aroma in seconds.
---