The American Dental Association (ADA) recommends 2 minutes of brushing at least twice a day. Many people usually only guess or do not accurately record the time they are brushing their teeth. A shorter brushing time might negatively impact teeth and gum health.
Fortunately, there are plenty of electric toothbrush brands that offer a countdown timer included. It will give notification or alert after two minutes. Some products use a 30-minutes timer to ensure you reach all of the mouth sections. Moreover, an electric toothbrush can perform better in hitting hard-to-reach spots than a regular manual toothbrush.
Since choosing the best electric toothbrush can make an essential difference to your teeth' health, you have to choose wisely. Here are some of the best electric toothbrushes equipped with a countdown timer.
#1 Oral-B Pro 1000 CrossAction Electric Toothbrush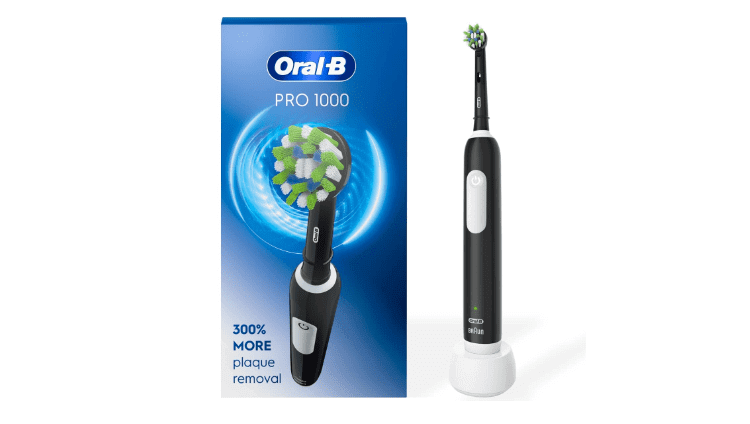 This electric toothbrush has been clinically proven for its superior 3D cleaning oscillates to break up and remove plaque. It is claimed to be 300 percent cleaner than the regular manual toothbrush. It is equipped with a pressure sensor to stop the movement if you brush too hard. To comply with the dentist's 2 minutes brushing time recommendation, this product has a built-in timer on its handle.
Oral-B Pro 1000 CrossAction Electric Toothbrush is already accepted by the ADA (American Dental Association) to help to remove plaque and prevent gingivitis. It can be used for at least a week of twice-daily two-minute brushing sessions on a single charge. You will get 1 Oral B Professional Handle, 1 CrossAction Brush head, and 1 charger in the product package.
---
#2 Philips Sonicare 4100 Power Toothbrush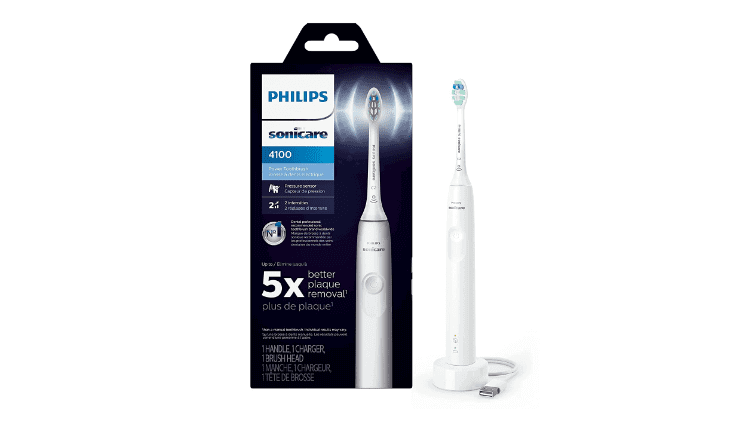 The Philips Sonicare 4100 Power Toothbrush is a good option when looking for a more quiet electric brush. It is equipped with a 2 minutes smart timer with QuadPacer to ensure the dentist-recommended brushing time. It will automatically stop after the brushing timer end. There is also a pressure sensor with two intensity settings to protect sensitive gums from overbrushing.
This rechargeable toothbrush can be used for up to 2 weeks on a single charge. A battery light indicator and brush head replacement reminder ensure this toothbrush is working correctly. You can use the regular USB charger to power this product on. The Philips Sonicare 4100 is compatible with most Philips Sonicare brush heads, making it easy to find a replacement brush.
---
#3 Oral-B 7000 SmartSeries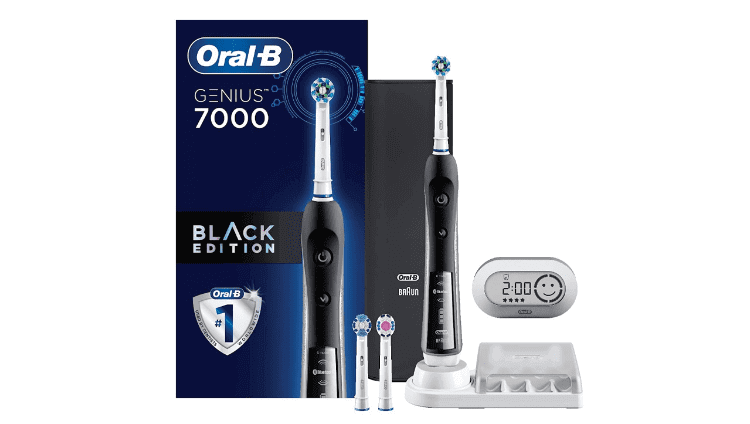 Oral-B 7000 SmartSeries has a dedicated mobile app that can help you to brush on the most critical areas, track your brushing habit, provide oral care tips, sense when you brush too hard and a countdown timer. Its superior 3D cleaning oscillates have been clinically proven to break and remove plaque 100% more than a regular toothbrush.
This electric toothbrush has 6 available modes: daily clean, gum care, sensitive, whitening, deep clean, and tongue clean. Having a speed of up to 800 brush movements per second, this Oral-B 7000 is designed with special seals and gaskets to make it water tolerant. Powered with a lithium-ion battery, this toothbrush can be used for up to 2 weeks on a full charge.
---
#4 Oral-B Genius 9600 Electric Toothbrush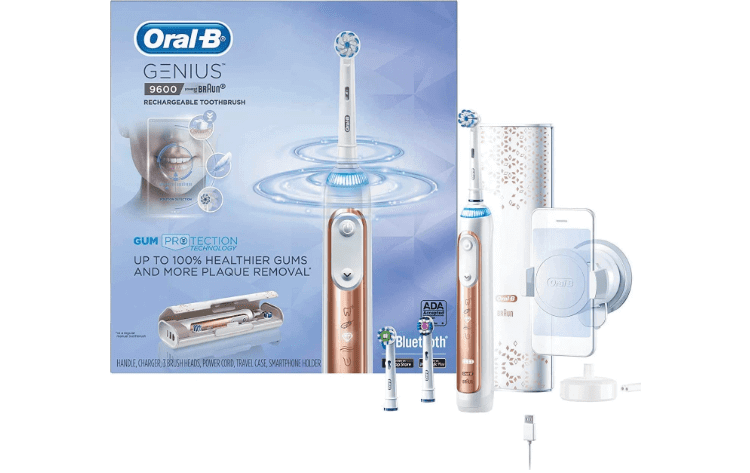 Oral-B Genius 9600 Electric Toothbrush is the perfect toothbrush to bring on your travel. It has a convenient travel case and compact dimensions. It comes with a Gum Protection Technology app that uses facial recognition to help you improve your daily brushing habits that connect via Bluetooth. This product also utilizes pressure sensor technology, protecting your teeth and gums from brushing too hard.
There are 6 brushing modes available, including sensitive and whitening modes. The package includes a premium charger and three unique brush heads; Pro Gum Care, Cross Action, and 3D white. The unique round head with ultra-thin bristles is good for removing plaque and improving your gum head. Oral-B Genius 9600 is powered by a rechargeable lithium-ion battery lasting up to 14 days on a single charge.
---
#5 Quip Adult Electric Toothbrush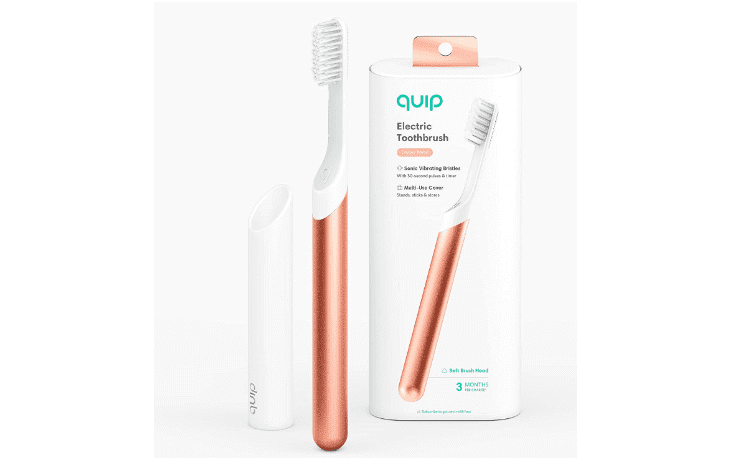 This electric toothbrush is already accepted by the ADA (American Dental Association), which means this product meets the safety and efficacy of dental product standards. It has sensitive sonic vibration technology to provide an effective and clean brush with a 2-minute timer and 30-second pulses. Its brush head is affordable and replaceable with a soft bristle brush head.
Comes with a multi-use travel cover, the Quip Adult Electric Toothbrush can be mounted into mirrors, glass, or tiles, making it perfect for the on-the-go. Its slim, lightweight, and shower-safe metal handle doesn't use wire or a charger for your convenience. To power this brush on, you will need a AAA battery that can be used for up to 3 months. Six color variants are available; copper, dark aqua, gold, indigo, silver, and slate.
---
#6 Hum by Colgate Smart Battery Toothbrush Kit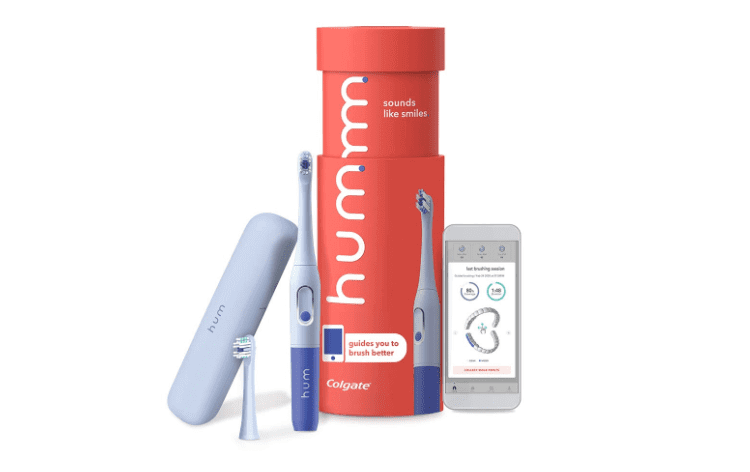 This toothbrush kit contains a smart electric toothbrush, handle and head, 2 AAA batteries, a carrying case, and an extra refill brush head. Comes with a mobile app and smart sensors, this smart toothbrush is able to guide better brushing activity and help you to target the correct spots. Personalized programs and notification reminders also help you maintain your oral hygiene.
Hum by Colgate is equipped with 2 minutes timer for your reminder to brush in the recommended duration. It utilizes powerful sonic vibration technology with multiple modes that let you choose the best suit vibration level with you. This electric toothbrush is battery-powered to give you flexibility. In addition, the handle is ergonomically designed to provide a perfect grip.
---
#7 Waterpik Complete Care 9.0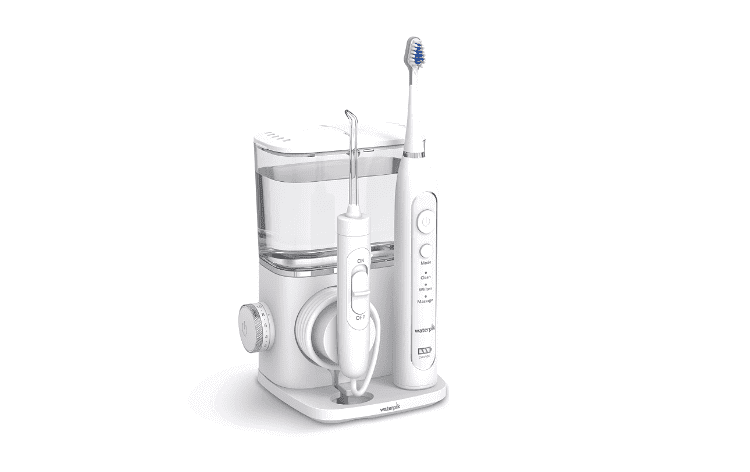 The Waterpik Complete Care 9.0 contains a sonic electric toothbrush with a water flosser in one compact device. It has the ability to deliver 31,000 strokes per minute, remove plaque up to 99.9%, and be up to 50% more effective than floss. The design is relatively compact and 40% smaller than other products that save space and power outlets. A magnetic cradle is installed to hold the flosser neatly and charge the toothbrush.
The Waterpik's water flosser features 10 pressure settings ranging from 10 to 100 PSI for a custom and clean. The toothbrush removes 9 times as many stains as a regular toothbrush. There are 3 sonic modes available: Clean Mode, Whiten Mode, and Massage Mode. A high-volume reservoir and flow control feature is provided to maintain easy cleaning. The package includes 5 water Flosser tips, 2 brush heads, a toothbrush travel case, type, and storage case.
---
#8 Oral-B iO Series 9 Electric Toothbrush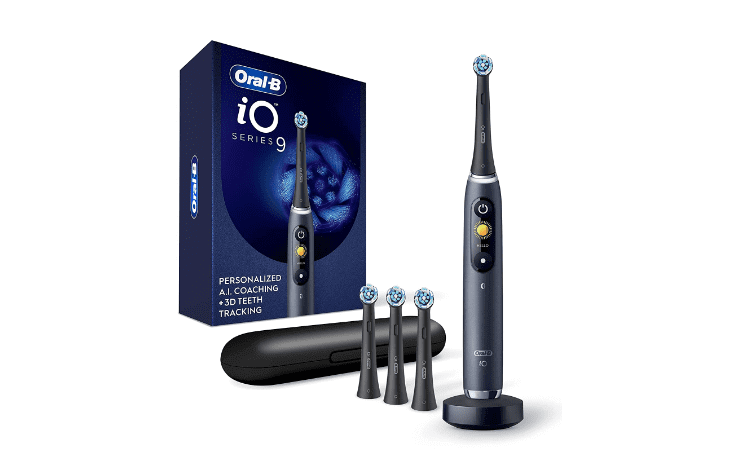 The Oral-B iO electric toothbrush has a smart pressure sensor, LED indicator lights, magnetic drive, 3D teeth tracking, and mouth quadrant sensors. There will be red signals when you are brushing too hard and green when the pressure is right. These all are integrated through the Oral-B app that can be accessed via your phone.
The display screen will help you to customize a personalized brushing. Designed with the adaptation of a dentist's round brush head, it can reach every contour for a deep clean. An Artificial Intelligence (A.I.) technology tracks where you are brushing and guides you to 100% coverage so you don't miss any spot. Its visible timer ensures you brush for the dentist-recommended 2 minutes. You will get 1 Oral-B iO Series 9 Black Onyx electric toothbrush, 3 Oral-B iO Ultimate Clean replacement brush heads, and a powerful charging travel case in the package.
---
#9 Brightline Rechargeable Sonic Electric Toothbrush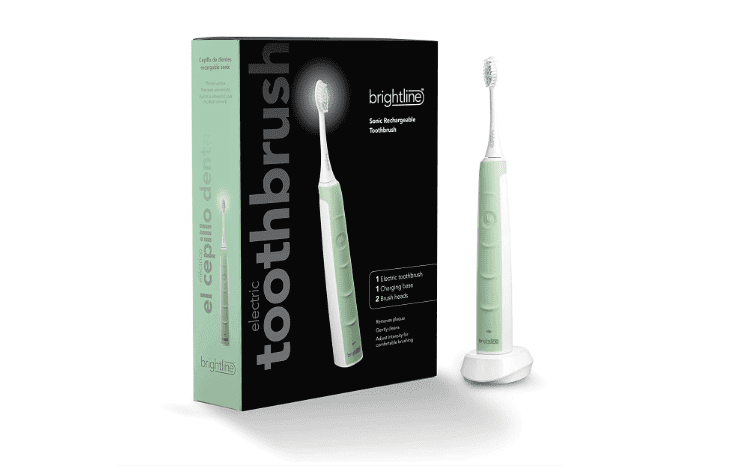 This electric toothbrush from Brightline has an adjustable intensity feature to meet your best-fit setting. It can deliver a comfortable brushing at up to 41,000 brush strokes per minute. There is a built-in 2-minute timer to help ensure you the recommended brushing time with a pause at 30-second intervals to switch sections. It uses contoured bristles to correspond to the natural shape of teeth, helping you to reach hard areas and clean the gums.
The ADA already accepts the Brightline Rechargeable Sonic Electric Toothbrush. It is claimed that this product is able to remove more plaque than the traditional toothbrush. Powered by a rechargeable battery, it can be used for up to 25 days, making this a good choice for daily or travel usage. In the packaging box, you will get 1 rechargeable electric toothbrush, 1 charging base, and 2 brushing heads (for six months).
---