Listening to music or podcasts using only the original smartphone speakers may not be so clear and powerful enough. There are countless Bluetooth speaker brands, models, designs, and sizes in the audio market that can be chosen. You just have to know your primary usage and preferences before buying a Bluetooth speaker.
Some people tend to find small and keychain-sized speakers while they are traveling. Portability is the main strength of this mini speaker size since you can bring it anywhere. Here are some of the best keychain-sized Bluetooth with good quality sound.
#1 INSIQ Portable Bluetooth Speaker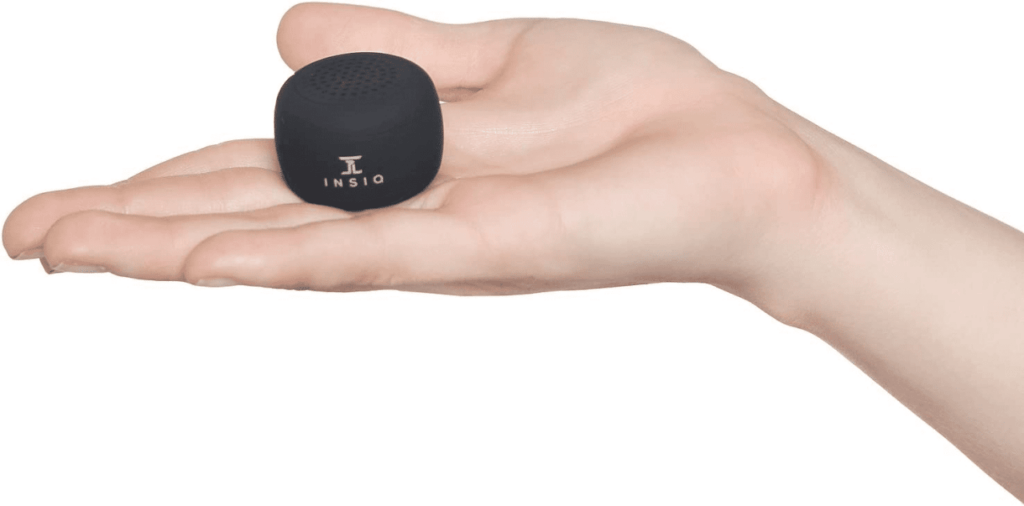 With a diameter of about 1.2 inches and a net weight of about 2.1 oz, this may be the smallest wireless speaker you'll ever find. Because of its mini size, this Bluetooth speaker can easily fit inside your pocket which makes it easy to carry around. Using Bluetooth V5.0 technology, INSIQ portable Bluetooth speakers can produce crisp sound quality at a range of over 30 ft with a volume of over 90 dB.
To top it off, the speaker is compatible with almost all devices that have Bluetooth connectivity, such as Android phones, tablets, iPhones, and also PC. The battery capacity can last for about 2 hours on a single full charge. The speaker comes with a couple of unique features, including the ability to take a photo with your phone camera including selfies with the speaker button.
---
#2 EWA A106 Mini Bluetooth Speaker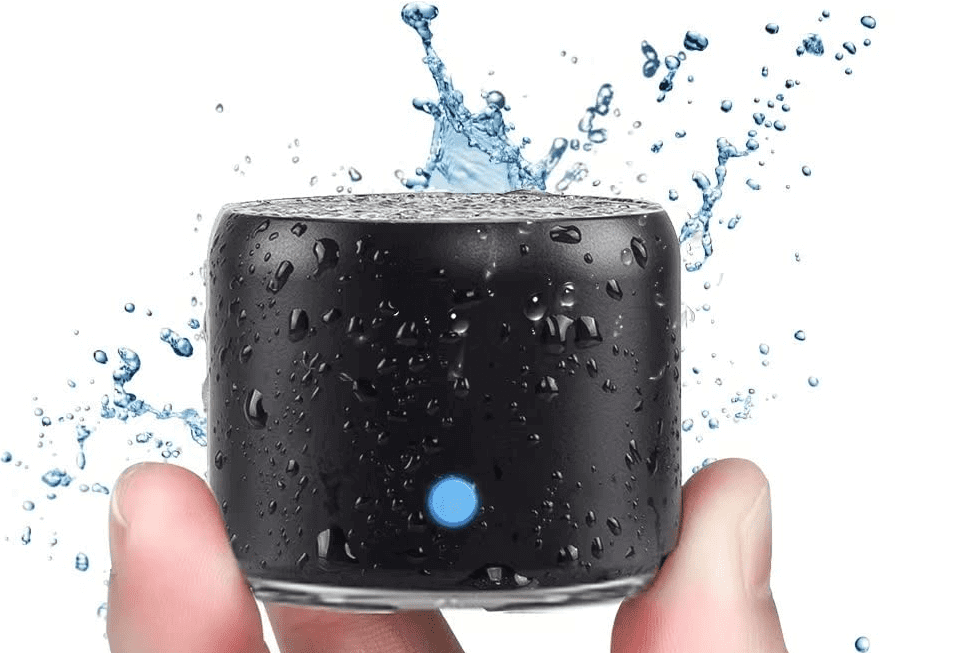 This EWA A106 Mini Bluetooth Speaker is also one of the smallest speakers in the world with only 1.54 inches in size and 6.2 oz of weight. It is slightly larger than the previous recommendation, but it is still small enough to bring in your pocket. Despite its size, it is able to release crystal sound with impressive bass and loudness. You can pair this speaker with android smartphones, iPhones, or other Bluetooth-enabled devices.
Along with the speaker, you will get a metal hook and a carrying case that allows you to take your music on the go. It also protects your portable speaker from damage and scratch, perfect for outdoor activities. The built-in rechargeable battery offers fantastic longevity, up to 5 hours of playtime for a single charge.
---
#3 EWA A109 MINI Bluetooth Speaker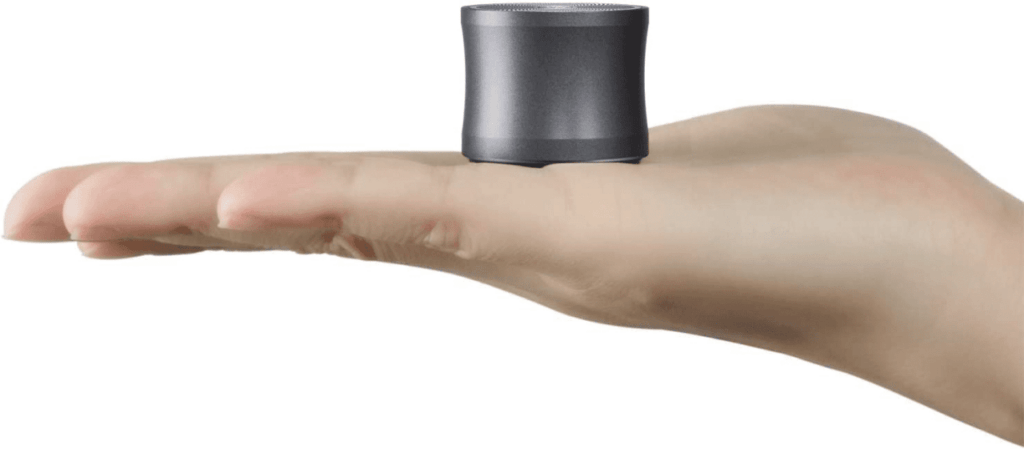 The EWA A109 MINI Bluetooth Speaker is another mini Bluetooth speaker from the EWA brand. Slightly more powerful than the A106 model, the A109 has a larger size at 1.89 inches and 6.2 ounces of weight. It is still small enough to put in your pocket while on the go. This speaker is compatible with iPhone, android phones, tablets, and others.
EWA A109 comes with a bass radiator where you can feel surprisingly strong bass from this small speaker. Shipped with a remote shutter, you can take that perfect selfie with only a button when paired with a smartphone. The TF Card slot (up to 32GB) supports multiple music playback modes.
---
#4 Braven BRV-Mini Portable Waterproof Speaker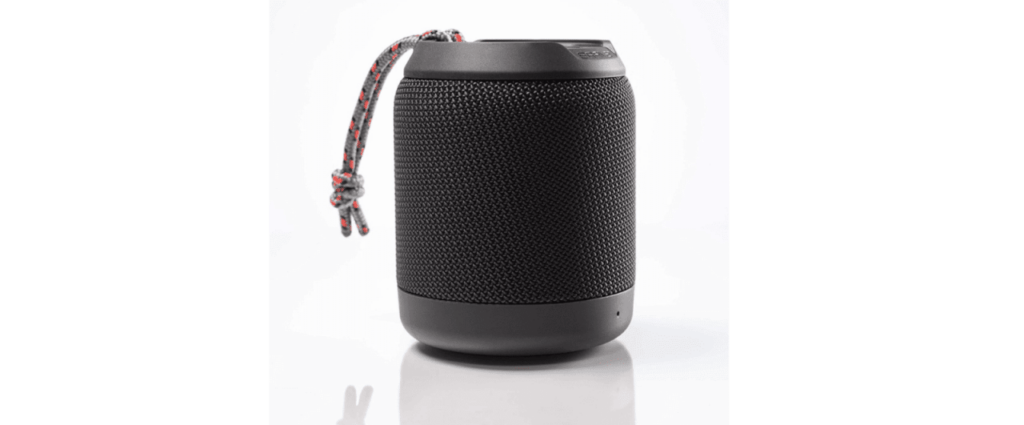 Designed as one of the smallest Bluetooth speakers with full-rugged construction, the Braven BRV-Mini is the go-to speaker if you need a waterproof and durable speaker. This speaker has an IPX7 rating for the waterproof feature and is even able to float on water, perfect for outdoor activities.
The Braven BRV-Mini delivers loud and full-range audio with some good bass notes. It's equipped with a 5W driver and a passive bass radiator that enhances the lower end. The sound performance is excellent, and it'll be hard to find something that can match the sound quality like this speaker. This speaker is equipped with a 12-hour battery life capacity that can be used for long hours of listening time.
---
#5 Momoho Mini Bluetooth Speaker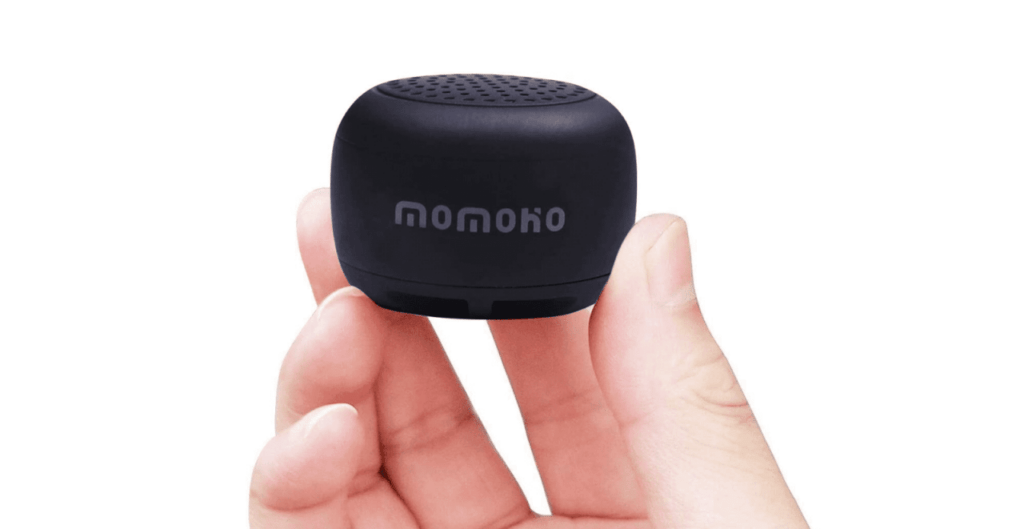 With the size of a coin, this Momoho Mini Bluetooth speaker is one of the smallest keychain-sized speakers. You may put it in your pocket or hang it on your phone directly, just like a keychain. Even though it has a small size, the volume output and sound are powerful enough and louder than basic mobile phones.
This speaker is using a battery that can last up to 2 hours.at 50% volume or about 1 hour at 100% volume. It only takes half an hour to fully charge and can be used while charging. The speaker is compatible with most devices that have a Bluetooth connection enabled or smartphones. This mini speaker has a function that allows you to take smartphone selfies using the speaker button and take hands-free calls with this speaker (due to its built-in microphone).
---
#6 Altec Lansing Mini H20
This Altec Lansing Mini H20 is the smallest wireless Bluetooth speaker produced by the Altec brand. Comes with a rugged style, this speaker is designed for outdoor activities. The IP67 waterproof rating of this speaker makes it water resistant and able to float on water. It is also provided with an integrated carabiner to give flexibility and portability that can be clipped to anything.
Despite its small size, this speaker has a great volume and audio performance without any distortion. This speaker has up to 6 hours of battery capacity on a single charge. Its wireless range is up to 30 feet away for indoor or outdoor entertainment.
---
#7 Muzen Mini Bluetooth Speaker
Comes with a lanyard and vintage radio, this mini Bluetooth speaker offers an old-fashioned classic design style. This speaker from the Muzen brand is compatible with all Bluetooth-enabled devices such as smartphones or tablets. It can be paired in seconds with a distance of up to 33 ft. The control and operation are unique but still easy. You just need to turn the knob to adjust the volume and pull the lever to switch the music.
Built-in 400 mAh rechargeable battery, this speaker supports up to 4 hours of music playing time. You will need 4 hours to get fully charged via included USB cable. The speaker shell is made from zinc and aluminum alloy to give a luxurious look. Plus, even though its size is small, the produced sound is amazing with a signal-to-noise ratio of over 70 decibels.
---
#8 Dosmix Mini Bluetooth Speakers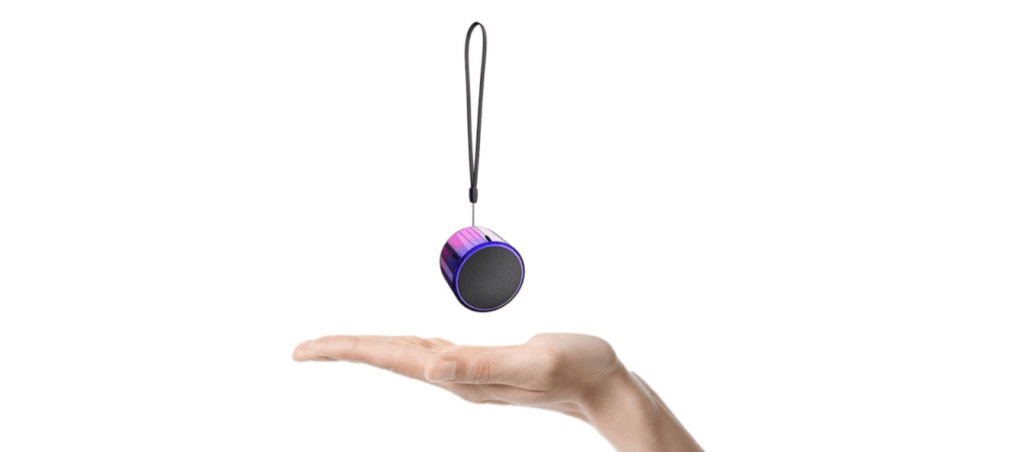 This Dosmix Mini Bluetooth speaker has a small palm size with a shocking sound produced through a 5W audio driver. Comes with 120 grams weight and 1.9" D x 1.3:H dimension, this speaker could fit into any pocket or bag. The durable nylon lanyard makes this speaker easy to use while on the go.
This speaker has broad compatibility, you can connect it with iPhone, iPad, laptop, or Android device with Bluetooth enabled feature. Dosmix claims that this speaker is dustproof, splashproof, and drop proof which allows for versatile use. An ultra-high density battery enables astounding 2 hours of non-stop playtime at 80% volume, which is relatively loud.
---
The Bluetooth speakers recommendation above is really great to support your dynamic and flexible activities. They have keychain-sized but are still able to produce good quality sound. Some of them also have dust and waterproof features. You just have to choose the best speaker based on your activity and preferences.