Having a barbeque party with family and friends during a vacation break is an exciting moment. Since you are cooking the meal for everyone, making something delicious from grilled meat is important. The crucial part of this is the cooking temperature. Grilling can not be done just by guessing the temperature without any accurate measurement. That's why a meat thermometer is something that you may consider having.
A wireless meat thermometer will help you get the precise temperature to cook your meat without overcooking or undercooking it. This gadget will also allow you to monitor temperatures from a distance and connect with your mobile phone using Bluetooth connectivity. It enables you to get flexibility and ensure the meal is perfectly grilled.
Here are some of the best wireless meat thermometers with Bluetooth connectivity recommendations.
#1 Meater Plus Smart Meat Thermometer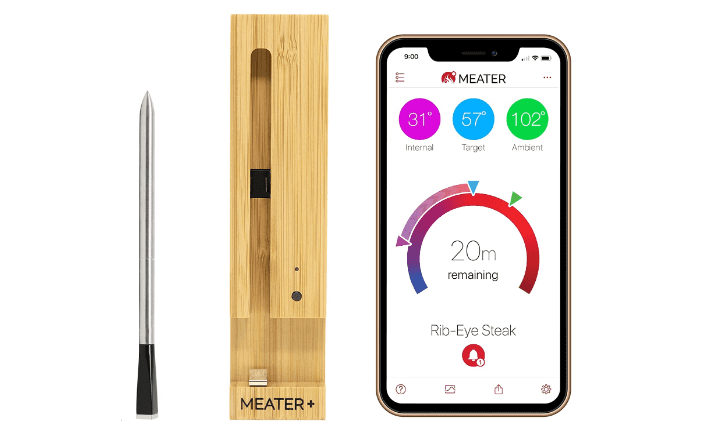 The Meater Plus is a wireless smart meat thermometer that is perfect for outdoor cooking. It can be used to monitor your meat grilling using a mobile app available for iOS and Android phones. Using Bluetooth repeater technology, it can be connected wirelessly up to 165 ft (50 m) of range. It is equipped with dual temperature sensors and a probe that can simultaneously measure internal meat temperature for up to 212 °F (100 °C) and external temperature for up to 527 °F (275 °C). Plus, this product is dishwasher safe so you can clean it easily.
The Meater Plus provides a guided cook system in its app. It can help you go through every cooking step and recipe to guarantee perfect and consistent results. Its advanced estimator algorithm is able to estimate how long the cooking time is needed to help plan your meal and manage your time. It also allows you to set up custom alerts or notifications based on temperature and time. This product is powered by a single AAA battery.
---
#2 ThermoPro Wireless Meat Thermometer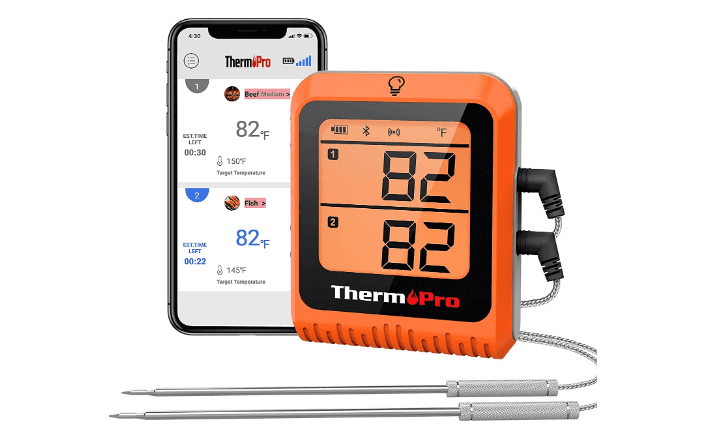 This wireless thermometer comes with dual probes that can be used in distances ranging from up to 500 ft (152 m) with Bluetooth 5.0 connectivity. It can help to monitor the meat or oven temperatures, allowing you to enjoy other activities without worrying about the cooking quality and progress. Since it is equipped with the ThermoPro BBQ App, you can receive real-time alerts and notifications about the meat grilling. You are able to set your desired food cooking temperatures, alarms, and timers and view graphs on your phone. Featured with an advanced estimator algorithm, this thermometer is able to estimate the proper cooking time needed to help better plan your meals.
ThermoPro thermometer has dual temperature probes that can simultaneously monitor internal meat and ambient temperatures for up to 572 °F (275 °C) with an accuracy of about 1.8 °F (1 °C). It is equipped with a large backlit LCD display that shows temperatures for both probes. This rechargeable Bluetooth thermometer can be used for 8 months on a single charge, ensuring worry-free operation without requiring frequent battery charging.
---
#3 NutriChef Smart Wireless Grill Thermometer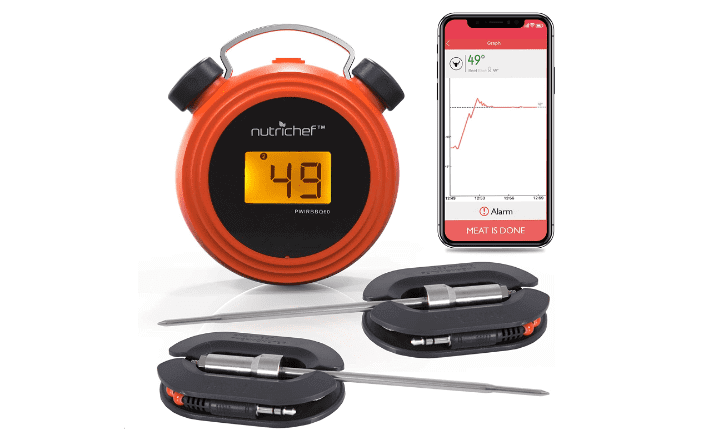 The NutriChef Smart Wireless Grill Thermometer helps you to get perfectly cooked meat at the right temperature. This professional, smart, cordless grilling kit can send an instant push notification to your smartphone wirelessly using Bluetooth connectivity with a range of up to 100 ft (30.5 m) indoors and 328 ft (100 m) outdoors range. When the sensor detects that the set point is already reached, a sound pocket alarm will ring to remind you to take the meat from the oven. You can remotely monitor the temperatures in either celsius or Fahrenheit units.
There are cooking presets available for your favorite steak recipes. A large electric backlit LCD can be set on a surface stand to give a quick glance at the cooking progress or the timer. The digital display will automatically cycle between these readings. This product uses a heavy-duty metal probe which is safe to leave inside the meat or oven for the entire cook duration. The probe can withstand high heat temperatures until 482 °F (250 °C), while the stainless steel cable wire can reach up to 716 °F (380 °C). The 'EasyBBQ mobile app will keep you updated while enjoying the rest of the time with your family. You only need to insert the probes into the meat, set the target temp, and walk away.
---
#4 MeatStick Mini Set Wireless Meat Thermometer
The MeatStick Mini Set is an innovative wireless meat thermometer that comes in small packages and uses Bluetooth technology. It is designed to be inserted and left in all types of meat to help you get the most accurate reading and cooking experience in your kitchen. A mobile app accompanies the MeatStick thermometer to give you a personal smart sous-chef to help monitor real-time temperatures, customize cook alerts, and notify you when your meat is ready. It also features a guided cook list with different meats to broaden your options.
The MeatStick Mini Smart Wireless Meat Thermometer is dishwasher-safe, deep-fryer proof, and perfect for sous-vide with its 8 hours+ battery life performance, which is ideal for low and slow cooking. The internal temperature sensor can withstand up to 185 °F (85 °C) while the ceramic handle at up to 572°F (300°C).
---
#5 Yummly Smart Meat Thermometer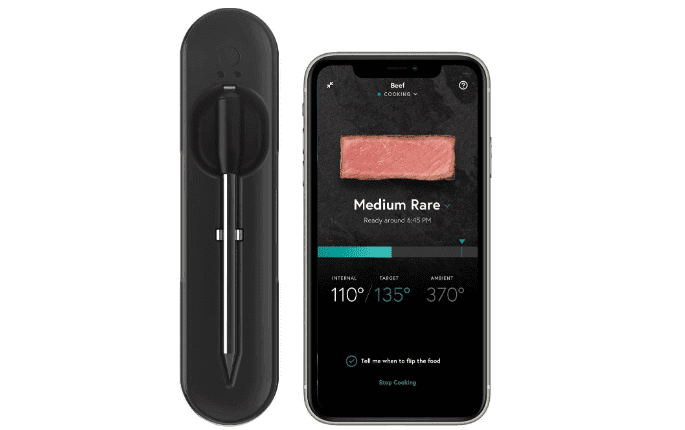 The Yummly Smart Thermometer can help monitor meat temperature throughout cooking without any strings or wires attached. Since it uses a mobile app with a Bluetooth connection, you can monitor your cooking progress from up to 150 ft (45.7 m) away on your smartphone or tablet. It features built-in timers and alerts that tell you when to flip your food and adjust the temperature and the cooking duration.
This product has an assisted cooking program containing some preset meat, fish, and poultry programs to provide the right food. You just have to choose how well you would like to have it, and the cooking procedure will automatically run. Yummly has a stainless steel probe that continually monitors your food quickly. A sleek charging dock keeps the thermometer protected safely and charged so it can be used for up to 25 hours.
---
#6 ThermoPro TempSpike 500FT Truly Wireless Meat Thermometer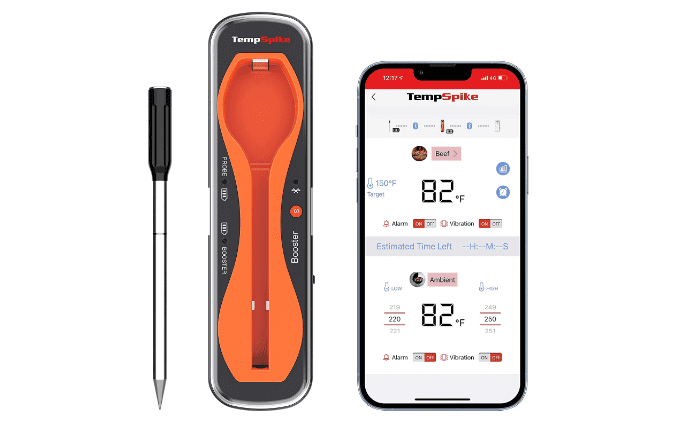 Whether you are going to make simple or complex cooking, the ThermoPro TempSpike Wireless Meat Thermometer can bring restaurant-quality food to your house every time you grill. You can connect it to your phone using the most advanced Bluetooth 5.2 technology for up to 500 ft (152.4 m) away. This digital wireless thermometer removes all the tangled wires, making it a versatile tool for barbequing activity. It offers a truly wire-free thermometer and the convenience of a no-hassle setup and twisted cable.
This Bluetooth thermometer has a meat temperature probe that can measure the internal and ambient/external temperatures of the meat. At the same time, so you will never experience any overcooking or undercooking again. You can get a real-time notification on the go via the smart meat thermometer app. It can provide a custom timer and temperature graphs. The USDA-recommended preset temperatures enable you to cook like a professional chef whenever you fire up your grill.
---
#7 Govee WiFi Meat Thermometer
With this Govee meat thermometer, you can remotely track the meat temperature anywhere and anytime. This Bluetooth meat temperature is accompanied by the Govee Home App smart system. It can instantly notify your phone when the temperature is out of the set point. There are provided cooking suggestions based on your raw materials, such as beef, lamb, chicken, pork, turkey, and more. This product offers easy grilling efficiency, whether you're a beginner or a professional.
Govee smart WiFi meat thermometer features 4 probes with ±1.8 °F (1 °C) accuracy with a measuring range between 32°- 572°F (0-300 °C). These probes allow you to monitor multiple food temperatures, which is suitable for grilling, BBQ, oven, etc. It comes with a 3000 mAh rechargeable battery, about 20-40 uses per charge.
---