After hustling in an entire week in the office, going out for vacation and camping is a good relaxation activity. Whether you choose backpacking or using an RV, you will always need to get a power source for your electronic device during camping. A low-capacity power bank is not enough if you decide to go for more than a day.
Most campers these days are carrying electronic gadgets more than just a smartphone. A digital camera, smartwatch, or drone is usually used to capture moments and beautiful natural landscapes. All of those devices need power, and it is sometimes not easy to find.
Thankfully, we are living in the future where technology is ready to help. Having a portable solar panel gives us convenience during camping to charge anything. It is important to make sure that you bring the best-fit solar panel with your travel style.
Here are some best portable solar panels to keep you powered when in camping activities.
#1 Renogy Monocrystalline Portable Foldable Solar Panel Suitcase
The Renogy Monocrystalline Portable Foldable Solar Panel Suitcase has two wattages available options, 100 and 200 W. With 20.5 pounds weight, this solar panel has 24.8 x 20 x 2.8 inches dimensions. The suitcase comes with two 50-watt monocrystalline panels with grade A+.
Renogy offers a foldable solar suitcase small in size, providing flexibility for outdoor and camping purposes. This solar panel is easy to use. Plug and play power supply can charge any power stations that can accept 24.3V, 100W DC input. It also has waterproof IP66 rated, protected from dust and high-pressure water from any direction. No more worries about rainy days.
---
#2 Nekteck Portable Solar Panel Charger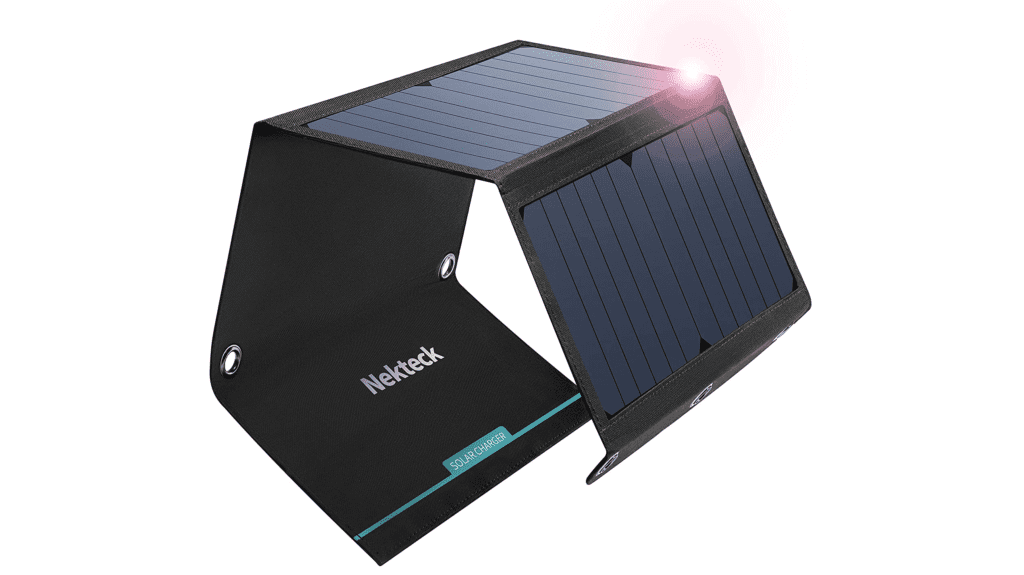 The Nekteck Portable Solar Panel Charger is available in 21W rating, with 1.13 lbs weight and 26.3 x 11.1 x 1.06 inches dimensions. This portable solar charger is made of three monocrystalline panels and can provide up to 3A/5V. It has two USB outputs along with fast charging technology.
This Nekteck Portable Solar Panel Charger has a foldable design that can easily squeeze into your backpack. It has an attachment hook that makes it ideal to be connected to a backpack while hiking or walking. Plus, the PET polymer cover guarantees IPX4 waterproof level protection to make the solar panel resistant to water and dust.
---
#3 BigBlue 3 USB Ports 28W Solar Charger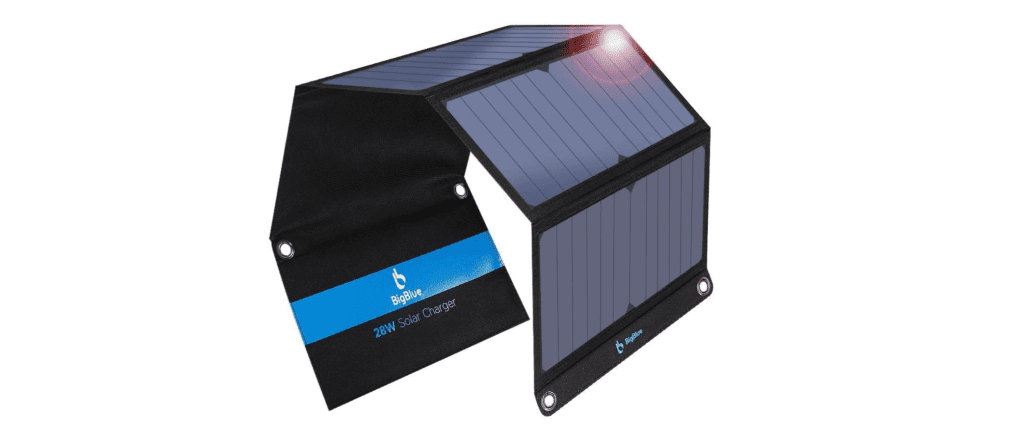 If you are in search of a solar panel that has enough power but is not too heavy, this BigBlue 3 USB Ports 28W Solar Charger is a good choice. It has 28 W specification, 1.31 lbs weight, and 33.1 x 11.1 x 0.2 inches dimension. It is provided with triple USB-A ports, and each output is 5V/2.4 A.
BigBlue 3 USB Ports 28W Solar Charger comes with smart charging technology providing optimal charging speed and safety without worrying about overcharging and overheating. This solar panel is able to convert up to 24% of solar power into free energy. With wide compatibility, it can be connected to almost all android devices, Apple devices, and also some DSLR cameras.
---
#4 Jackery SolarSaga 100W Portable Solar Panel
SolarSaga 100W Portable Solar Panel achieved the #1 best seller in the solar panel category on Amazon with 4.7 out of 5 stars. Providing 100W power output, it has a 24 x 21 x 1.4 inches dimension when folded. It has a rugged design and is built for the outdoor area.
SolarSaga 100W Portable Solar Panel comes with 2 kickstands that can be placed firmly on any surface ground. Covered by monocrystalline silicon solar cells, it has an energy conversion efficiency of up to 23%. Jackery comes with IP65 water resistant rating that will protect from water splashing. Solar Saga 100 features a USB-C(5V,3A) output port and a USB-A(5V, 2.4A) output port to charge 2 small devices directly.
---
#5 Ecoflow 60W Foldable Solar Panel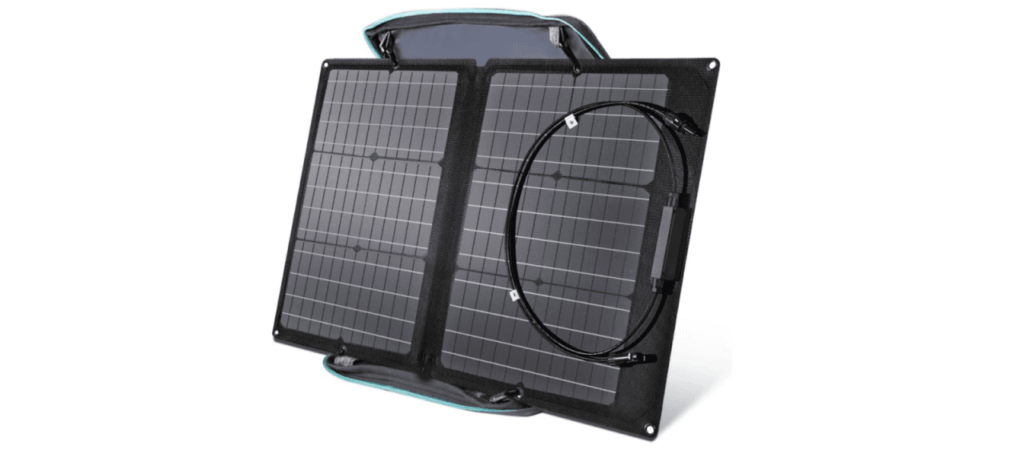 For solo car campers who prefer packs as light as possible, Ecoflow 60W Foldable Solar Panel might be enough. With only 8.8 pounds of weight and 21 x 16.5 x 1-inch dimension, this panel seems lighter than almost every 100W solar panel. It is a mid-sized option since it is still larger than another solar panel for backpacker style.
The portable solar panel has a high conversion efficiency of 21-22%. It comes with a kickstand case, providing protection during transportation. The position can also be adjusted in any direction without any obstructions. It is fully waterproof due to its seamless, one-piece design, making it ideal for camping and hiking activities.
---
#6 Newpowa Polycrystalline Solar Panel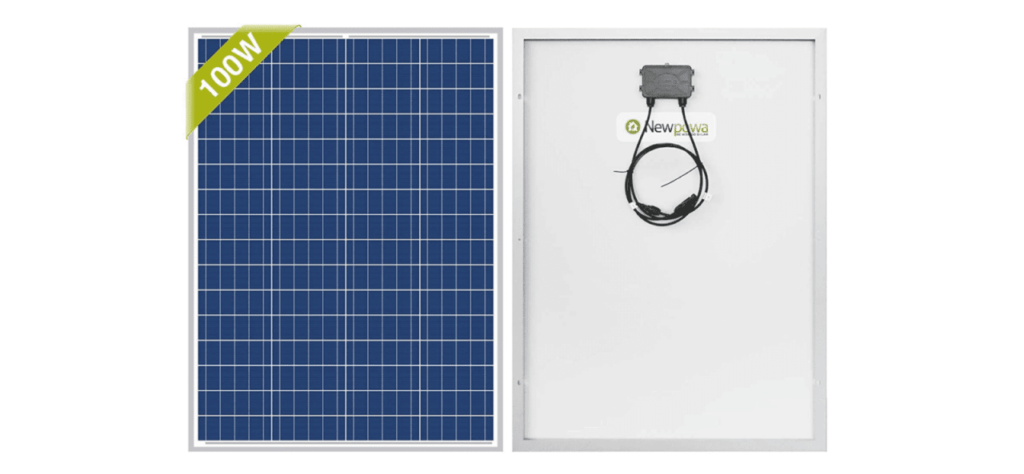 Newpowa Polycrystalline Solar Panel is designed to achieve high-efficiency output with a small size. This 100 W solar panel has 20 pounds in weight and 25.8 x 26.6 x 1.2 inches in dimension. Its rugged design is able to withstand high winds (2400Pa), hail, and snow load (5400Pa).
This solar panel is commonly used for RV and SUV campers. It is supported by a wide range of mounting options including flat surfaces, pole, and wall installation. Pre-installed bypass diodes inside the junction box make the panel work great in the sun and minimize power drops when cloudy.
---
#7 Goal Zero Boulder Solar Panel Briefcase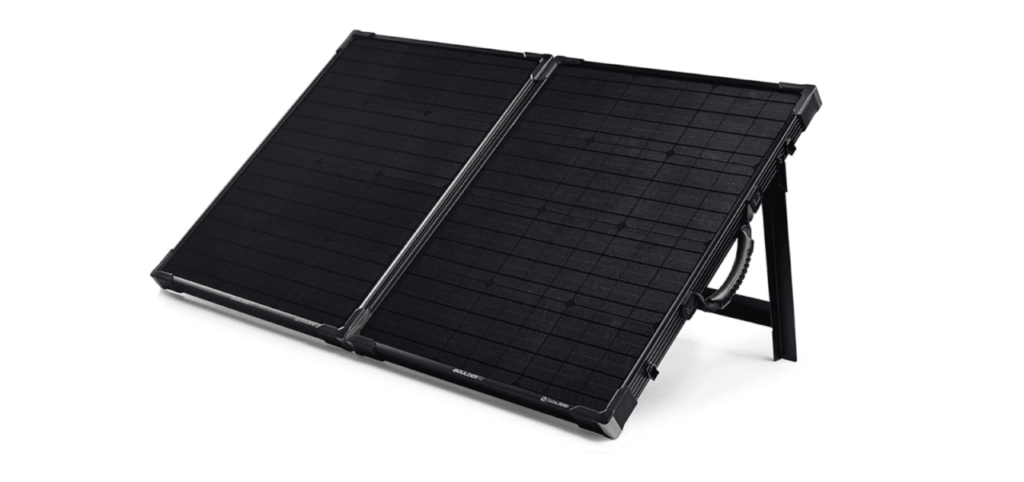 This Goal Zero Boulder Solar Panel Briefcase is another best solar panel option for campervan camping. It is available in 50 and 100 wattages, with 25.9 lbs weight, and 40 x 26.75 x 1.75 inches dimension. Two 50-watt monocrystalline solar panels are combined in a briefcase-style design for ultimate portability.
Goal Zero Boulder Solar Panel Briefcase is built with strong tempered glass and an aluminum frame with added corner protection. It comes with an adjustable kickstand to give flexibility and portability. A protective canvas bag is also included for easy transport and carrying.
---
Before buying a portable solar panel for your camping adventure, you have to make sure that the provided feature is enough for your activity. Having a great wattage solar panel may sound good for providing power, but sometimes it is too heavy for a backpacker camping style, especially for hiking.
If you're a camping lover, a portable solar panel is ready to accompany your journey.