Presenting reports and lectures now has become easier with the presence of technology. We are used to utilizing power points, videos, and visual graphs to deliver our message to the audiences. A presentation remote offers an accessible control solution while presenting without having to open and operate your computer. With this small gadget, you can control what you are showing and highlight the main focus of the topic.
Usually, a presentation remote comes with slim and compact dimensions to allow you to bring it anywhere in the room. It is designed to help presenters become more convenient and fluent. That's why a presentation remote also comes with various features.
Here are some of the best presentation remotes with handy features
#1 Kensington Wireless Presenter with Red Laser Pointer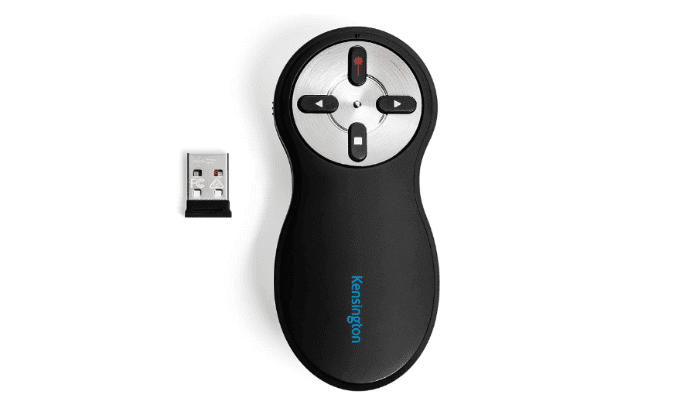 The Kensington Wireless Presenter is a wireless presentation remote with a red laser pointer provided. It has 4 intuitive control buttons providing forward, back, screen blackout, and laser pointer activation. You can switch it off using the power switch to conserve the battery when not in use. This gadget works with PowerPoint or Keynote presentation formats.
Kensington uses a plug-and-play USB receiver with a 2.4 GHz wireless connection to pair this remote. There is an internal receiver storage inside the remote to store the wireless USB receiver to prevent it from getting lost. With the 65-foot wireless operating range, this product ensures non-interrupted performance from entire of the room or auditorium. Using this remote during a presentation is simple without any complicated setup. You will need 2 x AAA batteries to switch this wireless presenter on.
---
#2 Logitech Wireless Presenter R400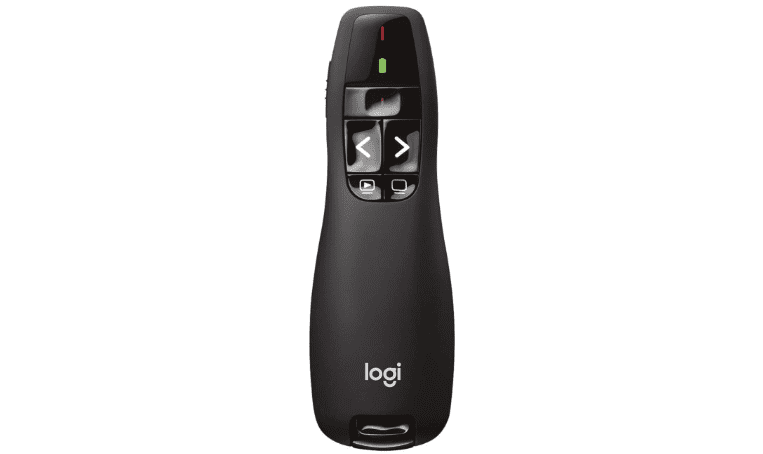 Let's welcome the new attractive presentation gadget, the Logitech Wireless Presenter R400. Everything is well controlled through this compact product on your hand. The button design allows you to press the button with one touch of your fingertip. You just have to press the forward and back button to move your slides and the laser pointer button to highlight your presentation points. The Logitec R400 is featured with a black screen button. You can use this feature to get the audience's attention back to you after showing pieces of information.
With up to 50 feet of wireless range, you will be free from interference while moving around in the presentation room. You can stroll around every corner of the present room, come out from behind the computer or podium, and connect with your audience better. You need to plug in the reliable 2.4 GHz receiver to start your speech without any apps installed.
---
#3 Targus Wireless USB Multimedia Presentation Remote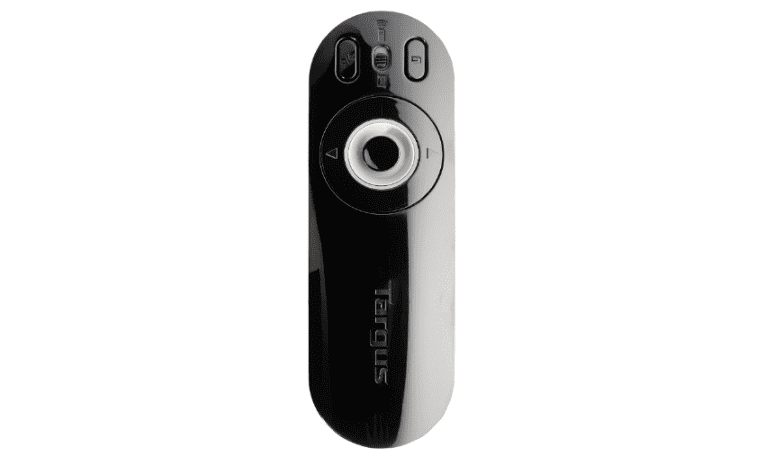 The Targus Wireless USB Multimedia Presentation Remote has a compact, glossy, and stylish look. Since the form factor is small, you can quickly put it in your pocket. This presentation remote supports effective presentations with The KeyLock Technology, a feature that prevents accidentally pressing the not needed button. The integrated laser pointer allows you to emphasize important content.
This product from Targus has built-in volume and cursor controls. This will let you control the mouse functions and access other programs directly without opening your laptop or computer. To power this remote on, Targus provides a high-quality AAA battery that is ready to be used. Moreover, the presentation remote has a hidden compartment to store your receiver safely.
---
#4 Red Star PR-820 Wireless Powerpoint Presentation Remote Clicker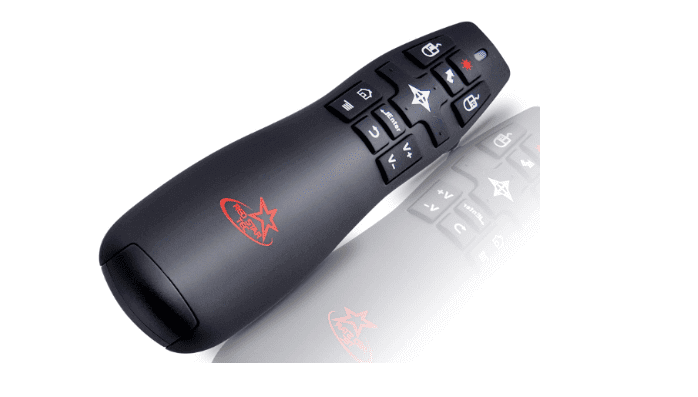 This wireless remote presentation from Red Star Tec is compatible with Mac, Linux, and Windows. It comes with a wireless USB receiver with up to 50 ft of operational range and can be stored inside the remote control. You will get a stable and reliable connection without the required wire and pairing process.
Red Star PR -820 has a lot of features inside. You are able to control the volume from this remote, which is essential when you have several different audio and videos in your presentation. The hyperlink abilities can integrate files or an online page within the presentation. Its ergonomic design gives a comfortable feeling and confidence to come up with your presentation. This product works well with favorite apps, including PowerPoint, Keynote, and Google Slides. To power this device on, you need 2 AAA batteries for seamless operation.
---
#5 Lotorasia Wireless Presenter Remote
The Lotorasia Wireless Presenter Remote is a budget-friendly and high-quality product. Made from ABS plastic, it has lightweight, easy to carry, and has an ergonomic design. You will not feel tired when holding for a long presentation time. It uses a plug-and-play wireless receiver with up to 38 meters of operational range distance. You can freely move around the room and interact without worrying about signal loss or a bad connection.
This presentation remote is equipped with a red laser pointer to help you highlight the focus area of your presentation. It is a perfect product for students and teachers who don't want complexity. Lotorasia is compatible with multiple operating systems, such as Windows and Mac OS. It can support regular office software usage like PowerPoint, Word, and Excel. The button interface is quite simple, allowing you to control your slides and screen completely.
---
#6 DinoFire Presentation Clicker
This presentation remote combines the function of an air mouse with a wireless cursor control button, which makes it like an actual mouse. You can bring an efficient and attractive presentation without any difficulties. This product has many provided functions: a label/eraser, volume control, switch windows, hyperlinks, play videos, full/ blacks screen, and control page up and down.
The DinoFire remote has a wide control range covered to meet your needs. It can reach up to 50 ft with a 2.4 GHz frequency range and red light pointer range of 330 ft. You can store the USB receiver under the pointer cover, so you won't get it lost. This remote support regular operating systems such as windows, Mac OS, Linux, and Android. It is also suitable with presentation software such as PowerPoint, iWork (Keynote & Numbers & Pages), Prezi, MS Word, Excel, ACDSee, Website, etc.
---
#7 Elisween Presentation Remote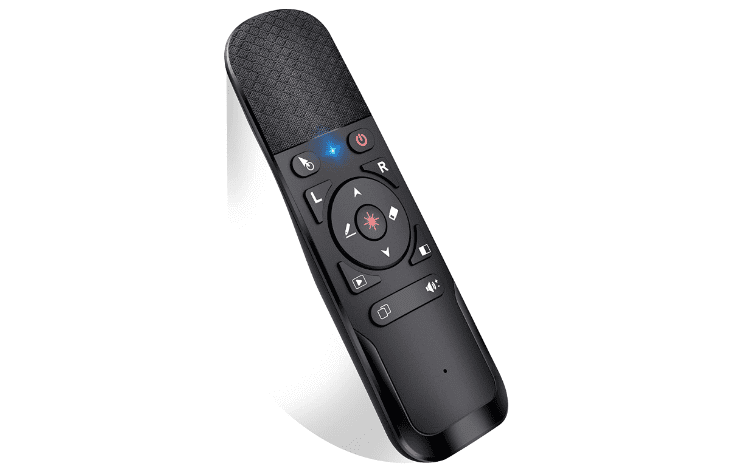 The Elisween Presentation Remote brings the combination feature of a regular presentation remote with an air mouse using a wireless cursor control button. It has a bright red light as the highlight pointer that is easy to see against most backgrounds. Its function range can reach up to 50 ft, and the light pointer range of 328 ft.
This PowerPoint clicker is designed to fit nicely into your hand. Its intuitive touch-keys feature plays a significant role in easy slideshow control. You can move the page up or down without checking your monitor or looking at the button. You also get other functional control for volume control, switching windows, hyperlinks, playing videos, and full/blacks screen. To use this product, you don't need to install any drivers, just plug the USB dongle into a USB port. Moreover, it supports Windows, Mac OS, and Linux.
---