Online gaming has grown fast these days almost anywhere. We can see that there are so many enthusiastic players, either at the beginner or professional level. Not only skills and experience, but having a good internet connection or network is a must thing to have.
An ethernet connection offers faster internet speed and low ping than wireless connectivity. That's why a reliable ethernet cable should be used when playing an online game, otherwise, you will miss out on your game. The important things to consider before buying an ethernet cable are its type, speed, length, and price. It means you have to know about your preferred specification and requirement
Here are some of the best ethernet cables that support stable and fast connections for playing an online game.
#1 Zosion Cat 8 Ethernet Cable
Zosion is a well-known brand for networking cables that has been providing the best quality cables for a long time. This cable has almost 6.3mm in diameter and has high flexibility. Its 0.8mm PVC jacket for the outer cable is waterproof and flame retardant as well. Zosion Cat 8 is powerful, it supports bandwidth up to 2000 MHZ and 40 Gbps data transmitting speed, allowing you to connect to your LAN/WAN segments and networking gear at maximum speeds.
Inside the wire, there are 4 Pairs of 100% 26WAG pure and thick shielded twisted pairs of cables, which is great to reduce external interference and give stable speed. Moreover, the cables are protected by an aluminum foil shield that keeps the cables safe from RFI and EMI. The overall length of the cable is 50ft (about 15,2 meters), but another length variant can also be chosen. You will not have to worry about your device's distance and configurations.
---
#2 Orbram Cat 8 Ethernet Cable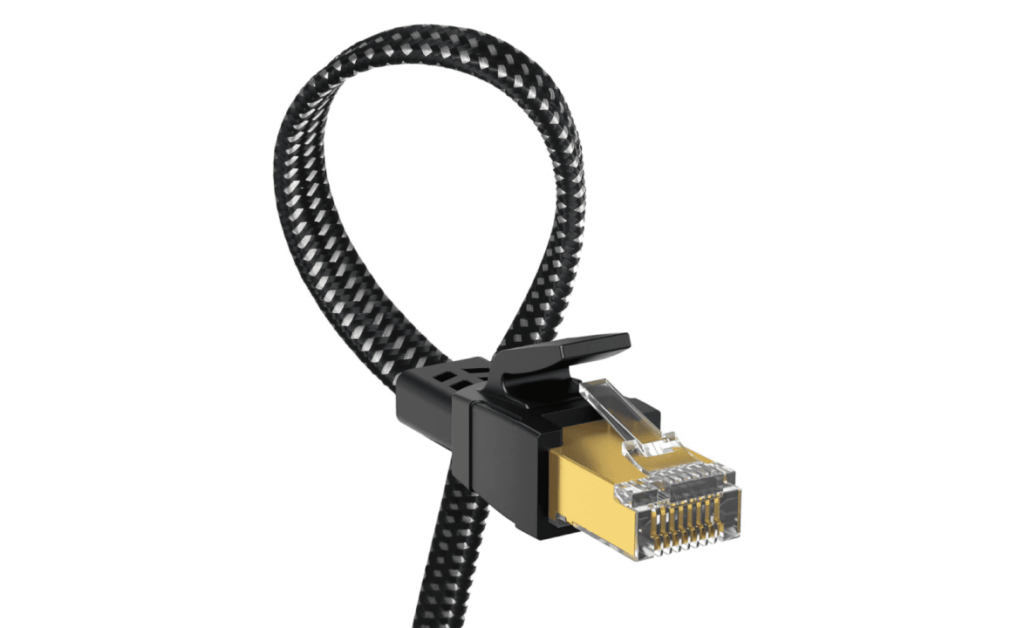 If you are not a fan of thick cables and looking for something easier to manage, this Ethernet cable from Orbram can be considered. It is one of the best flat cables with braided protection at affordable pricing. Categorized as a Cat 8 cable, it can manage 2000 MHz high-speed data transfer for up to 40 Gbps. Made from 4 Shielded twisted pairs of copper wires, this cable can reduce any sort of interference.
This cable uses a double braided-nylon fiber jacket which provides both durability and flexibility to protect the cable from external damages. Due to its flat construction, the cable also becomes tangle-free and can unnoticeably go through under the carpets as well. The RJ45 connector of this cable is gold-plated, which ensures good connection stability and also provides durability to the connector. You can choose any length variant ranging from 1.5 ft (0,45 meters) to 200 ft (60 meters).
---
#3 DbillionDa Cat8 Ethernet Cable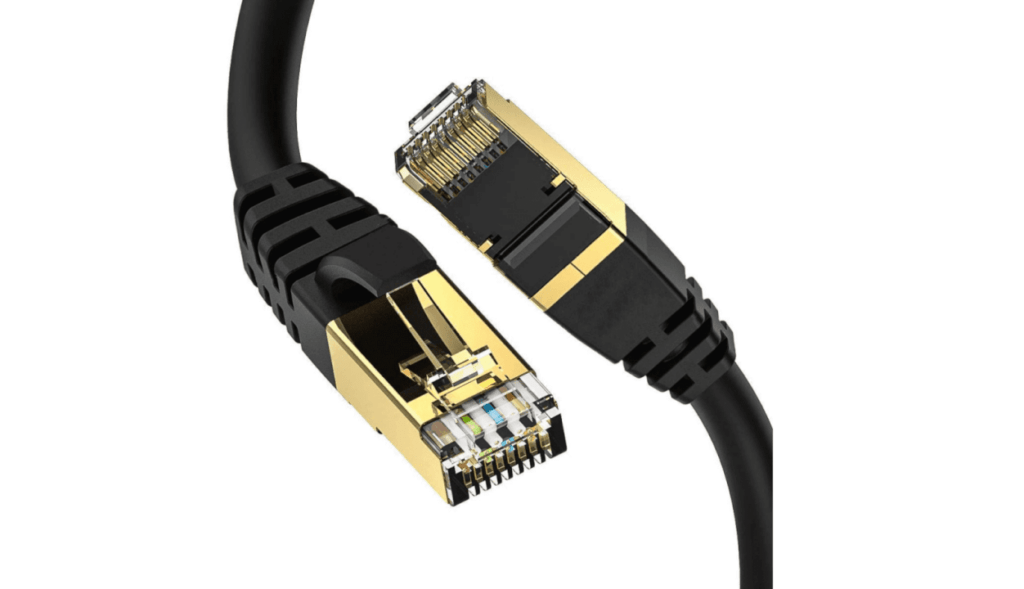 If you are looking for a more affordable cable price and still want a premium quality Ethernet cable for gaming, you can try to check the DbillionDa cables. This cable has 0.24 inches (0,6 cm) thick that is bending resistant and properly shielded. It is made from 4 shielded foiled twisted pairs (S/FTP) and single-strand OFC wires that support max bandwidth up to 2000MHz and can handle up to 40Gbps.
The overall build quality of the cable is extremely rugged and sturdy. Due to the inner shielding and outer PVC jacket, this cable provides EMI/RFI interference-free, which gives a stable connection while gaming. It is also equipped with 24K gold-plating connectors on both ends of the cable. You can use this cable both indoors and outdoors since the PVC jacket makes it totally waterproof. There are 3 ft (0.9 m) to 150 ft (45.7 m) of cable length variants that can fit to everyone's requirements.
---
#4 Jadaol Cat 8 Ethernet Cable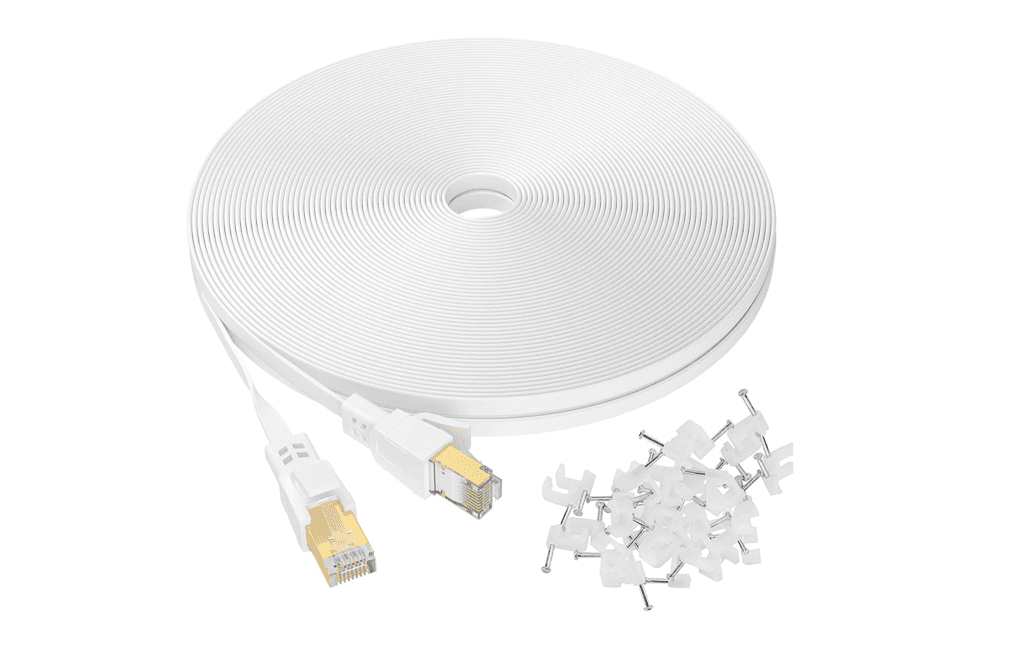 Comes in black and white color variants, this ethernet cable from Jadaol is flat and affordable that you can consider for your gaming activity. Since it is a Cat 8 ethernet cable, this cable supports bandwidth for up to 2000MHz and data transmission speed up to 40 Gbps. Jadaol provides a wide variety of lengths, ranging from 1.5 ft (0,4 m) to 150 ft (45 m). There are 20 cable clips included in the package, so you do not have to purchase any for neat cable management.
You can use the cable with all the devices supporting an RJ45 Ethernet connector such as server, router switch, Computer, PS3, PS4, and Xbox gaming system. Its 4 shielded Foiled Twisted Pair of copper wires and UV-resistant PVC jacket offer durability and flexibility. Moreover, the RJ45 connector is 50-micron gold plated contact pins, making it tough for both outdoor & indoor use. The flat design of the cable allows you to store and manage it comfortably since it's tangle-free as well.
---
#5 Matein Cat7 Ethernet Cable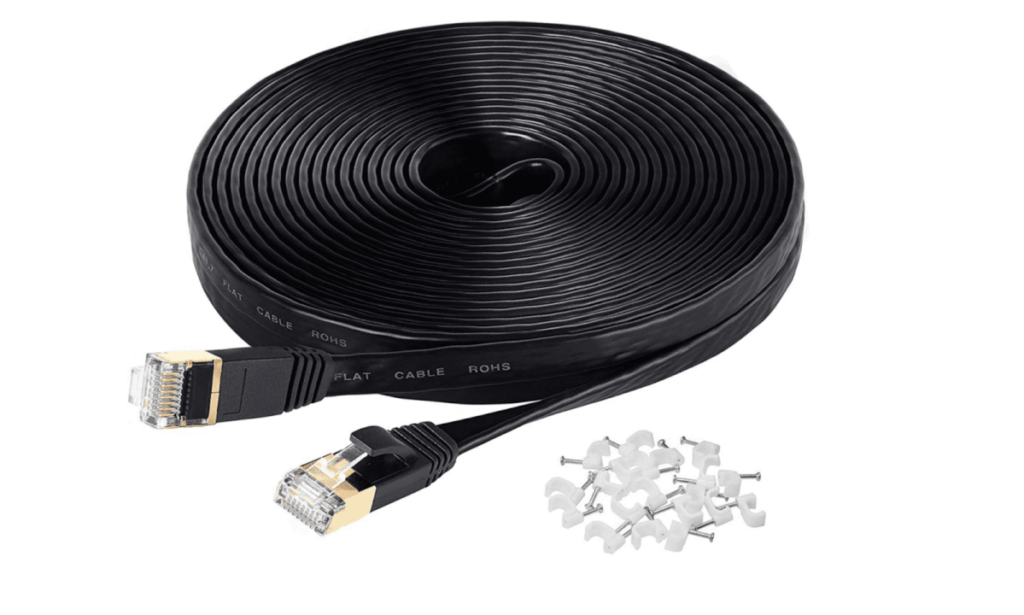 Matein is one of the brands that offer long and flat ethernet cables at an affordable price. This cable has a Cat 7 ethernet cable category, but it is still a good product to choose from since it is capable of delivering 10 Gbps data transfer speeds at a maximum bandwidth of 600 MHz.
Thanks to its flat design, the cable can run smoothly along the edges, unlike a round cable. The thickness of the cable is about 0.28 inches (0.7 cm), with the cable length variant of 25, 50, and 100 ft (7.6, 15.2, 30,4 m). Inside the cable, 100% Bare Copper wires are used to improve the connection and make the transmission stable. The high-quality RJ45 connectors also provide good connection stability and minimize interference.
---
#6 UGREEN Cat 7 Ethernet Cable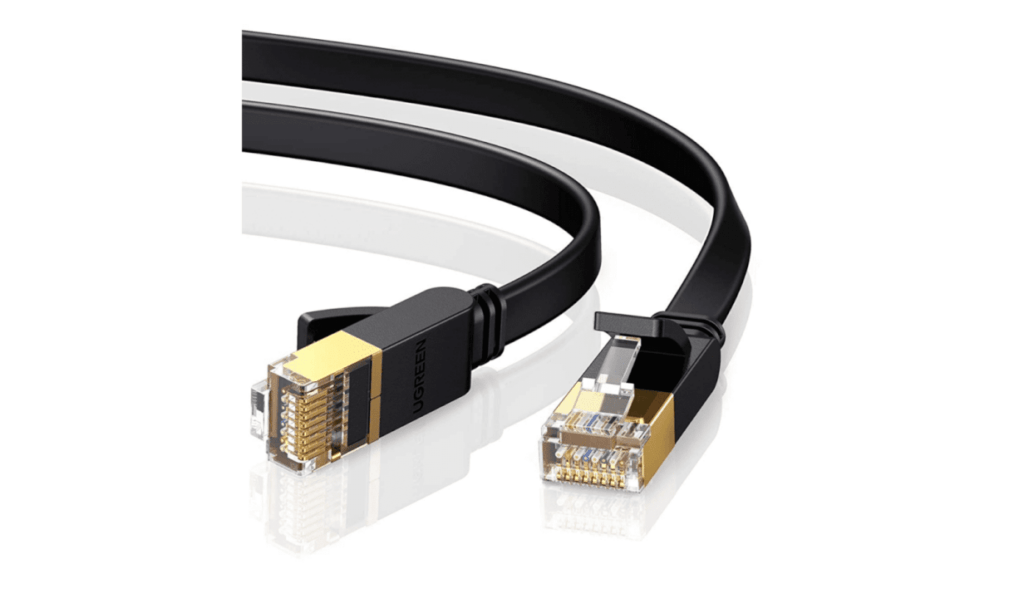 The longer cable that is used, the harder it is to manage. If your devices are located close to each other, you may be looking for a good quality cable with a shorter length. The ethernet cable from Ugreen has a 3 (0.9 m) to 50 ft (15.2 m( cable length variant that may be attractive for you. Comes in the Cat 7 ethernet cable category, this product still offers high durability and flat design at affordable pricing.
This cable supports a maximum bandwidth of 600 MHz and can deliver data transfer rates up to 10 Gbps, which is good enough for an interruption-free gaming experience. It is made of 4 shielded twisted pairs of 32 AWG copper wires, which are attached to 24K gold-plated RJ45 connectors at both ends of the cable. All of the inside parts of the cables are protected by aluminum foil and also have ground wire protection to keep this cable safe in all conditions.
---
#7 DEFACE Cat 8 Ethernet Cable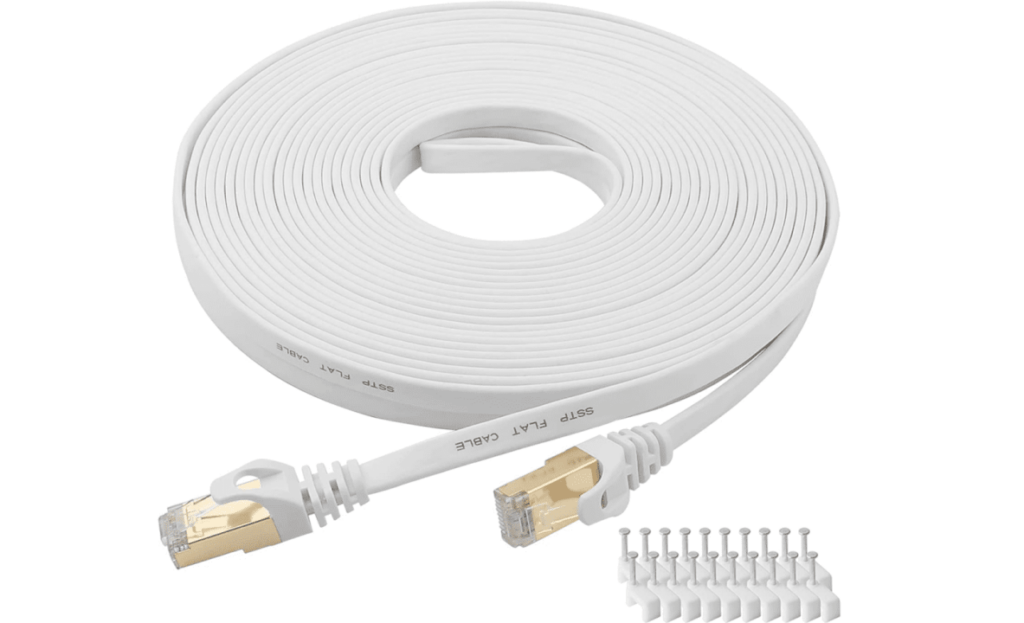 This DEFACE Cat 8 Ethernet Cable is another good brand choice that offers long cable at an affordable price. It comes in a wide variety of lengths ranging from 3 ft (0,.9 m) to 150 ft (45.7 m) in black and white color. It is categorized as a CAT 8 Ethernet cable and is an ideal choice for gaming since it can handle transfer speeds up to 40 Gbps with the 2000 MHz maximum bandwidth. You will not face any connection and network issues while playing games online since the connection will remain super-stable.
The build quality of the cable is pretty impressive as it comes with gold-plated RJ45 connectors with a net-tail joint design that provides more protection. The cable is just 0.09 inches (0.22 cm) thick and 0.29 inches (0,7 cm) wide, making it easy to be installed and flexible, which can be run under the carpet or bent through corners.
---
Since there are so many different brands and quality cables available out there, picking the best one for your requirements may be complicated. However, if you are already well aware of what you exactly need and what your requirements are, finding a perfect ethernet cable can be easier.