Getting a hot coffee, tea, or chocolate during the winter or rainy season really gives a warm and enjoyable feeling. Sometimes we often take hours to finish just a cup of beverage while doing something simultaneously. This might make your drinks cold and less tasty than before. That's why people will likely have a mug warmer to accompany their hot drinks.
A traditional mug warmer usually uses a wired cable to power it on. This type of mug warmer doesn't have good flexibility since you have to stay in one place near an electric power outlet every time. A USB-powered mug warmer can be a good choice because of this reason. You may use an electrical adaptor, connect it with other devices, or simply use a power bank.
Here are some recommendations for the best USB-powered mug warmer that can maintain your beverages warm every time.
#1 Fieeswarm Coffee Mug Warmer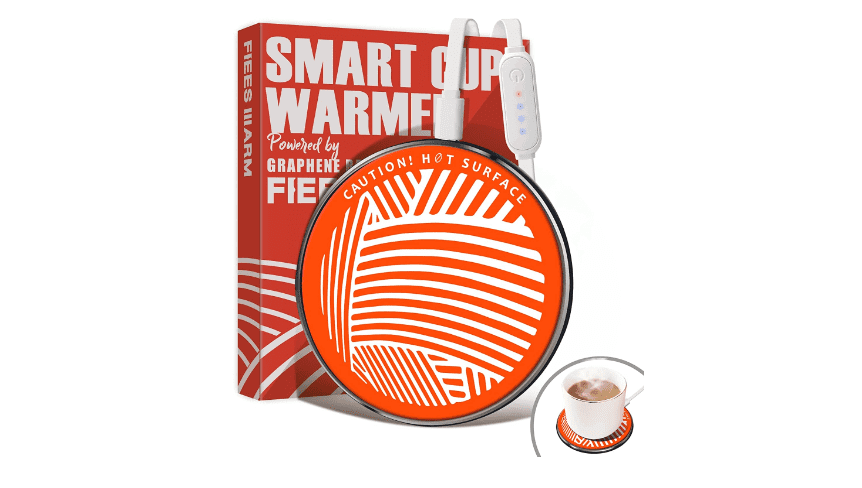 The Fieeswarm designed a mug warmer with three heat settings to help you keep your beverage warm at the perfect temperature, especially while you are on the go. Regular traditional mug warmers usually require you to use their specific original mugs that are sometimes bulky in size, while this mug warmer is super thin and has a flat base. It can heat the entire base, so you can use any mug you have as long as it has a flat bottom. Plus, it is made from an anti-slip silicone surface, is splashproof, and is easy to clean. So let's say goodbye to those old wired electrical mug warmers.
There is a control panel located on its cord with three temperature settings ranging from 122-176° F (50-80 °C). This mug warmer utilizes graphene rapid heating technology powered by low-voltage USB technology. It will allow you to use a power bank or USB port to keep your drink warm easily and portably without requiring electrical sockets. Moreover, It can also be used as a candle or wax warmer to help you relax after hard working days. Fieeswarm mug warmer is an excellent choice for travel, at home, at work, and anywhere you want to be.
---
#2 Neknock Coffee Mug Warmer for Desk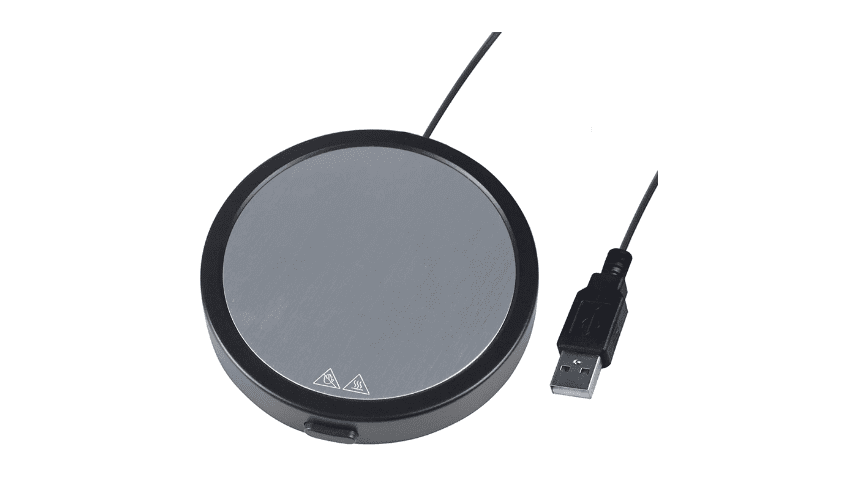 This mug warmer from Neknock helps you to keep your coffee, milk, or other beverages warm at a constant temperature of about 55°C. So, this mug warmer is only used to keep warm without boiling function. This product is made of high-temperature-resistant plastic with an aluminum plate combined. The diameter of the heated surface is about 3.2 inches (8.1 cm), with a height of 0.63 inches (1.6 cm).
Neknock Mug Warmer utilizes a USB interface to power on. It is equipped with a 1.2 m cord length to give you flexibility while using this product. It has a beautiful and compact design, allowing you to carry it easily. This mug warmer comes with a thin-walled and flat bottom surface, offering the best insulation effect. It is suitable for most flat-bottom cups, such as glass, stainless steel, ceramic, metal, or cups.
---
#3 Buyweek USB Powered Coffee Mug Warmer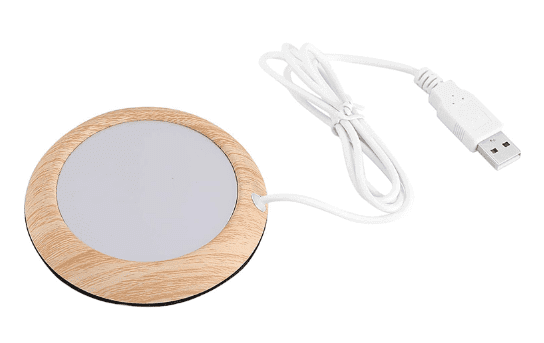 This cup warmer is made of high-quality walnut wood and metal materials combined, giving it natural vibes, and is smooth to touch. This product from Buyweek uses a 5V USB port to power it on. You can easily connect it to any device with USB output, such as a phone charger adapter, computer, laptop, tablet, and so on. It is a great product not only for keeping your beverages warm but also for desk decoration.
Buyweek Mug Warmer is lightweight and compact, making it easy to carry and suitable for most stainless steel cups, bottles, ceramic cups, glass cups, etc. The whole diameter is about 2.95 inches (7,5 cm) with 108 grams of weight. It can warm beverages for up to 80℃ without worrying about high temperature and high oxidation.
---
#4 Kensuka Coffee Mug Warmer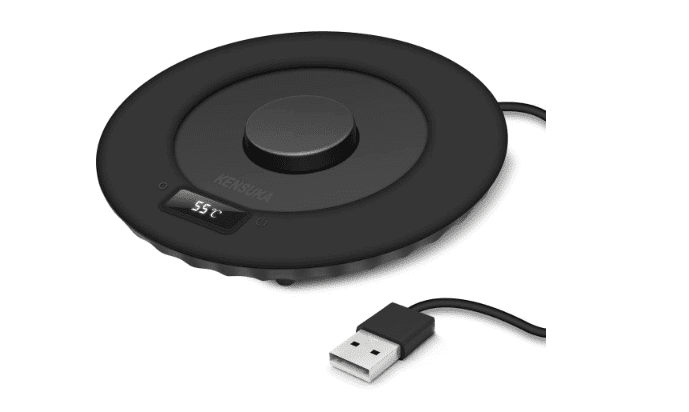 This mug warmer will keep your favorite drinks warm at 55 – 65℃. It offers an adjustable temperature setting to make sure your drink is always at the best taste temperature. Its heating head has an adaptive adjustment feature with a telescopic design which can perfectly fit different styles of cup bottoms to provide the most efficient heating service. The Kensuka Mug Warmer works with 5V / 2A / 10 W USB power input, which is widely available from regular USB Chargers and power banks.
Kensuka beverage warmer uses graphene heating technology that provides a convenient, safe, and efficient heating experience. There is an LED display to help you monitor and measure your drink temperature. It is washable in water, so you don't have to worry about getting it damaged. Its silicone case is removable to help make cleaning easier. You have to make sure it is dry before powering it on again. It can be a nice gift for friends and family, especially during the winter season and cold days.
---
#5 Zhenglu Coffee Warmer with Mug Set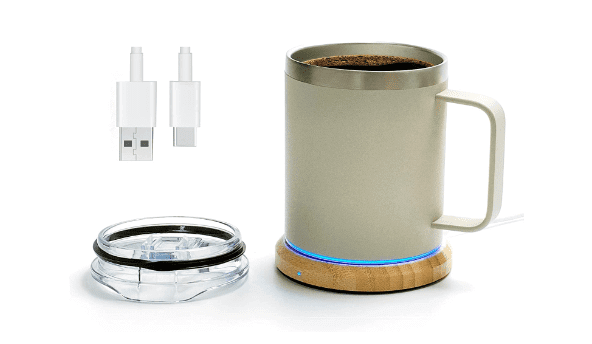 If you are looking for a mug warmer with a mug or cups included in the package, you can consider this Zhenglu Coffe Warmer. Its mug is made of double-layer food-grade stainless steel, BPA-free, which is not rusty and easy to clean. Built with MCH ceramic heating element at the mug bottom, it provides faster heating than a regular mug warmer. It can keep your hot coffee, tea, milk, or cocoa for about 131 ℉-149 ℉ (55 – 65 deg. C). Its base is made of 100% natural bamboo, waterproof, and short-circuit protected.
A cup lid with a silicone sealing ring prevents leakage and dust contamination. Since it is a sliding lid, you can put a straw or push it open to drink directly. The heating process will automatically be activated when the mug is placed on its power base. This mug warmer can be a perfect gift for someone who loves hot drinks at home or the office. Since it is a USB-powered cup warmer, you need to connect it to a 5V-2A adapter or PD charger.
---
#6 Vkysinko Coffee Cup Warmer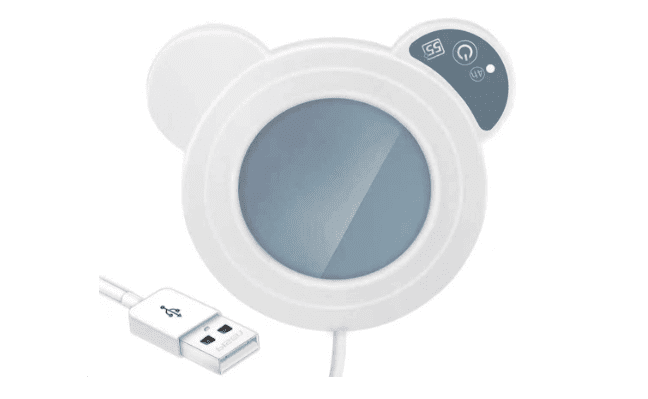 The Vkysinko Warmer can be used for beverages warmer and also as a candle warmer at a constant temperature of up to 131 °F (55 ℃) but does not support boiling liquids. It fits most cup types, such as glass, stainless steel, or ceramic cups. The flat-bottom type cup is recommended for better heating results. This beverage warmer comes with an auto shut-off function after working for 4 hours.
This mug warmer has a low power consumption of 10 watts with a USB charging port. Its design is quite simple and cute, with 14.5 cm x 12.5 cm of overall dimension and 200 grams of weight. Since the panel is made from stainless steel, the Vkysinko mug warmer is wear-resistant and easy to clean.
---
#7 YumSur Multifunction Electric Beverage Warmer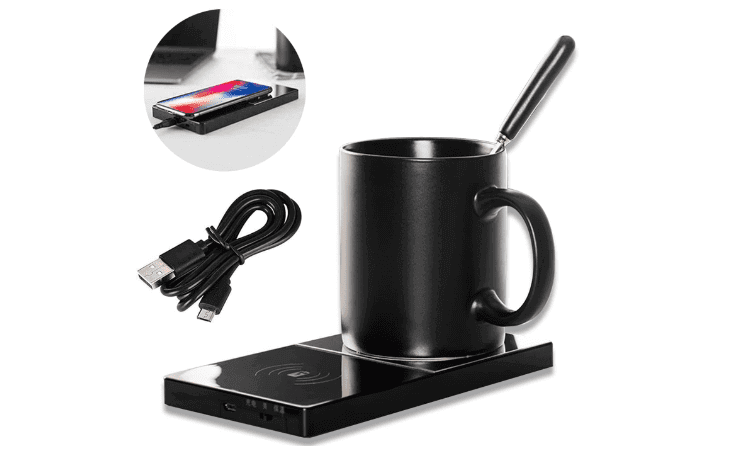 This mug warmer has 2 in 1 multifunctional design; it can be used as a beverage warmer and a wireless charger suitable for office and home usage. The warmer function can help to maintain the beverage temperature but not boiling. The charging and keeping warm functions cannot be used at the same time, and there is a conversion button to select functions. When the phone is fully charged, it automatically disconnects as overcharging battery protection. Since it uses inductive technology, you can charge the mobile phone normally, even with a case installed with a maximum thickness of 5mm.
This mug warmer can intelligently maintain a constant temperature of 50°C/ 120°F, keeping a good taste and suitable for drinking throughout the day. It can fit most cup types, such as glass, stainless steel, and ceramic. A flat-bottom glass or stainless steel cup is recommended for efficient heating. The translucent material makes the surface more textured, while the thermostatic panel adopts a mirror design. It gives a stylish appearance and elegant heater for home or office usage.
---