When the summer season is coming, it is not a surprise for everyone to find a way to keep themself cool. The rising temperature can be uncomfortable and distract our way of focus. Even when the weather is getting warmer, it is the perfect time to do fun outdoor activities such as hiking, camping, or just walking.
Thanks to the recent innovation of wearable air conditioning fans. Now we can freely enjoy our summer while keeping our bodies cool with this portable gadget. Usually, it is hung around your neck and delivers cooling air continuously. It will keep you convenient for long days outside.
Here are some of the best recommendations for wearable fans to keep your body cool.
#1 Jisulife Portable Neck Fan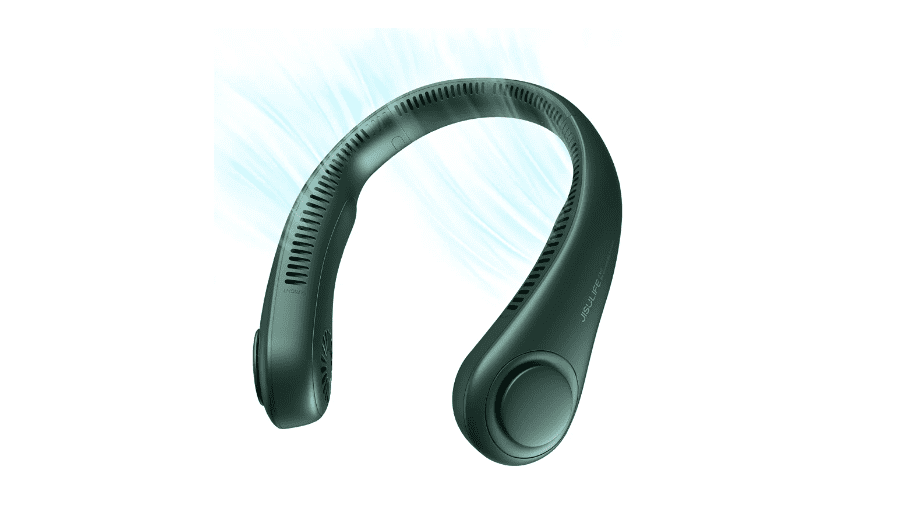 Jisulife portable neck fan is able to send you cool wind by simply being attached to your neck. Designed without wings, it can be used safely for children and the elderly. This hand-free neck fan has a similar shape to a headphone with a weight of about 9.1 oz (258 grams) , which is ultra-light and puts less strain on the neck. It has 78 air outlets on its surface, providing air in the entire face to keep you cool. This product is ideal for accompanying you when working in hot weather.
Jisulife has an adjustable fan speed feature by pressing the power button repeatedly. It comes with a large 4000 mAh battery capacity that provides a 4 – 16 hours usage duration, depending on the selected speeds. Its fan motor has been modified to keep noises at a maximum of 25 dB while running. It is quiet enough to prevent disturbing your working focus. Made from Eco-friendly ABS and silicone materials, this neck fan offers a softer and more durable product. There are five color variants that you can choose from; dark green, blue, grey, pink, and yellow.
---
#2 Torras Coolify Portable Air Conditioner Neck Fan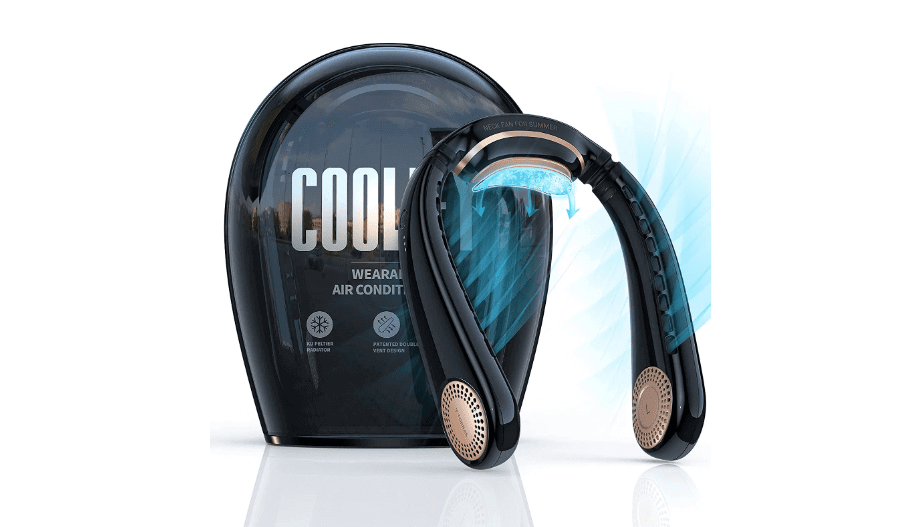 The Torras Coolify neck fan is armed with the Ku Peltier Radiator technology to produce cooling air for you. Comes with a dimension of 5.9 x 7.8 x 1.2 inches (15 x 20 x 3 cm), this product is built with a ceramic semi-conductor radiator. The heat energy is exchanged by a cooling plate, and the cold air will be transmitted to the skin. It is claimed to produce cold air to help lower your body temperature by 18°F (10 °C) in just 3 seconds.
Its blade-less and hands-free design gives you flexibility since you can do any activities without being disturbed by this gadget. Torras Coolify neck fans adopt the shape of headphones which is placed around your neck. With its unique design, you will get a comfortable cooling feeling with adjustable fan speed features.
To power this fan on, it is equipped with a 4000 mAh high-grade lithium battery that can be used for up to 8 hours per charge. Comes with USB-C charging port, the charging time will take about 2 hours, which is faster than conventional charger ports. The Torras Coolify uses a space capsule case look, providing a sense of tech and mystery. It can be a good gift for your family and friends during the hot weather in the summer season.
---
#3 FrSara Neck Fan
This neck fan from FrSara brand adopts a unique air outlet shape design with a 360-degree surround type. The wind distribution is increased by 90% with the three-speed adjustable wind; weak, natural, and strong. It has 60 strong and comfortable turbine blades and can cool quickly in just 3 seconds. This product utilizes the latest low-power technology that allows a short recharging time. Using a 2400 mAh of battery capacity, it can be used for 2 to 8 hours based on the selected speed.
Since it has no fan blades, this neck fan is silent and safe for use. FrSara Neck Fan is made from a food-grade silicone material that makes it skin friendly. Its angle can be adjusted to prevent sliding. Designed to hang on your neck, this fan is suitable for traveling in hot weather during the summer season. There are 11 different color variants that you can choose to match your style. You can be more relaxed anytime and anywhere with this portable fan.
---
#4 Vagau Hand Free Neck Fan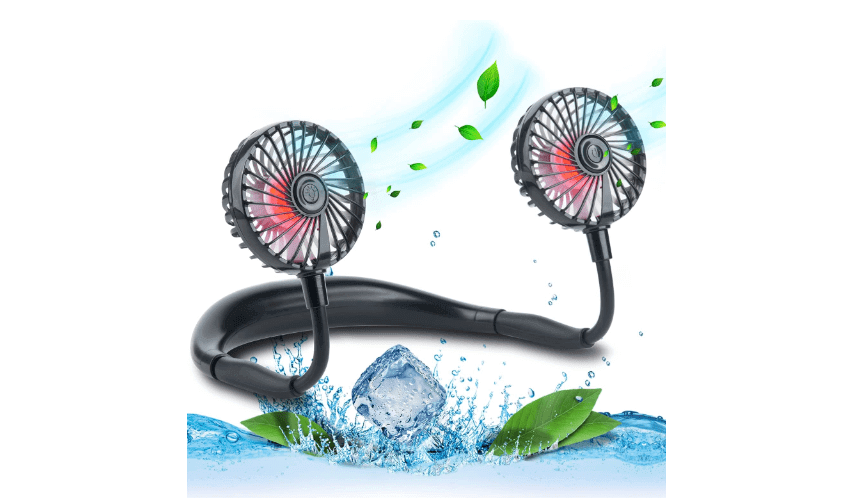 Comes with the newest design, the Vagau Hand Free Neck Fan offers an easy-operation product with readjusted button configuration. This product is focused on lightweight, comfort, and flexibility. This fan can sit around your neck to keep you cool and relaxed when in outdoor and indoor activities. This small, ultra-quiet, and powerful fan can be rotated to cover your face, neck, shoulders, and chest. It features three adjustable speeds to help you customize your cooling options.
Vagau hands-free neck fan has 6 x 7 inches (15.2 x 17.7 cm) of dimension with 180 grams of weight, allowing you to carry it easily or put it on your backpack. It is equipped with fun LED lights that can be turned on or off to create a beautiful style that lets you glow in low-light or dark settings. To power this on, a built-in 2000 mAh battery provides up to 10 hours of usage time, depending on the selected mode. It also can be recharged quickly to give you an efficient time.
---
#5 Outxe Personal Necklace Mini Fan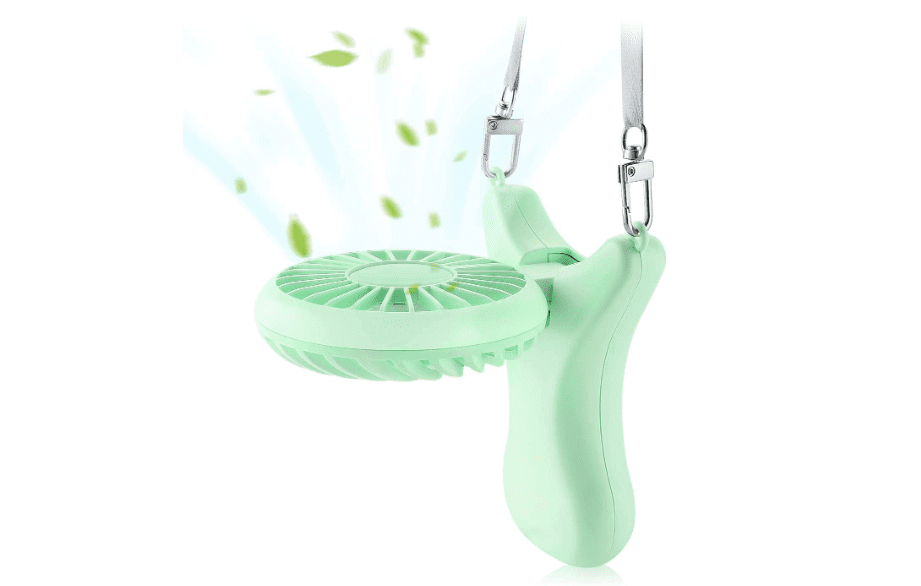 This wearable fan offers a different design and functionality than other previous products. Instead of adopting the headphone shape, the Outxe fan uses a necklace design where you just need to hang it around your neck and enjoy a cool breeze. It can be adjusted up to 90 degrees to provide the best cooling angle. To meet your needs, there are three adjustable speed modes, low, medium, or high.
Comes with 3000 mAh of battery capacity, the Outxe fan can be used for up to 3 to 12 hours. It can be recharged by any 5V output USB device, such as a power bank, computer, or regular phone charger. It has only 122 grams / 4.3 oz of weight, which is lighter than a phone nowadays and easy to put in a bag. This fan can be an excellent gift for family or friends in summer.
---
#6 Ithky Portable Neck Fan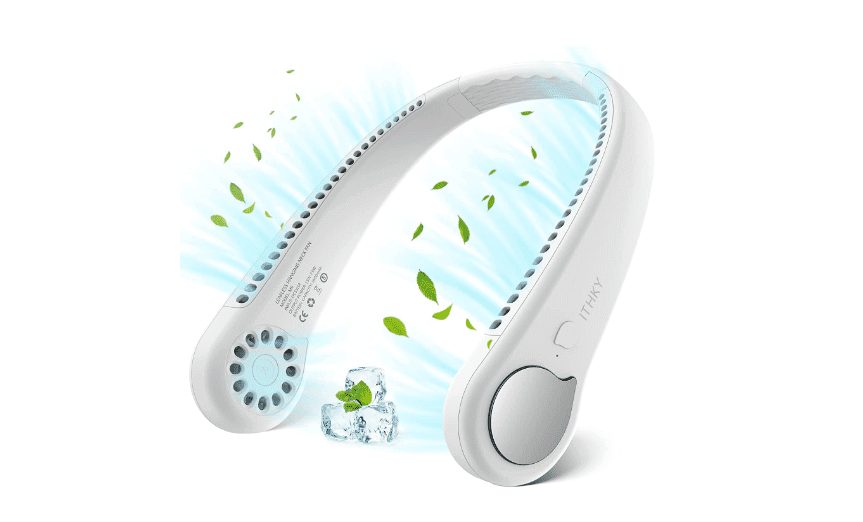 Achieved the Amazon's Choice rating, this Ithky portable neck fan can be considered to accompany your activity. Equipped with 48 wind outlets and 60 pcs of twin-turbine fan blades, it can multiply the wind power and quickly cool in only 3 seconds. Since it is a bladeless fan, Ithky can be used safely by children or the elderly without worrying about getting your hair in. This hand-free neck fan adopts the headphone look, where you can use it freely with fashion stylish.
Ithky uses USB technology, allowing you to charge it via computer, cell phone charger, power bank, laptop, etc. Built with an 1800 mAh battery capacity, it can provide up to 2.5 to 7 working hours, depending on the fan speeds. There are three different wind speed modes and 360-degree bendable angles to meet your need. Its fan motor has been modified to produce lower noise during operation. Made of Eco-friendly ABS and silicone, it can give a softer, more durable, and quieter product.
---
#7 Sweetfull Portable Neck Fan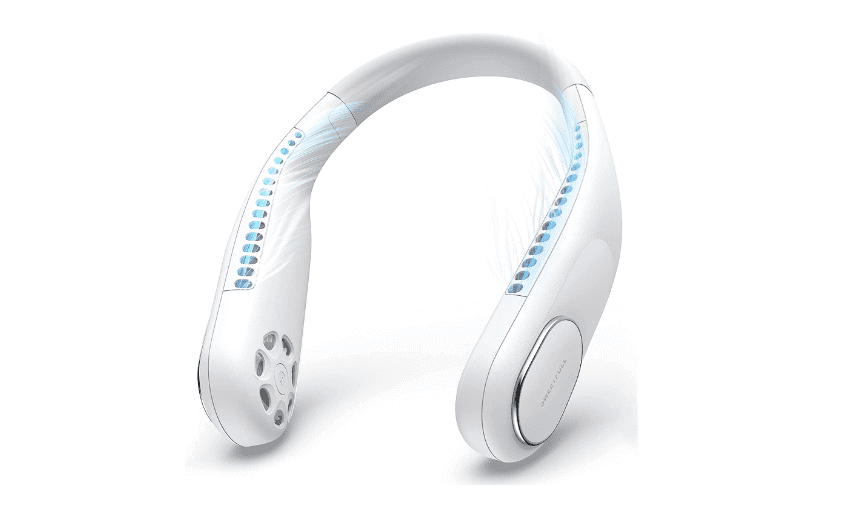 The Sweetfull Portable Neck Fan is engineered to produce lower noise during operation. This hand-free neck fan was designed to free your hands, so you can keep productive while using it. The multiple air outlets around the neck provide cooling air circulation in any desired direction. Three color variants are available to match your daily style; white, black, and pink.
Its 4000 mAh large battery capacity provides 4 to 16 working hours, depending on the selected speeds. Sweetfull uses a brushless motor to maintain a noise of fewer than 40 decibels. Comes with compact dimensions of 7 x 9 x 2.5 inches (17.7 x 22.8 x 6.3 cm) and 0.7 lb (317 grams) of weight, this product is easy to carry and comfortable to use while on the go. It is ready to accompany you to get out of the house and enjoy the outdoors again, camping, watching sports, walking on the beach, or just sitting in your backyard.
---