Anker is one of the global producers of charging technology gadgets. They provide many types of chargers, such as wireless chargers, car chargers, wall chargers, and portable power banks. Anker is always working on making innovations to improve power delivery technology. They are not only looking for a compact product, but the incredible speed of charge is also of their concern.
Power banks are now an important gadget to bring daily, especially when you are far from home or traveling. An extra battery booster can keep you in touch and connected to your friends, family, and work. You can also extend your playing game activities or just scroll social media. There are things to consider before buying a new power bank: the size and weight, input and output rating, and capacity.
Here are some of the recommendations of the best power bank from Anker that are compact and portable to accompany you while on the go.
#1 Anker PowerCore 5000 Portable Charger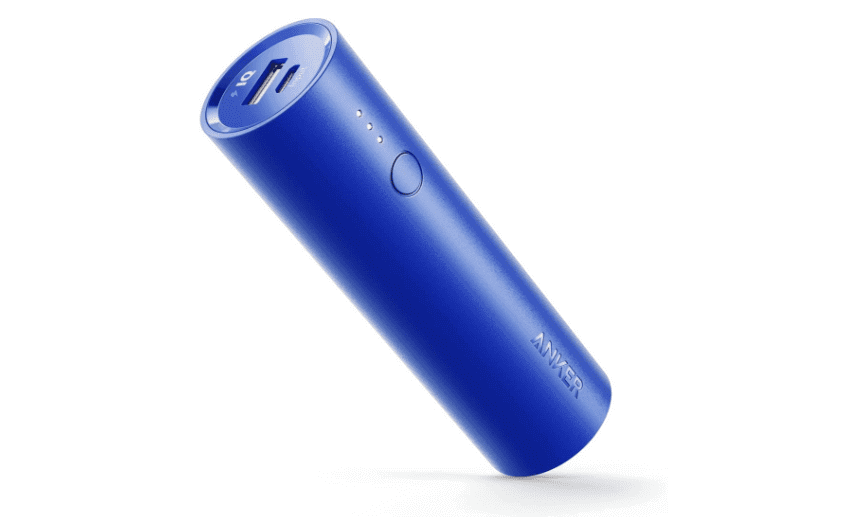 The PowerCore 5000 is an ultra-compact and portable power bank from Anker. Comes in 4.5 x 1.3 x 1.3 inches (11.43 x 3.3 x 3.3 cm) of dimension and weighing 4.8 ounces (136 grams), this power bank is perfect for work, travel, or at home when the power outlet is hard to reach. It offers faster and safer charging with advanced technology. Designed with 5000 mAh of capacity, you can use it at least for a complete charge for almost any phone. Both USB and micro USB ports can be used to recharge devices or themselves.
Because of its size is pretty small, Anker Powercore 5000 is almost unnoticed when stored in any pocket or bag. Comes with a cylindrical design, it provides a stand-out capacity-to-size ratio. This power bank utilizes two different fast-charging technologies. First, the PowerIQ technology is able to deliver the fastest possible charging, while the VoltageBoost can adjust the output to overcome resistance and ensure a consistent top-speed charge.
Anker introduces the MultiProtect safety system and surge protection, allowing short-circuit prevention features to keep you and your devices safe. This power bank is flight-approved and allowed to bring on a plane.
---
#2 Anker A1263 PowerCore 10000 Portable Charger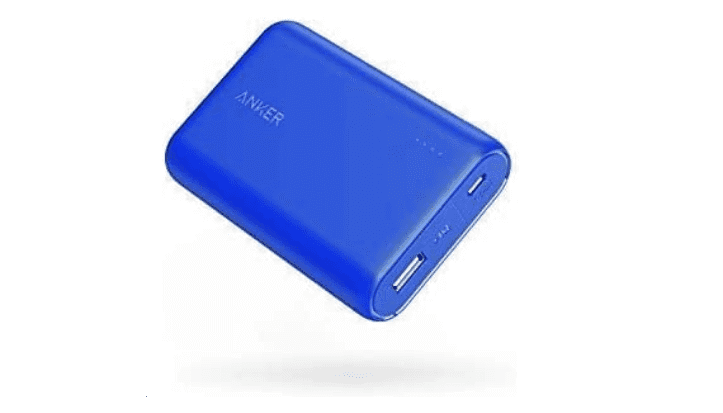 This product from Anker is one of the lightest and smallest 10,000mAh portable power banks. It can provide almost 3.5 times for an iPhone 8 fully charged or 2.5 times for the Galaxy S8. Anker A1263 power bank features high-speed charging combined with the exclusive PowerIQ and VoltageBoost technology. These make this power bank deliver the fastest possible charge for any device connected. Comes with 3.62 x 0.79 x 0.87 inches (9.2 x 2 x 2.2 cm) dimensions and 6.2 ounces (175 grams) of weight, this product is compact, lightweight, and portable.
Anker A1263 is equipped with the MultiProtect technology, a combination of 11 safety features providing the ultimate protection for your devices, your power bank, and yourself. In the buying package, you will get the Anker A1263 PowerCore 10000 power bank, Micro USB cable, travel pouch, and welcome guide, completed with a worry-free 18-month warranty.
---
#3 Anker 313 Power Bank PowerCore Slim 10K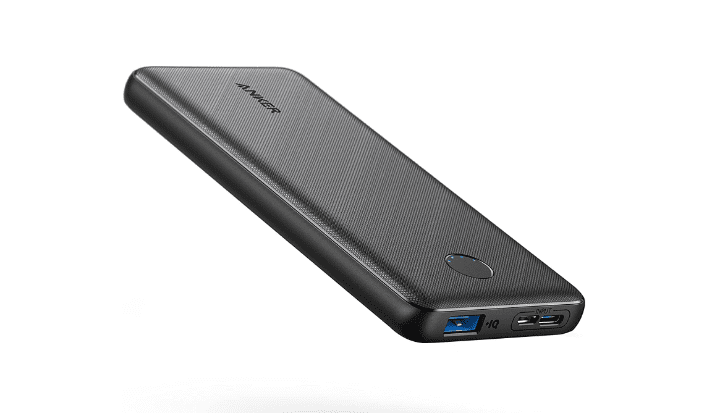 Built as an adventure product tier with superior durability and scratch resistance, the PowerCore Slim 10000 is a premium product both inside and outside. It is one of the slimmest and lightest 10,000 mAh portable power banks on the market. It provides 2.25 times to fully charged an iPhone 12 and 1.6 times for Galaxy S20. This model comes with Anker's exclusive PowerIQ and VoltageBoost technology combination to detect and produce a tailored rating charge. It can deliver up to 12W or trickle-charging mode to charge low-power devices.
This product has Anker's comprehensive MultiProtect safety system that includes overcharge protection, short circuit protection, temperature control, and more. It is airline friendly, which means you can take and use it on any flight safely to help you stay powered up on your journey. Anker 313 Power Bank is quite slim and light for its large cell capacity. It comes with just half a pound of weight (226 grams) and is designed to fit in your backpack, palm, or pocket, perfect for work or traveling. You may use a micro USB or USB-C to recharge it in just 4.5 hours.
---
#4 Anker PowerCore II Slim 10000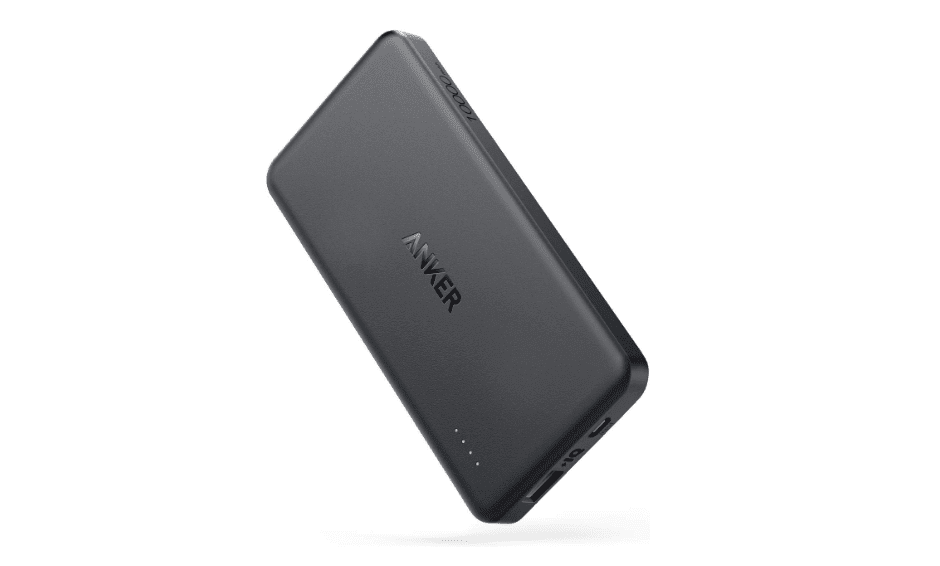 This upgraded version of PowerCore II has an impressive power bank performance that utilizes Anker's new charging chip. Comes in 5.39 x 2.6 x 0.59 inches (13.6 x 6.6 x 1.5 cm) of dimension with a weight of just 7.52 ounces (213 grams). You can easily keep this in your handbag, backpack, or pocket. Using 10,000mAh of power capacity, you can charge your smartphone anywhere you go. When it comes to the recharge itself, you may take between 4 and 10 hours, depending on the type of input you're using.
The PowerCore II is equipped with a soft silicone surface that protects your smartphone and helps to prevent scratches. It can be used as a universal power bank for gadgets such as Apple, Android, and other Quick Charge devices.
---
#5 Anker PowerCore 13000 Portable Charger
The Anker PowerCore 13000 Portable Charger is the new successor to the PowerCore 10400 model version. It has an identical compact size but is packed with more significant power. With this power bank, you can charge an iPhone 8 almost 5 times in full charge or Samsung Galaxy S9 3 times. Designed to give superior portability, the PowerCore 13000's massive power is packed into a pocket-sized dimension that is easy to carry anywhere. It is the perfect travel partner whenever and wherever you need to charge.
This portable power bank has a super high 13,000 mAh cell capacity with two high-speed USB ports equipped. Armed with the PowerIQ technology, this product intelligently identifies any connected device, and then it will deliver the optimum charge outlet, including Apple and Android phones, tablets, cameras, headphones, and more. The safety system includes surge protection and short circuit prevention to keep you and your devices safe.
---
#6 Anker 325 Power Bank PowerCore Essential 20K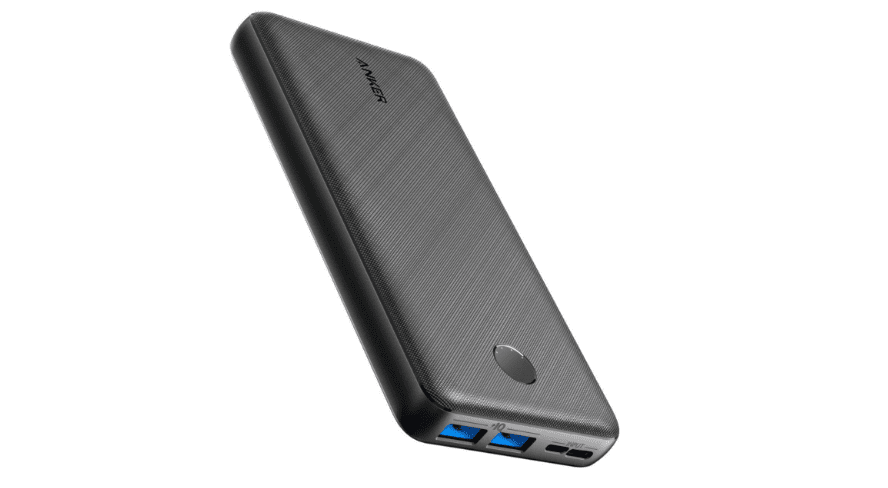 This product has a massive 20,000 mAh cell capacity and provides more than 5 times to fully charged an iPhone XS and almost 5 times the full charges for Samsung Galaxy S10. Like nearly other Anker products, it is built with advanced charging technology, the PowerIQ, and VoltageBoost, to deliver an optimized charge to your devices. It is also featured with the Trickle-Charging Mode, which is designed to provide optimized charging for low-power rated devices such as earphones, Bluetooth speakers, and other accessories.
Anker offers a premium design in this power bank with a sleek matte exterior and cool-blue LED light wheel to display battery level. Two twin USB ports enable you to charge two devices simultaneously at the same time. Compatible with USB-C and micro USB input, you will have more recharge method options. You can use a 10 W charger that will take approximately 10.5 hours or a 5W charger for 20 hours. It has a 6.2 x 2.9 x 0.8 in (6.2 x 7.3 x 2 cm) dimension and 12 oz (342.5 g) in weight, which is compact and portable. Plus, this power bank is safe to bring on an airplane to accompany your travel.
---
#7 Anker A1271 PowerCore 20,100mAh Ultra High Capacity Power Bank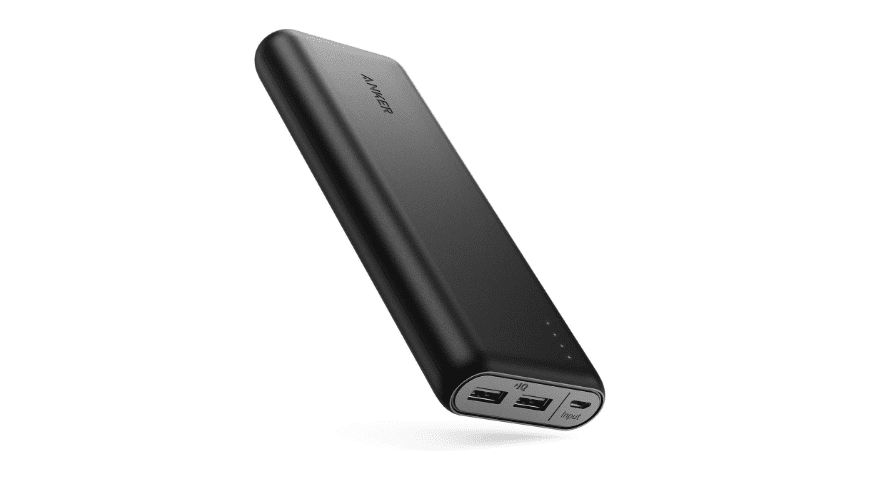 This product has the highest capacity on this recommendation list. Comes with an Ultra-High Capacity of 20,100 mAh, it still has a light weight of only 12.5 oz (141 grams). With its massive capacity, this power bank can fully charge the iPhone 8 for almost seven times, the Galaxy S8 for five times, or the iPad mini 4 twice. Completed with the exclusive High-Speed charging technology from Anker, PowerIQ, and VoltageBoost, it can deliver the fastest possible charge speed.
Engineered with a 4.8A output rating from its two USB ports, Anker A1271 provides enough power to simultaneously charge two devices at full speed. Its surge and short circuit protection ensure advanced safety features to keep you and your devices safe. Comes with a matte finish, which is able to enhance grip and prevent smudges and fingerprints.
---