Hair is critical to your overall appearance. We all know and (many of us) have experienced that keeping hair looking nice while travel is not an easy task. But with a cordless hair straightener, that's possible to achieve your desired hairstyle anywhere without hassle.
If you're someone who wants to take Instagram-worthy pictures of yourself on travel, investing in cordless hair straighteners can be perfect for you! However, choosing one that works for you might be confusing. Before buying, you should consider these five basic features such as charging time, charging port type, iron plate type, heat settings, and size.
To help you make a better decision, we carefully selected the 10 best cordless hair straighteners to take on travel along with their key features.
#1 Ghd Unplugged Cordless Hair Straightener
The Ghd Unplugged is a powerful styling tool you can use everywhere. Powered by a long-lasting lithium-ion battery, it charges in just two hours and provides up to 20 minutes of continuous styling. You're also allowed to charge it between each styling session for a longer usage time.
Whether you want a sleek look, waves, or curls, Ghd Unplugged high-gloss ceramic plates that conduct a consistent temperature of 185ºC let you change your style at any time without damaging your hair.
Equipped with a USB-C cable and power adapter, you can easily charge Ghd Unplugged on the go from your laptop, car, train, or plane. It's complemented by flight-friendly technology and compact size as well, so you're guaranteed to pass the airport security check and freely carry your style anywhere.
---
#2 Dyson Corrale Hair Straightener
If you're a person who craves the latest innovation, Dyson Corrale is the best choice for you. This hybrid hair straightener—which can be used with cord or cordless—is a new kind of hair straightener that has a flexible plate. Yes, its manganese copper alloy plates will flex to gather hair strands gently. This amazing innovation helps us to minimize hair damage caused by heat.
The Dyson Corrale delivers up to 30 minutes of cordless styling after 70 minutes of charging time. But, if you need prolonged use, attach the cable for hybrid charge mode.
With the size of a regular hair straightener, it can still fit in your hand luggage along with other belongings. Additionally, it has a flight-ready feature that is designed to comply with most aviation regulations and help your traveling less stressful.
---
#3 Conair Unbound Cordless Titanium Multi-Styler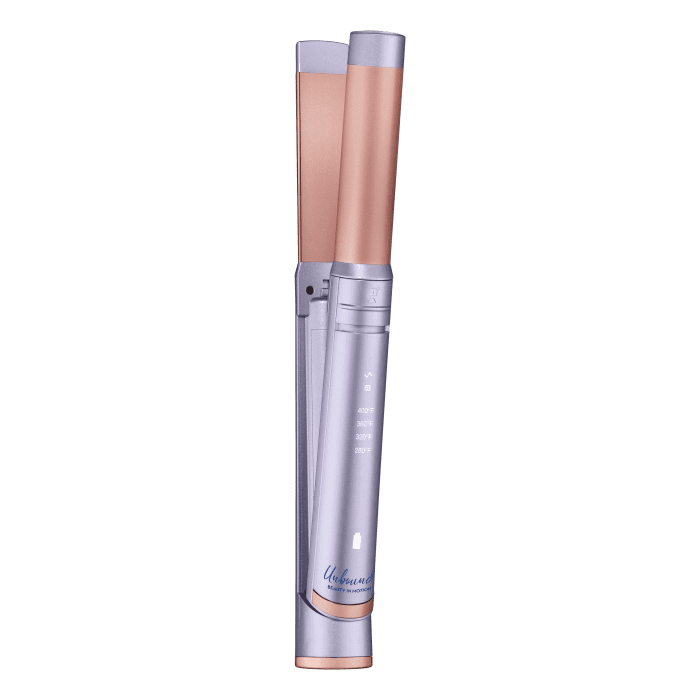 Using hair straighteners to make lovely, bouncy curls can be challenging. It's because, unlike curlers, most hair straighteners only contain heating plates on the inner side. However, Conair successfully releases a beauty tool that can make curls, waves, or straightens anytime, anywhere—that's why they called it a Multi-Styler!
The Conair Unbound Cordless Multi-Styler can be easily used as a straightener and curling iron with one switch. You just need to lock or unlock the switch to change between two functions. This 2-in-1 beauty tool uses a titanium plate and barrel that heat up in 60 seconds to help you achieve shiny straight hair to luxurious flowing curls.
After a full charge, this Multi-Styler offers up to 25 minutes of cordless styling time. Additionally, a USB charging cable makes it handier for you to carry on the go. The Conair Unbound Cordless can be the perfect tool for travelers that enjoy trying out new looks wherever they go.
---
#4 Aesty Dual Heater Flat Iron (Titanium)
The Aesty Dual Heater Flat Iron is another hybrid straightener that can be used with and without a cord. With this hybrid mode, you can style for longer between charges and have increased battery life for on-the-go use.
Powered by a Samsung SDI battery leads to longer styling times and faster charging. It allows continuous styling at a maximum temperature of 210ºC for 30 minutes and longer at a lower temperature. In addition, it comes with a charging cradle that helps you to safely leave it in charge whether in the bathroom or on the top of the vanity.
Here comes an extra feature that travelers will love—it has a flight mode plug that complies with airplane requirements. So, you're welcome to style before the plane touch down at your destination.
---
#5 REVLON Cordless Flat Iron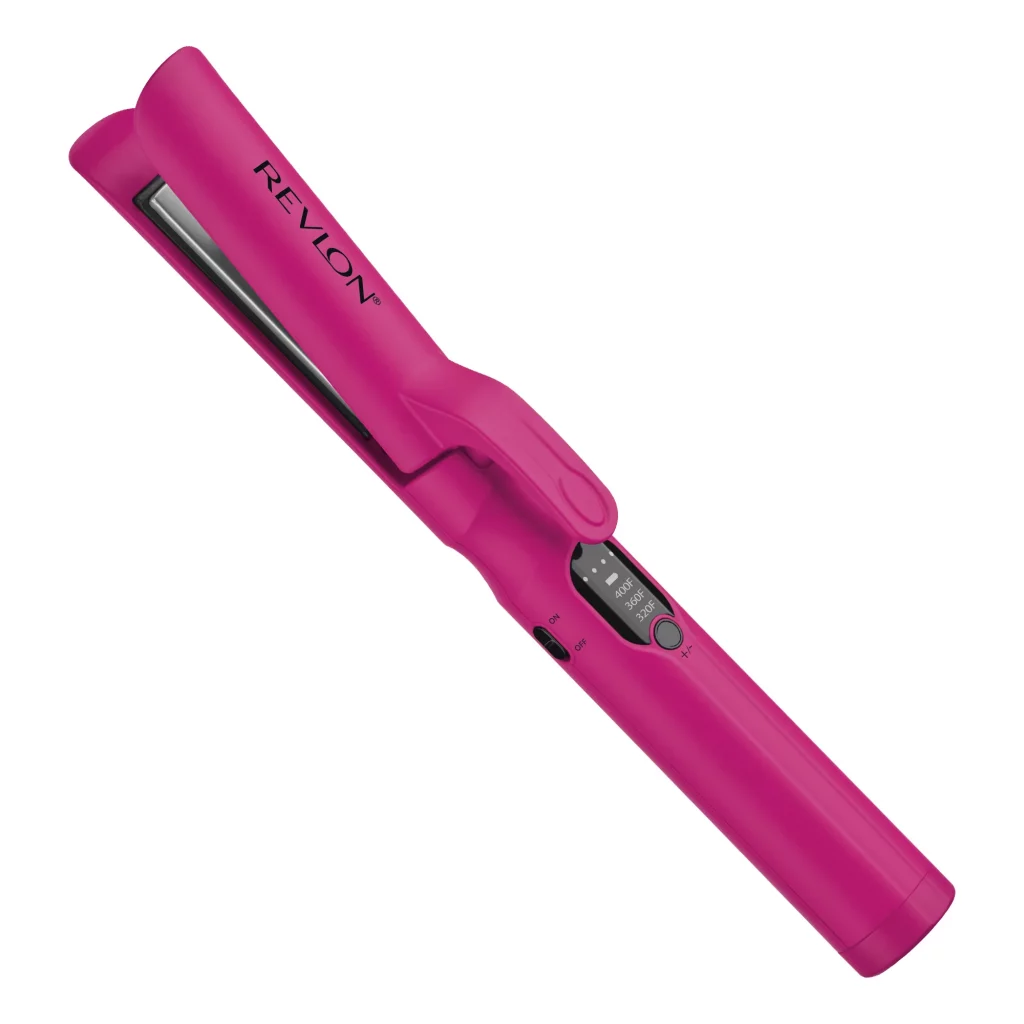 One of the top beauty brands, REVLON, also joins the hype of cordless straighteners. Its hot pink color really stands out among other similar products.
If you have a tight budget but still want to get a good cordless straightener, the REVLON Cordless Flat Iron can be an ideal choice. With its humble price, you can enjoy the tourmaline ceramic plates that add extra shine to your hair, three temperature settings, and an easy-to-use USB charging cable.
---
#6 KISS Rouge Cordless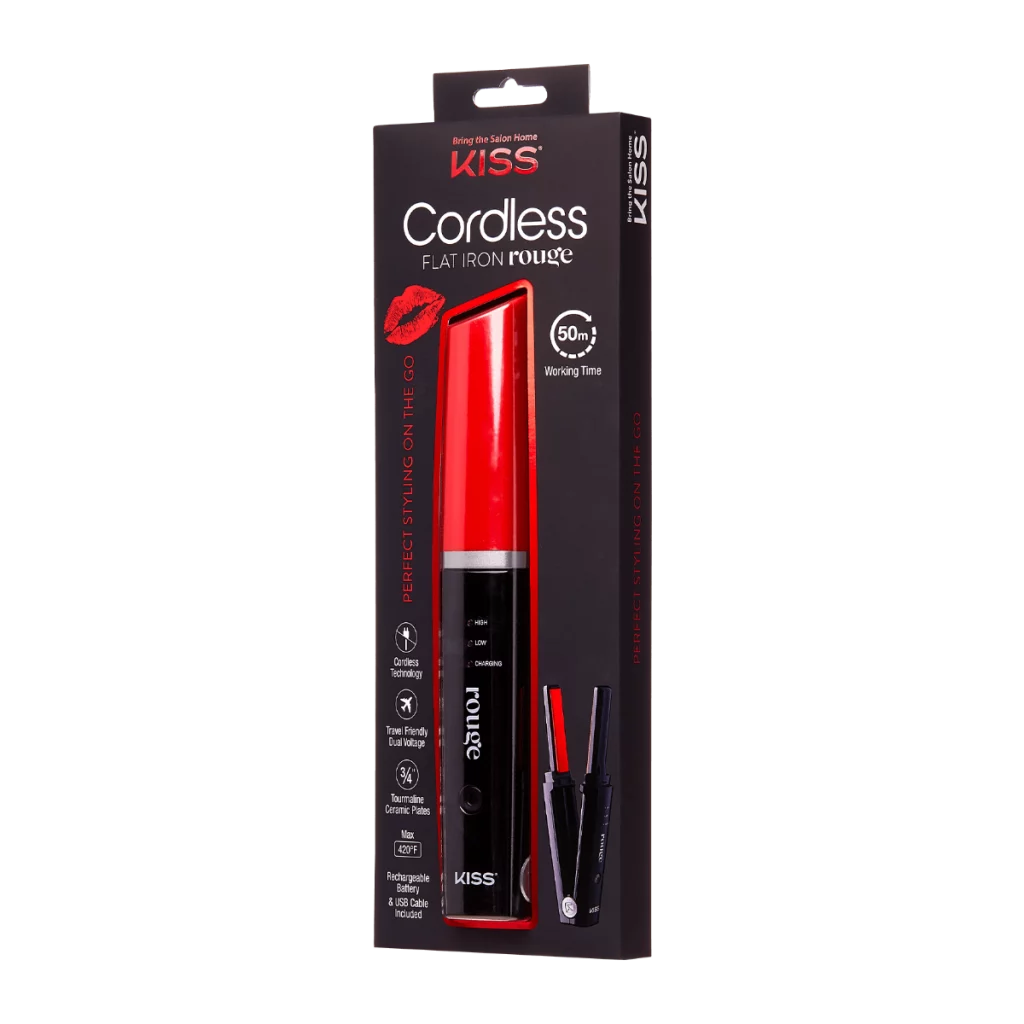 When most cordless straighteners offer up to 30 minutes of styling, the KISS Rouge Cordless gives you extra time to touch up. On one full charge, you're ready to use it for 50 minutes with two temperature settings: 170 and 210ºC.
Their 3/4″ tourmaline ceramic plates can emit negative ions to achieve smoother, healthier, and frizz-free hair. After using this cordless straightener, you can finally KISS bad hair days goodbye!
Another extra point for KISS Rouge is it has a compact and lightweight design you can bring everywhere effortlessly. Furthermore, its red lipstick-shaped cap completes the overall design and makes it super stylish.
---
#7 SupSilk Cordless Pencil Flat Iron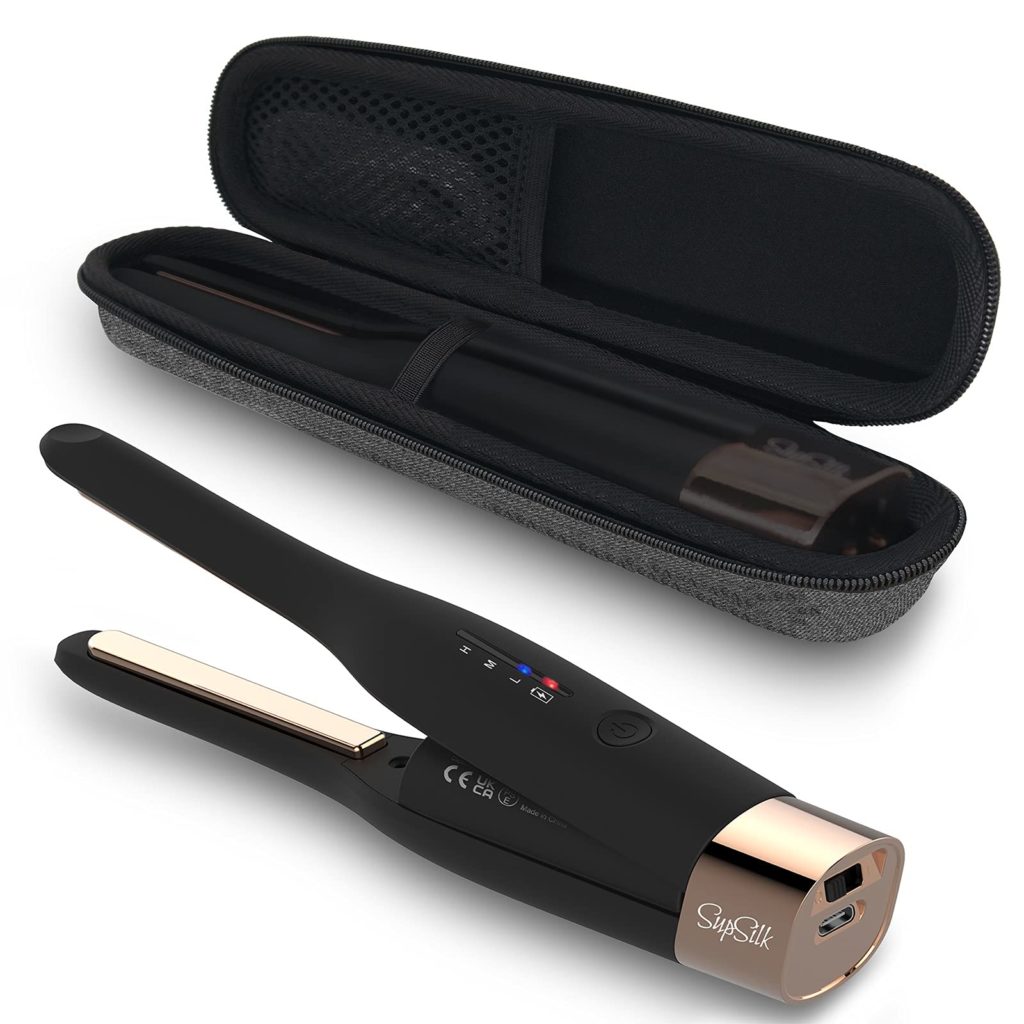 If you have a problem styling short or pixie hair with regular straighteners, this pencil flat iron may be your savior. SupSilk produced a pencil flat iron that features 0.3-inch heating plates for you to easily reach the roots, short strands, touch up bangs, and even straighten beards.
Its excellent 4800 mAh battery allows up to 40 minutes of cordless styling and can fully charge in just 2 hours with a USB-C cable. Moreover, it gives you three temperature settings from 160°C to 200°C and heats up within 60 seconds, which is perfect for quick touch-ups.
SupSilk Pencil Flat Iron will do a good styling job for both women and men during their travel.
---
Every cordless straightener has its own best feature, such as a powerful battery, quick heat up, smooth plates, compact design, etc. However, it's important to pick one that works for your hair type and makes your travel in style without the hassle.