Our modern lifestyle is just about full of high-tech stuff. Most of our time is spent in front of a computer, which usually has a keyboard (except for you who use a touch screen gadget). It must be important for us to choose a keyboard that fits your fingers and daily needs.
As you know, there are so many types of keyboards, some of them are equipped with colorful RGB LED, and some of them have colorful keys that come in various sizes. Here are some recommended keyboards for daily typing usage.
#1 Logitech K780: The Multi-device Keyboard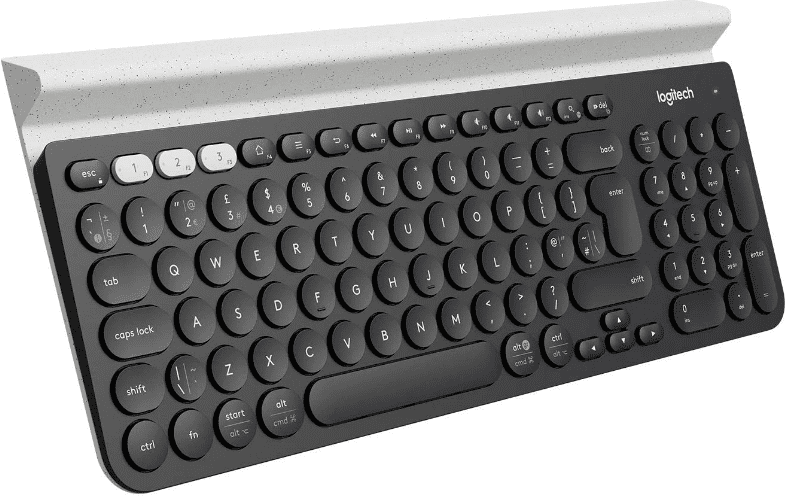 Today typing activities are not only done on a desktop or personal computer. People sometimes have more than one gadget, such as a mobile phone or tablet. Have you ever thought that all of your gadgets could be integrated by using a keyboard? Please welcome to Logitech K780, a keyboard that allows you to connect to more than a single device.
The integration feature will help you copy a clipboard or file from one device to another. The circular keycaps give you a minimalist and stylish look. You don't need to be afraid about bothering your teamwork because the typing feel is so quiet. A slot is also given to dock your phone or tablet to help you work better.
---
#2 Arteck 2.4G Wireless: The Stainless Steel Keyboard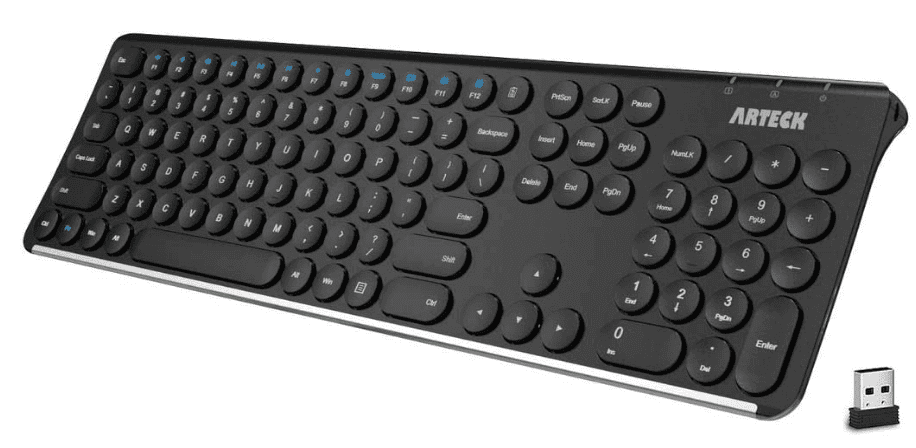 Arteck 2.4G Wireless Keyboard is proof that wireless keyboards don't have to make you pay a lot. With its Ultra-thin and light design, this keyboard's weight is only 17.4 oz. The dimension is compact (16.9 X 5.2 X 0.6 in) but able to provide full-size keys, arrow keys, number pad, and shortcut keys.
The Arteck 2.4G keyboard is made from stainless steel material which gives a comfortable typing feel and quiet typing sound. Equipped with a nano USB receiver, this keyboard could be easily connected and ready to use.
---
#3 Logitech K350: A Complete Shortcut Keys Keyboard
This Logitech K350 keyboard is the exactly perfect keyboard for you that like shortcut keys. It is equipped with media keys to improving your productivity. This keyboard also comes with a wrist rest feature.
The Logitech K350 could be connected using a USB receiver and The Logitech K350 could be connected using a USB receiver and claimed that its battery lasts up to 3 years on a single charge. The color variant is available in black only with a wave-shaped design. Advanced 2.4 GHz wireless provides a long-range connection and minimizes delays.
---
#4 Logitech Wireless Keyboard K270: The smart wireless keyboard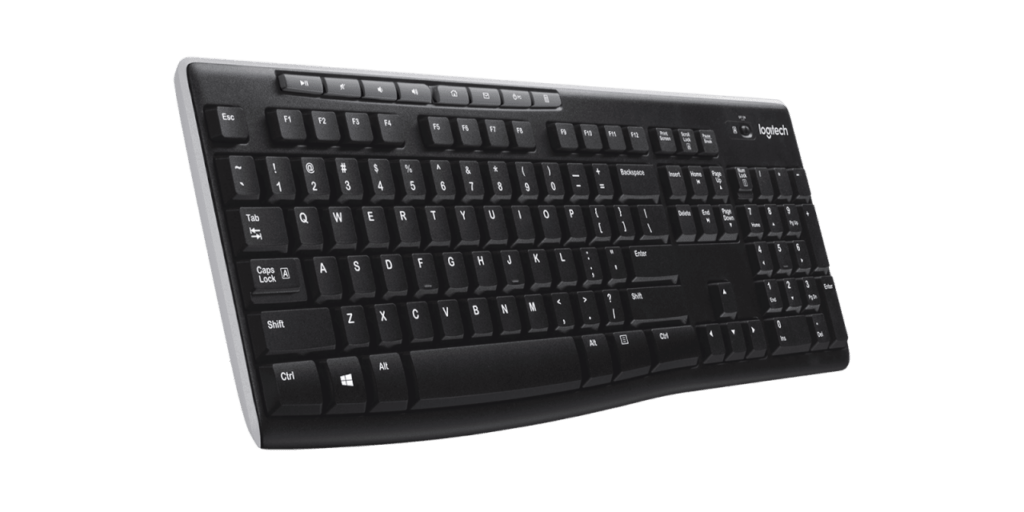 For you who have fast mobility, it is important to find a compact and easy-to-use keyboard. Logitech Wireless Keyboard K270 may be a good choice for you. With this keyboard, you will be able to do so many things only with a single touch using its 8-instant button. There are data, music, email, and other special shortcut access.
It comes with a full-sized keyboard. It has a spill-proof feature that helps you to protect your keyboard from any spillage. To support the keyboard power, you will need 2 x AAA battery types and be able to be used for more than a year.
What makes this keyboard suit you is the Logitech unifying 2,4 GHz wireless technology that will help you be more productive every day.
---
#5 Razer Pro Type Ultra: Work From Home Partner
This is another recommended wireless keyboard that will support your work-from-home activities. Razer Pro Type Ultra Keyboard is equipped with a dedicated USB receiver. It comes with a comfortable design and two-level incline adjustments. It will allow you to type for a long time due to its wrist rest feature. The selected switch for this keyboard is the Razer Yellow switch which can give you a quiet and light keyboard.
You may have experienced delay while using a wireless gadget, but this keyboard is able to handle fast-paced typing activities and also games without any delay. So this may be a perfect choice for working and playing activities.
---
#6 Logitech ERGO K860 Wireless: The Split Keyboard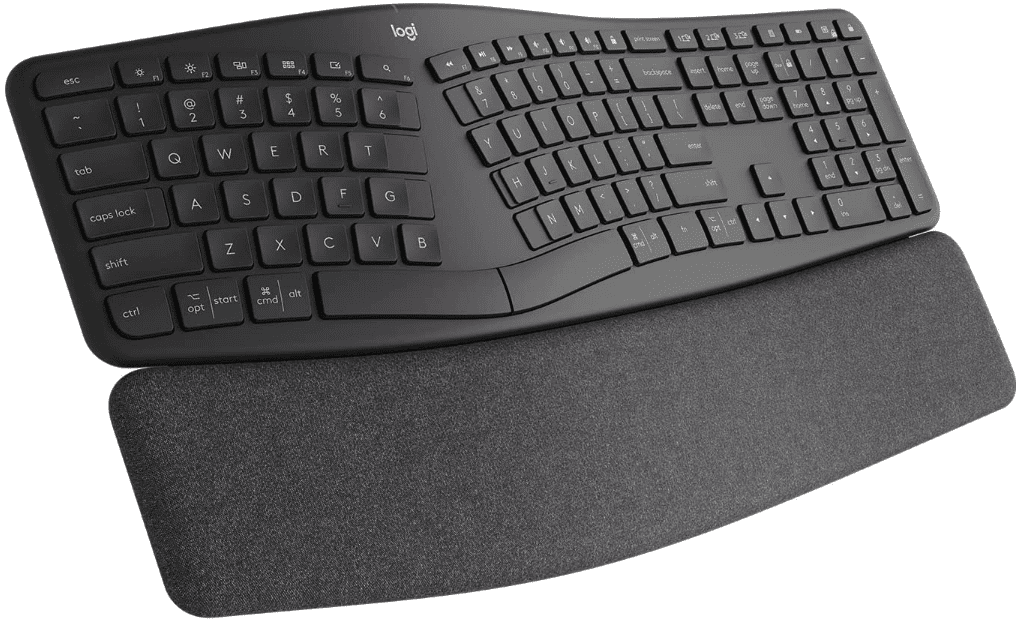 The Logitech ERGO K860 Wireless is a kind of unique keyboard with a special ergonomic design. It's different from our ordinary regular keyboard where every piece of the button is aligned in a straight line. ERGOK860 comes with its curved shape and negative angled feature. Its split-design keyboard with incline settings is able to minimize stress on the user's hand and wrist. This keyboard from the Ergo-Logitech series is supplied with wide wrist support.
Logitech ERGO K860 uses scissor switches inside the board, instead of mechanical switches to improve great typing quality. The typing noise is also reduced so you and others will not be disturbed by any typing activities. This board can be connected with many OS compatibility for Mac and Windows users. The connection can change from one device to another as simple as using a shortcut menu. It is a good feature if you're working with multiple devices. You'll need some time to get used to its design, but it'll give you an efficient and comfortable feeling after it.
---
Have you decided what type of keyboard you want to buy after reading our recommendation? One thing you should take note of is that you should know what your activity is and what kind of features you like. Good luck and happy typing!