The good old floor pump has proven its way to quickly inflate a tire at home. But this tool is infamously big and heavy, the characteristics that prevent it to be carried anywhere with the bike. Thankfully, we have plenty of miniaturized traditional tire pumps that were designed to be light and portable.
These pumps are shaped like water pipes (or barrels) and quite small. A lot of them come with a mounting bracket, allowing it to be attached safely to a bicycle frame, so it will stay there everywhere you go.
With so many options available, it's probably not easy to find the right pump for your bike. We have compiled some of the best mini bike pumps available today and separated them based on their own unique advantages.
Let's check it out!
#1 Popular: Pro Bike Tool Mini Bike Pump Classic Edition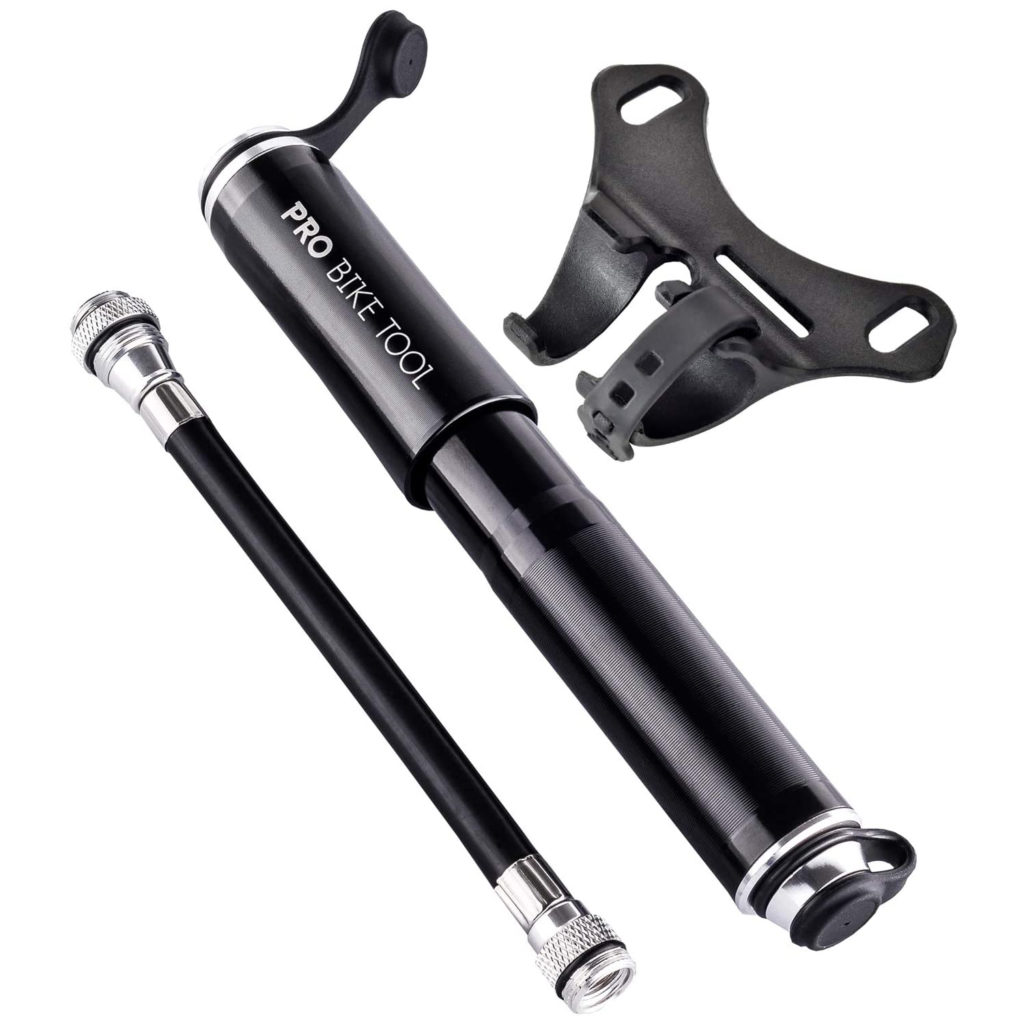 Measures about 17.5 cm with a weight of just 96 grams, this pump easily fits the need of many bikers. Other than the small form factor, the pump is fully made out of aluminum, making it stays lightweight but quite durable.
The pump can deliver up to 100 PSI which is more than enough for most bicycle tires. The company claims it requires 30% fewer strokes compared to other pumps. That's definitely worth considering especially if you got a flat.
---
#2 Pressure gauge: Beto Dual Mode Bike Hand Pump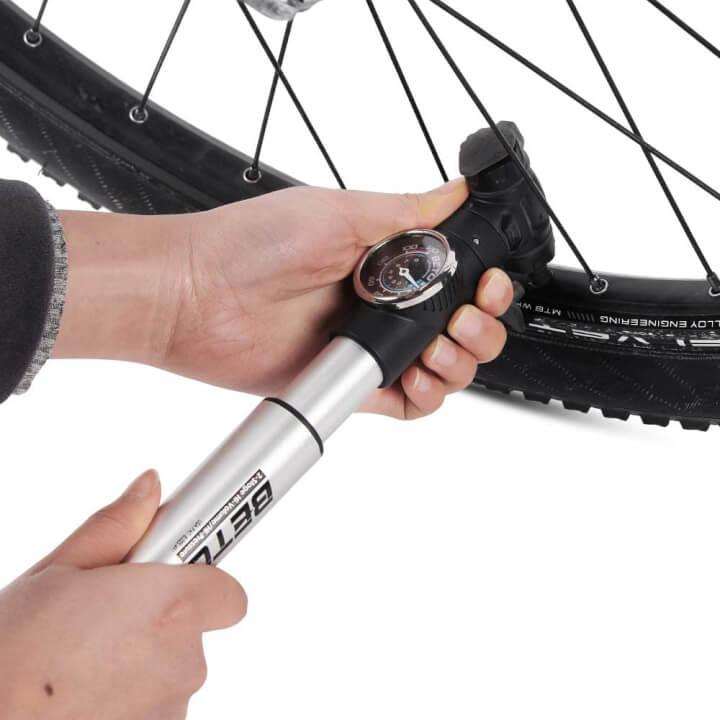 Pumping the tire to the correct pressure is crucial. Too much and your ride will be bumpy and too little will slow you down. That's why a bike pump with a built-in pressure gauge can help tremendously. It also means you don't have to carry a separate tire pressure checker device as the pump is equipped with it.
This hand pump has two heads, each for Presta and Schrader valves so you won't need to change the adapter. Additionally, the pump offers a CO2 inflator capability to quickly inflate the tire with less effort.
---
#3 Digital pressure gauge: LEZYNE Digital Alloy Drive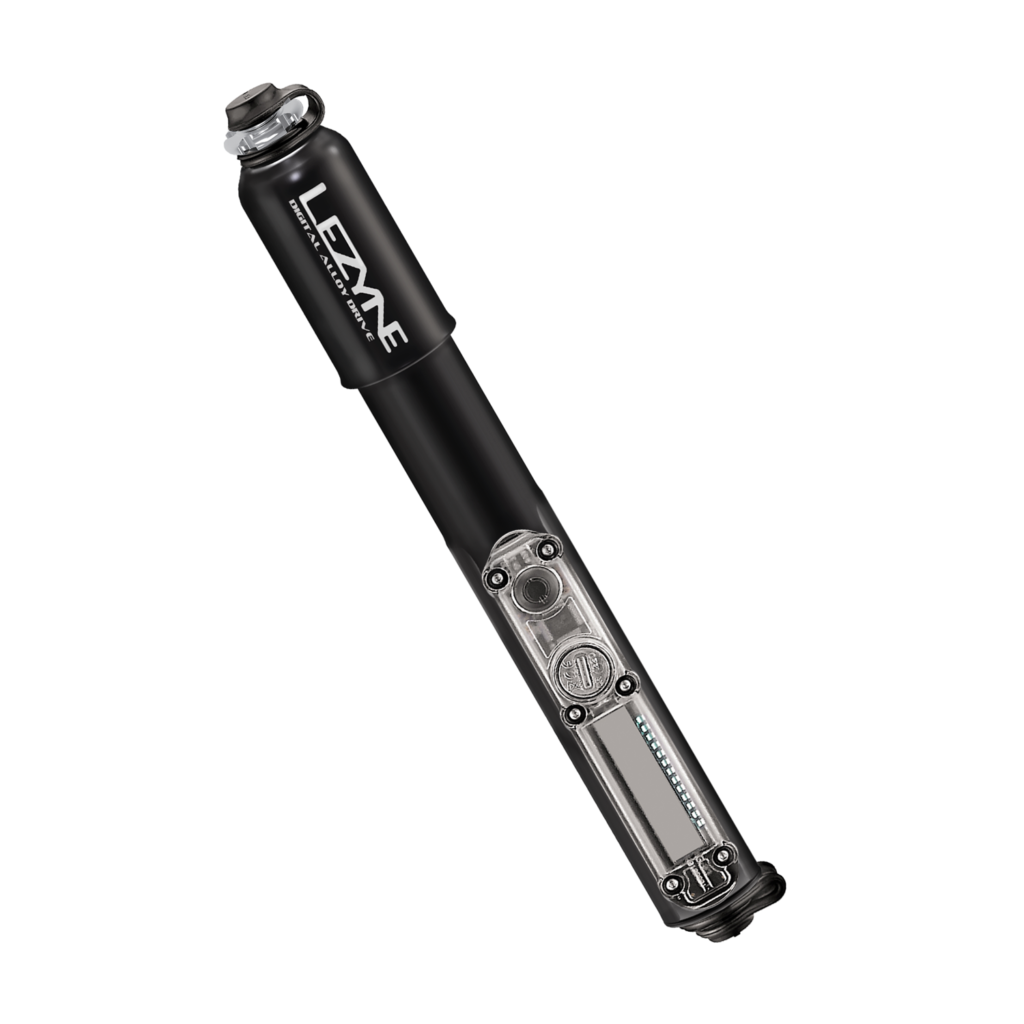 Some argue digital gauges are more accurate than traditional ones as they employ fewer moving parts and are not susceptible to wear & tear damages. If you agree with that reasoning, the LEZYNE Digital Alloy Drive claims to provide accurate pressure data via its electronic display.
The pump is still relatively small and manages to cramp the electrical components into a tube-like design. Although it's theoretically more precise, I should warn you if the battery dies out, there is no way to know the pressure level. It's recommended to have a spare battery ready for such occasion.
---
#4 No valve change: Vibrelli Mini Bike Pump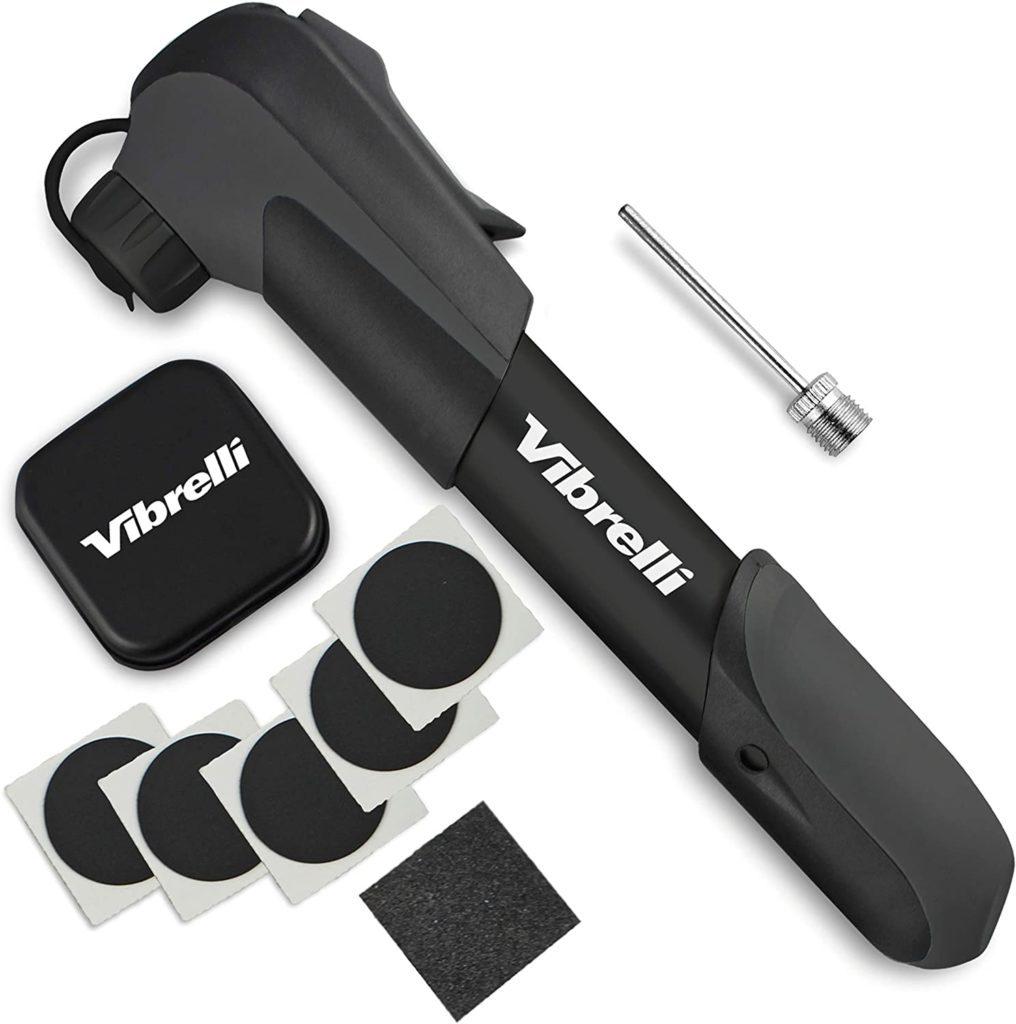 A lot of bike pumps provide a hose with a Schrader and Presta valve on either end which forces you to change the valve adapter every time you want to fill different tires. But the bike pump from Vibrelli supports both valves automatically thanks to its unique "super fit clever valve".
Furthermore, Vibrelli is going the extra mile by including a patch kit on every purchase. Now, the entire package is not only useful for adding more air to the tire but also extremely helpful in case of a puncture.
---
#5 Complete features: Giyo Mini Bike Pump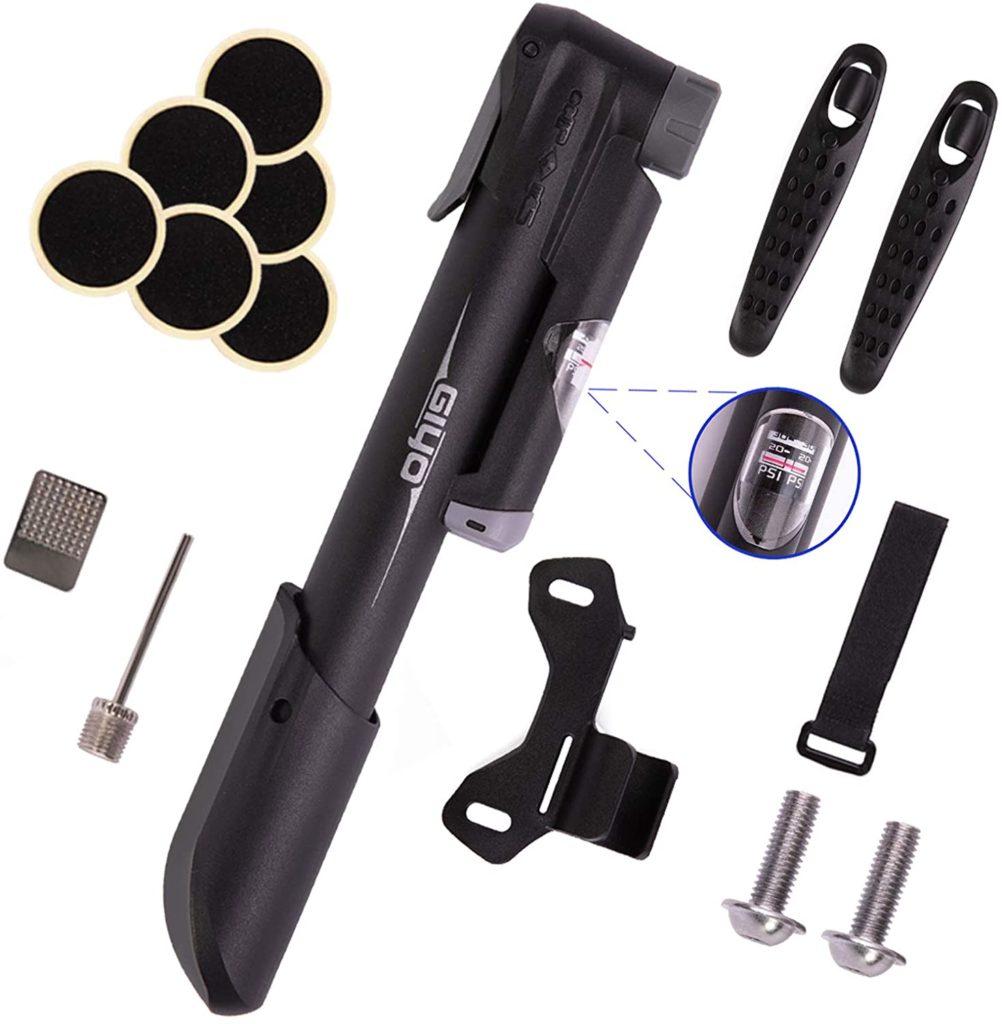 Many pumps opt-in to either one of these features; super fit valve or pressure gauge. Understandably, this decision has to be made to reduce complexity and cost. But Giyo Mini Bike Pump begs to differ.
The 120 PSI pump comes with an automatic fit valve for both Schrader and Presta. It also has a rather small pressure gauge that displays the pressure as you push a stroke. Surprisingly, even with these added benefits, Giyo still manages to be among the cheapest and most reliable pumps you can find on the market.
---
#6 Smallest: West Biking Mini Bike Pump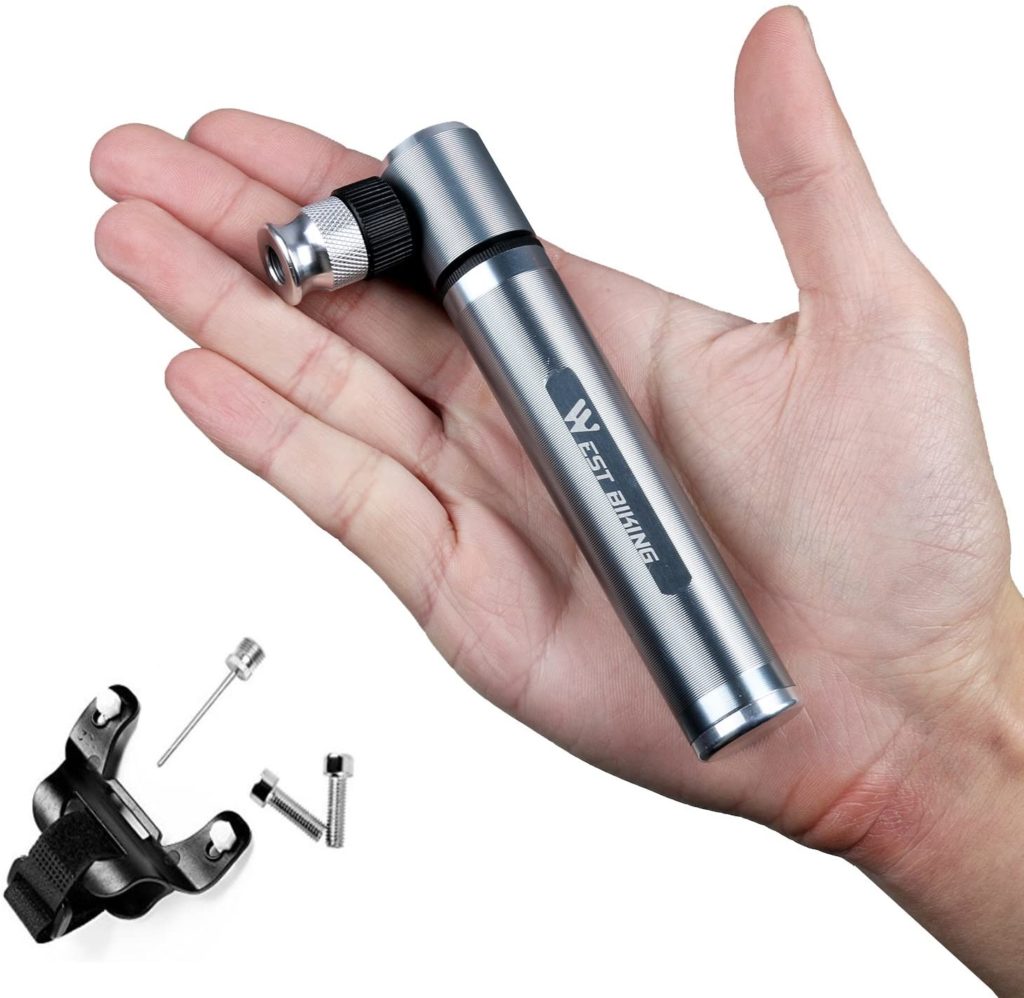 All tire pumps in this category are trying to be compact and lightweight, but nothing can come close to the one from West Biking. It only adds 82 grams of weight penalty to your bike and its dimension is just 12 cm, allowing it to fit into virtually any bicycle bag.
It doesn't ship with a valve adapter or super fit valve. Instead, the pump employs a knob-like mechanism to switch between Presta and Schrader mode in seconds. It is certainly a clever way to keep the whole system simple and yet versatile.
---
#7 Jack of all trades: Caloics Mini Bike Pump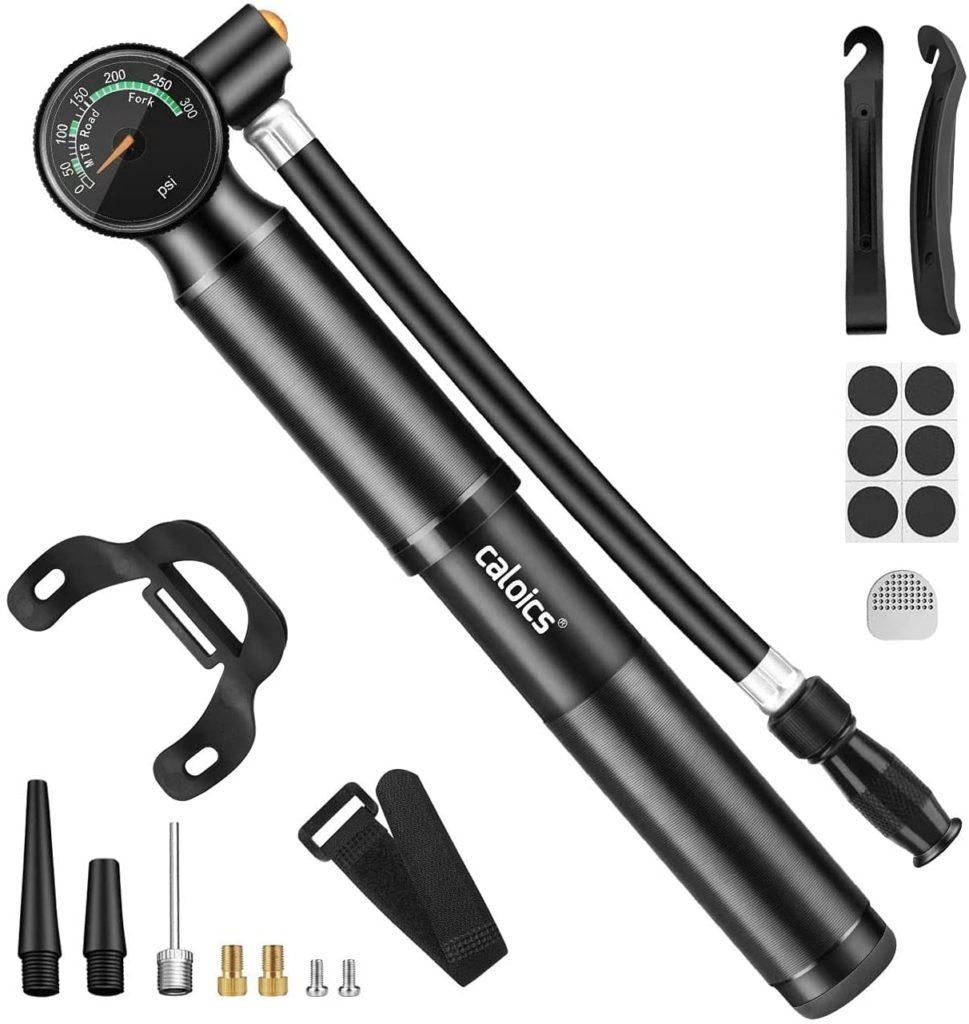 If a pump and an attachment mount don't enough for you, Caloics can provide a lot more than that. Beyond the basics like a pressure gauge, quick switch valve, and puncture repair kit, the pump is advertised to push up to 300 PSI.
That may sound overkill, but its bizarre pressure is intended to push air to the rear shock and suspension fork. These things are indeed demanded more pressure than regular bicycle tires. Mountain bikers might find this value proposition to be very lucrative.
---
#8 Electric: Cycplus Portable Air Compressor Mini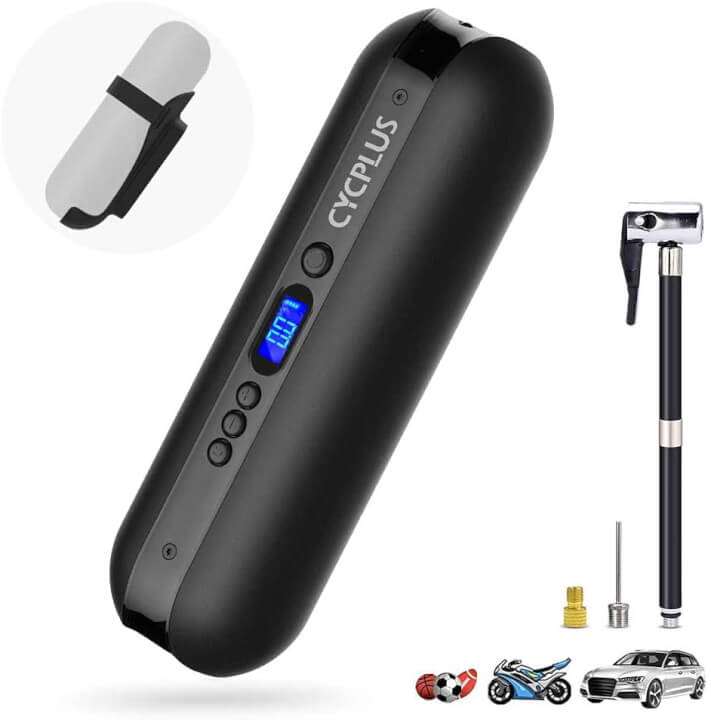 The Cycplus electric air compressor is small enough to be attached to a bicycle frame. It can inflate up to 150 PSI with a press of a button. Another cool thing is it will automatically stop pumping once the desired pressure level has been reached.
On top of that, its internal battery is ready to be diverted to recharge a smartphone in case of an emergency. With a weight of nearly 340 grams, it's about two or three times heavier than manual pumps, but remember, you can relax while the tire is inflating.
---
An electric pump is probably the most tempting option here as it requires almost no effort. However, be aware that this device is practically useless when the battery dries out. One way to mitigate the issue is by carrying a power bank, but that also means more weight added and extra space to sacrifice.
With that said, a regular mini pump may not sound so bad at all. It will still be functioning without electricity. Just be sure you are willing and capable to spare a bit of your energy to move air into the tire.
Check out other cool products geared towards avid bikers just like you here on this page.