A lot of portable SSDs are just internal SSDs enclosed with an extra casing to make them a bit more durable in the face of a dynamic environment. While it's not necessarily a bad practice, the idea of a portable device is to make it small and won't be bothersome to carry anywhere.
This is even more important as people start utilizing portable devices like laptops and tablets more often as alternatives to desktop computers. Therefore, an external SSD is often seen as a must-have item to easily store a big chunk of data on the go.
After nine hours of research, reading tons of reviews, and combining a bit of experience, I have compiled the 7 best external SSD that won't take much space in your bag.
The list is not sorted in ranking order. Each product has its own unique advantages and features. With that said, check out their product page for more details and see which one would serve you the most.
#1 Sabrent Rocket Nano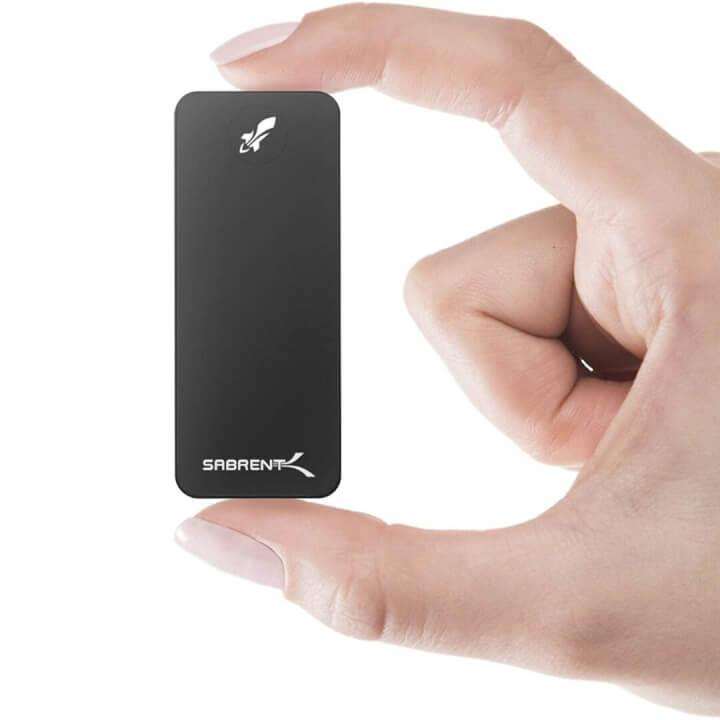 Pros:
Smaller than a credit card
Works between Windows and Mac
Sleek and durable aluminum
Cons:
Gets too warm during intensive work
Sabrent Rocket Nano cares a lot about portability. It's so portable, in fact, it has a smaller dimension than a regular credit card. Of course, it's a lot thicker but any pocket on your clothes can easily stow it.
This external SSD offers a high-speed transfer up to 1000 MB/s or twice faster than a regular SATA SSD. It is bus-powered, meaning no driver installation is required. Rocket Nano can work with both Windows and Mac OS out of the box.
The manufacturer offers three options, from 512GB, 1TB, and the largest 2TB. But don't worry about the size, the physical dimension of the storage remains unaffected by its data capacity.
---
#2 Seagate One Touch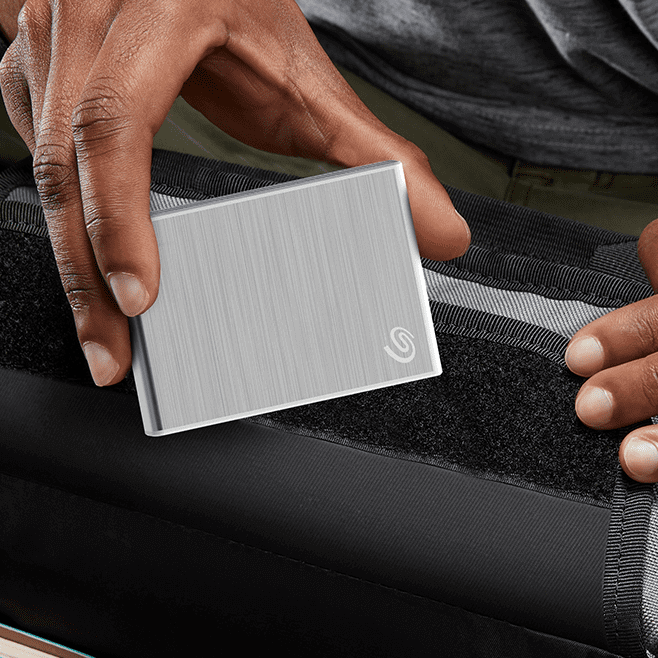 Pros:
Read speed comparable speed to NVMe
Compatible with Windows, Mac, and Android
Bundled with file organizer apps
Cons:
Relatively slow write speed
Seagate is probably a name that you are already familiar with. The company launched its One Touch series with a newer design, technology, and features.
On the surface, the SSD is coated with an aluminum texture that looks premium but also helps with the grip. Under the hood, One Touch boasts 1030MB/s of data transfer comparable to NVMe even though running on a USB protocol.
The overall dimension is relatively small, you can even make it disappear in your palm. The company offers various capacities, ranging from 500GB to 2TB. Additionally, the device is bundled with some software such as Adobe Creative Cloud Plan, Mylio Photo Manager, and Rescue Data Recovery.
---
#3 SanDisk Extreme Portable SSD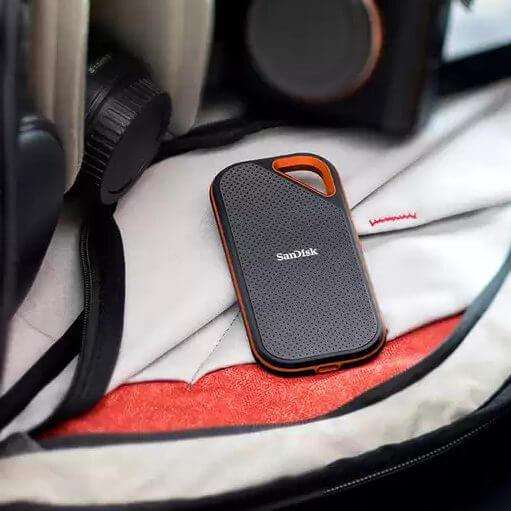 Pros:
Extremely durable enclosure
Keychain hook
Cons:
Some users reported a reliability issue
This one is a bit bulkier than others from the list. However, it has a good reason to be so. Its chunkier size is mostly attributed to the rugged case. But even that, the SanDisk Extreme Portable SSD is way smaller than the phone that you are probably holding right now.
The rugged case helps crucial components survive harsh environments and abuse. Dropping the device from 2 meters in height shouldn't be an issue. And with an IP55 rating, it can comfortably handle dust and water exposure.
SanDisk Extreme comes with four size variants, from 500GB, 1TB, 2TB, and 4TB. All of them deliver similar 1050MB/s speed.
---
#4 BUFFALO External SSD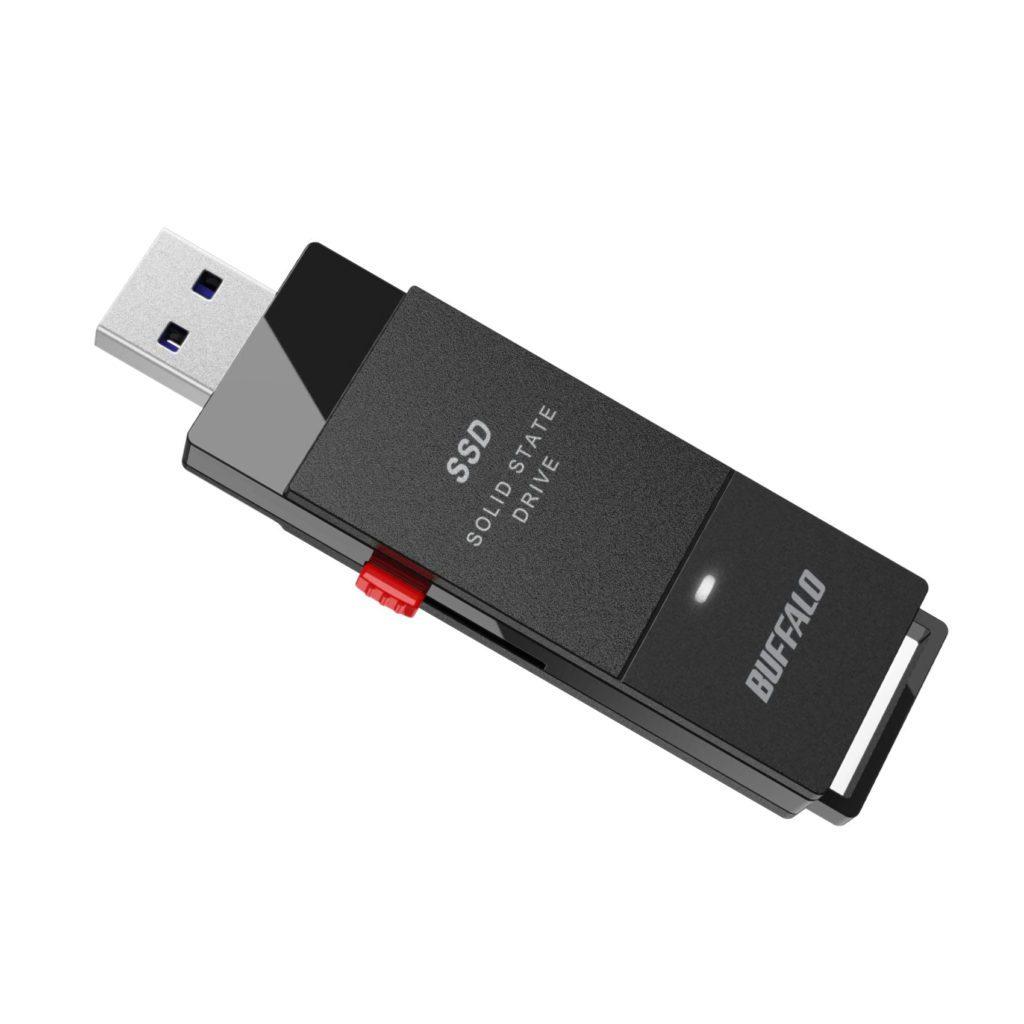 Pros:
Tiny form factor
Modern USB 3.2 protocol
Act as a USB flash drive
Cons:
The speed is not always as advertised
Compatibility issues with some AMD Ryzen users
Looking at its physical shape, this SSD might draw its inspiration from the portability of a USB stick. BUFFALO External SSD, has a unique advantage by eliminating the need for a USB cable. The package also comes with a USB-C adapter should your device don't support a standard USB-A port.
The storage device is advertised to be rugged and durable. It can survive shock and drop although the company didn't specifically mention from what height. Regardless, it's a nice addition for people with high mobility.
Despite utilizing USB 3.2, the transfer speed is, unfortunately, slower than other devices with the same USB protocol. But let's be real, 600MB/s doesn't sound too bad most of the time.
---
#5 Kingston XS2000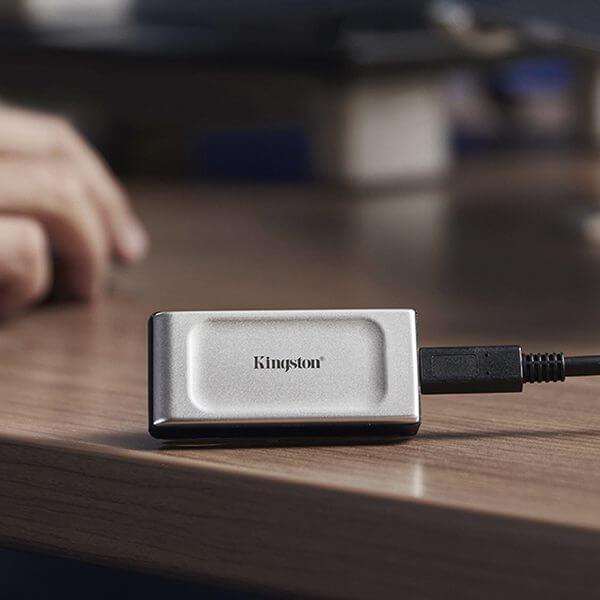 Pros:
Offers up to 4TB of capacity
Blistering fast 2000MB/s read and speed
Pocked-sized portability
Extra protection from the rubber sleeve
Cons:
Sometimes not detected on older Mac
Kingston has a lot of product categories for specific use cases. With Kingston XS2000, the company ensures you don't need a chunky device to store large data and mesmerizing performance. Speaking of which, the SSD boasts the latest USB 3.2 Gen 2×2 with a speed of 2000MB/s, pretty much doubling today's standard.
The blistering transfer speed is going to be advantageous for those looking to move 4K videos or large documents between devices. However, keep in mind that to get to that speed, your device must also have equivalent or higher USB protocol.
Moreover, XS2000 has an IP55 rating and a removable rubber sleeve which together makes the entire device capable to withstand water and dust exposure — the kind of quality necessary for outdoor use or adventure.
---
#6 CalDigit Tuff Nano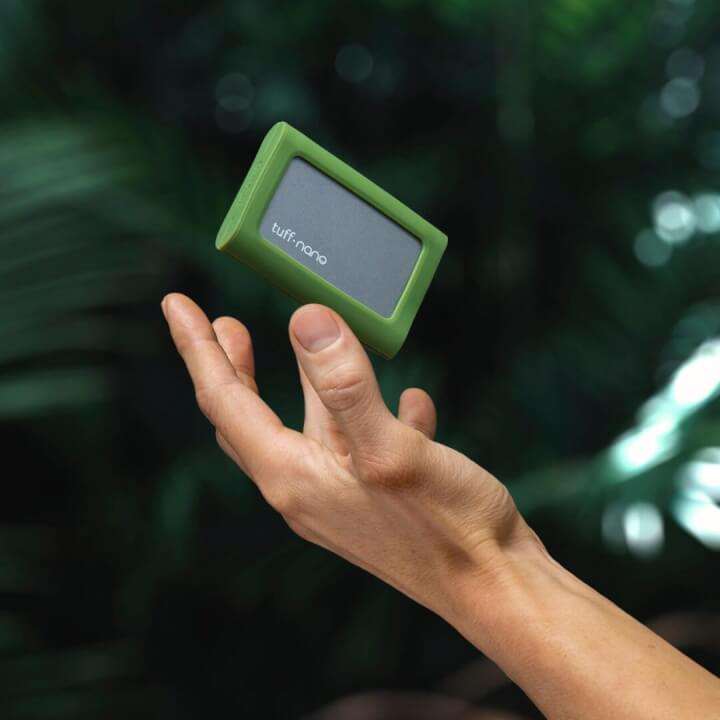 Pros:
Compatible with Thunderbolt, USB4, USB-C, USB-A
Similar performance to NVMe
Rated to be waterproof (IP67)
CalDigit Tuff Nano is the toughest portable SSD that won't take much space. While other rugged options may withstand rain and water splashes, Tuff Nano with an IP67 rating can be submerged to the depth of one meter for 30 minutes and won't be damaging it.
Although the level of protection is a little too much for a storage device, it's still a good preventive measure especially if you are working in a wet environment. The casing would also protect the drive from shock and dropping up to 3 meters.
CalDigit offers Tuff Nano in two storage options, 512GB and 1TB. There is a Plus variant with 2TB of storage capacity and slightly bigger dimensions but retains the same hardware and performance quality.
---
#7 RavPower Mini External SSD Pro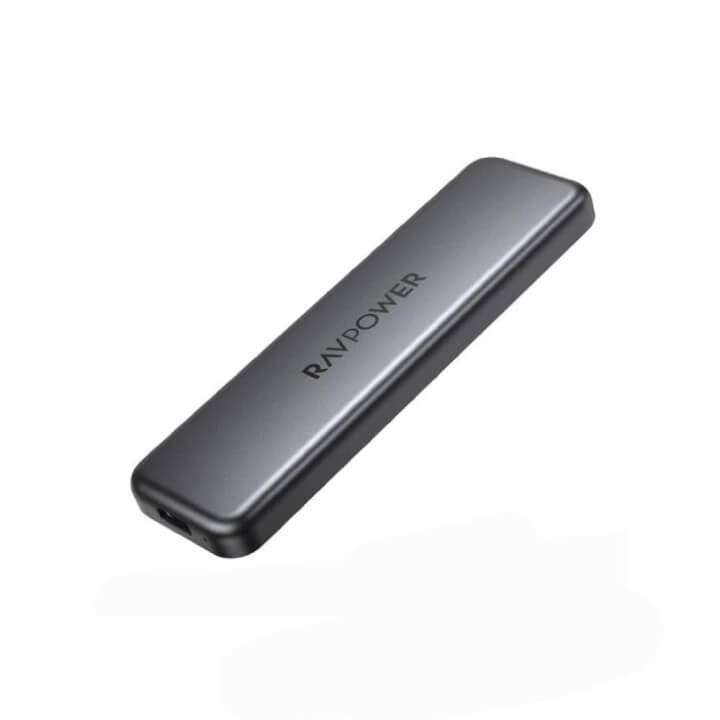 Pros:
Candy bar shape makes it easy to store
Works on popular operating systems and gaming consoles
Password-protected data
Cons:
Slower data transfer than most SSDs
RavPower is a company that successfully made its name into a portable charger market as well as other smartphone-oriented accessories. The company has also released RavPower Mini SSD which seems to be praised by their customers.
The SSD in question has arguably the most enticing design. With the size of a candy bar, the drive is easy to hold and will fit virtually any leftover space in your bag.
In a spirit of security and privacy, RavPower ensures that only you can access the data inside. The SSD comes with ATA Lock technologies that prevent anyone without authorization to see your data. It's certainly helpful in an office environment or if you are planning to store sensitive information.
---
---
Many of these SSDs are employing NVMe technology that helps them achieve a smaller physical size and outstanding speed. The overall performance, size, capacity, and price can vary by manufacturer, it's ultimately up to you as a consumer to decide which compact SSD would serve your needs.