Some scientific research showed that lighting may affect human productivity in their working environment. It simply stated that humans would be happier if their office had good lighting.
Too dim light would make your eyes feel tired. On the other hand, too bright light can be harsh on your eyes and make you uncomfortable. The light color also contributes to the office environment. Generally, warmer light (orange-yellow) is great for relaxing, and cooler color (blue and white) is suitable for working purposes. It is almost the same as our natural lighting, bright in the morning and warmer in the afternoon.
This lighting stuff, of course, should be a thing that a management team should consider. Here are some of the best office lighting that you may need.
#1 TW Lighting IVY20-40BK Ivy LED Desk Lamp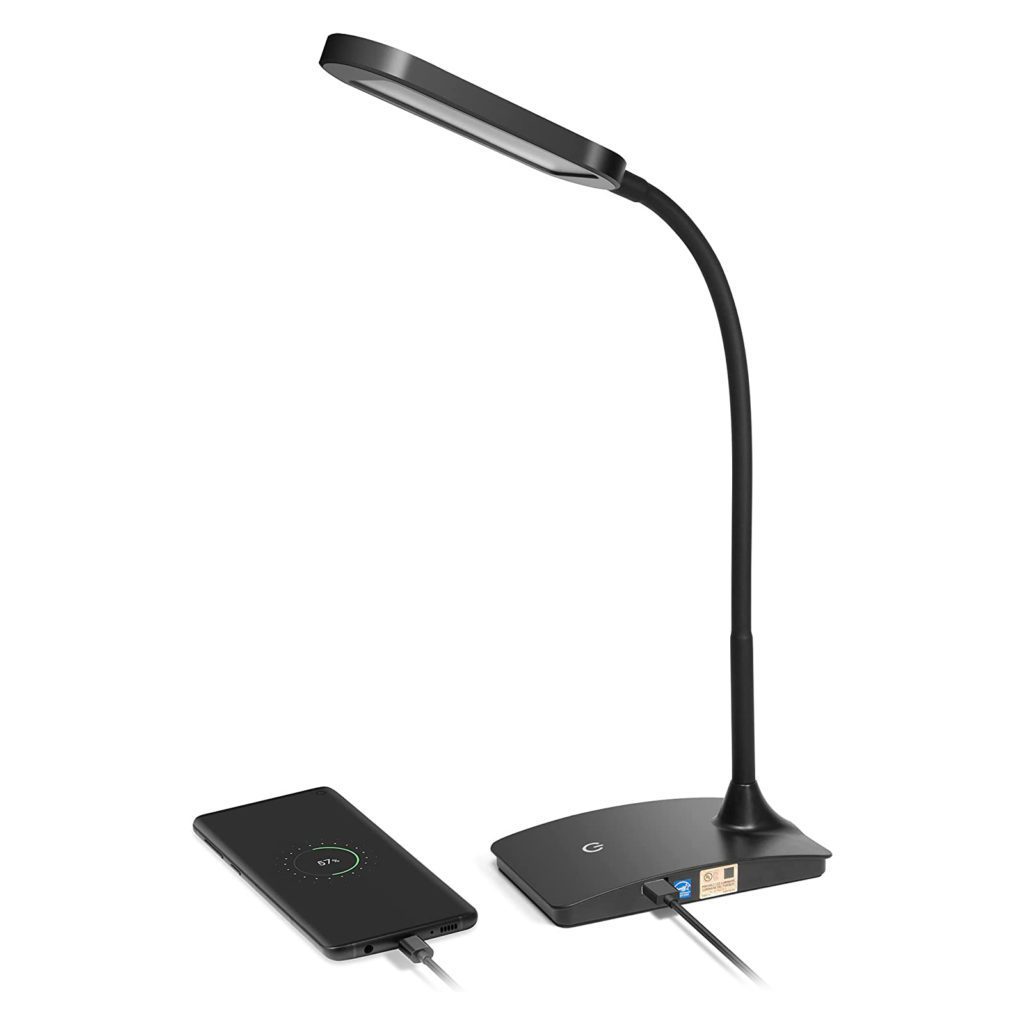 As its name suggests, TW lighting provides you with this lamp to complete your office desk setup. A desk lamp is a flexible lamp that enables you to adjust the light direction, the light intensity, and the lamp position. It comes with six color variants with styrene-built material.
The Ivy LED Desk Lamp is equipped with a USB port that can be used to charge your mobile phone or another mobile device with fast charging features. This would be great for desk activities at home, office, table, and also school.
---
#2 Brightech Leaf LED Floor lamp
Besides the ergonomic feature, a stylish lamp is also needed to make your office comfortable and cozy to do your activities. It not only gives you proper lighting but also decorates your desk. Brightech Leaf LED Floor Lamp is an adjustable standing lamp that can be installed in your living room, office, and bedroom. This lamp will be suitable for reading books, sewing, and other activities that need bright lighting for precise tasks.
Brightech offers 1150 lumens of light, with adjustable arm & headlamps. The material is built with metal-vintage looks, available in black, gold, and silver color. With its slim design, this lamp can be installed in any room area without taking too much space. This lamp is provided with three-level brightness settings, 25%, 50%, and 100%.
---
#3 Govee Smart LED Strip Lights
I'm sure that you have seen long LED light strips with colorful lighting. Govee Smart LED strip lights are maybe the light that you need in your room. The LED color can make your desk more interesting with a joyful atmosphere.
Govee Smart LED has 2 rolls of 16.4 ft long and could be used with Google Assistant and Alexa. This lamp offers you its wireless smart apps that enable you to control the led lights, create custom lighting mode, and also timer features. 300 LED beads are used in this lighting strip, making it able to decorate your desk. Even if it does not affect your daily activities, this lamp will generate a happy environment because it can be synced with music.
---
#4 Globe Electric 58932 Payton
Let's move from your desk to the ceiling. Ceiling lights are another option to provide better lighting in your office room. It not only can be adjusted to any direction in the room but is also able to give you an aesthetic look. Globe Electric 58932 Payton is a ceiling light with a minimalist design, consisting of a track bar, exposed socket construction, and 4 independent focused lamps.
This lamp is easy to install either in a flat or sloped ceiling. You may need to install a dimmer switch because it can be connected and adjusted. Globe Electric 58932 Payton is made from metal materials and come with three color variant, which is matte black, matte silver, and white
---
#5 JOOFO Floor Lamp
JOOFO Floor Lamp is a kind of floor lamp with a unique flat and round head design. Too bright lighting is not a good choice for long working hours. This lamp design can reflect and bounce the light to the ceiling and walls to give you a proper environment without harsh lighting.
JOOFO lamp is made from metal materials with 5 color variants. A remote control is provided to help you adjust the light without moving from your seat. The lighting brightness could be controlled using a touch control feature ranging from 5% to 100%. The light temperature can also be adjusted for warm white, natural white, and cool white light options. The head of the lamp can be rotated 350 degrees and tilted to almost any angle. With these features, it is recommended for you who have to do frequent online meetings.
---
Most of your time is spent at home or at your office desk. Choosing the right lamp is something that you must take care of. Good luck, and stay comfortable!
See other our cherry-picked office products that could improve your well-being and productivity.