Nowadays, you don't need a yard to grow a personal garden. Indoor gardening is possible and way better with smart plant pots. Yes, it's smart enough to keep your plant alive without daily attention to watering or moving it to a better sun exposure place.
Smart plant pots come in many sizes and features. Usually, brands offer sizes based on plant pods—ranging from 3 to 24 pods—and add "smart" features such as self-watering and LED grow lights. Moreover, it already includes a set of greens, herbs, or flower seeds. You only need to plant the seeds and live your life without even knowing your garden has bloomed by itself.
So, for you who dream of having a nourished personal garden in this busy life, here are the best smart plant pots ready to make your dream come true!
#1 AeroGarden Harvest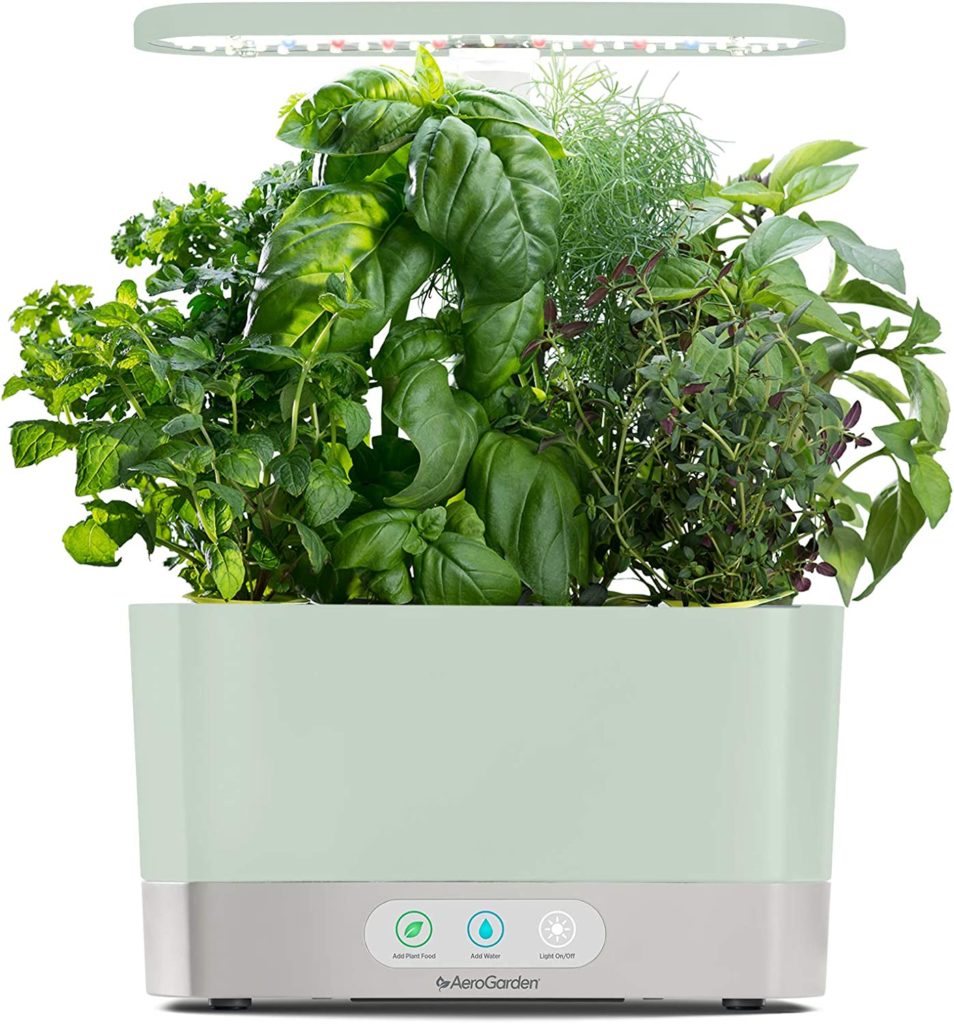 The AeroGarden Harvest is getting high praise from users. It's approved as easy to use and amazingly fast grow. Well, with this smart plant pot, you only have to do four quick and simple tasks: secure the planter, plug & power, add the pods, and pour water & feed. Voilà! You're guaranteed to grow and harvest your garden all year round.
The AeroGarden Harvest has room for six plants, a 20W LED light up to 12-inches (30 cm) tall, and a simple touch control panel. In addition, one package of AeroGarden Harvest includes a 6-pod gourmet herb seed kit and an 89 ml bottle of plant food. This offer is perfect for you who want to 'plant to plate', but you're allowed to change the plants to flowers or veggies, even mixing them as you like.
For the design, the AeroGarden Harvest is available in 360 (round-shaped pot), slim, elite (stainless steel finish), and XL (larger size, up to 18-inches or 46 cm tall). Various options to fit perfectly in your place.
---
#2 Click & Grow The Smart Garden 3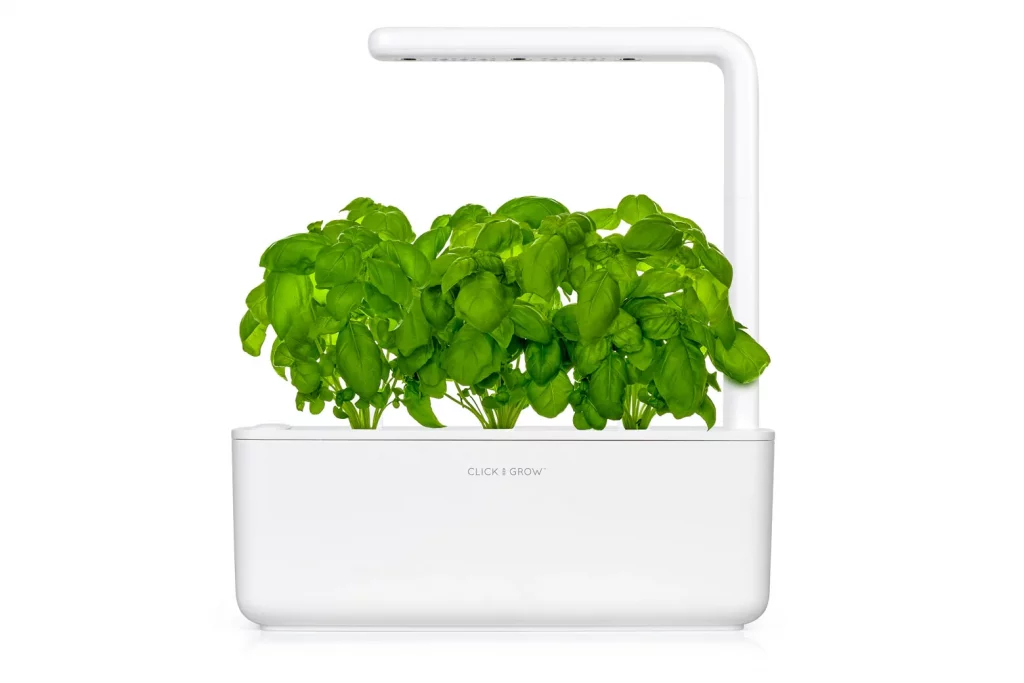 Small space is not a problem for an indoor garden. With Click & Grow The Smart Garden 3—which is the size of a toaster—that is almost compatible with any living space, you can maximize limited space to grow fresh herbs, vegetables, or flowers.
Green fingers are not necessarily required when using this super compact smart planter. All you need to do is insert the plant pods, add water, plug in to turn on the grow light, and enjoy! It takes up to three weeks to fill up the water and automatic 8W grow lights that provide a natural light cycle of 16 hours on and 8 hours off. Furthermore, they also included a companion app for every user to become a plant expert with plant care tips, keep track of your plant, and many helpful gardening tutorials.
Click & Grow The Smart Garden 3 is available in white, beige, and grey that looks great with any decor, whether in your home or office.
---
#3 iDOO Hydroponic Growing System Basic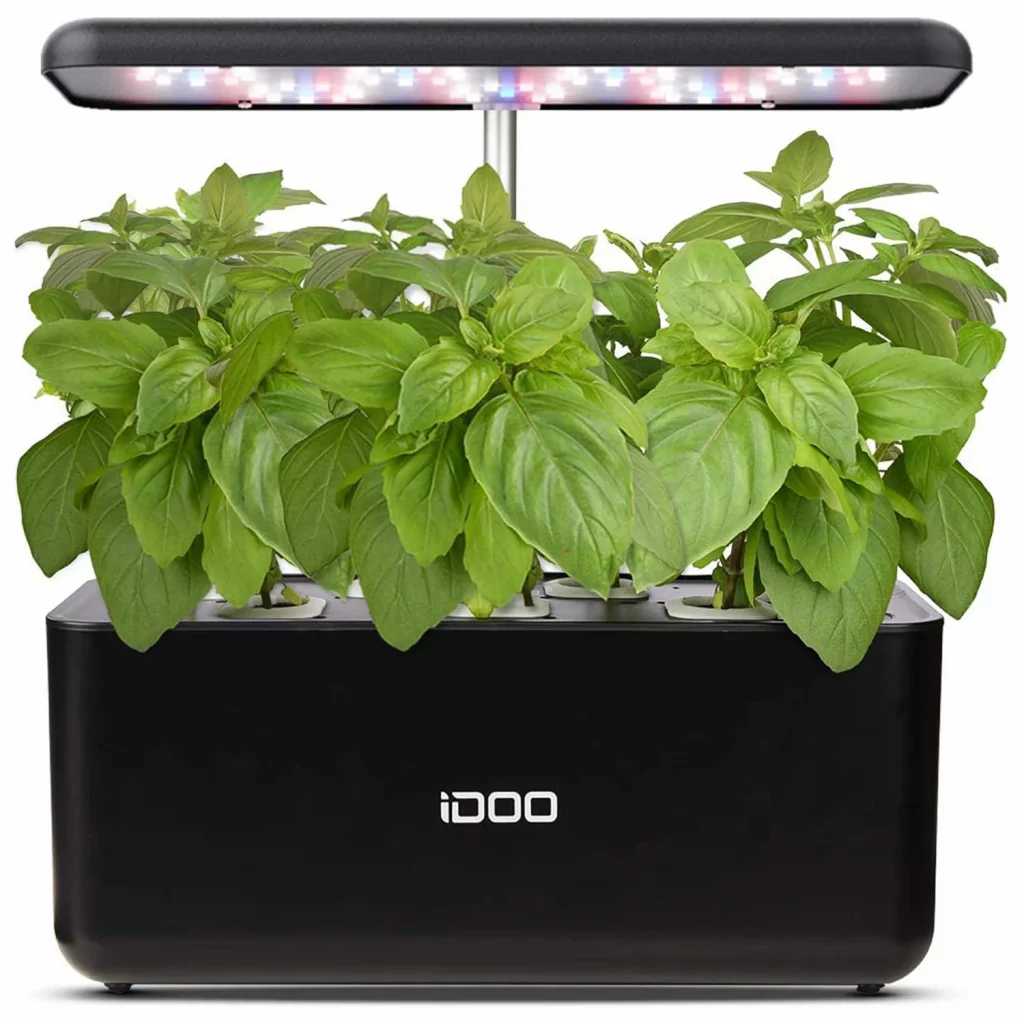 Have you heard of sponge pod? The iDOO Hydroponic Growing System Basic offers a new gardening experience with a synthetic soil sponge that reserves moisture, protects roots, and can easily transplant into the soil. This innovation makes the iDOO smart planter even 'smarter' with less water usage and more earth-friendly.
The iDOO Hydroponic Growing System Basic has seven sponge pods, an independent water pump, and an adjustable grow light pole. The water pump has two modes: a normal mode which runs for 30 minutes and pauses for 30 minutes, and a sleep mode which turns off for 12 hours and then returns to the normal cycle. The full-spectrum grow light is also available in three modes depending on the plant's growth stage: normal, grow, and enjoy.
This smart plant pot is a great gardening tool for you who want to experiment with a variety of plants and also an excellent educational gift for children!
---
#4 Rise Gardens Personal Garden
Rise Gardens has won the Best Compact Indoor Garden by Insider and Best In-Home Gardening Kits by Forbes. Not only space saver with its 18″ x 11″ (46 x 28 cm) size, but this smart plant pot has a sleek and fancy design to be part of your home decor.
The Personal Rise Gardens is a starter bundle that can grow 12 plants and includes free add-ons such as eight varieties of seeds, first harvest supplies, a nursery, and The Rise Gardens app. This bundle makes indoor gardening super easy for a beginner and is guaranteed to harvest in less than 30 days.
In addition, Personal Rise Garden can fully control by the app. With the app-controlled self-watering and light system, you can leave the house for days without worrying about your plants.
---
#5 Moistenland Garden Starter Kit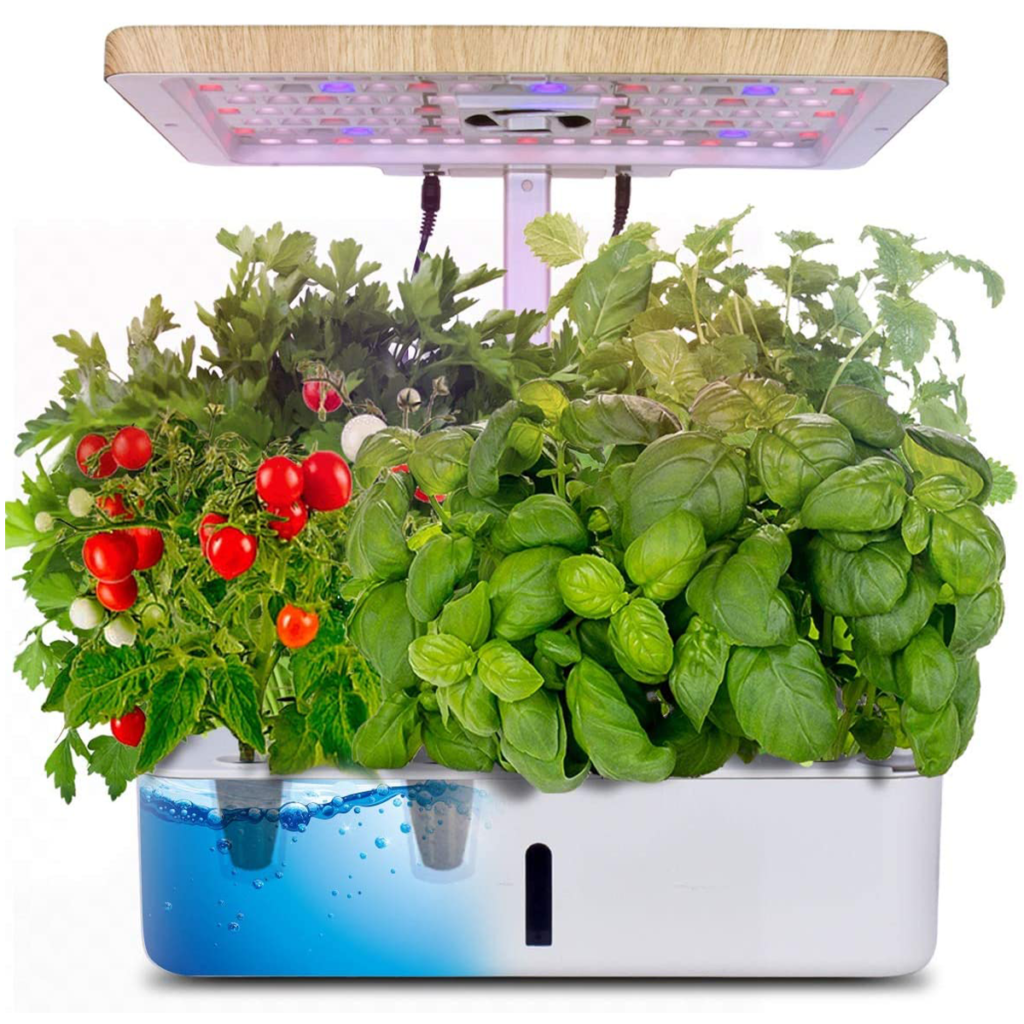 If you're looking for a smart plant pot under $100, Moistenland Garden Starter Kit can be your value buy! It comes with 12 biodegradable coco coir planting pods, 23W LED grow light, and built-in air & water circulation system.
The Moistenland Garden LED grow light panel provides a full spectrum of lights—red, blue, and white lights—for 16 hours on and eight hours off to meet the plant growth without sunlight. Furthermore, a fan embedded in the light panel reduces heat while simulating natural breezes to help plants grow more efficiently.
---
#6 VegeBox T-Box Indoor Garden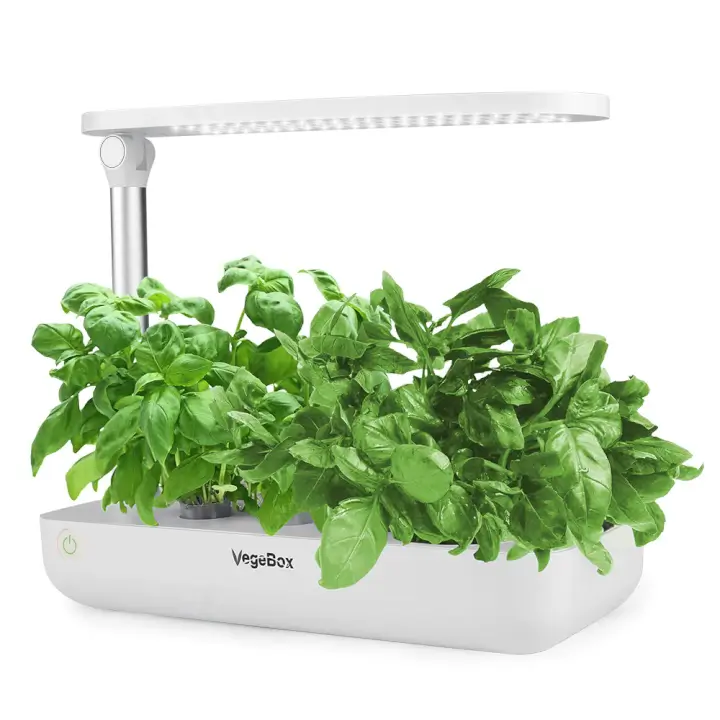 Here comes another value buy for you to have a fun experience with indoor gardening. The VegeBox T-Box is a compact and minimalist smart plant pot that comes with nine pods, plant nutrition, and planting kits for you to start gardening right away.
Its unique T-shaped LED light is adjustable for different growth stages (135-degree wide angle) and powerful enough to help your plants grow 1.5 times faster than comparable indoor herb garden kits. The water tank has a capacity of 1.2 L, which is sufficient for two weeks.
Because of its small size, this smart plant pot is ideal for growing small herbs such as mint, parsley, thyme, and basil, as well as vegetables such as cherry tomatoes.
---
#7 PICO Plant Parenting Made Simple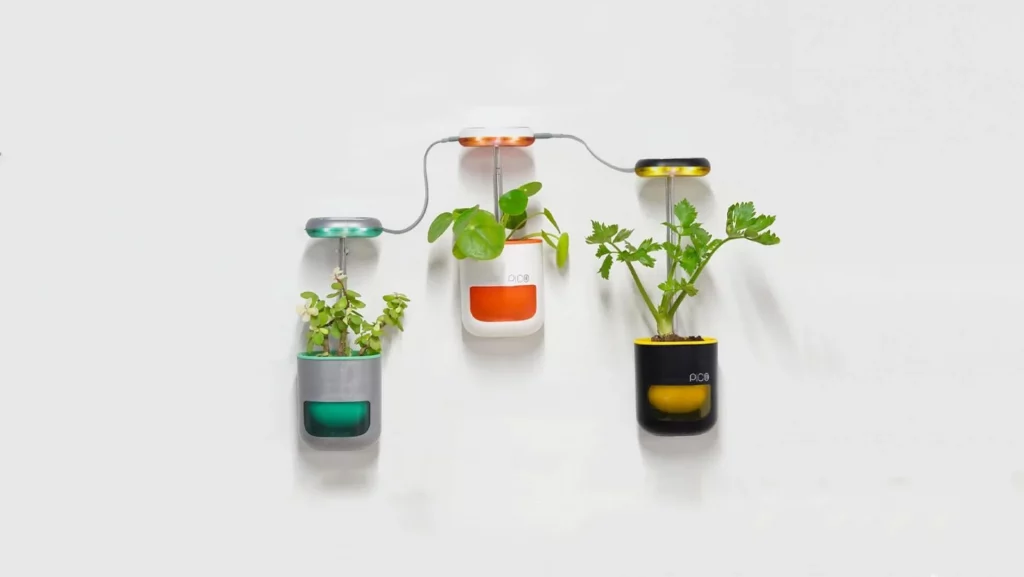 Enough with growing herbs, veggies, or fruits. What if you only want to have one beautiful pothos in your room? PICO is the perfect answer to your needs!
PICO Plant Parenting Made Simple is available in three fun colors: coral white, sea green, and stone blue. This smart plant pot is made of BPA-free recyclable body, aluminum telescopic arm, OSRAM LEDs with secondary lenses, and USB-C cables. Aside from its eye-catching design, PICO is super easy and fun to work with! Add your favorite plant, fill the water, plug it in, then place it on your desk or stick it to the fridge/wall/glass surface.
---
The good side of technology is that it simplifies everything, including gardening. Let's try out a new way of indoor gardening with smart plant pots of your choice!