Riding a bicycle is a universal activity that almost can be done by everyone. Some people also take a bicycle as a transportation mode every day, such as going to work or school. Not only this is a fun hobby, but cycling is also good exercise for our body.
Thanks to modern technology, now cycling can be a more interesting and enjoyable experience with the innovation of portable Bluetooth speakers designed for the bicycle. You can listen to any audio without any disturbance to your ear. Some speakers also have a built-in microphone that can be used to make a call.
Here are some recommendations for the best Bluetooth speakers that can be stuck on your bicycle.
#1 Onforu Portable Bluetooth Speaker for Bike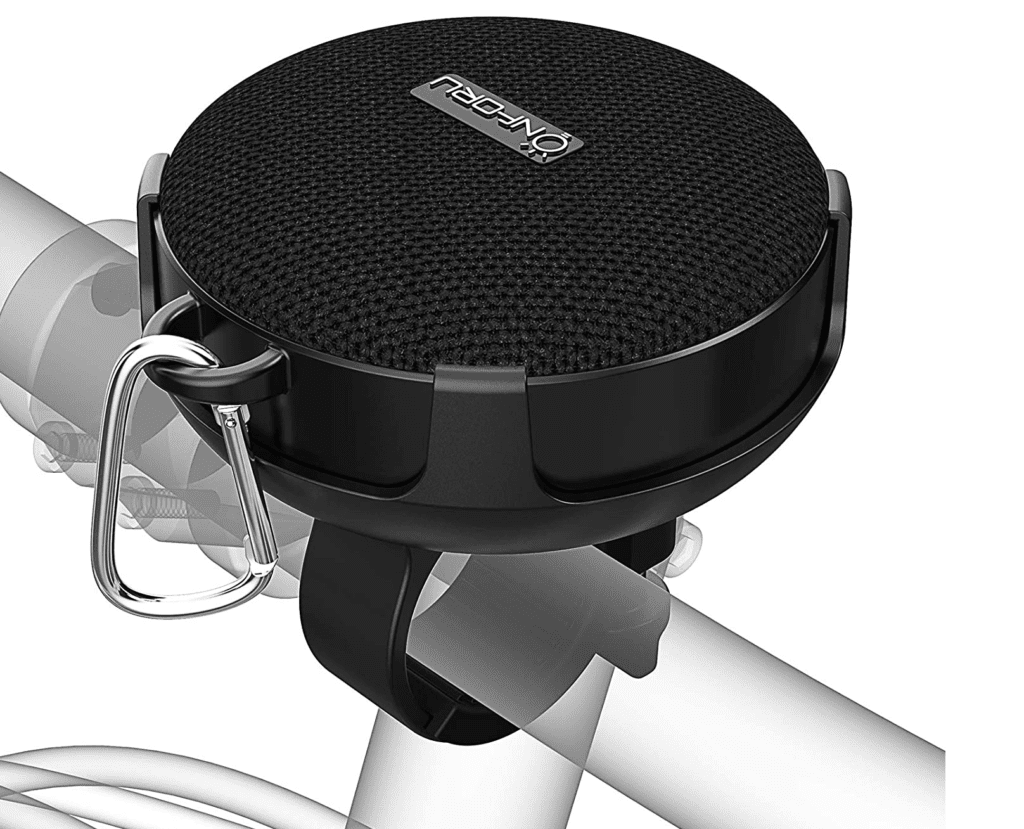 This bicycle speaker is equipped with an adjustable bike holder with a thick gasket that allows cycling enthusiasts to enjoy music even on the bumpy road. The Onforu Portable Bluetooth Speaker has IP65 waterproof rating to provide water-resistant protection, so you can use it without worrying about the weather. Since it uses Bluetooth 5.0 technology, its wireless connectivity is more stable and smooth. Not only that, but this speaker is also able to be paired using AUX connectivity.
You can use this portable speaker for up to 10 hours of playback time at 60% volume. Comes with 5.7 ounces (161.5 grams) of weight and 3.66 x 3.25 x 3.07 inches (9.3 x 8.2 x 7.7 cm) in dimension, the speaker won't be a burden to your bike. There are three color variants that you can choose from black, blue, and green.
---
#2 Bose SoundLink Micro Bicycle Speaker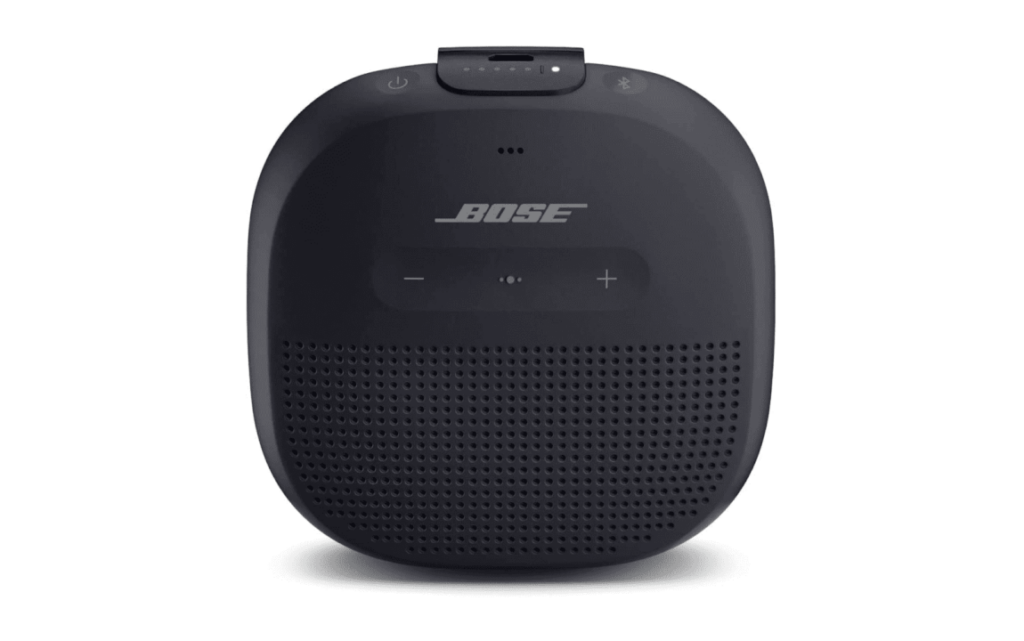 The Bose SoundLink Micro Bicycle Speaker is able to produce clear and balanced sound to put on your bicycle. This small but powerful device is designed to deliver loud and deep bass. To support your movement, it comes with a tear-resistant silicone trap that can hold on through a bumpy journey. Constructed from durable materials with a rugged design, this Bose product can resist drop, crack, and scratches.
Bose Soundlink has the IP67 rating certification. It means that it is waterproof, dustproof, liquid, and protected against extreme temperatures. Equipped with a decently-sized lithium battery, you can use it for up to 6 hours. Plus, there is an integrated built-in microphone that allows you to make a call from this speaker.
---
#3 Zealot S1 Bluetooth Bicycle Speaker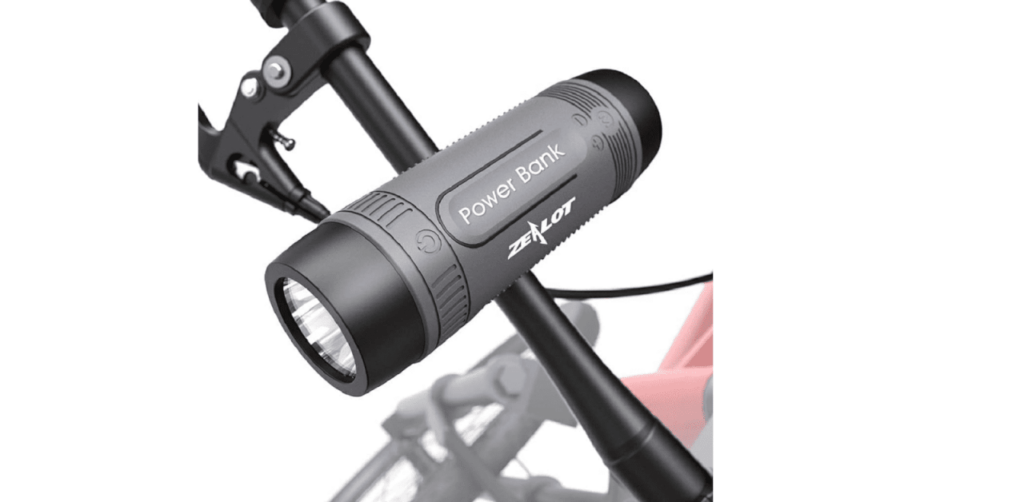 This bicycle speaker is equipped with the latest Bluetooth 5.0 technology to give you a stable connection when cycling. It has a microphone system to give you a hand-free call experience. Built with a 40mm driver and passive subwoofer, the sound produced provides the best audio experience for you. Powered by a 4000 mAh rechargeable battery, you can get up to 24 hours of listening time and also use it as a portable power source.
Zealot offers full outdoor accessories to support your activities. There are bike mount, carabiner, audio cable, USB charging cable, and silicone protective sleeve. The latter ensures the speaker is splashproof, dustproof, and also shockproof. It also has a LED torch light that makes this speaker useful for every activity. 4 color variants can be chosen: gray, red, blue, and green.
---
#4 Bugani M99 Portable Bluetooth Speaker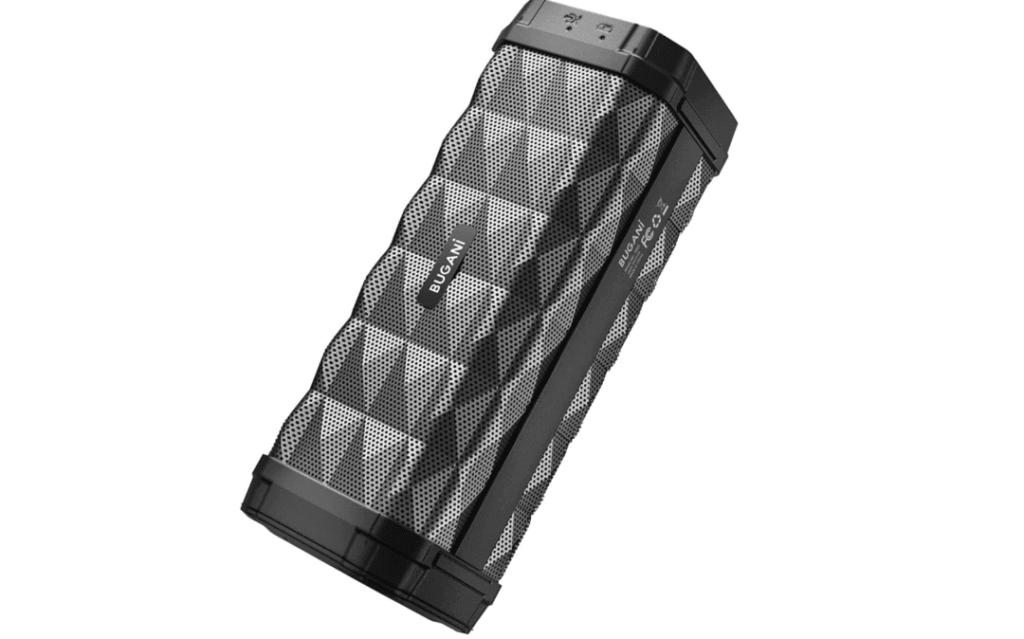 The Bugani M99 Portable Bluetooth Speaker has the ability to be paired at 100 feet (30.4 m) away from your devices. For comparison, a regular speaker only can be used within the 30 feet (9.1 m) range. It's possible to use the speaker in your yard while the phone stayed at home. This speaker uses Bluetooth 5.0 technology with an advanced antenna design to provide better connectivity and a wider range. 
The advanced digital audio processor makes this device able to produce precision stereo and deep bass effects. What makes this unique, it adopts a diamond shape that still has good portability. Moreover, the portable. Built-in microphones give a better communication experience while on a phone call. All things considered, the rectangular speaker is suitable for yoga, reading, office, housework, reading, and also cycling.
---
#5 BassPal Portable Wireless Bicycle Speaker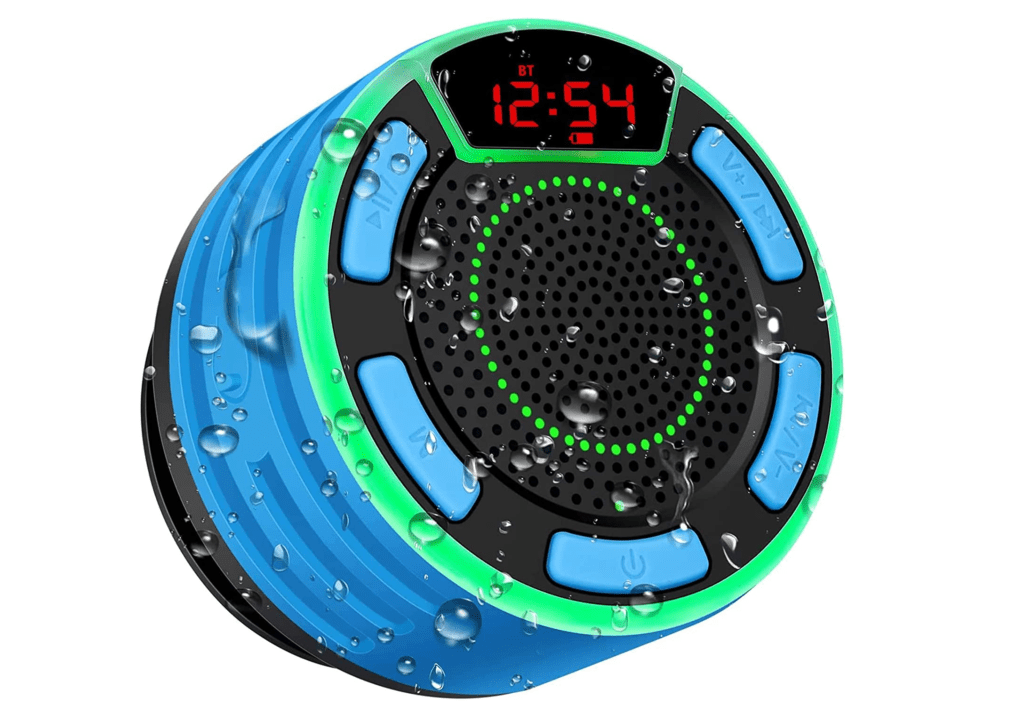 This portable wireless speaker from the BassPal brand has an impressive waterproof capability. It is certified for IPX7 rating so this device is fully waterproof. It is also claimed that it can be submerged in 3 feet (1 m) of water for up to 30 minutes. Plus, it has a removable suction cup that allows it to float on the water.
BassPal Portable Wireless Bicycle Speaker can be paired using Bluetooth or you can use the FM radio mode. This portable outdoor speaker uses the latest Bluetooth 5.0 connectivity that is able to provide faster and stable pairing. It is equipped with LED digital screen that shows time and battery. Moreover, its built-in microphone ensures you do not miss any important calls.
---
#6 Avantree Portable Bluetooth 5.0 Bike Speaker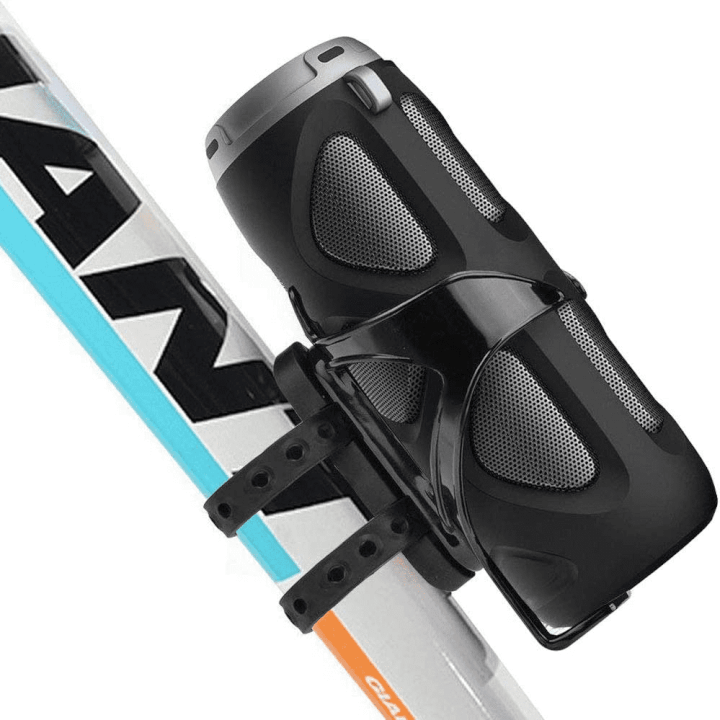 The Avantree Portable Bluetooth is designed for active lifestyles such as cycling, hiking, or other outdoor activities. It is featured with an IPX4 splashproof rating, and a shockproof rubber exterior to make this speaker durable. It also has a bike mount, belt, and hook accessories that help you to pair your bike securely.
The sound produced is bold and rich in bass, even against noise from the environment since it has a cyclone and passive bass radiator. To use this device, you can connect it via Bluetooth, micro SD, or AUX. Another excellent feature is this speaker has the Cyclone's Near Field Communication (NFC) capabilities allowing you to start listening to music easily and quickly when paired with an NFC-enaAvantree Portable Bluetooth 5.0 Bike Speakerbled phone.
---
#7 Clearon Wireless Speaker with Bike Mount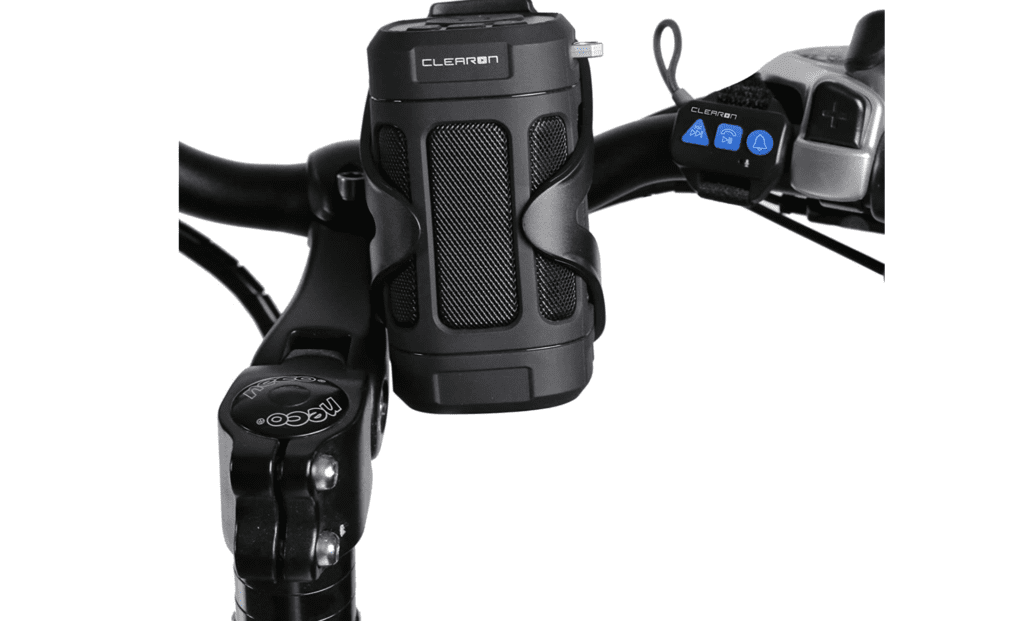 This speaker has 360-degree surround sound quality, extremely loud, clear sound, and enough bass. Thanks to its compact size, it is a perfect option for you to put on your bike. It is also equipped with a hook loop and bicycle mounting kit making it to be an ultra-portable speaker.
Clearon claimed that this speaker can be paired easily using Bluetooth 4.0 technology with a stable and strong connection for up to 100 feet (30.4 m) distance. You can also mount a micro SD or use AUX audio port. There is a built-in microphone to help you answer and make a call wirelessly. Comes with a super durable design, this device is water resistant (IPX4 rating), dustproof, shockproof, and stainproof. Lastly, its 10.6 oz (300 grams) of mini-speaker provides 15 hours of play-time.
---