Whether you are going to lose, gain, or simply track your body weight over time, having a body scale may be necessary. It can be more crucial if you have a tightly specified target that pushes you to monitor your weight daily, even if you are not in your hometown.
A compact and mini body scale is a good product for you to consider buying. As its name suggests, this type of body scale has a light design that allows you to bring it anywhere easily. It is also able to be put on luggage or a backpack. Here are some recommendations for the best body scale for travel.
#1 RENPHO Travel Scale for Body Weight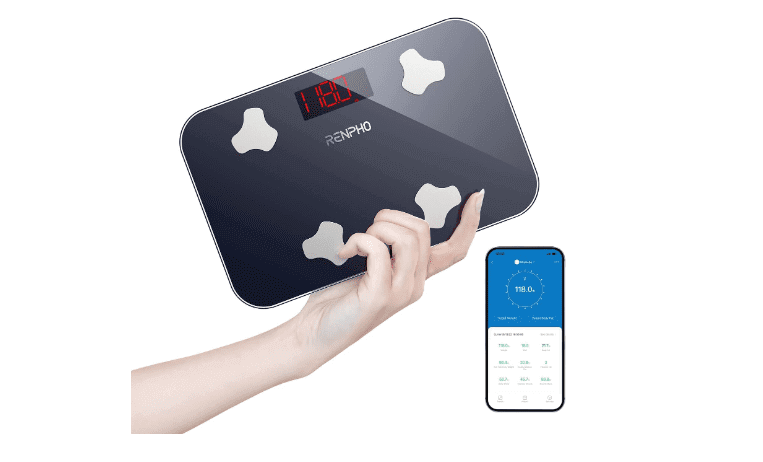 This body scale from Renpho has a compact and portable size of 11.02 x 7.09 inches (28 x 18 cm) dimension and 2.2 pounds (0.45 kg) of weight. The bottom side of this scale is wrapped at a 45° angle to enhance stability and prevent rollover when being used. Since it comes with a lightweight design, it is a perfect product to bring during traveling. Equipped with 4 highly-sensitive electrodes and a LED display, it is able to provide a consistent, accurate, and precise reading.
This body scale is accompanied by the Renpho Health app. It features 13 essential body composition evaluation that calculates your BMI and monitors changes in muscles, body fat, water, bones, and more. It also supports unlimited user profiles for tracking individual fitness goals and progress. You just need to pair this app with your smartphone, and then you can easily track your progress and gain insights into your health. Plus, this app is compatible with well-known fitness apps, such as MyFitnessPal, Samsung Health, Apple Health, Fitbit, and Google Fit, to sync your data.
---
#2 Venugopalan Small Portable Body Weight Scales Digital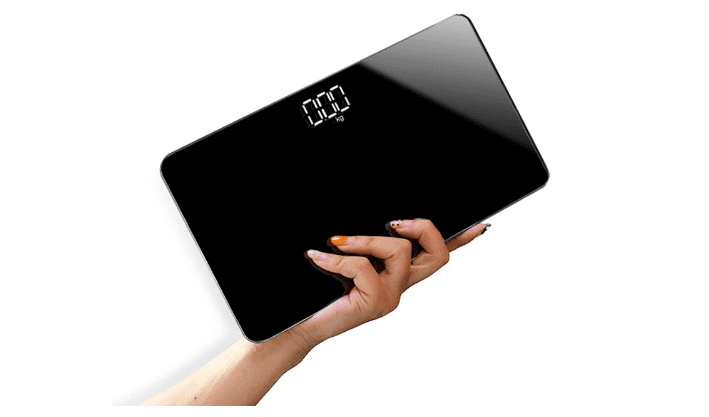 This body scale comes in 9.8 x 5.5 inches (29 x 14 cm) of dimension, which is comparably smaller than others. Its net weight is only 1.1 lb (0.5 kg), which is lighter than a regular iPad, makings this product compact and easy to carry. The body scale structure is well designed, where the bottom side is equipped with 4 high-precision mountain-shaped sensors. It has a high accuracy of 50 grams, making the measurement more accurate.
The Venugopalan Portable Body Scales use high-definition titanium electroplated glass, which is a strong and durable material. The body weight scale also has a reflective surface that can be used as a mirror. Two different product types are offered: the battery model and the rechargeable model.
---
#3 Newline NY Step-on Super Mini Smallest Travel Bathroom Scale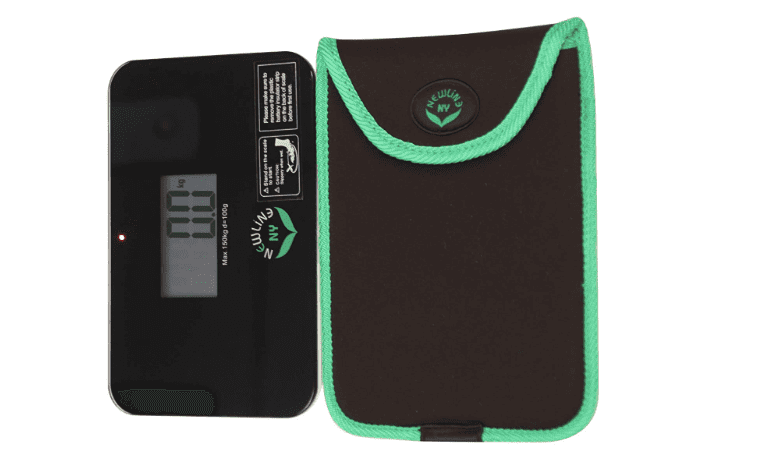 Newline NY body scale has an extra compact platform with 5.5 x 8.5 x 0.5 inches (13.9 x 21.6 x 1.2 cm) of dimensions and a weight of only 20 Oz (0.5 kg), which is super thin and light. It is equipped with a 3.5 inch (8.89 cm) extra large display with auto shut-off time for easy reading and also energy saving. Five color variants are available; black, green, strawberry ice, trendy wave, and white. To use this body scale, you just have to step on it, and it will show an instant reading with red light. After that, you can step off from the body scale to see the prominent display of your weight. You will have 8 seconds to check the results.
This body scale allows you to choose your preferred unit of measurement. It can display in Kg, Lb, or St. Newline and provides consistent and accurate measurements up to 325 lb or 150 kg with increments of 0.2 lb or 0.1 kg. It fits nearly into even small luggage and comes with a soft neoprene sleeve for premium protection. It is a space saver to use at home, office, or when traveling. This makes a perfect gift for yourself and loved ones with a focus on health, convenience, and style.
---
#4 Escali Compact Digital Bathroom Travel Scale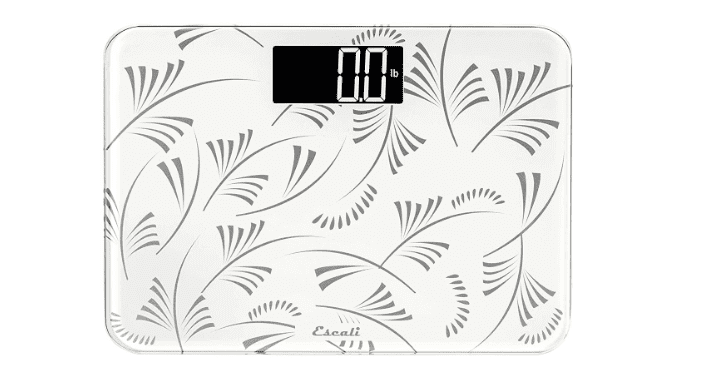 This compact and portable body weight scale is perfect for the frequent traveler. Its small platform size also makes it easy to carry on small luggage without taking up much space. It uses an instant technology that automatically turns the scale on when you step into its platform. The large reverse LCD technology features white digits on a black background for easy-to-read measurements.
Escali Compact Digital Scale makes weight reading measurements quick, easy, and accurate. The display holds the measurement reading results visible for 10 seconds. The automatic shut-off feature helps save and extend battery life by turning it off when the scale is not in use. It has a high measurement capacity of 400 lb (180 kg) with 0,2 lb (0.1 kg) incremental value. Comes with 11.88 L x 8.68 W x 0.75 H inches (30 x 22 x 2 cm) of dimension and 400 grams of weight, this scale is perfect to accompany your trip.
---
#5 Taylor Precision Products Digital Mini Scale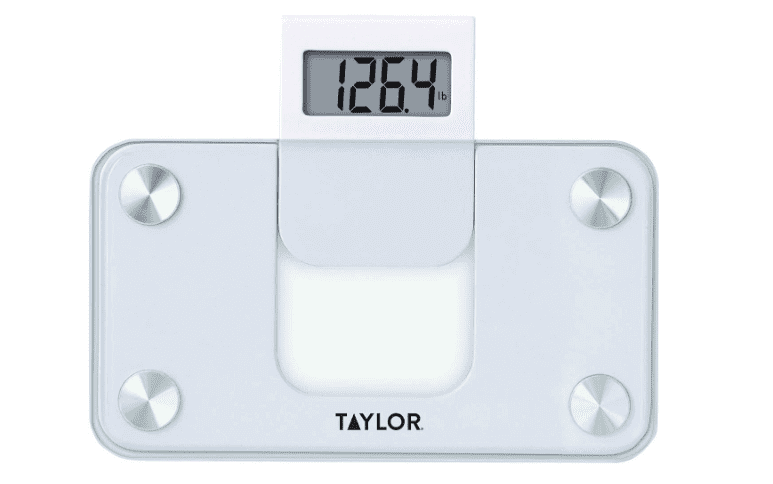 The Taylor Precision Products brand helps you to reach your weight goals and measure progress with its digital mini-scale product with an expandable readout. It is an excellent choice for small storage spaces and backpacks. This compact digital scale features a pop-out display that can be folded to save space. You can take this scale anywhere for consistent measurements while traveling or at home.
This mini-size body scale is built with a capacity of up to approximately 350 pounds (180 kilograms). It is armed with a tempered-glass platform attached to the base with 4 contacts for balance. For the dimension, it has a 9.05 x 5.12 inches (23 x 13 cm) platform with 1.7 pounds (0.7 kg) of weight. Taylor features an instant on, auto-off, and low battery indicator. To power this body scale on, a built-in lithium battery is installed.
---
#6 YBLOC Travel Scales for Body Weight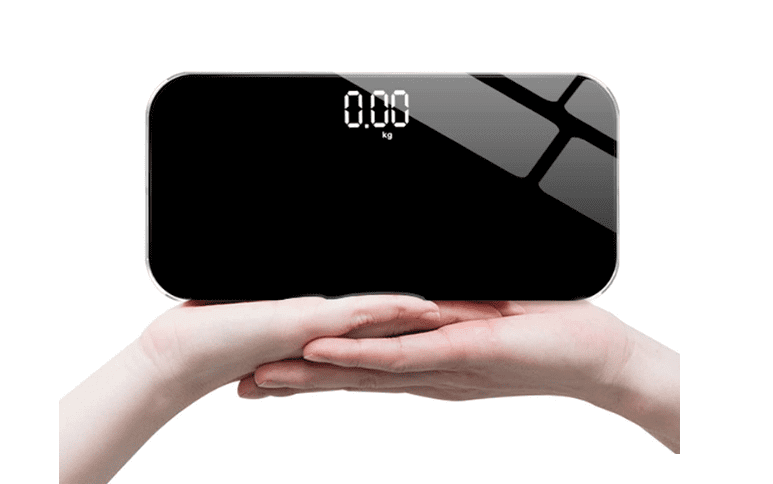 This travel scale is specially designed for travel. This scale comes with compact dimensions of only 9.8 inches by 5.5 inches (9.8 x 14 cm) and 1.1 pounds (0.5 kg) of weight. It has a mirror feature that you can use as a makeup mirror. A hidden bracket can be popped up to place on a table. YBLOC adopts high-definition titanium metal plating, stainless steel, and glass materials.
To provide high precision and accuracy of measurement, the YBLOC body scale is equipped with 4 high-precision mountain-shaped sensors at the bottom. It offers 50 grams of measurement accuracy. This scale is more suitable for women and children due to its small size. As a note, when weighing, it is recommended not to put a mat under the scale. It should be placed on a flat surface. Otherwise, the measurement data may be inaccurate. This product is claimed that has a long battery life. You will only need to charge this body scale via a USB port for one hour, and then you can use it for half a year.
---
#7 Moxikison Small Digital Bathroom Scale
This body scale from Moxikison uses a mirror glass design that can be used as a makeup mirror. The 11.8 x 8.7-inch (30 x 22 cm) size makes it smaller than most other body weight scales and easier to take when traveling. The intimate rounded corner design is anti-collision, protecting you and your family, and brings you a comfortable and safe weighing experience. According to the force structure of the scale body, it is equipped with 4 high-precision sensors on the bottom side, with an accuracy of 50 grams, which makes the weight measurement more accurate.
The Moxikison body scale supports a unit of measurement settings with a button on the back. You can switch it freely to display a kg or lb unit. It has an incremental accuracy of 0.1 kg or 0.2 lb with a maximum capacity of 400 lbs (181 kg). When weighing, you cannot place cushions under the body weight scale. It also must be placed horizontally. Otherwise, measurement data will be inaccurate. This product can be a good gift for a woman on any special occasion.
---