Portability increasingly becomes a major factor for consumers when it comes to choosing phone accessories. Under general rules, they expect a product to be small, lightweight, and relatively practical for its form factor. These premises lead product designers around the world to start reducing the overall footprint on many popular products — one of which is a tripod.
Tripods that often referred to as tall, bulky, and sometimes heavy are facing a new market segment where people using their phone cameras to capture beautiful images. Of course, most camera tripods may include a special mount for a smartphone to attach on.
However, the extra attachment doesn't solve lightweight and small that people are expecting. Therefore, some tripods below were designed for smartphone users in mind. They are considerably small and you can literally store them inside your jeans pocket.
We have curated some of the best compact phone tripods on the internet, and we conclude one of these options might suits you.
Pocket Tripod Pro by Geometrical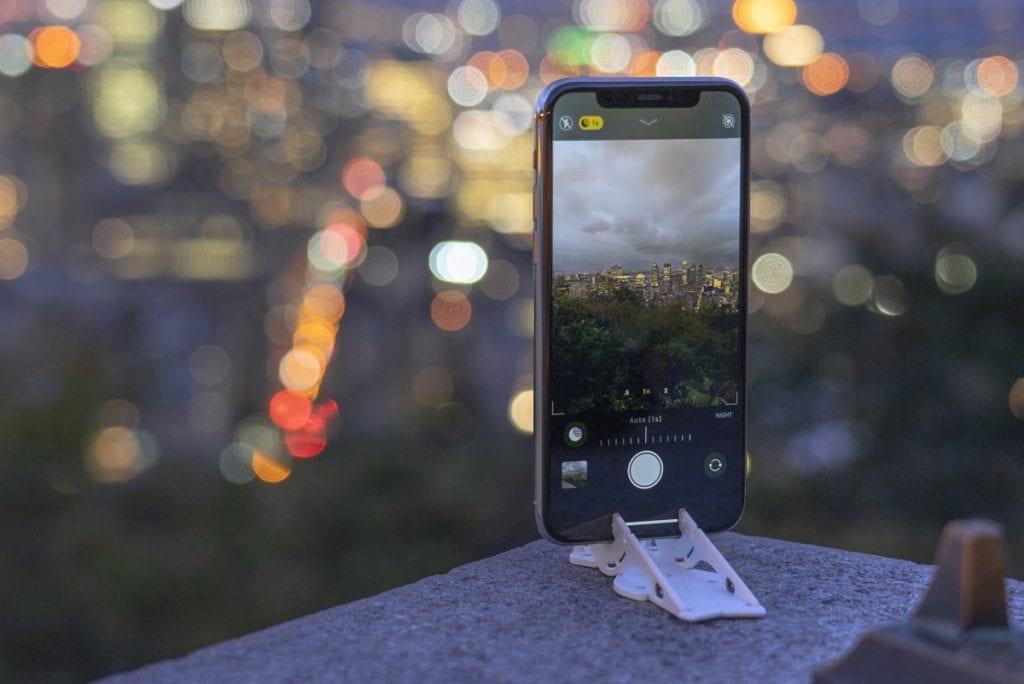 If you happen to use a wallet with at least one credit card slot available, you might want to choose Pocket Tripod Pro as your mobile phone tripod. Though it's not technically a tripod you might imagine, it can hold a phone firmly with various angles to choose from.
It's made from carbon fiber to ensure stability and durability. The tripod design is thin and foldable. When unfolded, it would fit inside your wallet, disguising as a credit card. Inside the box, the tripod offers 8 adapters for different thickness levels of modern smartphones — ranging between 6 mm to 12,5 mm.
In general, the tripod should be compatible on most phones, unless if you are owning a ridiculously thick phone or case. Speaking about protection, all the adapters have soft contact points to protect the screen from scratch damage and securely grip the device.
Kenu Stance Mini Tripod Stand
It's not exactly a full-featured tripod, but it certainly something that easy to carry on. Kenu Stance Mini Tripod uses a micro mount that can be attached directly to the charging port to keep the phone firm and steady. The mount is available for USB type C and the lightning port version for iPhone.
Weighted with merely 34 grams (1,2 oz), it's smaller than a pack of gum. It's also somewhat foldable and can be stored in practically any pocket on the clothes you are wearing. And, the ball-and-socket joint that lets the phone tilt and rotates freely. You can keep the phone stand either vertically or horizontally.
Ulanzi MT-16 Extendable Phone Camera Tripod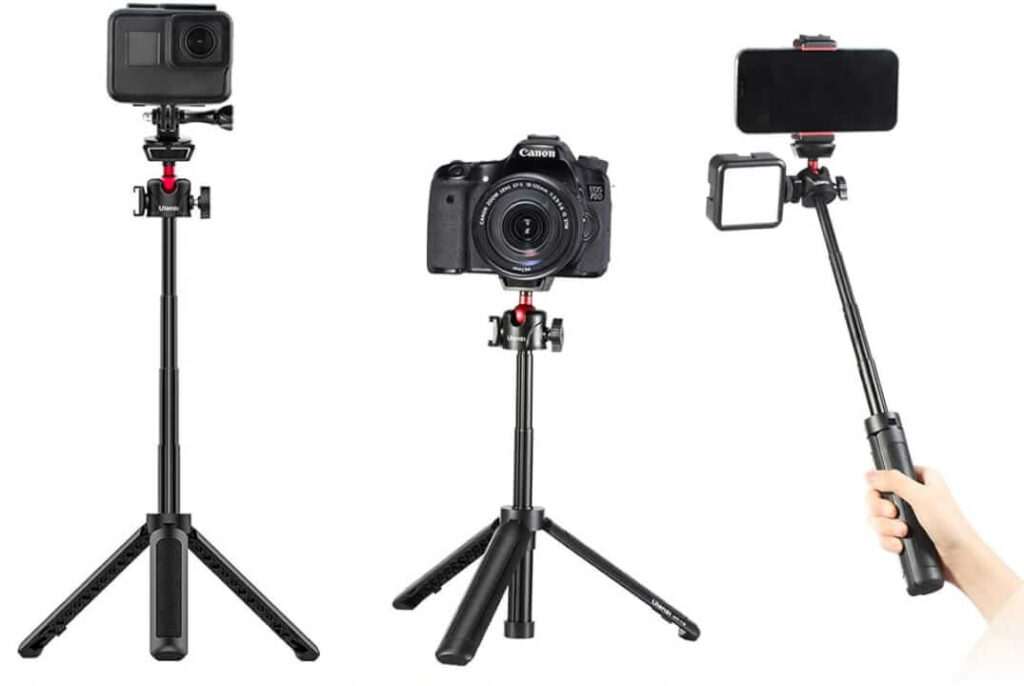 In many instances, taller is better. The Ulanzi MT-16 may appear like most compact tripods, but the center tube holds a telescopic design that can be extended as a selfie stick or to elevate the camera position. Either way, MT-16 is a relatively small tripod with just 22,5 cm (8,5 inches) in size when closed.
Another interesting factor it has is the head ball apparatus which lets you freely choose the camera angle and provides better stability. Head ball is many times dubbed as more preferable than a pan head. It also generally found in professional-level tripods. And as you might have noticed, the tripod is compatible with a smartphone, camera, and action camera.
Manfrotto PIXI Mini Tripod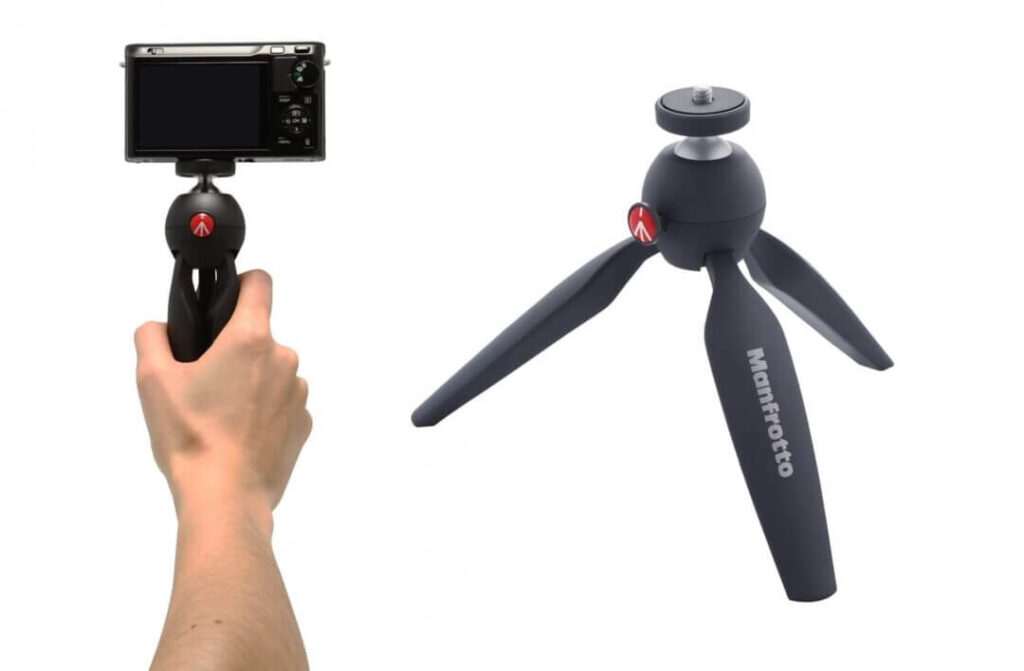 Small, lightweight, and simple, these are characteristics most related to Manfrotto PIXI. Sure, it looks like any other mini tripod in the category, but it sells a value proposition that could improve the image quality. The legs are designed in a way that when retracted, nicely improves grip on your hand. This resulting in a much stable video and less shaky shot.
The only mechanical part of the product is the push button to easily lock certain positions. A number of attachments are available within the box, including the mount for DSLR cameras, action cameras, and of course, a double-clamp holder for smartphones.
PGYTECH Tripod Mini Handle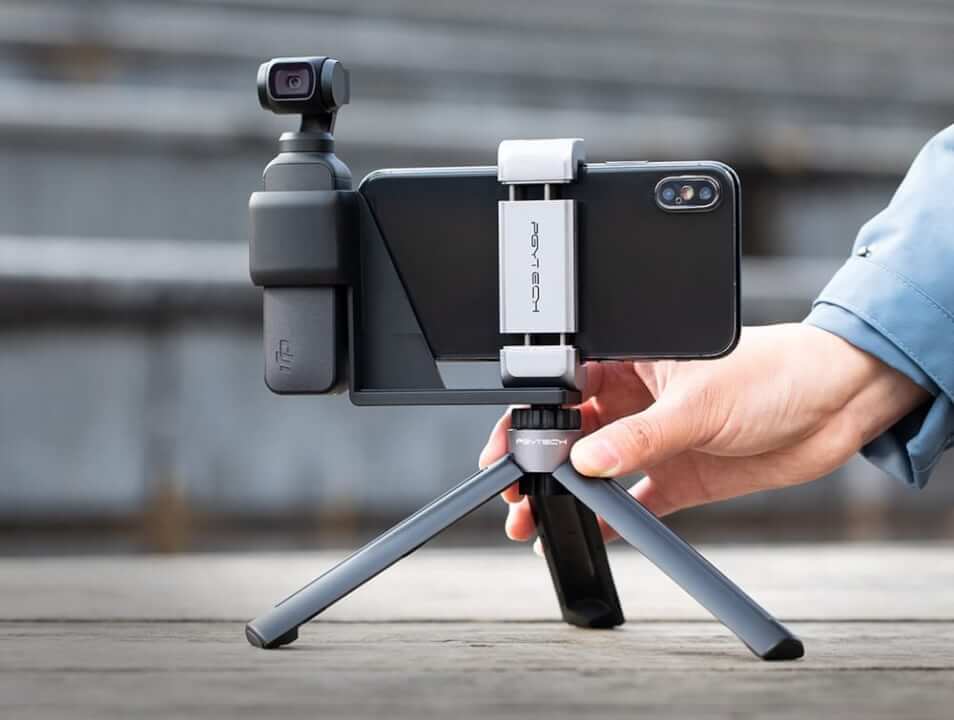 PGYTECH Tripod Mini Handle has the most elegant look on this list. We are talking about its perfect cylinder shape when closed. The legs have a small magnet attached to keep them together when not in use. For stability on a flat surface, the legs are equipped with non-slip mats to ensure the tripod stays anchored when recording a precious moment.
On the top, this tripod offers a standard 1/4 screw for mounting a smartphone holder, DSLR camera, or action cam. For extra compatibility, it can be used as a conjunction for DJI Osmo Mobile 3, Osmo Action, Osmo Pocket, and other photographic equipment weighing less than 1,7 kg. That's considerably strong for a plastic tripod with a mass of just 62 grams.
UBeesize Portable Camera Stand Holder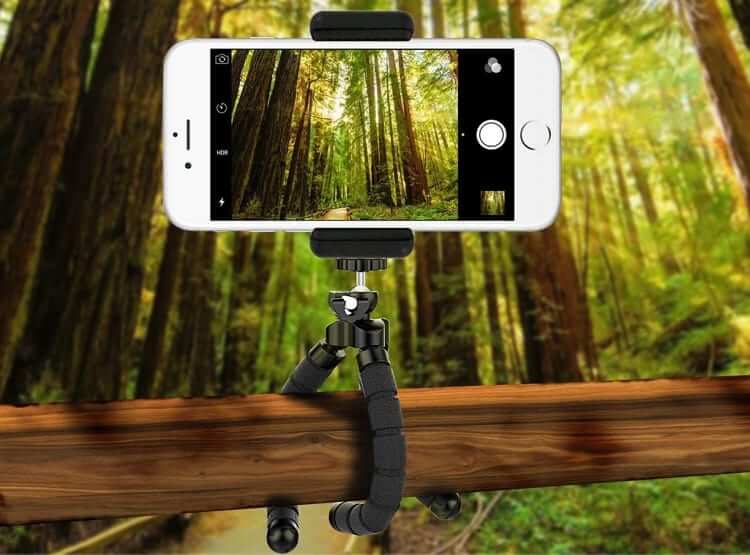 Flexible tripods are gaining traction to answer the problem when there is no flat surface on sight. The UBeesize tripod legs are strong and rigid, but also flexible to allow them to stick to an uneven object, whether it's a tree branch, lamp pole, or sharp rocks. It's clearly designed in mind for outdoor activities, but indoor activities are perfectly fine too since the tripod can stand straight and stay in that position until you flex the legs.
As a bonus, the tripod comes with a mini remote that connects to an Android or iOS phone via Bluetooth. The remote allows you to control the camera from a distance up to 30 feet (10 meters). This is especially useful when you taking a group photo but wants to be included within the frame without having to be the person behind the camera.
Pedco UltraPod Lightweight Camera Tripod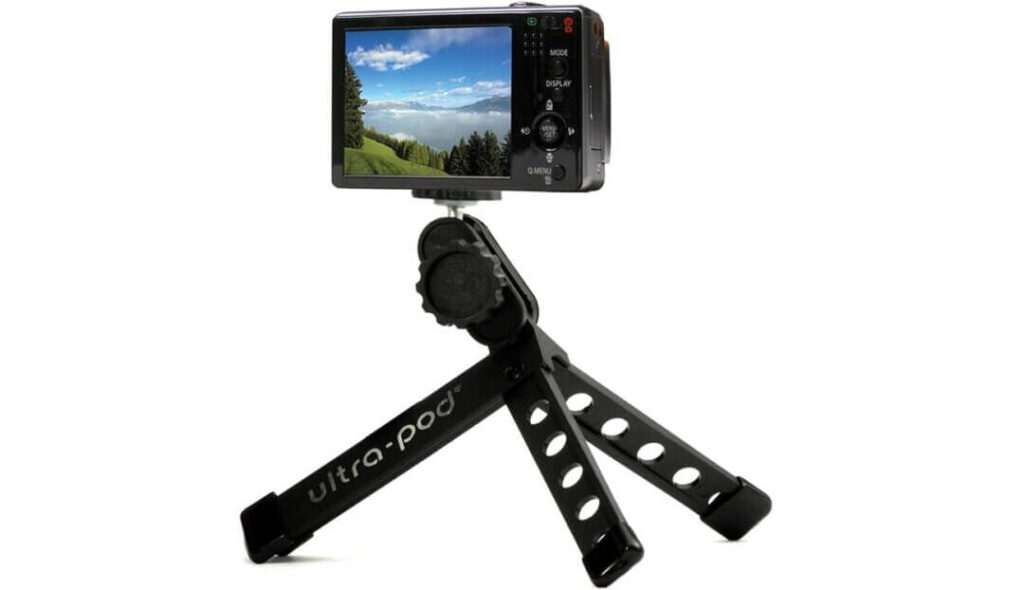 Pedco tripod is a little different with its small legs and asymmetric design. But behind that uninteresting look, the tripod is made from a lightweight and strong material with non-slip vinyl feet to ensure stability. The overall weight of the item is just a shy of 57 grams (2 ounces). It includes a black Velcro strap to attach the tripod to railings, frames, posts, or tree limbs.
Constructed from fiberglass reinforced nylon, the UltraPod can support up to 1,3 kg (3 pounds) of camera equipment securely. Furthermore, a lifetime warranty is added against defects, gesturing the product is designed for years of use. The overall package is quite simple and should fit into a small bag or your jeans pocket.