One of the worst situations during travel is when your device runs out of battery. You may be unable to open maps, use GPS, and make a call or text. This can get worse when you are totally unfamiliar with the environment and have no one to rely on.
To prevent these problems, you have to bring your charger everywhere and find a power outlet, which is not easy. A power bank is a great invention that allows us to charge our mobile devices, tablets, and other gadgets without connecting to an electrical power outlet. It is also compact and easy to carry, so you can always get in touch with your phone.
Here are some compact power banks that will be useful for your trip.
#1 Iniu 10000 mAh Phone Power Bank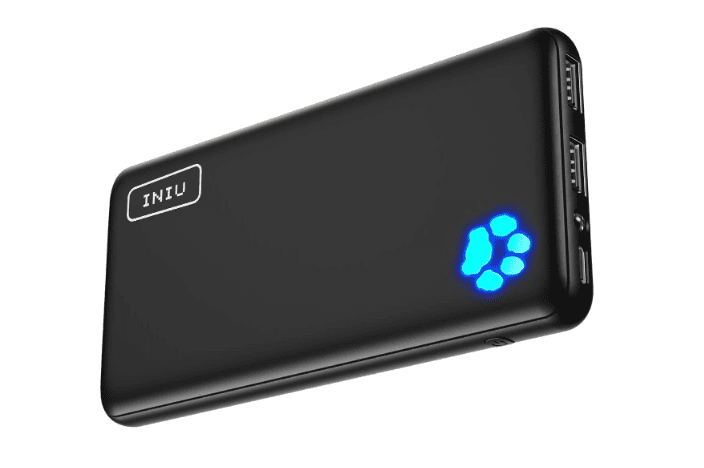 Iniu brand already has the experience of providing the safest power bank with 38 million global users. With its massive capacity of 10000 mAh, this power bank still has a slim design of 5.2 x 2.7 x 0.5 inches (13.2 x 6.8 x 1.27 cm), making it a good option for traveling. It has a USB-C inlet and outlet port to fit with the new version of mobile devices. Plus, it is equipped with an emergency flashlight feature to accompany your activity.
This power bank is engineered with the faster-charging technology of a 3 A outlet rating which replaces the old 2.1 A. Unlike the most power bank in the market nowadays, Iniu 10000 mAh can charge not only mobile phones but also AirPods, TWS, smartwatches, and others. When buying this product, you will get a USB C cable, a travel pouch, user manuals, and 3 years of warranty.
---
#2 Anker PowerCore Slim 10000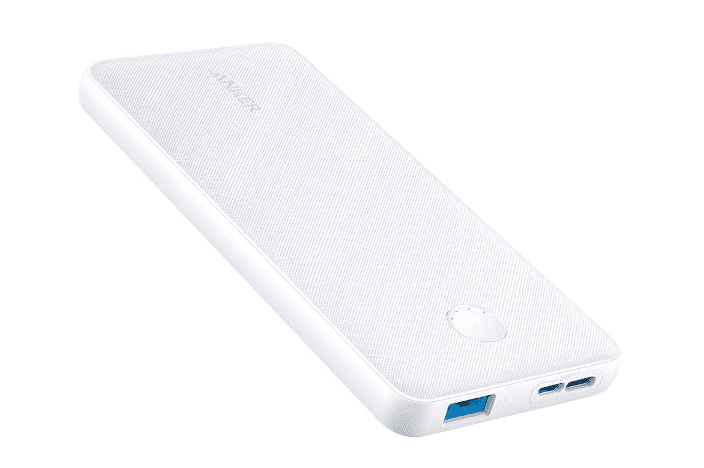 Built for ultimate durability and scratch resistance with premium material, the Anker PowerCore Slim 10000 is designed for adventure. This power bank has an enormous capacity of 10,000 mAh with a slim size of 5.9 x 2.7 x 0.6 inches (14.9 x 6.8 x 1.5 cm). Anker's exclusive PowerIQ and VoltageBoost technology can detect and deliver charging for up to 12W. It is also able to provide a trickle-charging mode to charge low-power devices.
Anker PowerCore Slim 10000 is equipped with Anker's MultiProtect safety system to give overcharge protection, short circuit protection, and temperature control. There are a micro USB cable, travel pouch, welcome guide, and warranty. With its 6.4 ounces (181.4 grams) of weight, this power bank is compact, easy to carry, and store.
---
#3 EnergyQC Slim 2 Portable Charger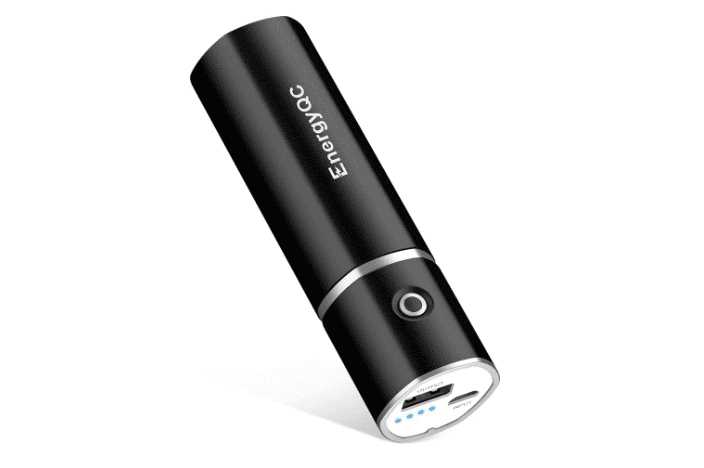 This power bank from EnergyQC has an ultra mini size of only 1.8 x 1.26 x 3.9 inches (4.5 x 3.2 x 9.9 cm) with 127 grams of weight, which makes it easy to carry and put in your pocket. It uses 2A fast input technology to reduce the charging time. There are 4 LED indicators to monitor the remaining power.
EnergyQC Slim 2 product has 5000 mAh capacity and a 2.1 A fast output rating. It can automatically detect your device and provide your phone's fastest charging speed. Some protection features defend the power bank from overheating, overshooting, temperature protection, overcurrent, and short circuits. It is claimed that this power bank can charge more than 95% of mobile phones on the market and can be carried on the plane.
---
#4 Iniu 22.5W 20000 mAh Power Bank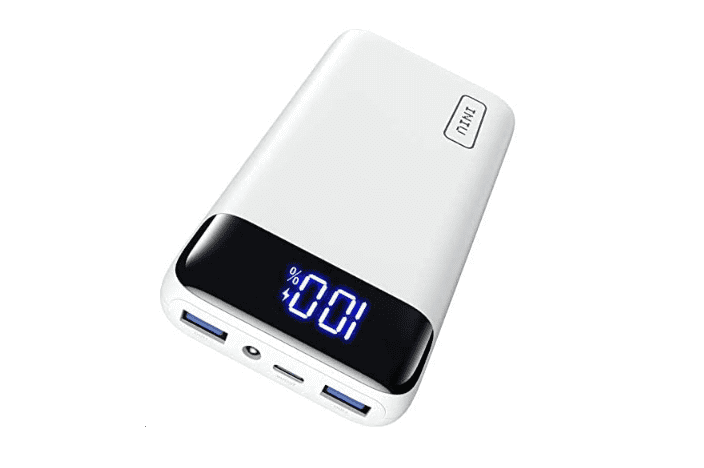 Designed with the upgraded 22.5W output plus the latest PD3.0 & QC4.0 fast-charge technologies, this power bank can charge your device at 52% in just 25 minutes. Iniu has a massive capacity of 20000 mAh but is still allowed to bring during your airline trip. The PD3.0 Super portable technology will enable it to charge mobile phones or smaller devices. It comes with 6.4 x 3.8 x 1.8 inches (16.2 x 9.6 x 4.5 cm) of dimension and 12.6 ounces (357 grams) of weight.
This power bank has a dual-function USB-C port, making it one of the best portable chargers with a reversible port. The feature allows you to charge this power bank and another device with the same USB C cables. There are also two additional USB-A ports. You can fully charge it in less than 6h via the ultra-fast 22.5W PD3.0 USB C input. Plus, it has an LED display that makes it perfect for carrying on the go.
---
#5 EnergyCell 10000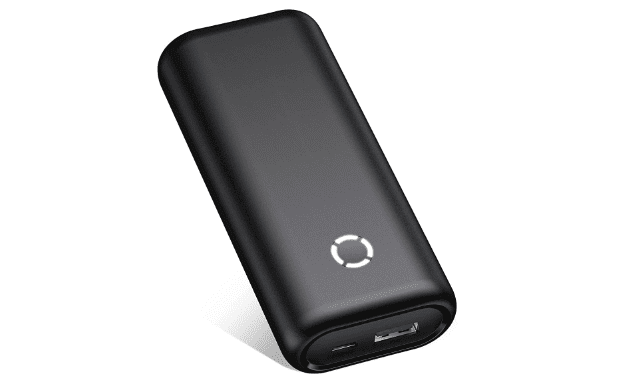 EnergyCell 1000 power bank has a small size of 0.98 x 1.95 x 4.05 inches (2.4 x 4.9 x 10.2 cm) with a weight of only 172 grams, allowing you to put it into any pockets and bags. Even though it has a slim design, this power bank still has a large capacity of 10000 mAh and can take on an airplane. This power bank can be charged at a 2.4 A rating which has a faster speed when compared with the standard 1 A input. It is claimed that this gadget's charging time required is only 50% of a regular power bank.
Built with premium battery packs, EnergyCell 10000 has a 20% increased energy density and a 35% increase in capacity compared to standard battery packs. This technology ensures better performance and huge capacity without taking up much space. Some safety features include over-current protection, short-circuit protection, and temperature protection. When buying this product, you will get a micro USB cable, a user manual, and a travel pouch.
---
#6 Anker PowerCore Essential 20000mAh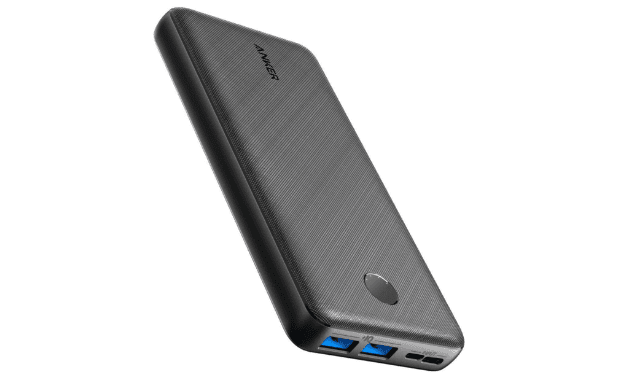 This power bank has an ultra-high cell capacity of 20,000 mAh with 6.2 x 2.9 x 0.8 inches (15.7 x 7.3 x 2.0 cm) of dimension and only 12 ounces (340 grams) of weight. Anker PowerCore Essential is equipped with an advanced charging technology named Anker's exclusive PowerIQ and VoltageBoost. It enables this power bank to deliver optimized charge and the trickle-charging mode for low-power accessories charging. Two USB ports allow you to charge two devices at the same time.
You can use the USB-C or Micro USB input port to charge this power bank. Recharging Anker PowerCore with a 10W charger will take approximately 10.5 hours, while recharging with a 5W charger will take about 20 hours. It can be a good option for frequent travel since it is safe to bring on an airplane.
---
#7 Anker PowerCore 5000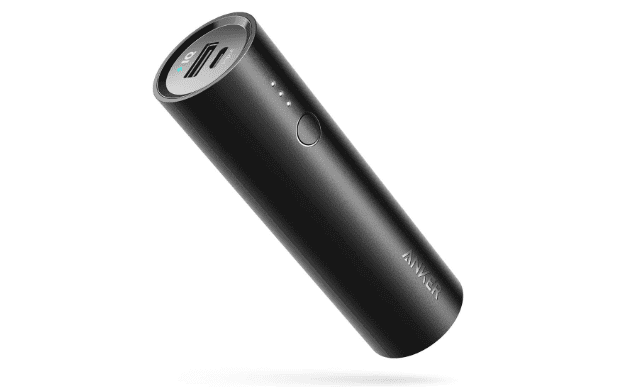 Anker PowerCore 5000 comes with a small cylindrical shape and minimalist design, which makes it ideal for bringing in a pocket or bag. It has a 5000 mAh capacity with a size of 4.2 x 1.3 x 1.3 inches (10.6 x 3.3 x 3.3 cm) and 4.7 ounces (133.2 grams) of weight, which is relatively small and lightweight. This power bank is sufficient to provide a full charge for iPhone X and Samsung Galaxy S9, almost double the charges for iPhone 8.
In the Anker PowerCore 5000 package, you will get a micro-USB cable, a welcome guide, and an 18-month warranty. Unfortunately, if your device needs to use a USB-C cable or lightning cable for recharge, you must buy it separately since it is not provided when purchasing the product. There are four color variants available that you can choose from, black, blue, red, and white.
---
#8 Christ Portable Charger Power Bank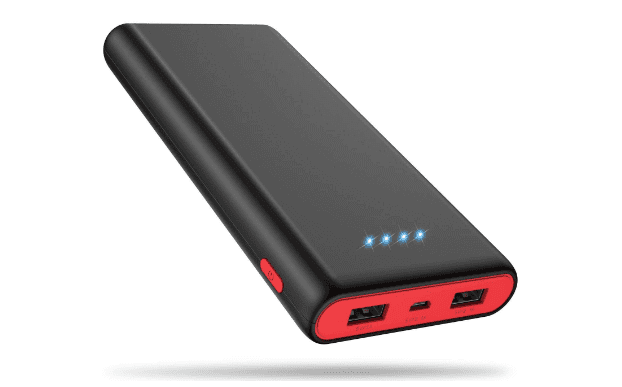 This portable power bank is built with 25800mAh Ultra-Huge Capacity and adopts the advanced intelligent controlling IC. It offers higher quality, safer protection, and is more reliable than others. Christ Power Bank is compatible with almost all mobile phones, tablets, and small accessories. It can charge 6 to 8 devices, making it perfect for travel activities.
This power bank has dual USB ports (2.1A+1A) to charge two devices simultaneously. To fully recharges itself, you will need 8~12 hours with a 2.1A input charger or 12-24 hours with a 1A charger. Four LED lights are installed and show the power bank's energy. Additionally, the built-in smart protection system ensures complete protection for your devices.
---