Are you an iPhone owner looking for innovative ways to enhance your phone's functionality? Look no further than MagSafe accessories. These magnetic add-ons are a game-changer for iPhone users, allowing for easy attachment and detachment of accessories without the need for cords or plugs.
From wireless charging pads to a camera grip, there are a plethora of MagSafe accessories available to suit your needs. Not only do these products make your life easier, but they also protect your phone from damage. Whether you're looking to streamline your daily routine or simply want to add some style to your device, these five MagSafe accessories are must-haves for any iPhone owner.
Table of Contents
Anker 633 MagGo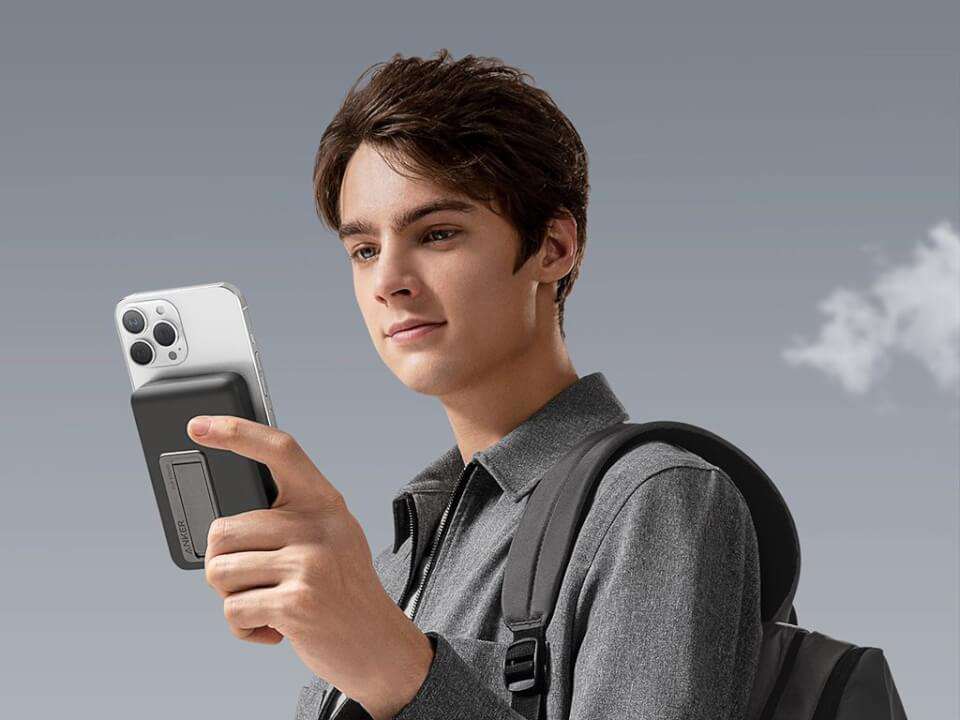 The Anker 633 Magnetic Battery is a versatile and efficient power bank that offers several useful features. It supports two-way fast charging with maximum input and output of 20W, making it eight times faster than a regular 5W charger for charging your iPhone 13. Recharging the power bank itself only takes 1.8 hours.
Anker's MultiProtect safety system ensures advanced safety standards with features like temperature control and foreign object detection. The charger also includes a foldable stand for convenient hands-free phone viewing. With its compact dimensions and weight of 7.68 oz (218 grams), it's easy to carry around.
---
ShiftCam SnapGrip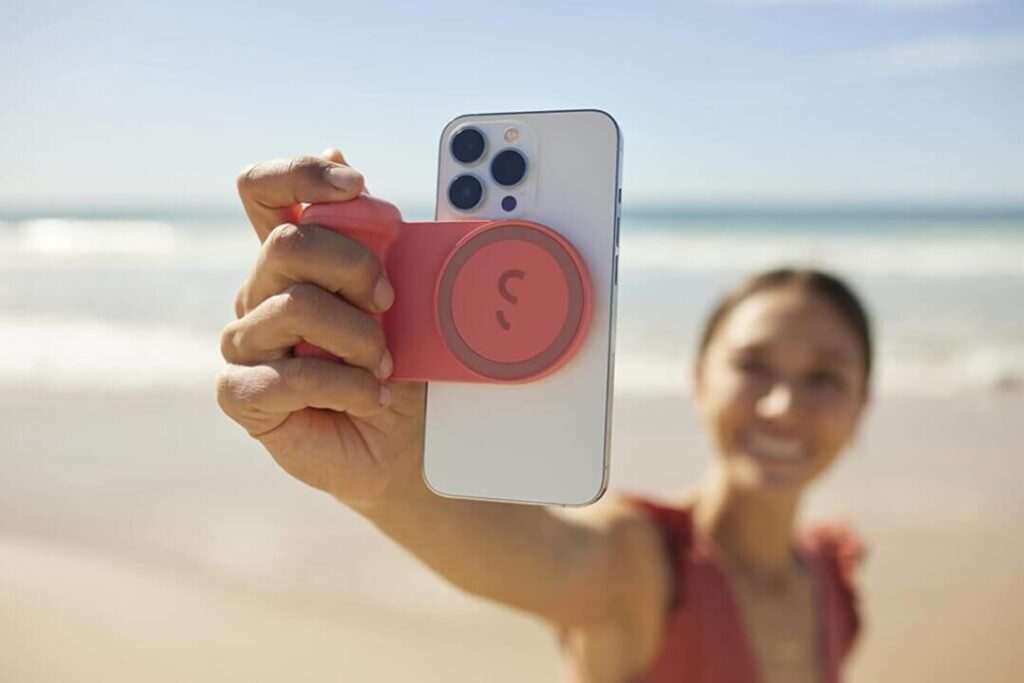 The SnapGrip is a really cool magnetic snap-on mobile battery grip designed for creators' convenience. It allows you to shoot anytime and anywhere without awkward hand positions. With its comfortable grip, you can double your shooting time and prolong your photo sessions. The grip is 180° rotatable, offering portrait and landscape options for different types of shots.
Additionally, it can be angled perfectly to rest on any flat surface, making it ideal for watching tutorials or making video calls. The SnapGrip ecosystem also includes the SnapPod magnetic tripod and handle mount, as well as the SnapLight magnetic LED ring for your phone.
---
Doolkin Pizo Mount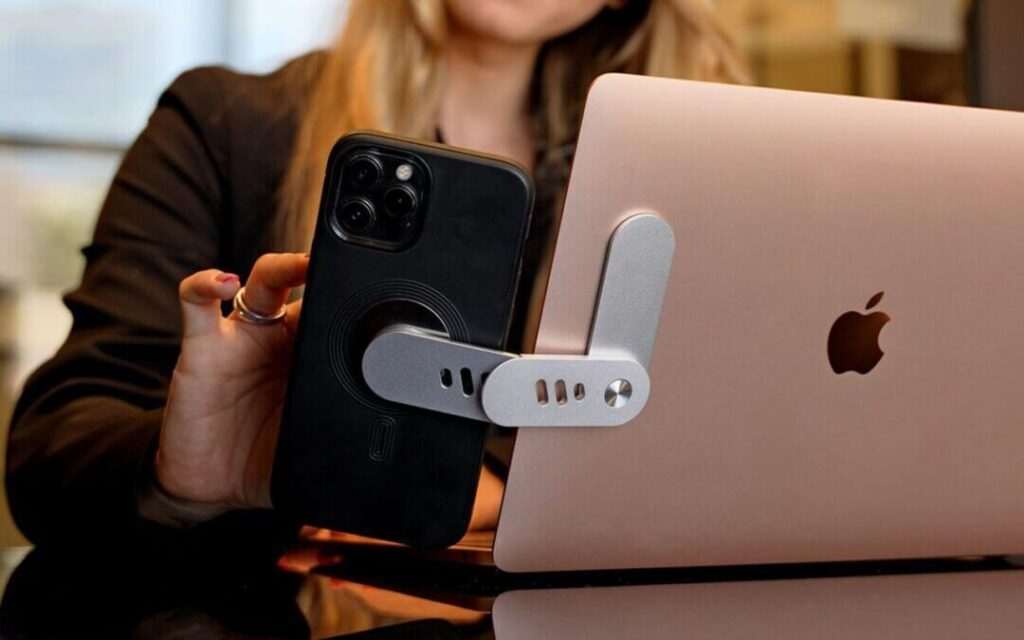 The Doolkin Pizo Mount is a laptop phone holder that is a versatile accessory that enhances your productivity and comfort. Compatible with desktop monitors, laptops, and iPads, it allows for efficient hands-free use of dual screens. Unlike most holders, it folds forward at a 90-degree angle, providing an optimal viewing angle for video calls and dual-screen usage.
You can mount your iPhone to your laptop and enjoy the convenience of working from anywhere while maintaining a clutter-free desk. With its multitasking capabilities, you can seamlessly use your phone and laptop simultaneously, whether for work or leisure. By keeping your phone at eye level, it helps prevent health issues such as eye strain, neck pain, and headaches.
---
Joby Beamo Ring Light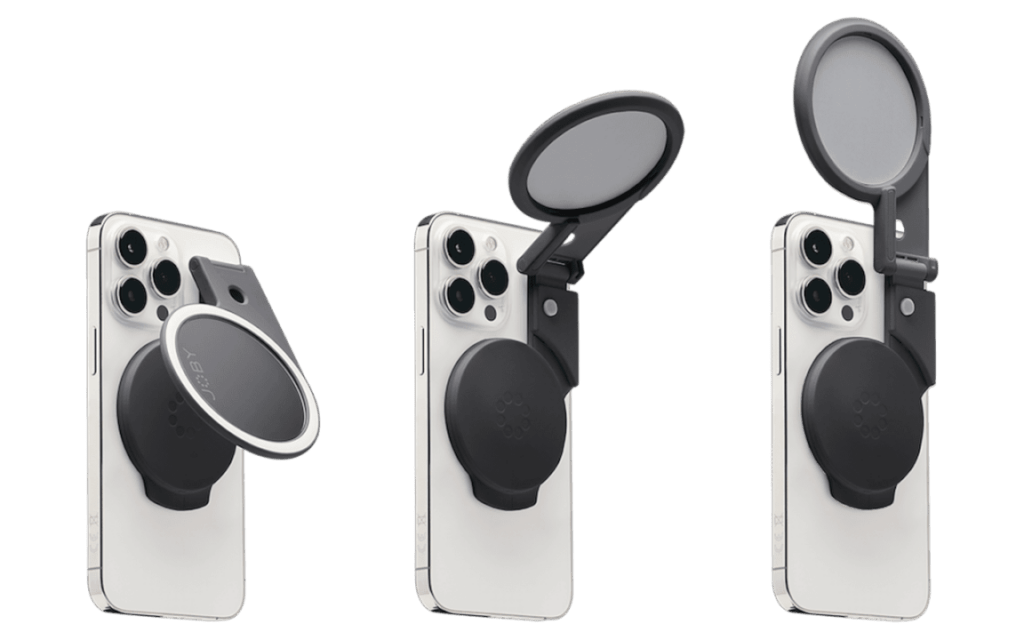 The Beamo Ring Light for MagSafe is a game-changer for mobile content creators. This compact and pocketable LED video and photo light attaches effortlessly to your iPhone using MagSafe technology, eliminating the hassle of complicated setups. With its slim profile and 4-level brightness adjustment, this light ensures you always look your best, whether you're shooting indoors or outdoors.
It features a built-in mirror for quick touch-ups and can be flipped to support both front and rear cameras. The rechargeable battery provides up to 4 hours of continuous runtime, making it perfect for all-day use. Plus, it's compatible with a wide range of devices, thanks to the included MagSafe-compatible sticky adapter.
---
Rolling Square Edge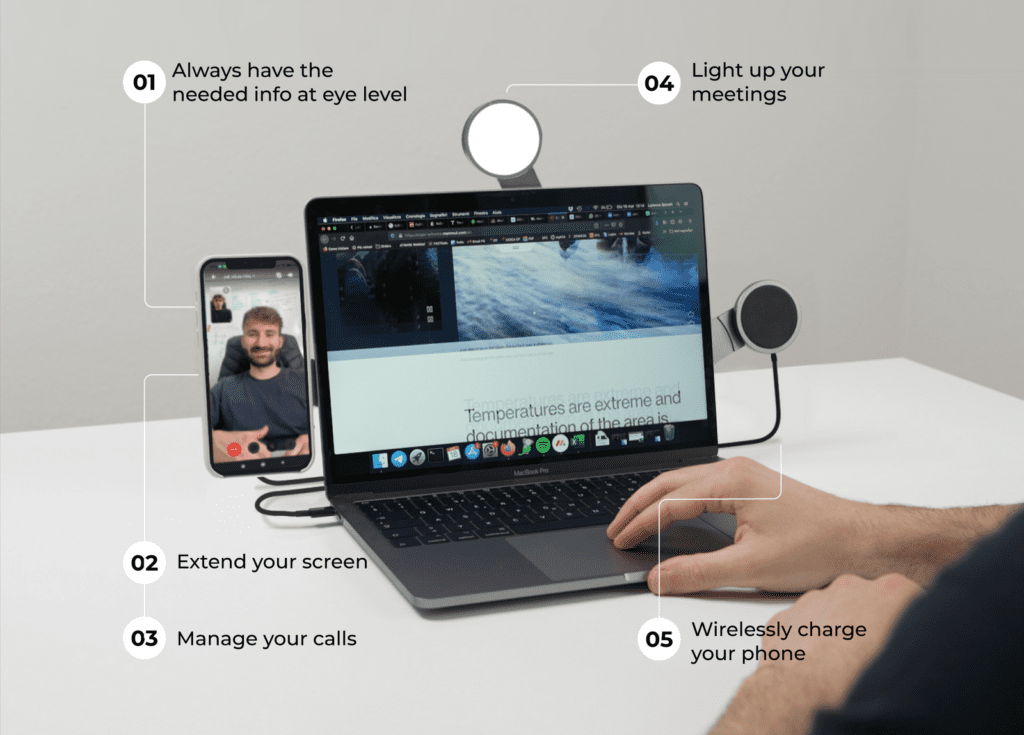 The Rolling Square Magnetic Wireless Charger and Light is a versatile 3-in-1 accessory that enhances your mobile work experience. Its magnetic phone holder securely holds your cell phone, allowing you to live-stream videos or share presentations without distractions. The holder can also be used to hold a charger or the included 280-lumen LED light, which is perfect for conducting meetings in low-light environments.
The accessory features excellent build quality, with durable CNC machine aluminum and strong N52 magnets. It even includes a 15W wireless charging pad. Designed in Switzerland, this kit is a must-have for anyone seeking a complete setup for remote work or working from home.
---