Are you planning your next vacation and looking for some cool gadgets to keep you entertained during downtime? Look no further! We have scoured the internet and gathered 10 awesome gadgets to make your vacation more fun and enjoyable.
We also have ensured these gadgets are lightweight and portable, so you won't have a problem carrying them. With that said, let's get started!
Table of Contents
Nebula Capsule 3
There are some items that are logistically impossible to take on vacation, like a massive TV, for example. But you can still bring some of its features in the form of a compact laser projector called Nebula Capsule 3. This is not your regular pico projector. Remember, it uses laser, meaning it can project bright picture on a large screen while retaining excellent sharpness.
The projector weighs at less than one kilogram and is about 90% smaller than similar projectors. Moreover, Capsule 3 has a built-in 52-watt-hour battery that could help it run an entire movie without an external power source. And as a bonus, it can be used as a standalone Bluetooth speaker with High-Fidelity sound thanks to the integrated Dolby Audio Driver.
---
Elite Screens Pop-Up Cinema
Now that the projector is ready, you need a proper screen to show the picture. The problem is most screen projectors are heavy and not ideal for transport. If you are looking for something that's more portable, then Pop-Up Cinema from Elite Screens is the perfect choice for the job. Pop-Up Cinema is a cleverly-designed screen projector that is foldable and only takes up very little space in your car.
The screen has a viewing area of up to 92 inches, and it is held together by a series of lightweight wires that can bend and fold in a specific way to keep its footprint minimal. Everything that is needed for the screen projector to stand up and stay stable fits in a thin 32 inches carry bag. This is a great companion for small movie projectors since they work best on a smooth, reflective surface to provide better contrast and sharper quality.
---
Shokz OpenMove
But if you are not a movie person and prefer to listen to music, then we recommend Shokz OpenMove. While a lot of headphones offer a noise-cancelling technology to keep away ambient sound, OpenMove does the opposite, but for a good reason! This open-ear earphones lets you hear the surrounding noise while still able to listen to music at the same time.
It achieved this by utilizing a bone-conduction technology to transfer vibration through your skull bone before it eventually arrives at your ear and is perceived as sound. This is a perfect device for a lot of scenarios. For example, a biker or cyclist may enjoy listening to music while fully aware of the surrounding traffic.
Or you might want to use it when walking along the river or sitting next to a campfire while immersing yourself in your favorite playlist. Ultimately, this device can turn a boring stroll into an engaging walk in the park.
---
Razer Kishi V2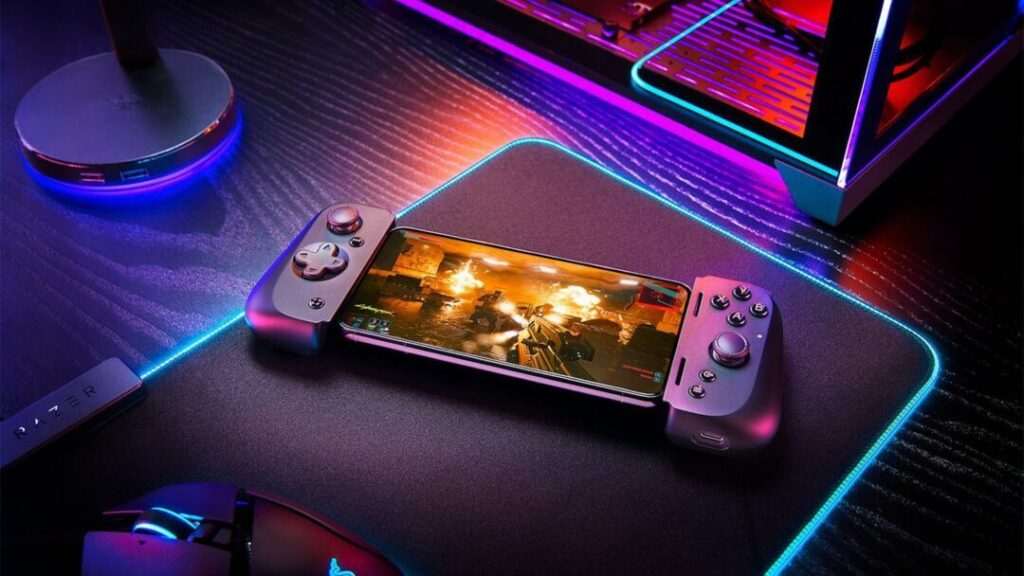 Without a doubt, Razer has some of the best gaming peripherals for PC gamers. Now, the company lends some of its expertise to mobile gaming. Kishi V2 is the latest mobile controller that will make your experience more ergonomic and comfortable.
The controller works on most Android phones as well as iPhones. It has microswitch buttons, analog triggers, and programmable macros to bring console-class features to your smartphone.
Unlike most controllers which connected by Bluetooth, Kishi V2 is directly connected to the phone via the USB-C or Lightning port. This is a clever approach to keep the latency low, reliable, and as a gamer, you will find the control to be smoother and responsive. All of these will give you an edge over your opponents, unless of course, your phone overheats and the gameplay becomes unforgiving.
---
Razer Phone Cooler Chroma
The sudden performance dive will reduce FPS and tremendously affecting your ability to play. To keep your handheld cool, you might want to attach it to Razer Phone Cooler Chroma. As you might have expected, this cooler has customizable LEDs for a more personal and unique look.
But its main goal is always to maintain lower temperature so your phone's CPU won't have to throttle down. The smartphone cooler has a 7-blade fan that provides maximum airflow while staying quiet. The cooler is attached to the back of a phone, where heat is mostly generated.
---
Slate AX
If the hotel's WiFi doesn't reach to your bedroom, as it's always so, then Slate AX will hopefully bridge the gap. It is a pocket-sized router that can be used for various use cases. It could be a router, WiFi extender, and WiFi hotspot, especially when you are on travel.
The router features WiFi 6 with an eye-watering 1800 Mbps speed and is capable of serving up to 120 devices simultaneously. To ensure digital safety, Slate AX features AdGuard to filter unwanted ads and trackers. It is also compatible with dozens of VPN services that lets you enjoy content beyond the border.
And to support wider coverage, the router comes with a pair of retractable antennas, which can be lifted up when in use and closed down to save space in your luggage.
---
GoCube
GoCube is essentially a Rubik's cube that can track the color position and let you compete with other players via the internet. There are tons of game modes and puzzles you could try to improve your skill and get the puzzle done in the most efficient way.
But this smart cube isn't only for people who already know how to solve it. Not at all. GoCube has plenty of guides for a beginner to start learning and hopefully will finish their first cube in no time.
The product manufacturer claims that the game can be completed in an average of one hour. Whether you are a student, adult, young, old, or just feeling bored on the train, GoCube is suitable for everyone.
---
Rolz Chess
A traditional chessboard is perhaps the last thing you want to pack in your luggage as it is big and rather heavy. Therefore, a more compact alternative is required.
Enter Rolz Chess. This is the kind of chess board that Steve Jobs would have wanted to play on. It's sleek, minimalist and features an innovative design to keep it portable.
The chess board, as you might have noticed, is rollable and leaves a pit in the middle to store the chess pieces nicely. There are two sides of each piece. One shows the chess character, while the other side shows nothing, which is intentional as the piece can also be used as checkers.
---
PocketDrum 2
PocketDrum 2 is the answer for avid drummers who dream of bringing their favorite musical instrument anywhere they go. This electronic drum redefines what it means to be portable for an electronic drum set.
With no physical kick drum, snare, tom-toms, or cymbals in sight, you only need to imagine their presence in front of you. Thanks to the various sensors embedded inside the drumsticks, you can pretend to play the drums, and the sticks will register your movements and positions to produce the sound accordingly.
The sound data is transferred to your audio system of choice, such as portable speaker or wireless headphones. Hence, you may play your favorite instrument without bothering those around you.
---
PowerUp 4.0
PowerUp 4.0 is a paper airplane kit that comes with a twin motor that propels the aircraft forward, allowing for a much longer flight duration. It can be controlled with a smartphone app with a maximum range of 70 meters and capable of flying for up to 10 minutes.
The kit has an on-board computer that automatically calibrates the paper airplane for imperfect weather. Therefore, even a complete beginner has a full control of the plane and can perform various flight modes with ease.
Just like the old-school paper airplane, PowerUp 4.0 can tolerate fall damage and an unexpected crash while still being flight-worthy. This is a cool game to share with your kids, friends, or fly it yourself to indulge with the nostalgic feeling you had years ago.
---