Modular lights have been considered to be the most favorable light decoration in recent years. It offers aesthetics and a beautiful look, especially when hung on the wall. It comes in different shapes and sizes but allows you to configure the layout as you want. The hexagonal shape is usually chosen since it is not too small and can be combined seamlessly.
Some modular light has a "touch" feature where you can change their color modes with unlimited scenarios, scenes, and animations. A smart modular light can be connected to Alexa or Google Assistant to do voice control. The most exciting feature is it can sync with the music played. It will give you a smooth light mode and bring amazing vibes.
Here are some of the best modular lights to make your wall look fantastic.
#1 Govee Glide Hexa Light Panels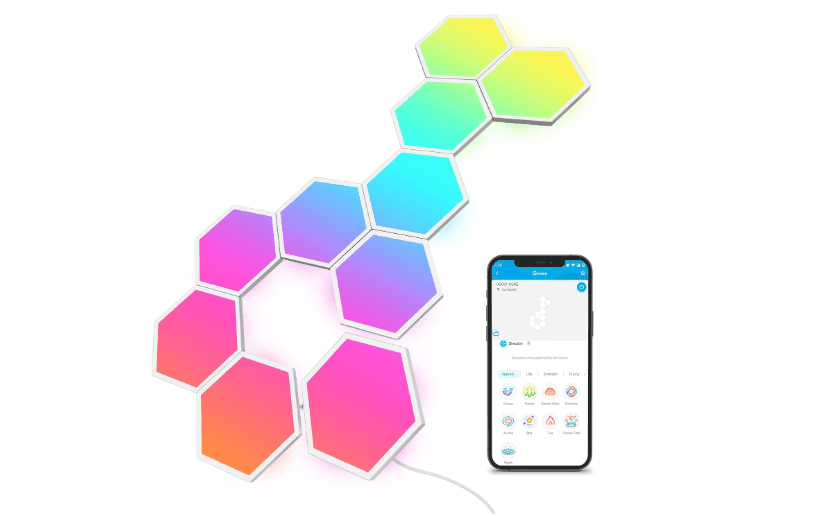 Govee is a smart home appliances brand that provides personalized and fun life experiences products. This Govee Glide Hexa Light offers you to create wall decoration lighting in your living room, bedroom, and your family room. You can design your own preferred layout or choose from design recommendations. Each of the light's edges has different colors to give an ultra-smooth flowing and color gradient between wall panels. Utilizing a translucent back shell design, this light can shine into the wall to make extra layering light for unique look decor.
This modular LED light can be synced to and visualize your played music. There are 6 available sync modes to make your light dance with the rhythm. Accompanied by a Govee Home App, you can select animated multicolor scene effects based on nature, holidays, and more. This app intelligently recognizes the position of hexagon lights for seamlessly flowing rainbow-like effects across your entire design.
---
#2 Yescom LifeSmart LED Smart Hexagon Touch Lights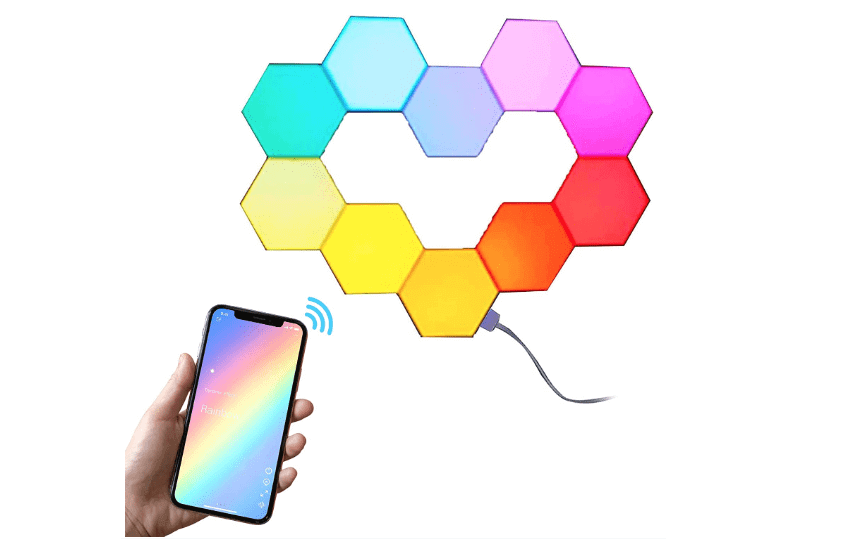 This smart hexagon light can work with Amazon Alexa, Google Assistant, and Razer Synapse 3, allowing you to customize it via voice control and smartphone for different colors and brightness scenes. The Yescom LifeSmart LED offers up to 16 million colors and 70 dynamic effects to give an ultra-smooth flowing and gradient color. It also can be synced with music that makes each light flow with the song's rhythm.
This product has a honeycomb structure design to give a seamless connection. You can create a personalized lighting shape for gaming, living, bedroom, and TV rooms. The Yescom LED light comes with a stand-alone base, a lightweight, and portable design. It is easy to carry on an outdoor party, wedding, camping, and more places. It produces perfect ambient, interactive, and fun lights with its touching mode to change the light effect. Yescom claims that this product has reliable quality with a lifespan of up to 20,000 hours and a 1-year warranty period.
---
#3 Cololight Pro Smart LED Kit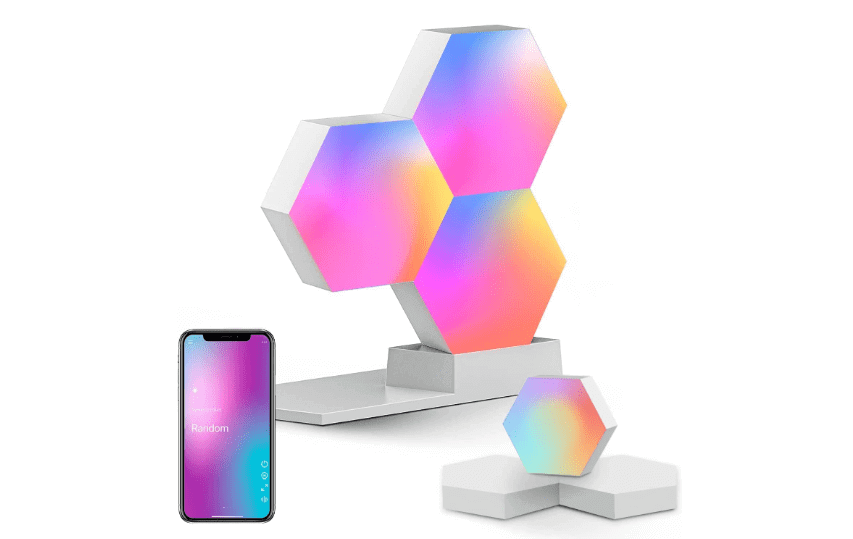 The Cololight Pro Smart LED Kit has a hexagonal panel shape with more light beads than regular modular lights. It is equipped with 19 light beads on each panel, which is more than twice as many lamp beads as similar products. These light beads can create a brilliant dynamic light effect of 16 million colors and over 70 dynamic effects. You can personalize the light freely since each IC controls 1 bead only so that each bead can display any color you want via the Cololight app. This product is also compatible with Alexa, Google, Stream Desk, and Razer Synapse 3 voice assistant.
Designed with a built-in microphone controller, the Colorlight Pro Smart LED can convert music rhythm into dynamic light effects. The color and mode of hexagon lights will be changed with the music beats played. It has an 86 x 74.5 x 30.5 mm panel dimension, with 0.3 W of static and 5 W of maximum light power consumption.
---
#4 Luminosity Hexagonal Modular Lights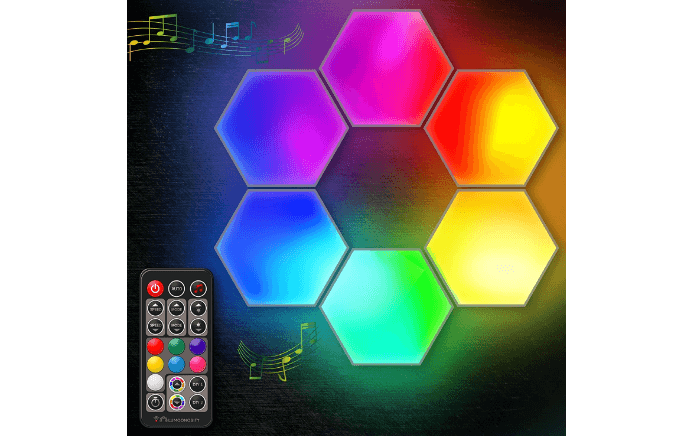 Lumoonosity is created to bring colors and brightness to you with this originally designed hexagonal modular light. Using the Dream Color Hex Lights technology, these hexagon light panels are able to display multiple colors dynamically at the same time. The RF remote control enables you to enjoy 60 preset scenes, music modes, dimmer, speed, and timer functions. It also supports an auto mode that switches the lightning effects among 60 scene modes, including the chasing and crossing scene automatically.
You can design your own layout to create a fun geometric form that fits your room setup. The Lumoonosity hexagon lights use premium LED to make vivid colors and stand out in the darkness of the night. The hexagonal light is perfect for home and wall decor to give a fun and calming experience in your bedroom, living room, gaming room, and others. You can also use it to add special vibes for events such as birthdays, weddings, or any party. This product comes with a 12-month warranty and lifetime technical support.
---
#5 Govee Glide Hexa Pro Light Panels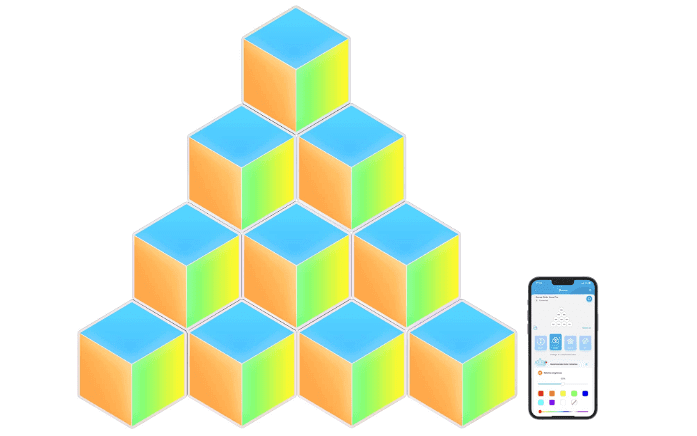 This is another product from Govee with an innovative 3D light panel design than can take your wall decoration to the next level. These lights combine dynamic flowing effects and eye-popping 3D for an enjoyable lighting experience. Its scenes can express your mood or celebrate your favorite holidays with a diverse mix of scene modes. You can change the settings in one tap touch and watch the colors naturally transit from one scene to the next.
The Govee Glide Hexa Pro has a mobile app feature and is compatible with voice control such as Alexa and Google Assistant. You can preview your design on the app and then apply your creative layout. It is equipped with a music mode that allows you to experience concert lighting at home. You can choose your favorite beats and select the direction for the lights to flow for energetic dance parties, intense game nights, or gentle vibes for date nights.
---
#6 Nanoleaf Shapes Smarter Kit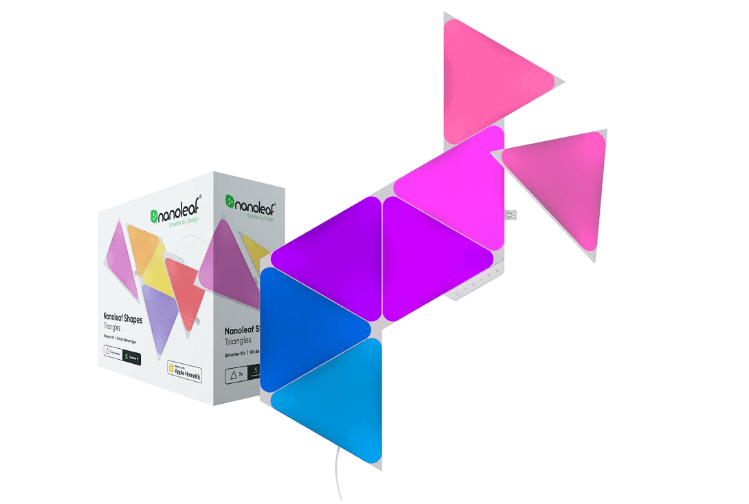 The Nanoleaf modular light offers truly customizable smart lighting for complete design freedom. It brings life to any plain space on your wall and sets the perfect mood for every occasion. You can create your own unique layouts with modular panels, even its big, small, linear, geometric, or abstract layout. You can make hexagons, triangles, and mini triangles or mix and match them to create different shapes. Equipped with the Connect+ technology, it features endless design combinations.
This product is able to transform your favorite songs into a music festival light in your own room. With its built-in Rhythm music sync, your panels react to music of all genres in real-time. You can try the available rhythm scene presets and enjoy your lights dancing to the beat. Nanoleaf light reacts dynamically with your touch to control the lights. It also has the immersive screen mirror feature where the colors from your screen can be reflected in the panels using the match mode for the next level of movie nights and gaming sessions.
---
#7 Odistar Remote Control Hexagon Wall Light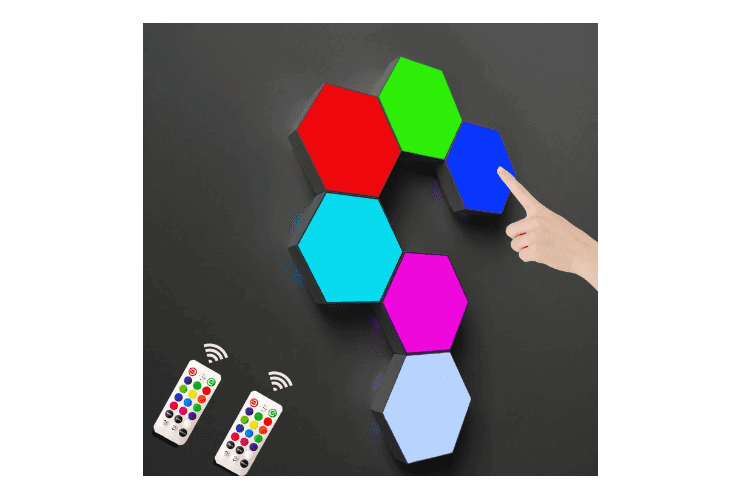 This six-pack of honeycomb-shaped lights is equipped with a remote control of color quantum lights that lets you set 13 monochrome modes, colorful slow-change mode, fast-change mode, monochrome flash mode, brightness adjustment mode, and timing function. It supports a USB port power supply, so it can be connected to power banks, computers, and notebooks, allowing you to use it on any occasion.
Odistar Hexagon Wall light is a modular touch-sensing wall light. You can use the hexagonal panel to create any structure that suits your needs and turn it on or off by touching it. The minimalist and customizable geometric design not only shines but also decorates your house. It is easy to combine with another product to create the most fantastic room decorations. It can be placed as an ornament in the living room, bedroom, hotel, etc.
---