For those who like to go on vacation, camping, or hiking, you must know that finding an available power source to charge your phone or other devices is challenging. Even if you already have power banks, you may still need to find another power source that is more reliable and easier to reach almost anytime. And that is why a solar backpack is invented.
You will mainly be exposed to sunlight all day during your outdoor activity. This sunlight is a natural and free power source that can be absorbed and utilized. A solar backpack offers you a portable charging station that you can carry on your own. Of course, it can not be your one and only power source, but it is a great option to bring, especially when you are in the middle of nowhere.
Before buying a solar backpack, you have some main points to consider; its capacity and wattage. There are so many brands available today that may make it difficult to choose. Here are some of the best solar backpack recommendations.
#1 Sunnybag Explorer+ Solar Backpack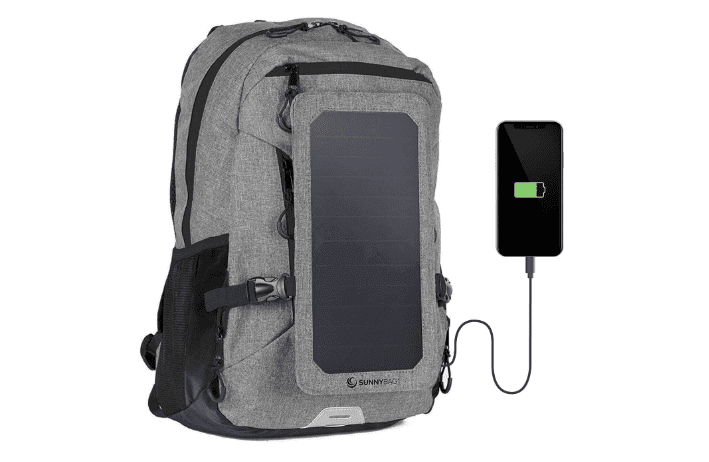 The Sunnybag Explorer+ solar backpack comes with a built-in charger for mobile devices such as mobile phones, digital cameras, and smartwatches via an integrated USB charge port. It is able to charge your devices directly through the removable solar panel system with more than 6 W of power with 22.4% efficiency. Every single solar panel is tested and certified before shipping. This certificate will accompany the backpack when you receive it.
This ultra-light and durable backpack is composed of water-repellent ripstop fabric and is insulated for additional resistance. It has a padded 15 inches (38 cm) laptop compartment, 15 litres of volume, and an ergonomic design. Comes with 12 x 15 x 5.5 inches (30.5 x 38 x 14 cm) of dimension, it has numerous pockets and compartments that enable you to organize your belongings easily. The Sunnybag Explorer+ is a reliable travel companion for hiking, camping, outdoor, and also everyday use.
---
#2 Eceen 7W Solar Backpack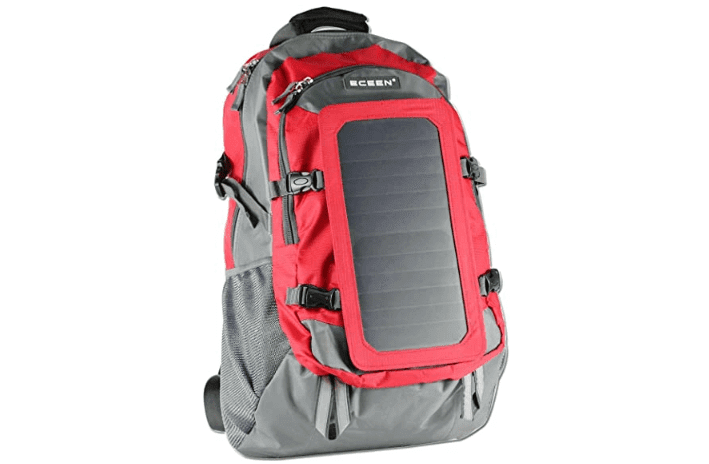 This solar backpack from the Eceen brand has a 7-watt removable solar panel that allows you to enjoy free unlimited on-the-go power. It comes with plenty of pockets and compartments for maps, documents, and essential gear. It is a perfect choice for any outdoor enthusiast to do backpacking, trekking, mountaineering, fishing, or biking. Armed with made-in-the-USA solar cells, it can deliver 22% transfer efficiency. It is built with a protective anti-scratch hardened coating and sewn into high-wear PVC fabric for weather-resistant outdoor durability.
This product can charge your device directly through a 5 V USB port. It is equipped with the protection of a Voltage Stability Controller, which is perfect for smartphones, MP3 Players, Bluetooth speakers, and more. Eceen Solar Backpack is ideal for day-to-day use or occasional travel and an excellent gift for any age. It's made from rip and water-resistant fabric and provides strength and long-lasting performance with minimal weight. Plus, there are six color variants available to match with your style.
---
#3 XTPower Hiking Solar Backpack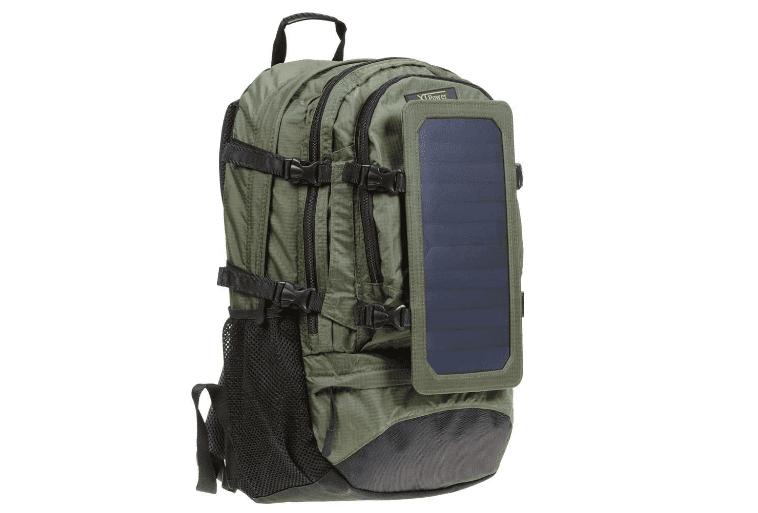 XTPower Hiking Solar Backpack is a backpack that comes with a high-performance detachable solar panel that provides charging power for diverse electronic appliances when there is enough sunlight. This solar cell has a 22% of efficiency rating, which is higher than the normal cells. It is protected by a scratch-resistant surface and is sewn into a PVC cover with clips to fasten it to the backpack. The solar panel is optionally removable and can be stored in the backpack's spacious compartments. It has 6.5 Watts, 6V 1.1 A of electrical rating.
This backpack is perfect for daily use, travel, and outdoor activities, including backpacking, trekking, mountaineering, fishing, and biking. XTPower backpack is made from nylon and fabric designed to be water-resistant. Comes with 1.8 lbs (0.8 kg) of weight and 12.5 x 7 x 8.6 inches (31.7 x 17.7 x 21.8 cm) of dimension, it has a superior design to provide optimal comfort and flexibility. You will get a stylish backpack, a 6.5 W solar panel, and a USB charging cable in its product package.
---
#4 Kingsons Beam Backpack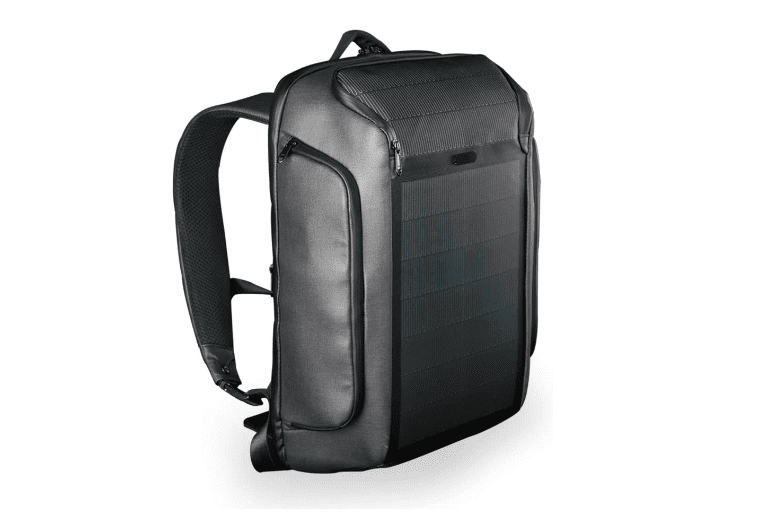 Armed with the Miasolé Solar Cells technology, this solar backpack offers a 5V-11V, 0.1A-1.7A peak charging current that can convert solar energy into electrical energy. Kingsons Beam Backpack is equipped with USB charging and micro USB charging ports. Using durable materials, this backpack is made from water-resistant and durable fabric with metal zippers to ensure long-lasting usage.
Kingsons provides an ergonomic design in their product. It is lightweight and has thick, soft, multi-panel ventilated padding, giving you maximum back support. There is a separate large compartment for the storage space that holds 15.6 Inch (40 cm) Laptops plus 10.1 Inch (25.6 cm) tablet storage for daily necessities. Plus, it has dual quick-access side pockets for water bottles, umbrellas, or other smaller objects.
---
#5 Voltaic Systems Array Rapid Solar Backpack Charger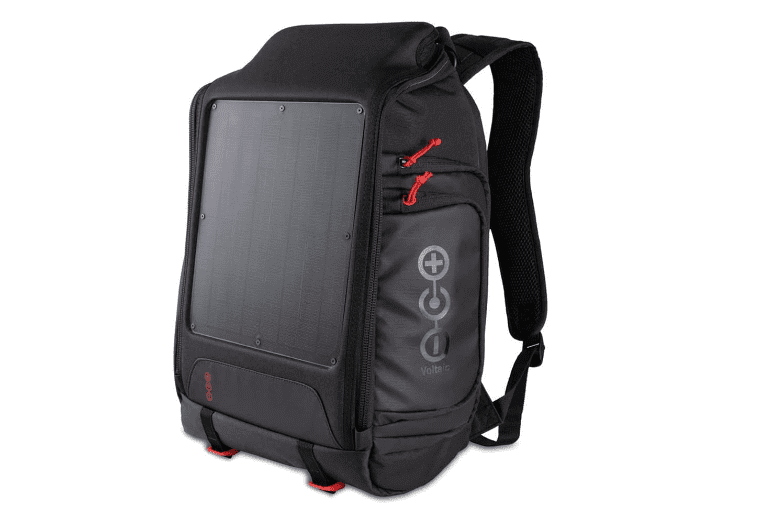 This product includes a battery pack to charge your laptop quickly and safely. It can also store energy and charge your devices even when it is cloudy. It will take about 6 hours to completely charge most laptops and 1 hour for smartphones. Voltaic Systems offers a solar panel that is designed to last. Built using rugged fabric and strong solar cells, it can withstand everyday use. Plus, it is provided with a two-year warranty on the solar panel and one year for the battery pack.
 Voltaic Systems uses high-performance solar panels that are made from industry-leading monocrystalline solar cells. The solar panel is built into the backpack, making them perfect for camping, photographers, travelers, and more. This backpack is unique because it is made of lightweight and UV-resistant fabric manufactured from recycled PET bottles. It has 25 L of volume storage, a dedicated padded 15 inches (38 cm) laptop or tablet sleeve, and plenty of pockets. 
---
#6 Eceen Hiking Backpack 68L with 20 Watts Solar Panel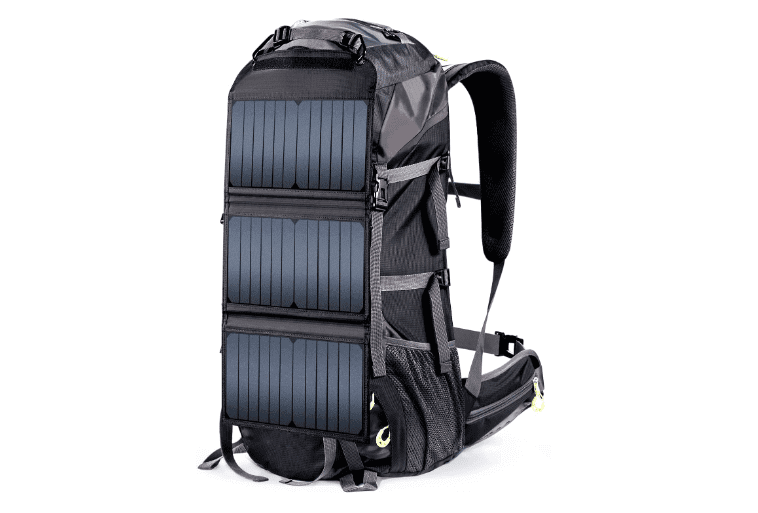 The Eceen Hiking Solar Backpack is equipped with solar cells that can deliver up to a 24% efficiency rate. The smart charging technology recognizes the input needed for a connected device and distributes current output accordingly. It has built-in loops that enable carabiners to attach easily. With 21 watts foldable solar charger, it is compatible with all 5V USB-powered devices, including phones, power banks, tablets, digital cameras, Bluetooth speakers, and more.
This backpack is specially designed for hiking and traveling enthusiasts since it has an ergonomic padded shoulder strap and back support to give a comfortable feeling. Its adjustable carrying weight decomposition system can effectively remove the pressure and transfer most of the weight from the shoulder to the hips and legs. As an adventure backpack, this product has a large 68 L main compartment space and numerous pouches with large capacities. It meets size requirements for most airlines, with enough room for 3 or 4 days trips. Made from nylon and poly fabric materials, this Eceen backpack is durable, eco-friendly, and waterproof.
---
#7 Haweel 12 W Solar Panel Power Backpack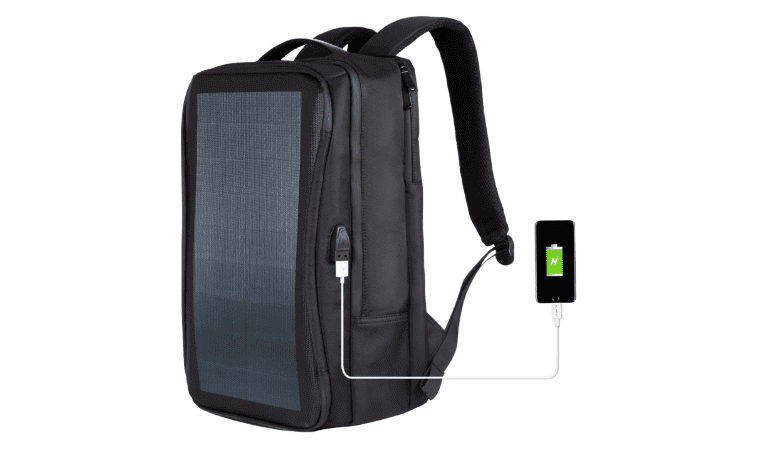 This solar backpack from Haweel is Ideal for holding supplies for hiking, biking, or camping. It is a comfortable and practical computer backpack that comes with a solar panel that charges any USB device. It keeps your laptops, cell phones, and tablets at the full battery with the sun's power, and you enjoy freedom while traveling.
Haweel solar backpack uses tear-resistant, wear-resistant, and durable USB charging port materials. Comes with a built-in charging cable, you can use it to connect the power bank, mobile phones, or other electronic devices. The bag is sized at 16.92 x 11.81 x 5.9 inches (43 x 30 x 15 cm), which is large enough to hold up your stuff for business, travel, and daily uses. It offers much more space than you would expect from a bag of this size. 
This solar backpack doesn't only provide outstanding quality but also an ergonomic product. It has an innovative weight balance design that makes you feel 20-2 5% less weight. The bag's body and shoulder straps have excellent thick breathable mesh padding, offering your back plenty of cushioned comfort and relieving stress.
---