Remote working is not a new thing for today's workers. Even though the pandemic seems better, online meetings and conferences are still preferred since they offer more flexibility than offline. These activities are significantly increasing, and a new issue also appears.
Sometimes multiple workers can join meetings or conferences in the same room together using a single device. It means operating the meeting settings and devices, such as muting and unmuting or starting and stopping the video, can only be done by a person. There is a high possibility of someone forgetting to turn their microphone on before speaking. It is also possible when someone accidentally speaks when it is not their turn.
Thanks to the physical mute button innovation, you can now easily control your microphone without having to access your computer laptop. You just need to push its button, and you are all set. Some products are also equipped with an RGB lamp to indicate your current microphone status, so everyone can understand.
Here are some of the best physical mute button recommendations that you can use to accompany your online meeting and conferences.
#1 Mutesync USB Mute Button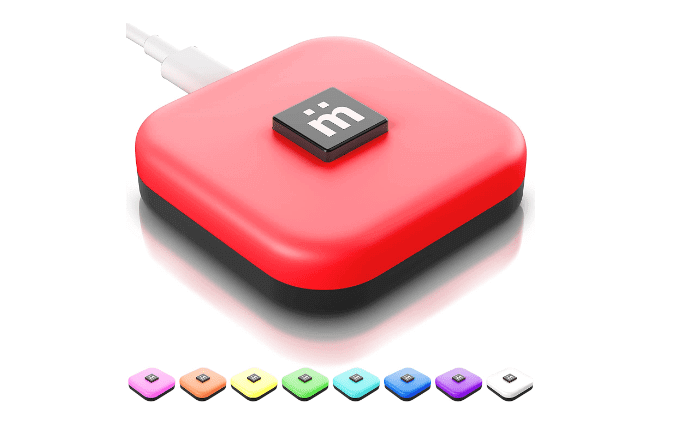 This physical mute button is able to quickly mute and unmute without having to find the mute setting on your online meeting apps. It will toggle the mute menu even if you minimize your meeting windows or a chrome tab. The Mutesync helps you to stay in sync with popular meeting programs such as Zoom, Teams, Google Meet, and more. Using this gadget, you can still mute from the original meeting app.
When you are not alone during meetings, sometimes it is important to make sure everyone around you notices when your microphone status is on or live. Mutesync allows you to customize the color and brightness so that you and everyone around you know when your mic is live. There will be no more accidental comments or embarrassing noises again.
This product works in a bi-directional sync method. If the meeting host mutes you, or you mute yourself from the meeting app, the button changes color to stay in sync. It can be the perfect gift for remote workers who frequently hold an online meetings. Comes with an included USB-C cord, you can easily connect it without preparing any other cable. Installation of the free mütesync application is required before use it.
---
#2 Linkidea USB Zoom Meeting Mute Button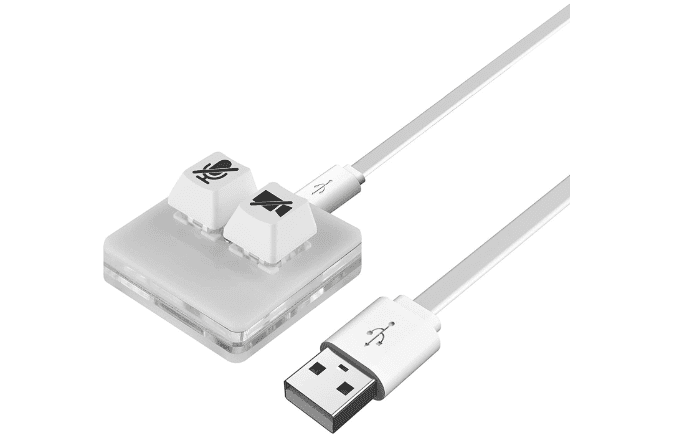 The Linkidea USB Zoom Meeting Mute Button is made from a red shaft mechanical keyboard button combined with an acrylic base material. It can start or stop the camera and muting or unmute microphone audio during online meetings and conferences. To connect this controller, you have to pair your computer or laptop using a USB cable. It can be used immediately after being plugged in without installing any driver or apps.
This product comes in white color variants with 72 grams of weight. Its dimension is pretty compact, 1.97 x 1.97 x 1.18 inches (5 x 5 x 3 cm). Unfortunately, the Linkidea mute button is only compatible with the Windows Zoom meeting app. This mute button can not be paired with the Mac OS or Zoom app via browser. You will get a USB-A Meeting Button and the 5 feet (150 cm) USB cable in the package.
---
#3 Linkidea USB Zoom Meeting Mute Button for macOS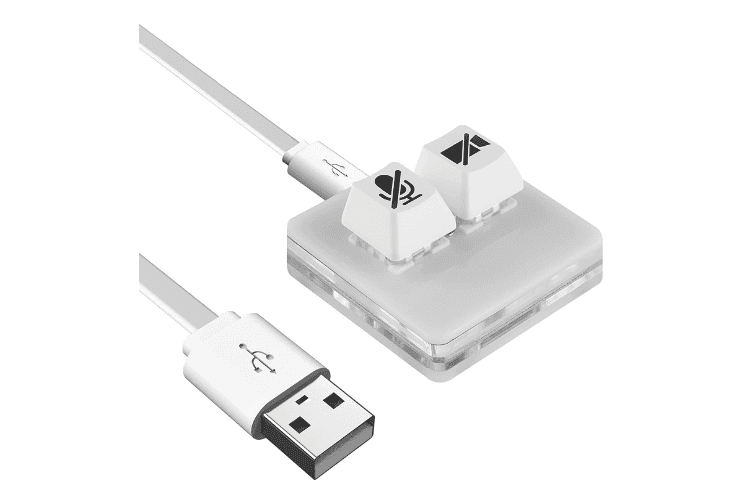 This is another product from Linkedia with almost the same specification as the previous product, except for its compatibility. This product is perfect for those who are Mac OS users since it is compatible with the Mac OS Zoom meeting app. It is not compatible with Windows or the browser Zoom app. This controller can be directly connected to your Macbook using the USB cable provided without requiring driver installation. In the product package, you will get the meeting controller with 5 x 5 x 3 cm in dimension and a 150 cm data connection cable.
The Linkidea mute button adopts a red shaft mechanical keyboard button with acrylic base materials, which is relatively lighter and more comfortable than other types of shafts. There are two physical buttons available: the start and stop for a video meeting and the mute and unmute buttons for microphone audio. The keycap icons are clear and easy to understand.
---
#4 Anlinkshine USB Meeting Mute Button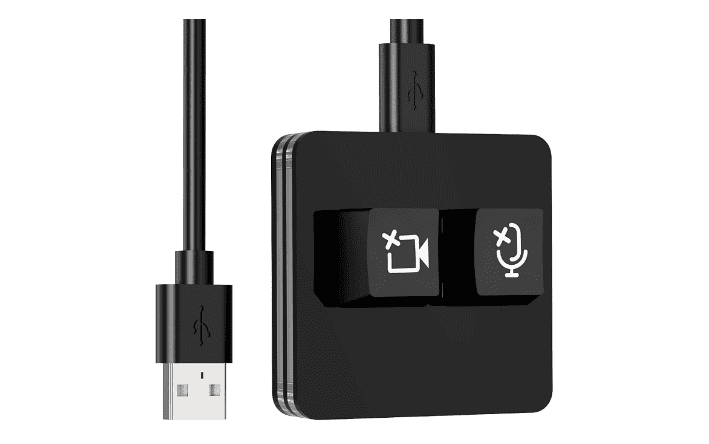 The Anlinkshine USB Meeting Mute Button is compatible with the Microsoft Teams app to help you mute the microphone and turn the video off during an online meeting, class, or conference. It is made with red mechanical shafts and an acrylic keyboard base to give comfort to its users. Designed with function marks and icons on its surface, it can clearly indicate the corresponding functions and precisely controls microphones and cameras.
Since it is a plug-and-play device, you can easily operate it without having to install any drivers or programs. Comes with a small design of 2 x 2 inches (5 x 5 cm) which is smaller than a size of a standard mouse, this product doesn't take up too much desktop space. You can apply it to almost any USB-A device such as PC, computers, and laptops. You will get a USB Meeting Button with a 200 cm connection cable provided.
---
#5 MuteMe Illuminated Physical Mute Button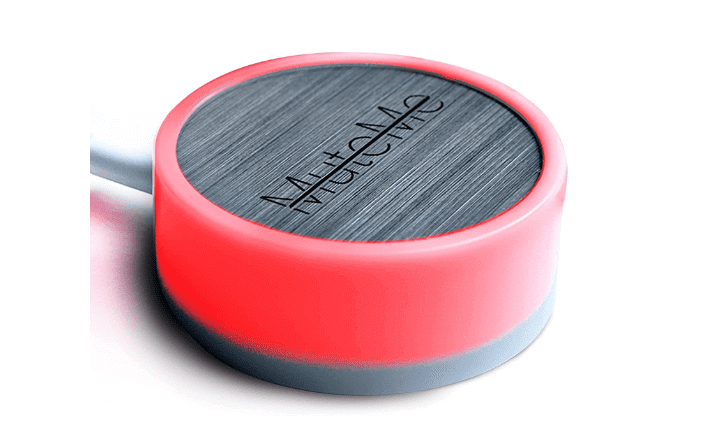 MuteMe was built to provide an easier way to avoid miss communication during an online meeting. It can increase our confidence when multitasking by efficiently controlling the communication mechanism. It allows you to boost your productivity by letting those around you know you're busy without having to say a single word. This product is only compatible with Windows OS devices and can be used for the Zoom, Teams, and WebEx meeting apps. It is built with Intuitive software with consistent updates that can be easily downloaded from the MuteMe website.
With just a simple tap, you can toggle yourself on and off mute for the microphone. MuteMe indicates directly whether you're on mute with red and green visual lights. Built and designed to be compact and easy to travel with, MuteMe is your best online meeting companion. It has a simple appearance, clean and aesthetic look. It offers a simple and easy way to improve the quality of the meeting without delays and pauses.
MuteMe is a fully customizable product. You are allowed to choose the mute and unmute colors, Push-to-Talk, or Push-to-Mute modes. Its brightness and sound control can also be adjusted through its available app. Made from premium stainless steel to silently mute, the MuteMe is easy to clean. You are ready to let those around you know your status with an illuminated and beautiful glow.
---
#6 Geekria RGB Meeting Mute Controller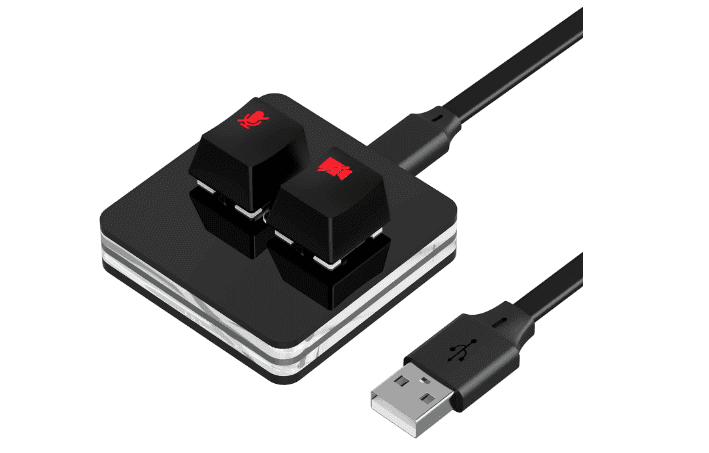 Made from acrylic and a mechanical red shaft, this physical mute button offers a comfortable way to control your microphone and camera during an online meeting. The base of the shaft body is equipped with an RGB lighting display to show you the current audio and video status. It provides a quick response to mute or unmutes the microphone and start or stop your video.
Geekria can be used easily to support your online activities. You will not require any driver before use. It is a plug-and-play device that is perfect for online classrooms, meetings, and conferences. It comes with a small and portable design, is easy to carry, and doesn't take up too much desk space when used. This mute button is only compatible with the Windows Version of the Zoom app and not Compatible with the Mac OS version. You will get this conference controller with a 6 ft (200 cm) data transmission cable in the package.
---
#7 Geekria RGB Meeting Mute Controller for Mac OS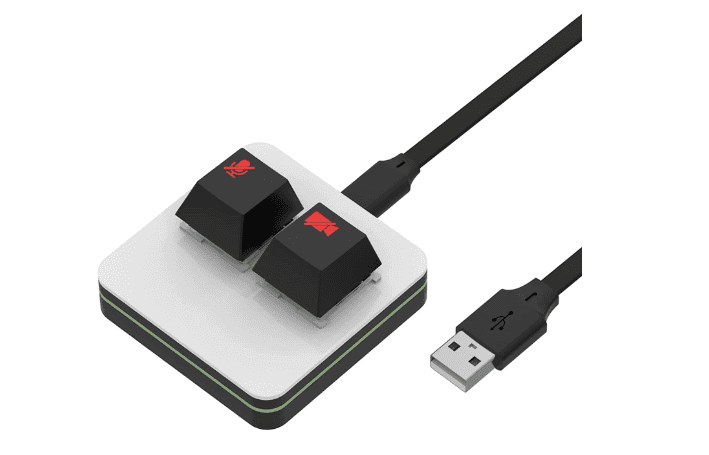 Comes with a white color design, this mute controller from Geekria is specially made for Mac OS Zoom users. It is built with acrylic materials, a mechanical red shaft, and an RGB lighting display to indicate the current state. There are only two simple keycaps with a microphone and camera icon to mute or unmute audio and start or stop the video. Each time you click these buttons, the RGB indicator will turn on or off, effectively showing your status.
Geekria provides a plug-and-play device that you can directly use without requiring any driver installation or app. Its design is simple, compact, and portable, so you can bring it anywhere without taking up too much space. Its package contains the controller with a 6 ft (200 cm) connection cable.
---