Modern smartphones nowadays have greater capacity and specification when compared with the older type. It is almost capable of replacing an entire desktop computer's features, such as texting, browsing, and writing email. But because of its small screen and touch keyboard, typing activities are still better when using a real keyboard. Thankfully, portable Bluetooth keyboards for smartphones are ready to help.
What to look for in a portable keyboard is not only its Bluetooth connectivity. Some keyboards can connect to various devices, and some others come with a USB dongle. Portability and dimension are important things since it will be paired with smartphones. Additional features may also matter for your activity.
It is not an easy task to choose the best keyboards among many brands and models. Here are some of the best portable Bluetooth keyboards to type on smartphones.
#1 Logitech K480 Bluetooth Multidevice Keyboard
Smart, simple, and functional is the first impression that comes from this Logitech K480 Bluetooth Multidevice Keyboard. Not only for smartphones, but this keyboard also can be connected to computers or laptops, and any Bluetooth-enabled device. The easy-switch dial allows users to move between up to three connected devices, switching from one to another with almost no effort.
This keyboard comes with an integrated cradle, which can hold a phone or tablet at just the right angle to read while typing. It fits most phones and tablets up to 0.3 inches thick and 10 inches wide. Using 2 x AAA batteries, this keyboard can last up to 24 months.
---
#2 ZAGGkeys Case with Universal Wireless Keyboard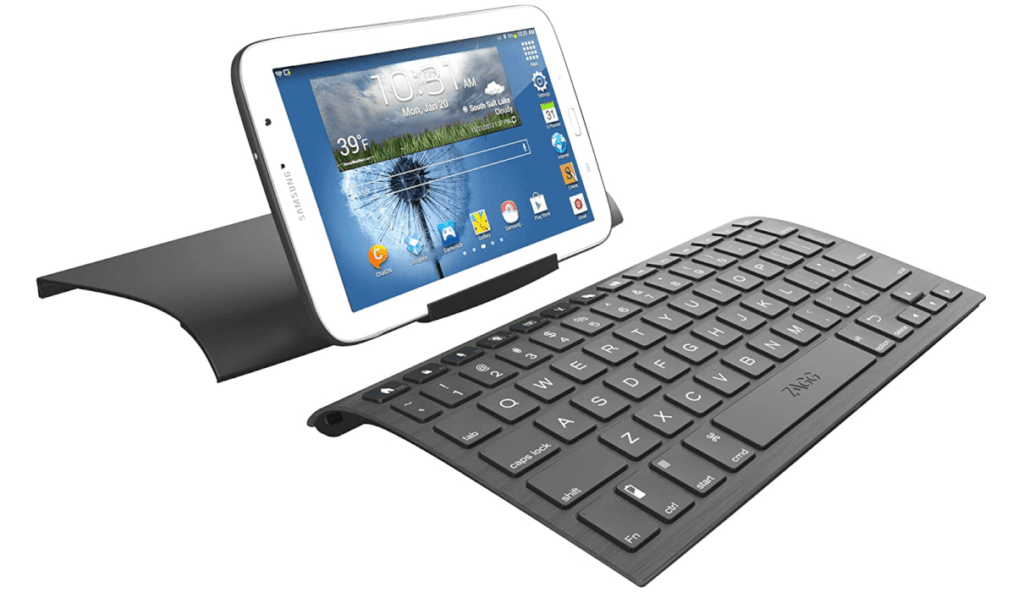 This keyboard has a smart design with a curved and ergonomic surface that helps to reduce wrist strain and provides a comfortable typing feel. Its island-style keys provide a natural typing experience. ZAGGkeys is developed to provide faster typing speed to increase productivity on smartphones or tablets.
The durable protective case in this keyboard gives convenient setup and portability for users, just like a mini laptop. Since it uses Bluetooth connectivity, there are no tangled wires problems to worry about. There's also a handy backlit feature that makes typing easier in dim light. For the power source, this keyboard uses a rechargeable battery that lasts up to three months of regular use.
---
#3 Logitech K780 Multi-Device Wireless Keyboard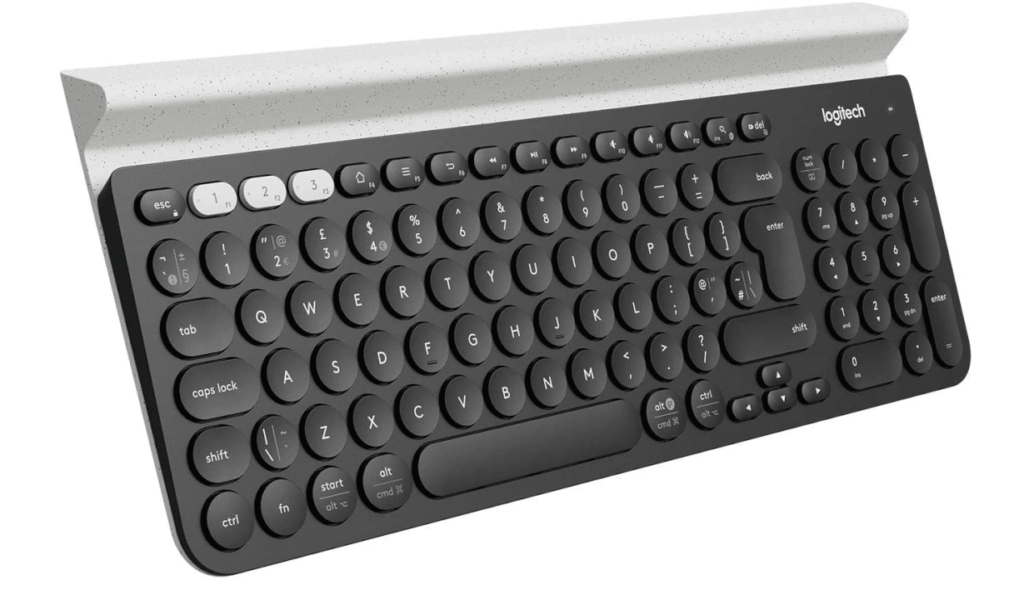 As its name suggests, the Logitech K780 keyboard's main feature is its ability to connect and switch between multiple devices without repeating the pairing process. Its F-row features three white keys, which allow users to jump from a smartphone to their tablet or computer with a press of an easy switch button.
This keyboard is provided with an integrated phone and tablet stand that help to hold devices at the perfect angle for typing and reading. Because this is not a full-sized keyboard, it comes with an integrated Numpad and spacious keycaps. 2 x AAA pre-installed batteries and a USB receiver is included in this keyboard package.
---
#4 Arteck Ultra-Slim Bluetooth Keyboard
This Bluetooth keyboard from Arteck is not provided with backlit LED keys, but this model offers a super slim design that is only 0.2 inches thick. It can be connected to your mobile devices such as smartphones or tablets with an operating distance of up to 10 meters. This model is compatible with major operating systems supporting Bluetooth (iOS, Android, Mac OS, and Windows).
Arteck offers a convenient QWERTY layout with customized hot keys including volume, music control, brightness, etc. This keyboard uses 2 x AAA batteries with an energy-saving feature. It can automatically sleep when not used and can be used for up to 4 months between battery changes.
---
#5 Anne Pro 2 Mechanical Keyboard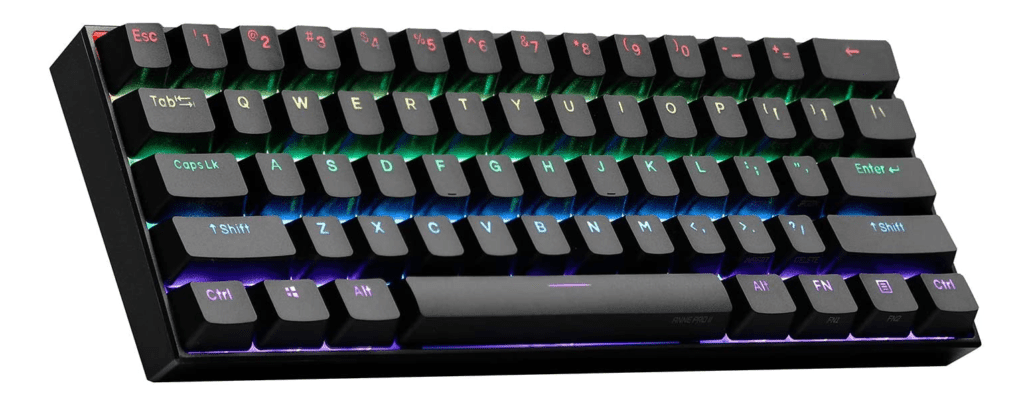 This Anne Pro 2 is a mechanical keyboard type with per-key backlighting, making this an ideal choice for those who want to color up their desk. Its minimalist design allows less hand movement while still being able to access all the functionalities. It can save desk space, is easy to carry, and fit in a backpack. Perfect for portable and travel usage.
This keyboard has Bluetooth connectivity that can be paired to up to four devices, which can be switched back and forth from. To compensate for the lack of dedicated function keys, the keyboard incorporates the "Magic Fn" button on Caps Lock to enable buttons from F1 to F12.
---
#6 Logitech MX Keys Mini
The Logitech MX Keys Mini belongs to the Logitech Master series, which is well known for offering excellent quality for a reasonable price. This keyboard is not a cheap budget, but it can provide outstanding performance for its cost. It has perfect stroke typing with a smart key design.
The layout of this keyboard is designed for effortless precision with a minimalist and ergonomic form, making it portable and can be used anywhere. The wireless keyboard's backlit keys light up the moment your hands approach and automatically adjust to suit lighting conditions. Logitech MX Keys Mini is using a low-energy Bluetooth system and can be paired with up to 3 devices on nearly any operating system.
---
#7 Omoton Ultra-Slim Bluetooth Keyboard
If you're looking for a portable Bluetooth keyboard without a huge cost, then you should consider this Omoton Ultra-Slim Keyboard. It can be connected to mobile devices such as smartphones or tablets and can be operated for up to 10 meters distance. Using a QWERTY layout design with hotkeys, it can be used for volume control, music control, and also brightness.
This keyboard size is just big enough for fingers to experience comfortable typing and small enough to put in a suitcase or handbag. Omoton uses 2 x AAA to power up this keyboard and can be used for 30 days of continuous usage. It is also provided with an automatic sleep mode, allowing it to be used for up to half a year between battery changes.
---
#8 Penna Bluetooth Keyboard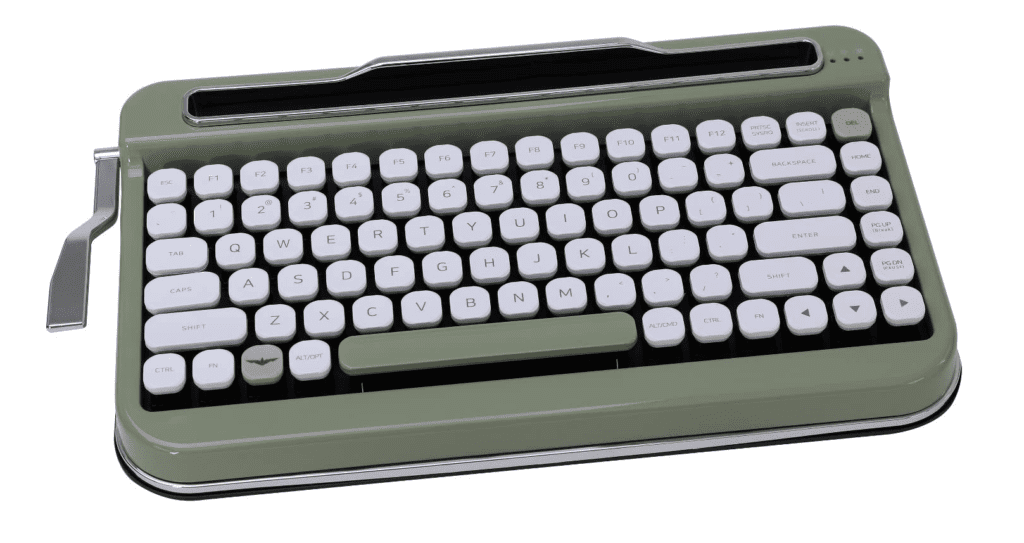 This portable keyboard is the perfect choice for you who loves the vintage and retro look. Penna Bluetooth keyboard comes with a beautiful and well-designed typewriter style. The German-made mechanical switches in this keyboard ensure fast and accurate typing, plus the macro bar allows the user to save frequently used keys and words to make typing activities more efficient.
Despite its old-fashioned looks, this keyboard uses modern Bluetooth 4.2 technology, making it compatible with Bluetooth-enabled smartphones, tablets, or laptops. It also has a built-in cradle holder to hold smartphones or tablets at an ideal angle for viewing. Its multi-device pairing feature allows switching between up to five compatible devices.
---
#9 Microsoft Designer Compact Keyboard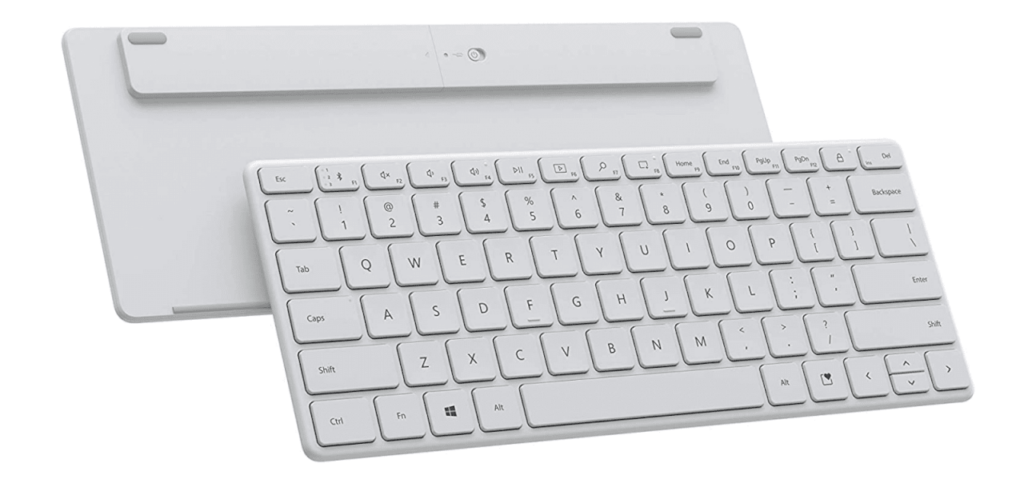 There are not many keyboards as compact, well-designed, and portable as this one. The Microsoft Designer Compact Keyboard is one of the best Bluetooth keyboards that can be connected to up to 3 devices. It has excellent key spacing and dedicated emoji keys.
This keyboard can save desktop space with its sleek, premium finish, and low profile angle for more productive typing. It is a kind of travel-type keyboard with two color variants, matte black, and glacier.
---
Crafting short text or long essays on smartphones now will be easier and more comfortable with a portable Bluetooth keyboard. After having the best suit and the right one, you are ready to boost your productivity. Good luck and happy typing!