Are you tired of struggling with tangled cords and limited connectivity while traveling? Look no further than these portable Bluetooth transmitters and receivers. These devices allow you to easily connect your phone or other Bluetooth-enabled devices to speakers, headphones, and other audio equipment without the need for cords or cables.
With a range of options suited for different needs and budgets, you can now enjoy high-quality sound while on the go. These portable Bluetooth transmitters and receivers are perfect for use in airplanes, hotels, cars, or even on camping trips. There are seven options to choose below and one of them could be the best fit for your need.
Table of Contents
UGREEN Bluetooth 5.0 Transmitter and Receiver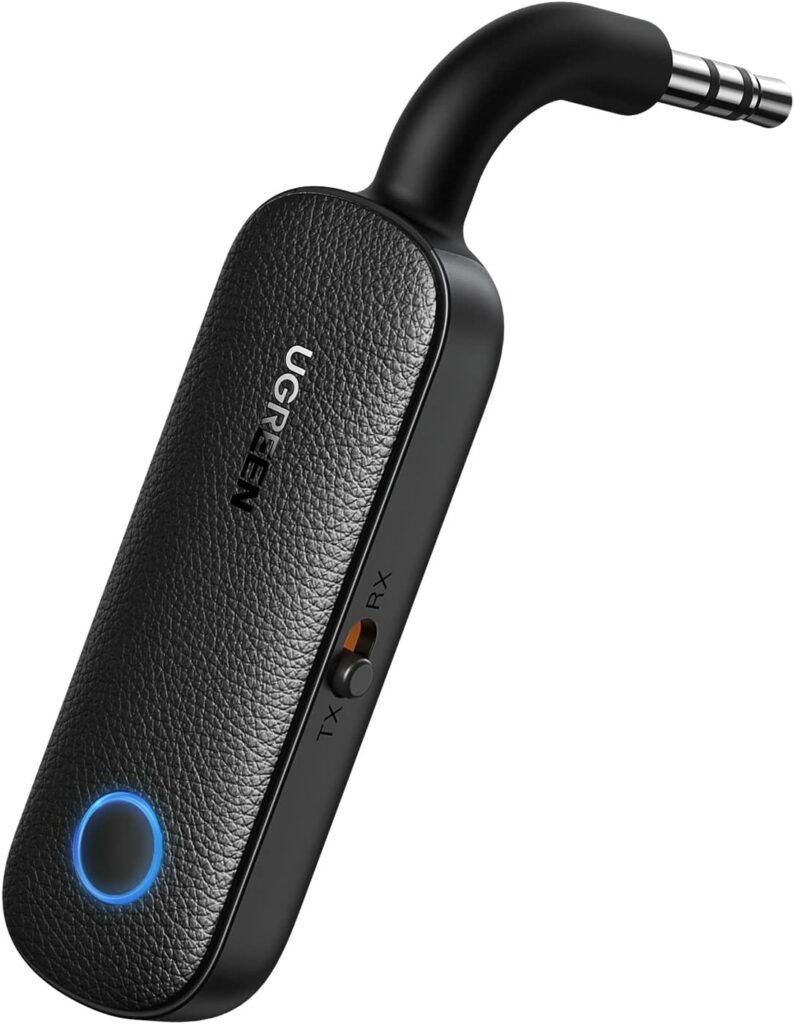 UGREEN Bluetooth 5.0 Transmitter and Receiver 2 in 1 Adapter is a compact and portable way to transform non-Bluetooth devices into Bluetooth-enabled devices. With both TX and RX modes, you can connect two Bluetooth devices simultaneously. Bluetooth 5.0 technology ensures a stable connection, and you can enjoy playtime for up to 8 hours in TX mode and 5.5 hours in RX mode.
The adapter is easy to use with status indicators and is compatible with devices with a 3.5mm interface, including TV, car stereos, home stereo systems, headphones, audio music streaming sound systems, PC, speakers, projectors, MP3, and MP4. With its compact size, you can bring it to a car or airplane.
---
TaoTronics Bluetooth Transmitter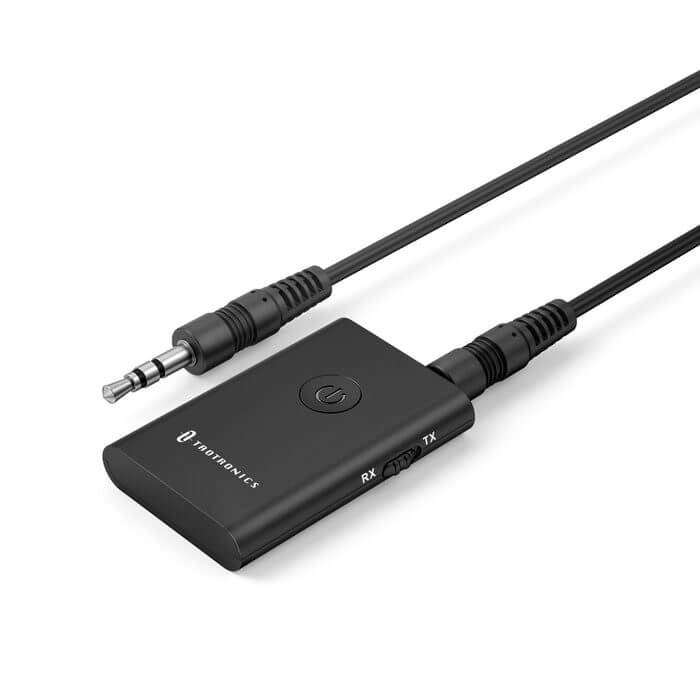 The TaoTronics TT-BA015 Bluetooth Transmitter Receiver is the perfect wireless audio solution for your TV, car, PC, or headphones. This 2-in-1 adapter offers low latency for high-fidelity stereo sound, ensuring lag-free content streaming in transmitter mode. With Bluetooth 5.0 technology, it can be paired simultaneously with two Bluetooth receivers, such as headphones and speakers.
The adapter also functions while charging, thanks to its built-in battery that provides up to 10 hours of use. Whether you want to turn your non-Bluetooth devices into transmitters or enhance your home or vehicle sound system, this product offers versatility and convenience on your travel.
---
ZIIDOO Bluetooth 5.0 Transmitter and Receiver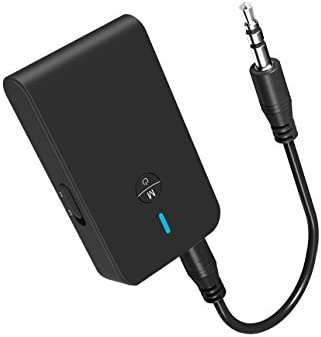 The Ziidoo Bluetooth Transmitter allows you to wirelessly listen to audio from your TV through your Bluetooth earbuds. It works by connecting to your TV's earphone output and transmitting the audio to your earbuds. Despite a slight delay in audio syncing with video, the device provides clear audio, and the volume can be controlled using the Roku remote.
The compact and portable design makes it suitable for travel. It's especially beneficial for individuals who want to privately enjoy TV programming without disturbing others. Pairing your earphones is required each time, and using an RCA to 3.5mm adapter can reduce the lag.
---
Twelve South AirFly Pro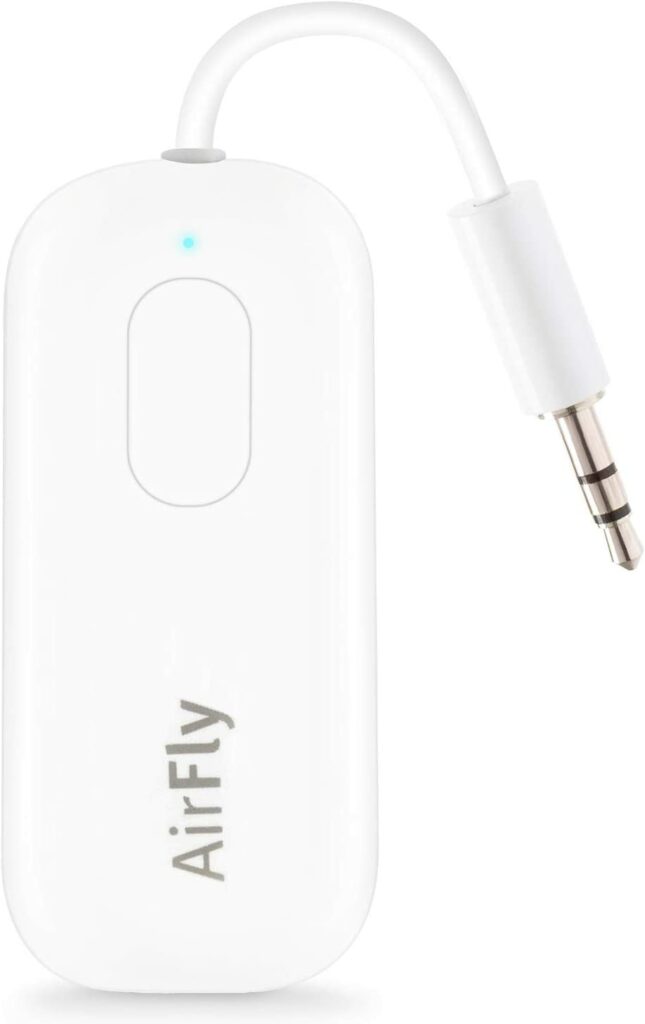 Twelve South AirFly Pro Bluetooth Transmitter allows you to connect your AirPods or Beats wireless headphones to wired devices such as in-flight entertainment systems or gym equipment. With AirFly Pro, you can watch movies, listen to music, or play games using your preferred wireless headphones.
It even features a headphone splitter function, enabling two people to enjoy the same audio simultaneously. Additionally, you can wirelessly stream music or directions from your iPhone to a car's AUX IN or connect to non-Bluetooth speakers. The built-in battery provides over 16 hours of usage and can be conveniently recharged via USB-C. Compact and portable, the AirFly Pro is an ideal companion for travel, ensuring you can enjoy your wireless headphones wherever you go.
---
Anker Soundsync A3352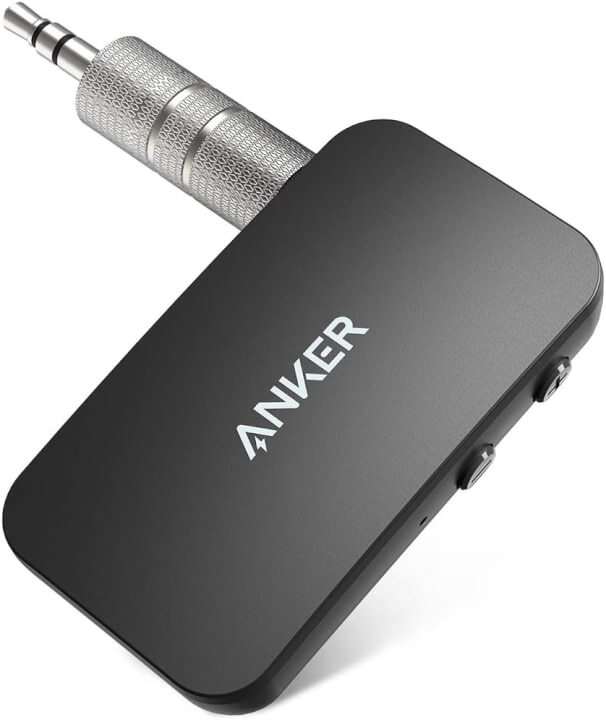 The Anker SoundSync A3352 Bluetooth Receiver is a versatile device that allows you to stay connected and enjoy your favorite music, podcasts, and more. With Bluetooth 5.0 technology, it provides an ultra-stable connection up to 30 ft. away from your device. This receiver is perfect for upgrading your older speakers and headphones, bringing them into the present.
It offers up to 12 hours of continuous usage on a single charge and can be conveniently plugged into your car's AUX port for music streaming and hands-free calls. The dual-device connection feature allows you to connect two Bluetooth devices simultaneously.
---
HVMLAK Aux Bluetooth Adapter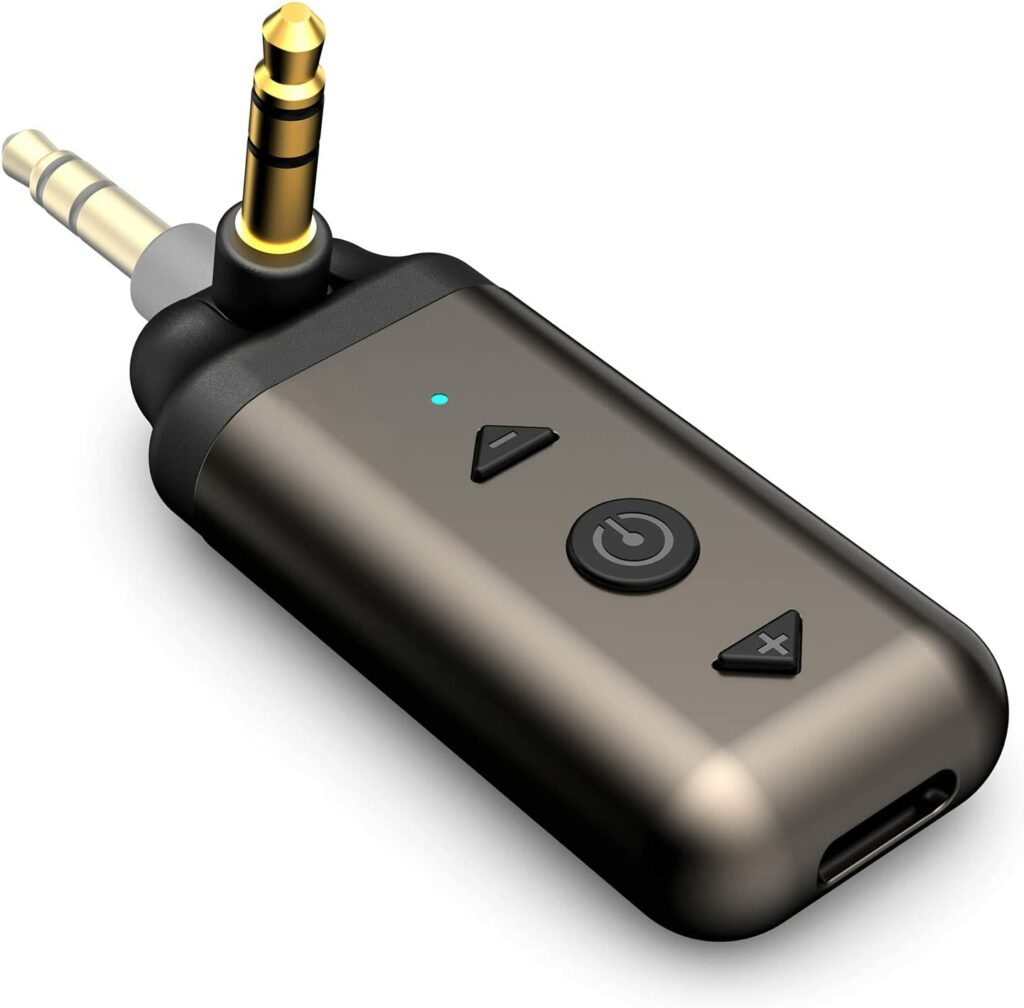 The HVMLAK Aux Bluetooth Adapter is a small and portable device that lets you stream music from your phone to your car or home stereo wirelessly. With Bluetooth version 5.3, it provides faster transmission speed, higher reliability, stability, and lower power consumption. The adapter has a durable zinc alloy shell and a 180-degree rotatable plug that can be used in tight spaces.
It has an adjustable volume and can switch songs up and down at will. The car Bluetooth adapter can be used continuously for 12 hours and can work while charging. The device is perfect for long journeys and can be easily carried when traveling.
---
COMSOON Bluetooth 5.0 Adapter for Car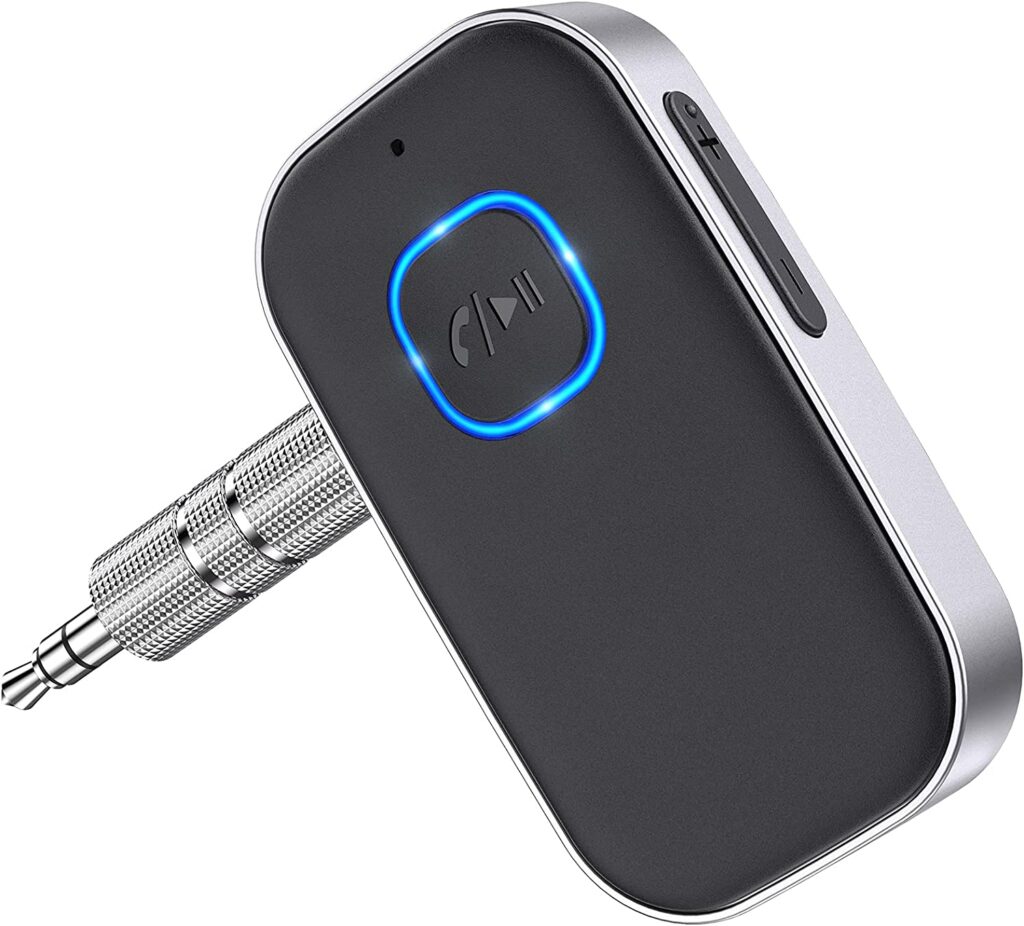 Introducing the COMSOON AUX Bluetooth Adapter for Car. This compact and lightweight car Bluetooth receiver features an elegant aluminum frame with rounded corners, ensuring a comfortable grip. With wide compatibility, it works seamlessly with all Bluetooth-enabled devices such as smartphones, tablets, and laptops.
The battery indicator conveniently displays the remaining power on your phone after a successful pairing. Simply follow the easy pairing steps, and you can enjoy hands-free calls and music through your car stereo or speaker.
---