If you are a makeup enthusiast, influencer, or artist, having a flawless look is essential. It is normal to prepare your best look before going anywhere. Still, it will be different if you are traveling or just in a hurry. It's difficult to find a proper public mirror to apply your makeup with clear reflection and proper lighting. Since you have to deal with detail accents, a magnifying mirror should be used.
Fortunately, you can now bring a portable makeup mirror with a built-in LED light. It has a compact dimension, lightweight, and easy to put on a purse or handbag. Some mirrors here even offer a magnified reflection to give you the most detailed look of your face.
Here are some of the best portable makeup mirrors with LED lights you can buy today.
#1 LED Travel Handheld Vanity Mirror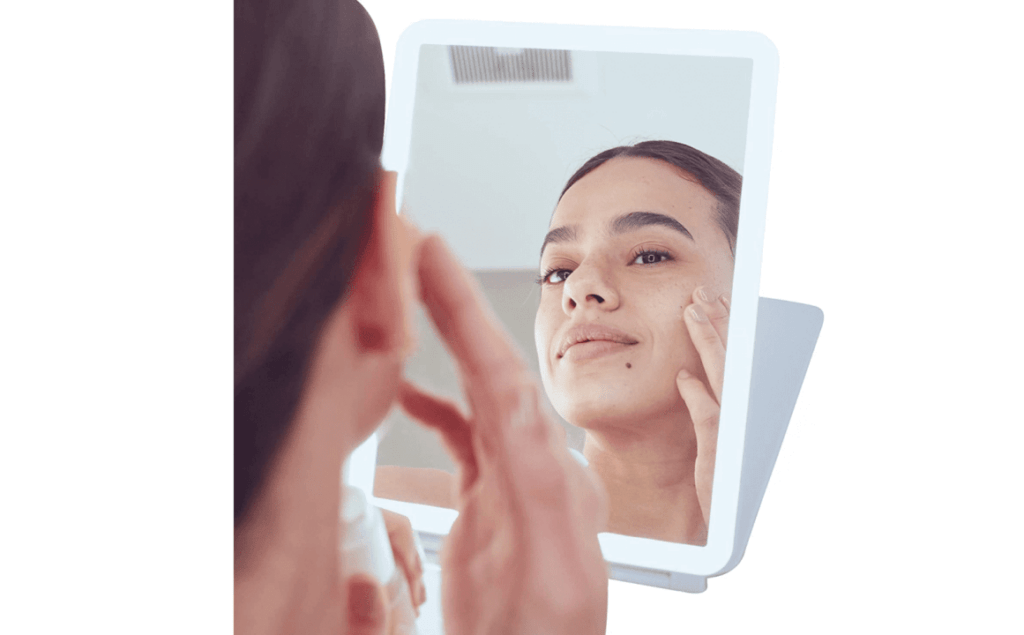 This super slim and travel-friendly portable makeup mirror comes with only 11.4 in (29 cm) x 7.7 in (19.6 cm) x 1.2 in (3 cm) in dimension and 1.5 lbs (.68 kg) of weight. The Vanity Mirror uses 36 pieces of energy-saving LED bulbs with built-in touch sensors that give consistent lighting. It also features a dimmable LED ring light. You can set your preferred brightness level by operating the power symbol until the mirror is bright enough.
This product provides a lid that allows you to adjust the angle for the best setup. It is equipped with a physical power switch to prevent accidentally closing. Powered by a rechargeable built-in 3.7 V and 4.5 W rated battery, this makeup mirror is suitable for traveling partners.
---
#2 Fancii LED Lighted Travel Makeup Mirror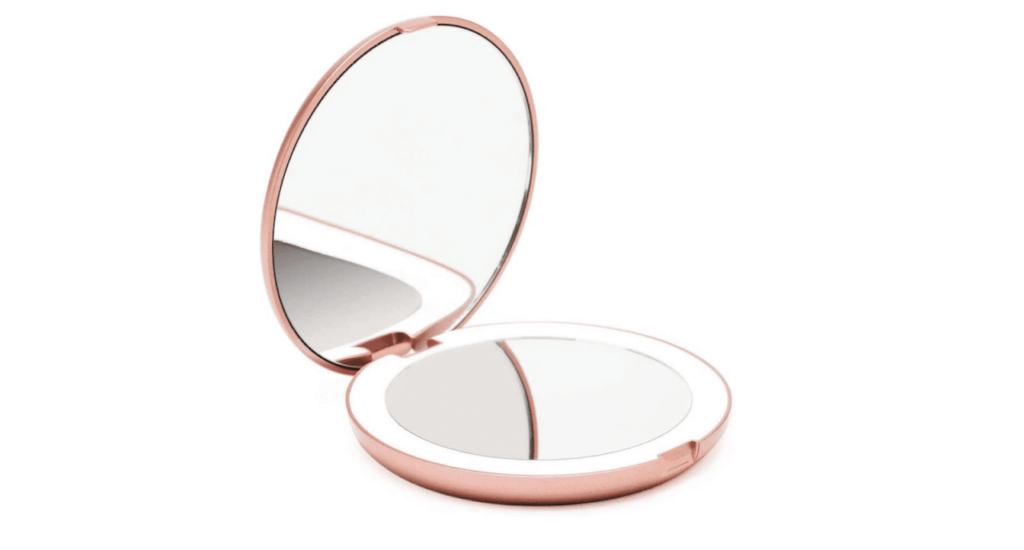 Received the "Amazon's Choice" rating in the "Compact and Travel Mirror" category, this makeup mirror is definitely worth considering. It is able to deliver light that simulates natural sunlight, allowing you to get accurate colors and look with correct detail. Comes with two side mirrors, and you can get 1x and 10x magnification which is ideal for applying your makeup.
The Fancii LED Lighted Travel Makeup Mirror has a compact size with 5 inches (12.7 cm) L x 5 inches (12.7 cm) W in dimension. It is able to give a distortion-free view but is still flexible enough to put on handbags and purses. Fancii claimed that the LED light can be used for up to 20,000 hours. Three elegant color variants are provided: black, rose gold, and silk white.
---
#3 Simplehuman Round Sensor Makeup Mirror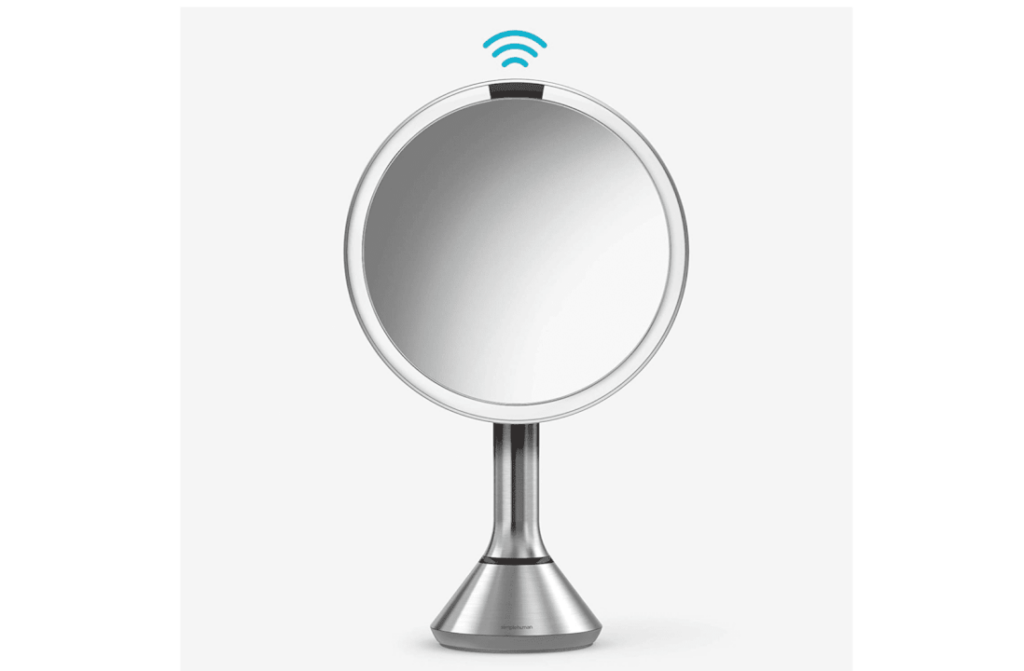 This product from Simplehuman is a bit expensive but offers some exciting features. It brings the "Tru-lux Light System," which is claimed to produce closely simulated natural sunlight at 800 lux with a color rendering index (CRI) of 95. Not only very bright but also able to reflect every detail of view. Equipped with a proximity sensor, the LED automatically lights on when your face approaches the mirror without pressing any button.
Simplehuman Round Sensor Makeup Mirror offers a 5x magnification view to provide a detailed look but can still reflect your entire face. It has a brightness control feature ranging from 100 lux to 800 lux. The LEDs used have been rated to perform like new after 40,000 hours of usage. Powered by a rechargeable battery, you don't have to worry about cord and cable again.
---
#4 Riki Skinny Smart Vanity Mirror with HD LEDs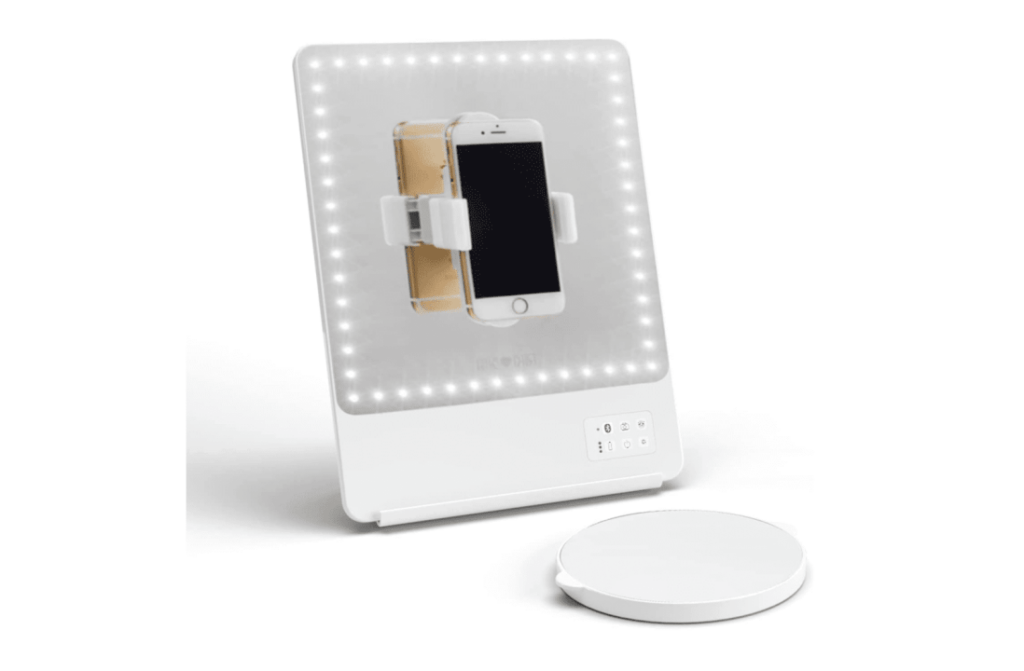 Sometimes when you want to do a detailed part of makeup, having a magnification mirror would be helpful. This Riki Skinny Smart Vanity Mirror comes with 5 and 10 times magnification variants. Not only having a slim dimension (13 inches L x 9.5 inches W/33.02 cm L x 24.3 cm W), this mirror is also easy to carry with its 1.5 pounds (0.680 kg) of weight.
This mirror is equipped with an attachable magnifying mirror for makeup and skincare routines. It is made from high-end crystal clear glass, providing a distortion-free view. There is a phone holder feature to mount your phone into the mirror to take selfies or just record a makeup video. Powered by a rechargeable battery, you don't need to worry about messy cables and electrical power outlets.
---
#5 Deweisn LED Makeup Mirror for Travel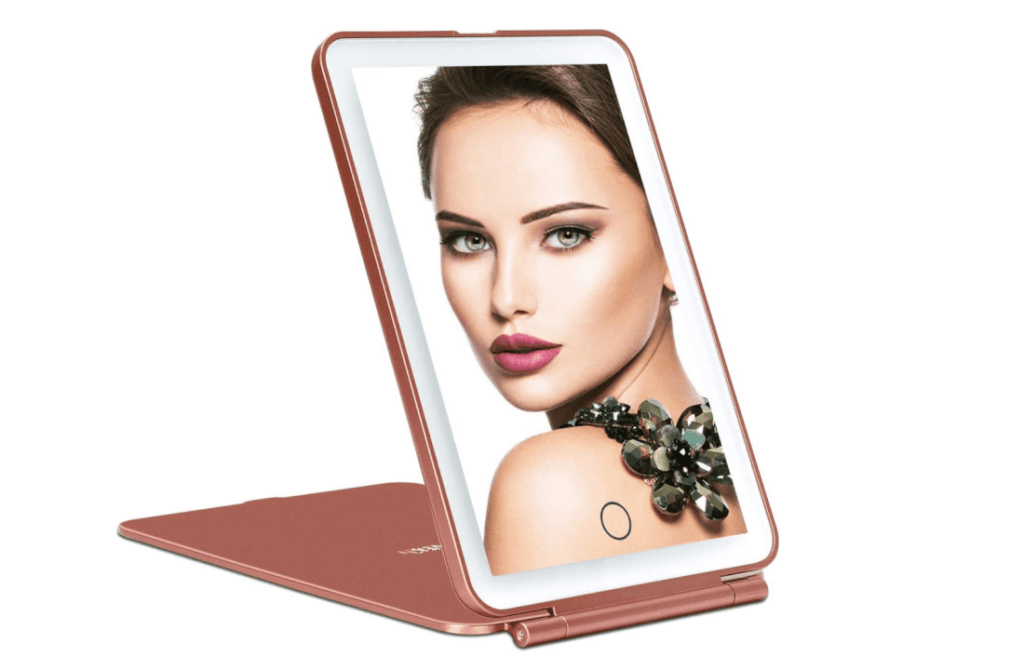 A compact dimension with a friendly price is a good reason to choose this product to take on your travel. With 7.64 L x 5.12 W inches (19.4 L x 13 W cm) dimension, this mirror is able to be put on your handbag or purse. The Deweisn LED Makeup Mirror has a built-in touch sensor switch to turn this product on and adjust its brightness. You can switch the brightness level from 10%, 50%, and 100%.
This product uses a regular mirror without any magnification or distortion. It can reflect the overall face view with an excellent perspective to support your makeup activity. Since it comes with an adjustable stand, the mirror angle can be set as needed.
---
#6 Floxite Circle Lite Vanity & Travel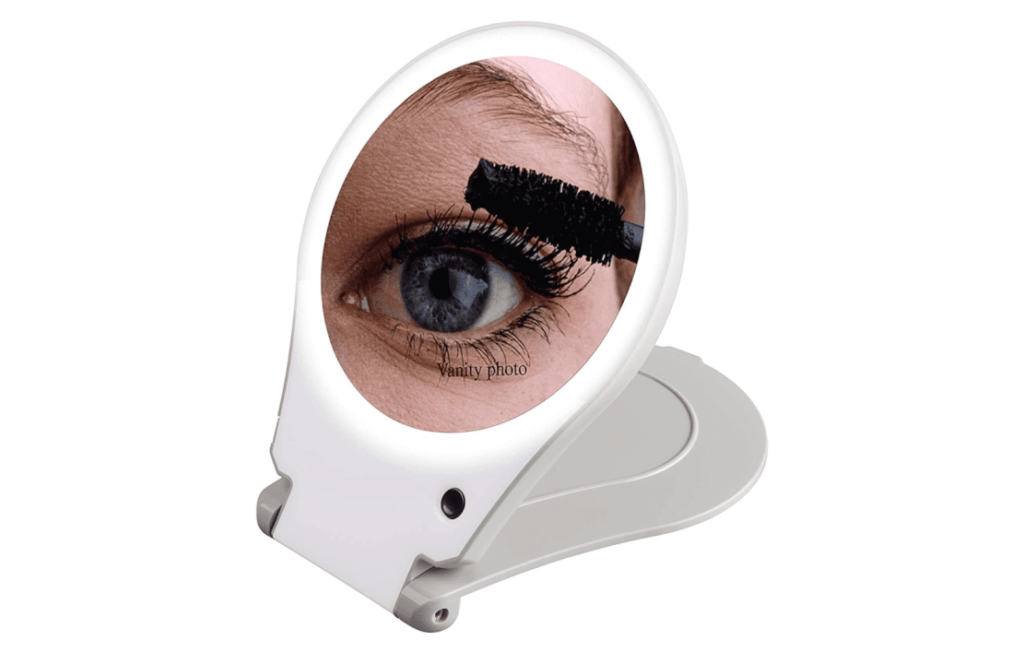 If you are looking for low budget 10 x magnification mirror, this product from FLoxite could be a good option. It is made of distortion-free glass with a combination of focused light to provide perfect reflection for makeup. A protective cover on its back can be used for a mirror stand. This mirror is powered by 3 AAA batteries that are already included in the product package.
Floxite Circle Lite Vanity & Travel is equipped with LED lights to deliver smooth exposure to show precise details of your face. This mirror has a 7 x 9.25 inches (17.7 x 23.4 cm) frame and 6 inches (15,24 cm) diameter viewing area. When folded, the thickness becomes less than one inch, making it compact for travel and storage.
---
#7 Riki Cutie Rechargeable Portable Vanity Mirror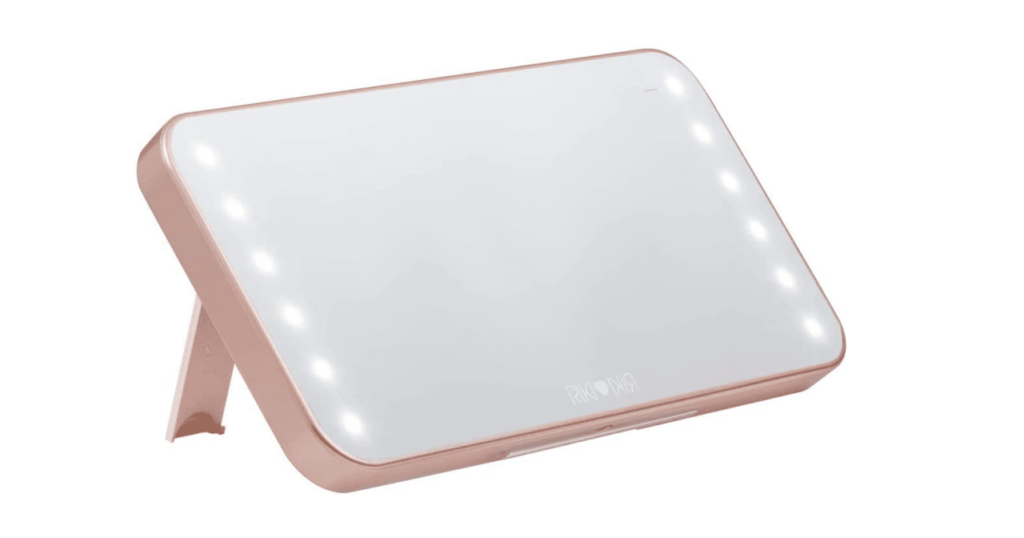 The Riki Cutie Rechargeable Portable Vanity Mirror is specially designed for makeup enthusiasts while traveling. It has a lightweight and small dimension (5.56 L x 0.38 W inches/14.1 L x 0.96 W cm), making it easy to put in a purse or pocket. There are built-in HD daylight LEDs with three adjustable brightness levels to provide your preferred setting. Since quality is the most important, this mirror uses distortion-free, scratch-resistant, and shatterproof glass.
This portable mirror has a built-in stand that can be used at home or in a hotel. It also has a retractable ring holder if you need to do a quick makeup when no desk is available. Powered by a rechargeable battery, you can use it anywhere and don't need to plug in any cord. Just charge it and get ready to look your best.
---