I know how frustrating it can be to run out of battery while on the go. Whether you're on a long flight, a road trip, or just out and about all day, a dead phone or tablet can leave you feeling helpless. That's why I'm excited to share with you the top 5 power banks with built-in AC plugs.
These power banks are not only ultra-convenient but also highly portable, making them the perfect solution for anyone who needs to stay charged while on the move. With these power banks in your arsenal, you'll never have to worry about running out of power again. So, if you're looking for a reliable and easy way to stay connected and productive while on the go, you won't want to miss this article.
Table of Contents
Metecsmart Portable Charger
Metecsmart Portable Charger is a game-changer for all your charging needs. With a massive 10000mAh capacity, it can keep your devices powered up on the go. What sets it apart is its slim and lightweight design, making it one of the most portable chargers on the market.
It features built-in cables for iPhones, iPads, USB C devices, and micro USB devices, eliminating the need for extra cables. You can even charge the power bank directly to a wall socket thanks to its built-in AC plug. Whether you're traveling or simply need a reliable power source, this charger is a must-have companion. It's also safe to carry on the plane, so you can stay connected wherever you go.
---
Anker PowerCore Fusion 5000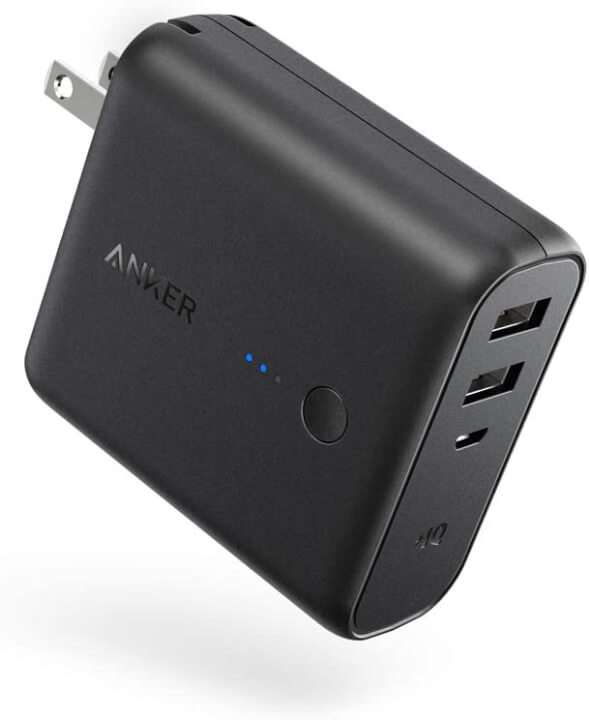 The Anker PowerCore Fusion 5000 is a versatile and reliable portable charger that combines the functionality of a wall charger and a power bank. With its dual charging ports, you can charge two devices simultaneously, making it perfect for travelers or those on the go.
Its battery bank/storage charge provides a quick boost of up to 30% in just 30 minutes, offering a reliable backup for emergencies. The PowerCore Fusion 5000 is compact and durable, ensuring long-lasting performance. With its affordable price and high-quality build, it's the ideal choice for anyone looking for a reliable and convenient charging solution.
---
VRURC Portable Charger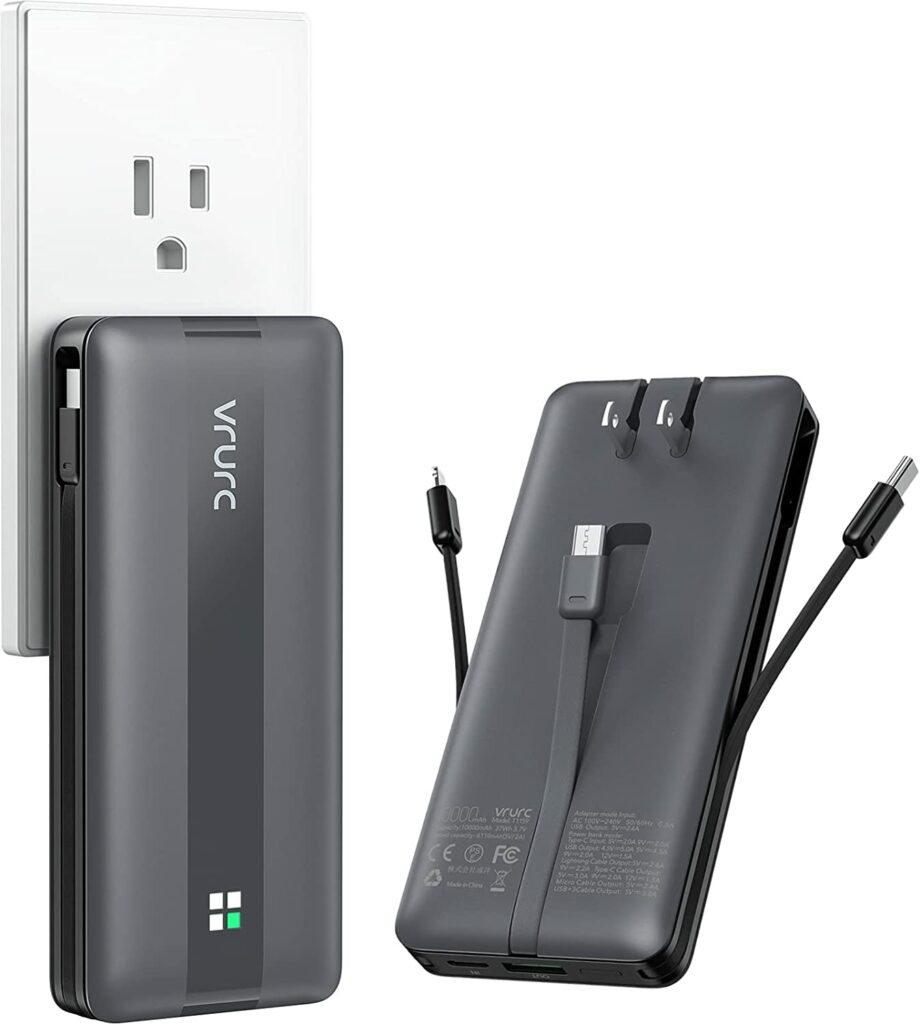 This VRURC Portable Charger is a must-have for on-the-go charging. It comes with a built-in cable for easy connection, so you don't have to carry extra cables. With a capacity of 10000mAh, it can charge your phone multiple times before needing a recharge itself, of course, it features AC plugs for easier charging.
The charger supports fast charging, so you can quickly power up your devices. Its compact and lightweight design makes it convenient to carry in your purse or bag. The VRURC Portable Charger is also safe and reliable, as it has a smart chip that identifies and protects against over-charging, over-current, over-voltage, and over-heating, making it an ideal device for both casual and frequent travelers.
---
LazyBank Fastest Mini Portable Charger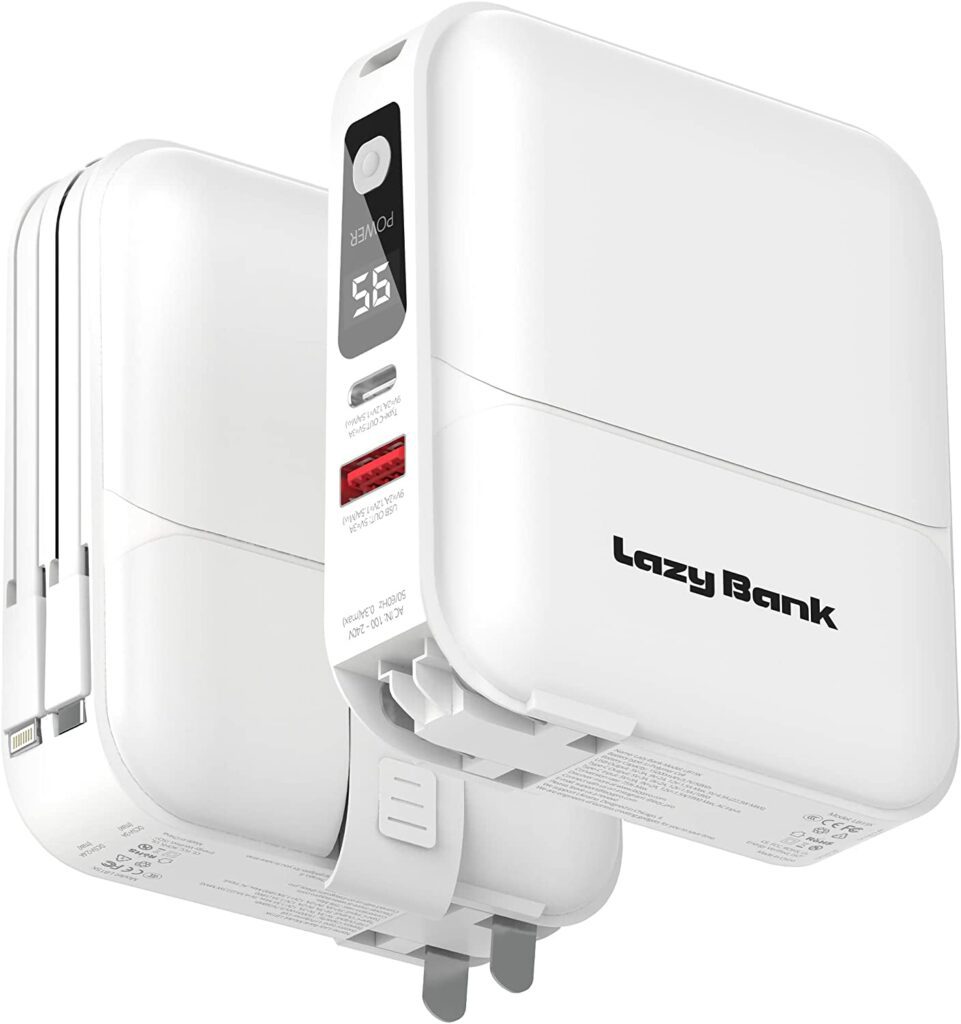 LazyBank is a powerful, mini portable charger that won the RedDot Award. With its built-in AC plug, Type-C, and lighting USB cables, it can simultaneously fast charge up to 4 devices, and recharge itself from the wall or other USB power sources. You also get LED indicators and a user-friendly design, which lets you enjoy fast charging wherever you go – even on the plane!
Ideal for travel, it weighs only half a pound with a size of 3.4×3.4×1.3 inches (8.6 cm x 8.6 cm x 3.3 cm), fitting easily in your pocket or bag. With 18W output, it can recharge your smartphone's battery to 50% in under 30min. No more cluttered and tangled charging adapters and cables!
---
AONIMI Portable Charger with LCD Display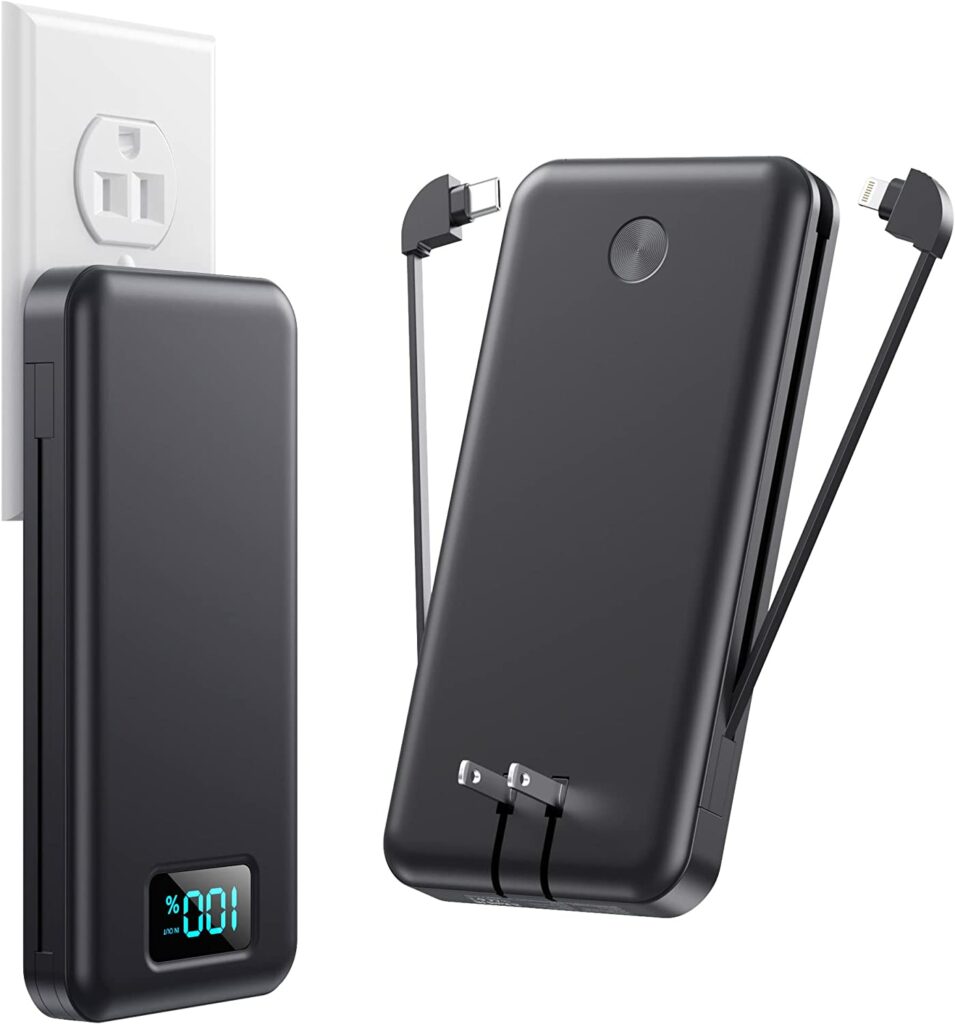 The AONIMI Portable Charger is a 13800mAh power bank with built-in USB-C and other cables, as well as a USB-C input/output and USB-A output. It supports universal compatibility with different mobile phones and can charge up to four devices at once. The power bank can be recharged directly from a wall outlet or with a USB-C cable.
It has multiple protection features and supports pass-through charging. The ultra-slim design is compact and lightweight, making it ideal for travel. Get this versatile and powerful portable charger today.
---