A compact and portable power bank is an ideal gadget to bring while traveling, camping, working remotely, in an emergency, or when a wall outlet is hard to reach. Not only used for smartphones and tablet chargers, a power bank with an AC outlet feature also can be used to power up laptops and camping equipment. Usually, it is also provided with some USB ports allowing you to charge multiple devices simultaneously at the same time.
If you plan to do some outdoor activities or go on vacation, bringing this power bank can be a good idea. It is better to choose the most compact size with enough storage capacity, so it will only take up a little space on your backpack.
Finding a worthwhile product may be tricky. Here are some recommendations for the best small power bank with an AC outlet available to make things easier.
#1 Zerokor Portable Power Bank with AC Outlet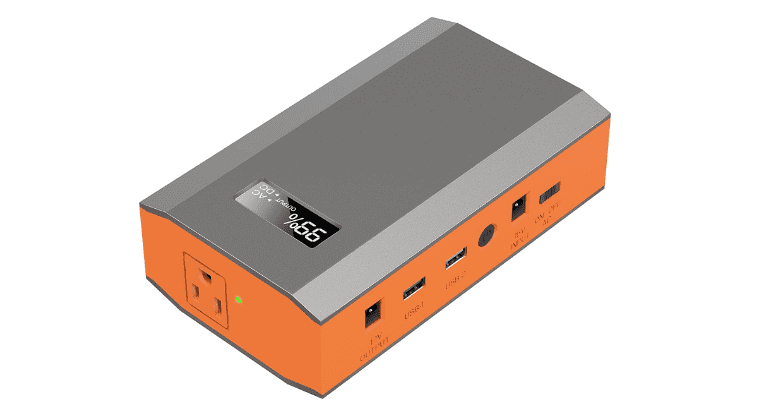 Zerokor is a portable power bank and power station manufacturer founded in 2012 with a global product market in more than 50 countries. This portable power bank is armed with an 88.8Wh / 24000mAh lithium-ion battery pack rating with a 1 x 110V / 65W AC outlet. It can power your laptop, mini-fan, mobile gadgets, and other devices that need an AC output. Designed as an outdoor usage power bank, the Zerokor power bank weighs about 1.6 lbs (0.7 kg). You can easily carry or put it in your backpack to accompany your trip and activities.
You can use many outputs available: an AC Outlet, a DC Output, a USB-2 port, and a quick charge USB-1 port. The ZeroKor portable battery power bank can be recharged by a wall AC Outlet (15V / 2A Max), output from a solar panel (20 – 50 W), or a 12V adapter output. Built-in BMS features short circuit protection, over-current protection, over-voltage protection, and overload protection. Plus, it has an outdoor flashlight for emergency use.
---
#2 Sinkeu Portable Laptop Charger with AC Outlet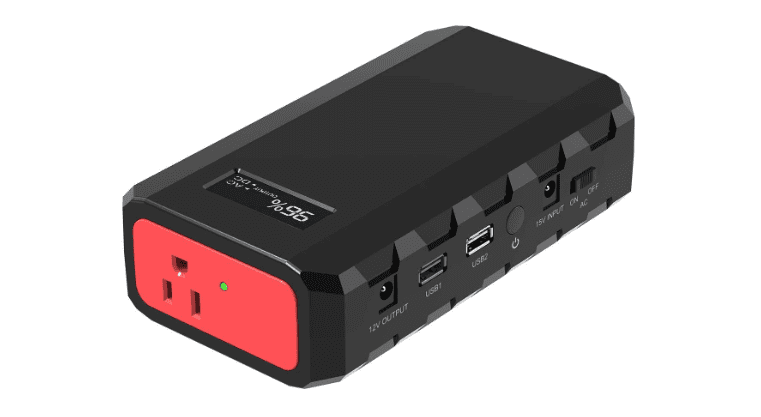 This power bank is asserted to be one of the smallest and lightest power banks with 24,000 mAh and 88.8 Wh rating. It offers an AC outlet power supply with a 110 V/65 W rating allowing you to charge smartphones, tablets, and laptops. You can recharge it in less than 4 hours using a high-speed DC15V/2A (30W) input. You are able to monitor the battery level in the OLED display at any time.
This product can be used as a universal charger. It has two USB outputs, one 110V AC outlet, and a DC output. It means you can power your multiple devices simultaneously. Sinkeu has some product certifications, such as the UL safety battery pack, CE, FCC, and RoHS. Comes with only 1.1 lb (0.5 kg) of weight, the Sinkeu power bank is a light and compact product to consider. The power and capacity specification is enough to power up your devices such as smartphones, tablets, and others
---
#3 Powkey Portable Power Station
This Powkey Portable Power Station is a portable power bank with an 88 Wh capacity rating. It is perfect for charging small electronic devices with less than 65 watts, such as smartphones, laptops, or small camping equipment. A digital display is featured to monitor the remaining battery capacity and charging voltage. The Battery Management System (BMS) provides voltage control and some safety protection such as over current, over-voltage, and short circuits. This product is also already UL safety-certified components, CE, FCC, and RoHS, ensuring the best device protection.
Powkey provides 1 x 110V AC, 1 x DC 12.6V/10A, and 2 USB charging ports (9V/2A Max and 5V/2.1A Max) outlet slots. Comes with just over a pound (0.45 kg) of weight, this power bank is easy to bring during travel. It is already TSA-approved, so it is safe for air travel. This power bank supports fast recharging with 3 methods. The included home AC adapter can charge the battery fully in just 4 hours. A 12V charging cable adapter is also included in the package that can be used in the car. Plus, it can be recharged using a solar panel. Whether you are camping, hiking, drone charging, or doing other activities, this Powkey Portable Power Bank is all set.
---
#4 Apowking Portable Power Bank with AC Outlet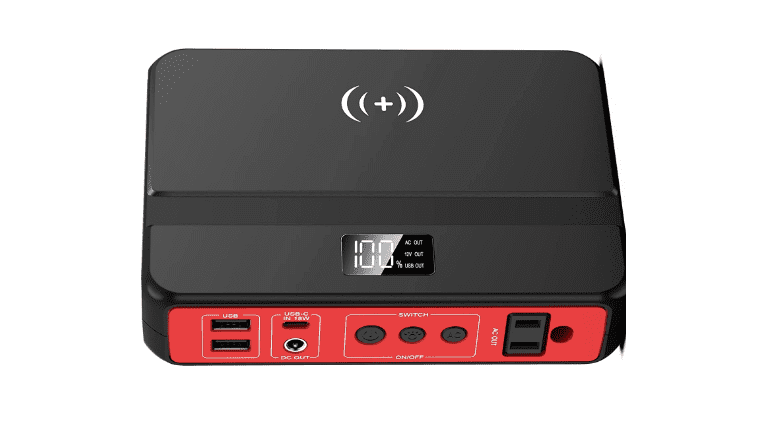 With an 83Wh / 22500 mAh lithium-ion battery pack, this power bank is powerful enough to charge gadgets and electronic appliances such as laptops, phones, tablets, cameras, and others. Provided with an AC outlet, this power bank is ideal for outdoor activities and home emergency power outages.
With a compact size of 1.6 x 4.9 x 6.9 in (4 x 12.4 x 17.5 cm) and a light weight of 1.7 lbs (0.7 kg), this Apowking portable power bank fits perfectly in a backpack or suitcase, so you can easily carry it when needed. Besides, it is already approved by the airline regulations, so you can bring it to your airline travel safely. Moreover, there is a built-in LED flashlight with light, strobe, and SOS mode that can be useful and in times of emergency both indoors and outdoors.
---
#5 Sikon AC Outlet Portable Laptop Power Bank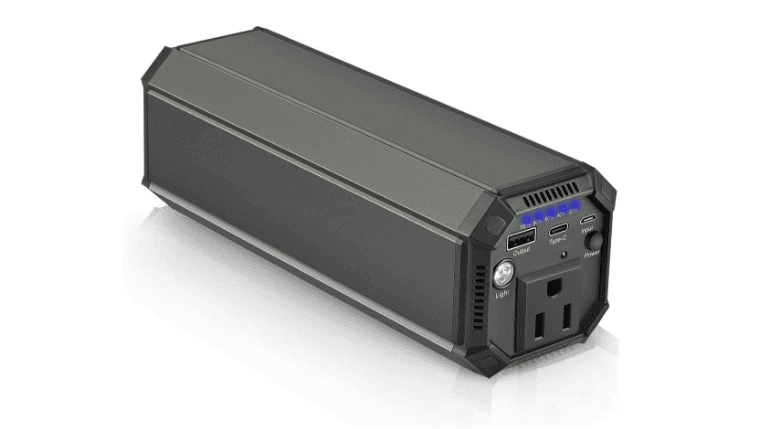 Comes with FCC, CE, and RoHS certifications, the Sikon Portable Power Bank has multiple protection technologies that can protect the power bank and your devices from over-charging, over-voltage, over-current, and short circuits. When devices surpass the AC power limit, it will automatically enter the Ultra-Safety protection mode to prevent it from getting damaged. With a massive 31200 mAh capacity, this power bank can charge laptops, smartphones, tablets, and other electronic gadgets and appliances.
Sikon is featured with 1 x AC outlet, 1 x USB output (5V/2A), and 1 x Type-C output & input (5V/3A) to meet the needs of various devices. This product has a built-in flashlight feature, perfect to use in dark conditions or an emergency. You just have to press the power button twice to turn the light on or off. Comes with a portable and compact size, it fits perfectly in a backpack or suitcase, making it easy to carry for a business trip or traveling.
---
#6 Halo Bolt Wireless Laptop Power Bank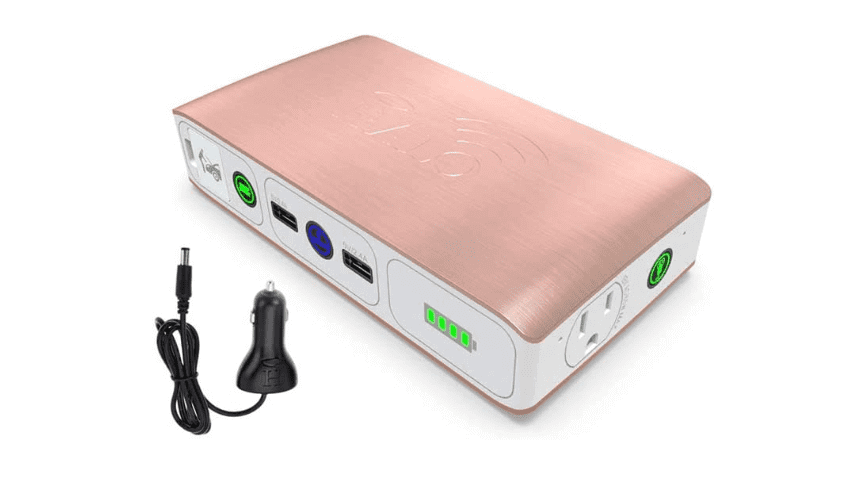 This fast wireless charger from Halo brand quickly charges your phone without a cable. You just have to place your phone on it, and it will start to charge automatically. There are also 2 USB ports and an AC/DC outlet, enabling you to charge multiple devices simultaneously at the same time. Since it is already TSA-approved, you can take this power bank with you when traveling using a plane safely.
The Halo Bolt Power Bank can be used as a universal laptop and phone charger with its 120 V AC outlet. It can also be utilized as a car jump starter when an unexpected battery issue arises. The Halo Bolt power banks, wall plug, car charging adapter, charging cable, jumper cables, LED flood light, and carrying pouch all is ready in one package.
---
#7 Handife Portable Laptop Charger 20000mAh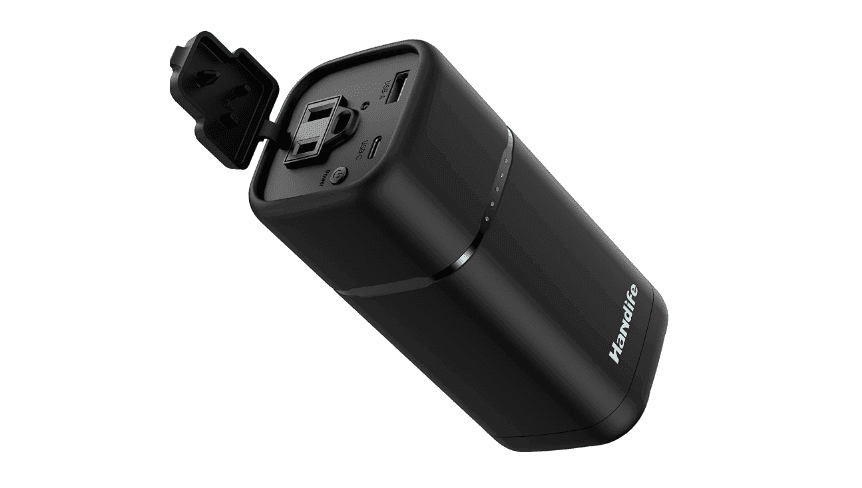 The Handlife Portable is a portable power bank fitted with a 90-110 W AC outlet rating. A USB-C port with a maximum output of 30W and a USB-A port with a maximum of 18W output is compatible with USB power delivery and charging standards such as Qualcomm Quick Charge to improve the charging speed. This multi-function output allows you to charge phones, tablets, cameras, and mini camping equipment.
This power bank has only a 6.9 x 6.9 x 15.4 cm dimension and 660 grams of weight, which is light and suitable for outdoor activities, camping, fishing, and traveling. As a safety feature, the Handlife power bank is equipped with protection functions such as overpower, overvoltage, under-voltage, short circuit, overcurrent, overload, and overheating. It also features cooling fans to control the heat generated and the temperature rise of components while used to extend its lifespan.
---