Having a portable power station is clearly giving us convenience and independence when traveling, especially outdoors. It can provide power and electricity to charge our mobile phones, tablets, laptops, or other appliances when it is hard to find a wall outlet available.
Some innovations have changed this power storage gadget over the years. It used to be a little bit bulky and had limited capacity. Now you can easily find a high-capacity power station with a stylish, portable design with AC outlets and many port options. It is practical to bring to power up appliances where a regular power bank can not.
Here are some of the best power stations with AC Outlets that you can carry around.
#1 EcoFlow Delta Mini Portable Power Station
The EcoFlow Delta Mini Portable Power Station has a 1400W AC output and 12 ports that allow you to power up almost any appliance, such as laptops or mini fridges. It comes with a lightweight design of 23.6 lbs (10.7 kg) and 14.9 x 7.2 x 9.4 inches (37.8 x 18.2 x 23.8 cm) dimensions, making it an excellent choice for outdoor power storage devices. It is also equipped with a solar panel generator to produce clean energy.
EcoFlow Delta Mini Portable Power Station offers an 882 Wh battery capacity and can be recharged from 0 to 80% within an hour. To recharge this power bank, you can use solar charging, a wall outlet, or car charging methods. A mobile app is provided to control and monitors voltage, current, temperature, and short circuits in real-time. Additionally, this rugged product is provided with BMS protection technology to keep you safe.
---
#2 Bluetti EB55 Portable Power Station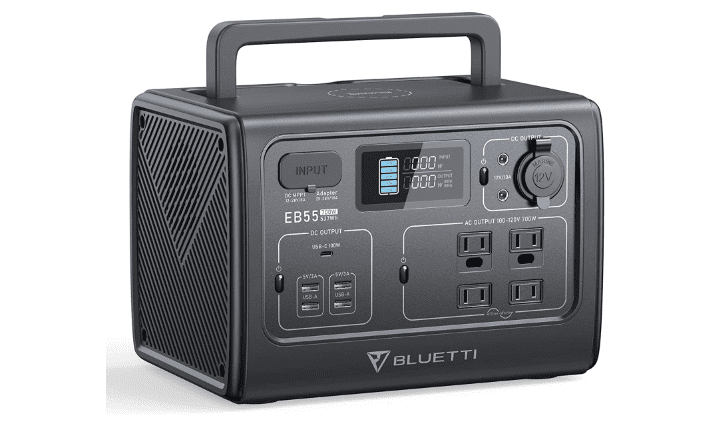 Comes with 537 Wh LFP cells with a 700W inverter, this Bluetti EB55 Portable Power Station can be used for almost all outdoor and home electronics essentials equipment such as phones, projectors, mini freezers, etc. It features 100W PD super fast charging with 13 various outlets. Because it is equipped with a solar panel generator, it supports dual recharging mode by 200W PV + 200W AC or dual AC to achieve a maximum input power of 400W. This product can be recharged in only 1.8 hours.
Bluetti EB55 Portable Power Station has a compact size of 10.9 × 7.9 × 7.8 inches (27.6 x 20 x 19.8 cm) and 16.5 lbs (7.4 kg) of weight, allowing you to bring it around. It has a 537 WH battery capacity with 2500+ life cycles and BMS secure system to protect from over current, over-discharge, or over temperature. Some outlets are available; 4 x AC, 1 x wireless charger, 1 x type C, 4 x USB A, 1 car socket, and 2 x DC.
---
#3 VATID 600W Portable Power Station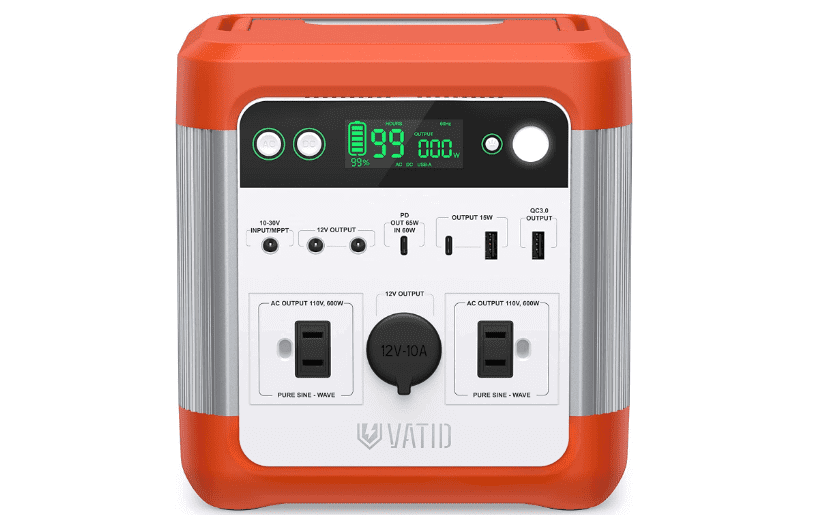 This new brand in the market, Vatid, offers a 600W power bank with a 518 Wh power capacity. It has a standard USB-C and USB-A port, a USB-A quick charge port, and a 56W USB-C power delivery port. It is powerful enough to charge up to 9 devices simultaneously, such as laptops, phones, or tablets. Engineered with high-speed recharge technology, you will only need about 3.5 hours to recharge it fully through a 95W wall outlet and 60 W USB C port simultaneously.
Comes with a length of 7.9 inches (20 cm), a width of 5.5 inches (13.9 cm), a depth of 8.5 inches (21.5 cm), and 10 lbs (4.5 kg) of weight, this product is totally compact and lightweight to carry. Vatid 600W Portable Power Station is equipped with a front screen showing the remaining power capacity, time, and output/input wattage. It will help you to indicate the activated DC or AC selection. It also features 2 Pure Sine Wave AC outlets, which can protect sensitive devices by producing clean & stable electricity. This product is suitable for outdoor camping, road trips, or emergencies.
---
#4 TogoPower Advance 650 Portable Power Station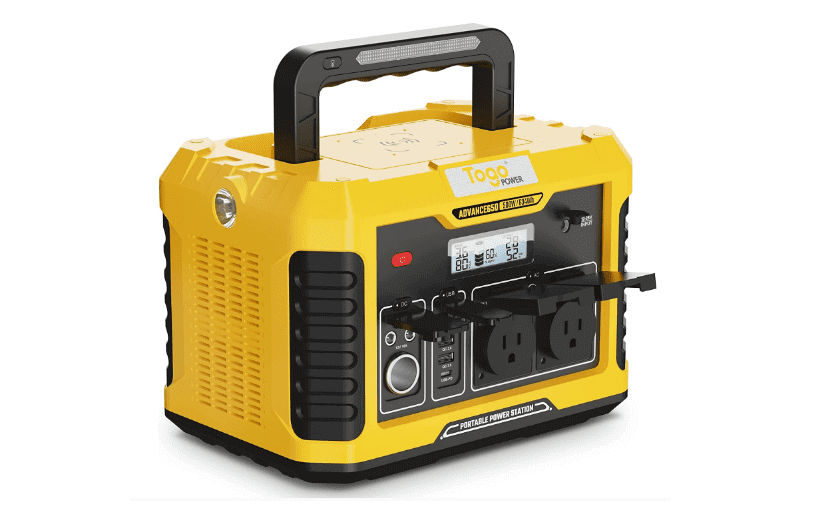 TogoPower Advance 650 Portable Power Station has a 634 Wh power capacity and a 500 W maximal output. It adopts the automotive-grade lithium battery pack and top V0-grade Flame-Retardant ABS casing. It means that this product is strongly heat resistant, has no deformation in high-temperature burning tests, and is safe to use indoors and outdoors. The battery management system provides balanced charging, battery life improvement, and prevents safety accidents. It can be used to power up lower-wattage appliances such as laptops, portable refrigerators, TV, and others. The Pure Sine Wave inverter keeps your sensitive appliances running stably.
This product is equipped with a variety of ports, which are; 2 x 120V AC Outlets, 1 x 60W USB-C PD port, 3 x 18W USB-A QC3.0 ports, 1 x 10W Qi wireless charger, 1 x 12V DC car port, and 2 x DC5525 ports. All of these ports have dust covers to prevent dust and dirt from getting inside. You can charge this power bank with an AC adapter, car charger, or solar panel. It is equipped with a digital display on the front side that shows the remaining capacity, wattage input/output status, remaining time usage, and time to fully charge it.
---
#5 MAXOAK Bluetti EB240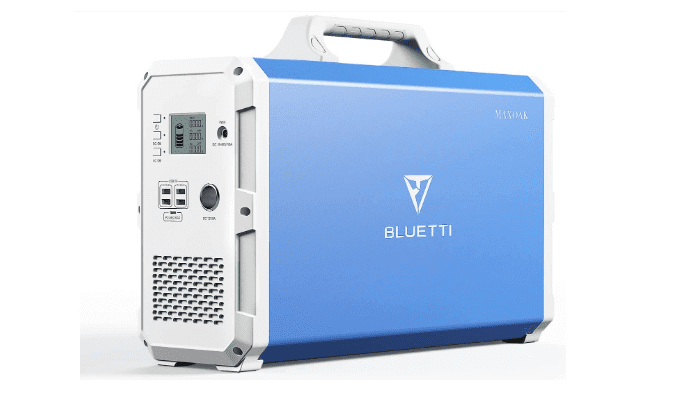 The MAXOAK Bluetti EB240 has a 2400 Wh power capacity and about 648.000 mAh in terms of 3.7 V smartphone charging. If you are using higher appliances at 14.8 V, it can provide about 101.000 mAh power capacity. This device is a perfect choice if you need robust power storage, especially with massive capacity for high-power-rated devices.
Some ports are available; four USB-A ports, one USB-C Power Delivery port, and a 9 Amp 12Volt DC port. The USB-C Power Delivery port is featured with a 45W charging speed, allowing you to charge laptops while powering other appliances via the AC outlets. It uses the high rate li-ion battery cell and premium battery management system feature that can provide 2500+ life cycles. There is an intelligent cooling fan system to help dissipate heat generated. It also has over-current, overcharges, over-voltage, and over-temperature protection.
---
#6 HALO Bolt 58830 Portable Jump and AC Portable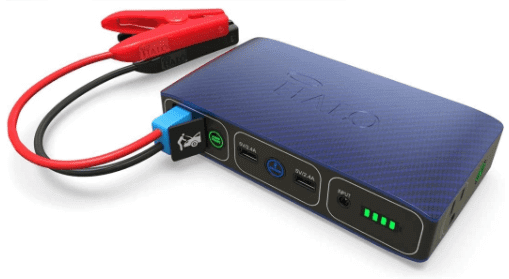 This product is a combination of a phone charger, laptop charger, car jump starter, and AC outlet. With the push of a button, this portable charger can be used for jumping start a car, boat, or lawn mower with its included jumper cables. It is an excellent choice for you as the first help when having trouble with your vehicle's battery.
The HALO Bolt 58830 can provide up to 500 Amp output for the jump start of a vehicle. Two USB A ports allow you to charge multiple devices simultaneously. It is also armed with a 120 volt / 52 W AC outlet to power up appliances. Comes with an LED flood light feature, so you can rely on this product during power outages or when in outdoor activities. It has a 15.900 mAh power capacity with a compact dimension of 7.2 x 3.8 x 1.6 inches (18.2 x 9.6 x 4 cm) and is lightweight at 2.7 lbs (1.2 kg), making it easy to carry.
---
#7 MAXOAK Bluetti AC10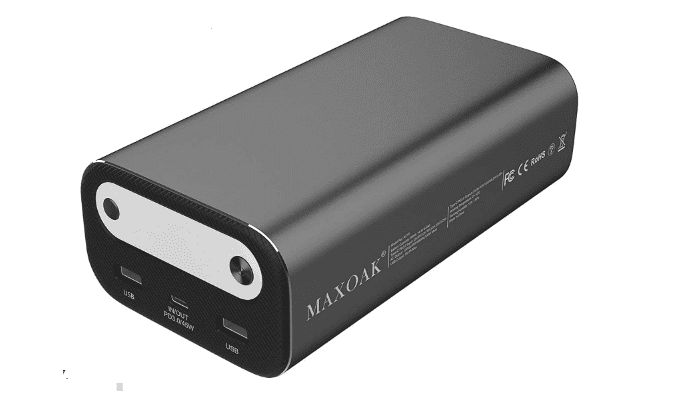 The MAXOAK Bluetti AC10 is another product from the MAXOAK brand but with a lower power capacity of 99 Wh / 26756 mAh. This product may be the most suitable power bank with an AC outlet for regular daily activity. There are some available ports; 1 x AC 120V/100W output for AC Powered Devices, 1 x PD3.0 45W USB-C for USB-C Devices, and 2 x USB 5V3A for smartphones, cameras, etc. You can change this product via a wall AC outlet, USB-C ports, and a car charger.
This product is developed based on TSA requirements, allowing you to bring it when traveling on an airplane. Built with aluminum material, MAXOAK Bluetti AC10 is low heat and has better heat dissipation without any cooling fan. You will not get disturbed when using this power bank. It supports multiple charging at once since it has a variety of ports. You can bring it easily with 7.1 x 3.9 x 2.3 inches (18 x 9.9 x 5.8 cm) of dimension and 2.7 lbs (1.2 kg) of weight.
---