Overseas traveling to a different country requires good planning. Not only clothes and itineraries, but the electronic devices and gadgets should also be prepared since there is a lot of electronic socket plug with different standards. A reliable universal power adapter plays a significant role when you are faced with this situation.
A universal power adapter allows you to use and charge your devices without worrying about the plug shape. Some adapters can also be used for power converters to give more convenience. Since it is an electronic device, safety protection should be included. You definitely don't want to burn your gadget caused of an overcurrent or short circuit.
There are plenty of brands that offer universal power adapters for travel use. Here are some of the best recommendations.
#1 Epicka Universal Travel Adapter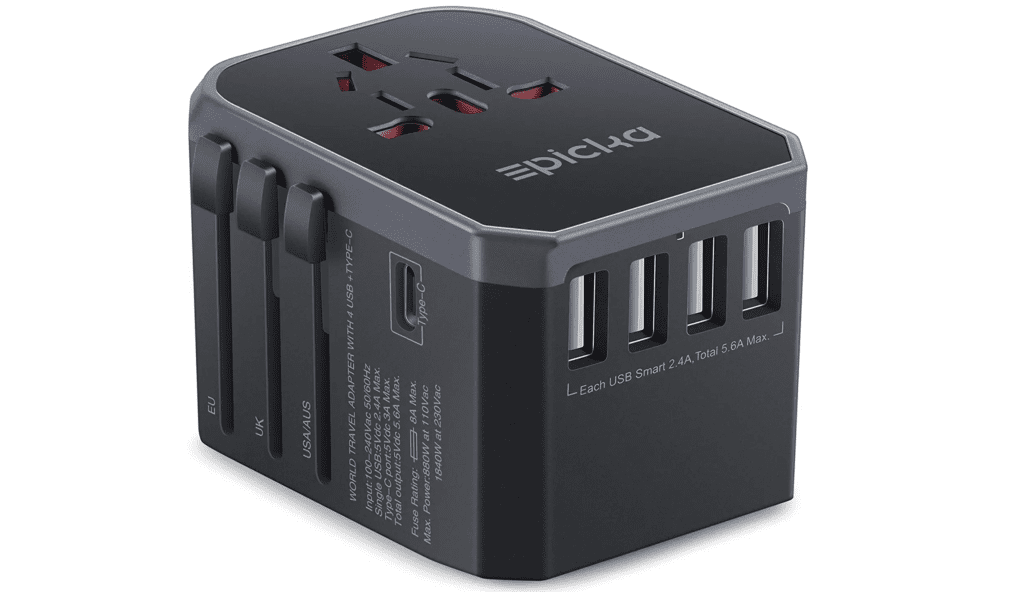 This universal adapter from Epicka has multi sockets that can comply with more than 150 countries, including the US, EU, AU, and the UK. It comes with 4 USB ports, 1 USB type C, and 1 AC socket. The adapter is able to charge 6 devices at the same time. To make the device more personal, there are 3 color variants that can be chosen: grey, rose gold, and white-grey.
This product supports 880 W of maximum power at 110 VAC and 1840 W at 230 VAC. You can use this adapter with iPhone, Android phones, tablets, and digital cameras. The Epicka Universal Travel Adapter has a dual overload fuse, safety shutters, plug lock system, ROHS, CE, and FC for safety features. Since it is not a voltage converter, you must ensure that your devices have variable-voltage capabilities.
---
#2 Bonazza All-in-One World Travel Adapter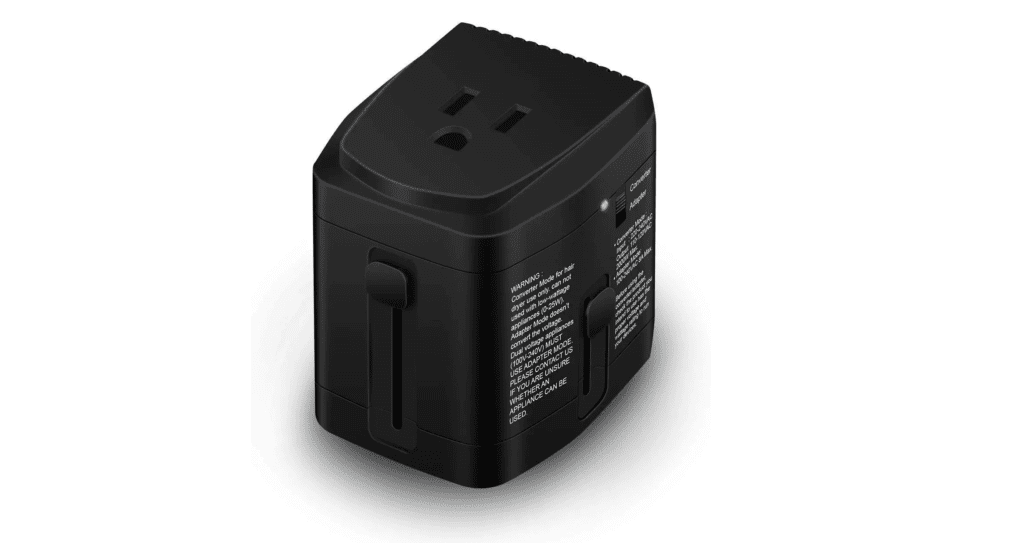 Most travel adapters do not convert voltage, but this adapter from Bonazza does. It can step down voltage from 220 to 110 V and is compatible with 25-2000 W of electronic products. You can use this adapter for mobile phones, laptops, and other appliances.
This adapter has a compact dimension for travel (2.3 x 2.5 x 2.8 inches/5.8 x 6,3 x 7,1 cm) with only 0.35 pounds (158 grams) of weight. It is also compatible with many devices, such as iPhone chargers, laptop chargers, and other general electronics. Since it fits with electrical outlets in over 150 countries, you can bring this adapter while traveling worldwide.
---
#3 Conair Travel Smart All-In-One Adapter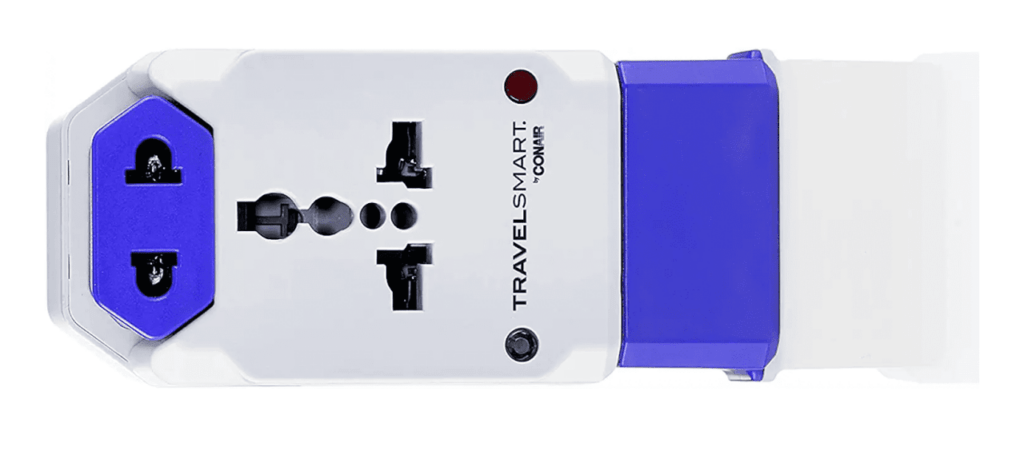 This international adapter from the Travel Smart brand lets you plug in 4 devices simultaneously, including a USB port. This product allows you to use it in over 150 countries for dual voltage appliances or voltage converters. Moreover, it accepts grounded or non-grounded plugs and polarized or nonpolarized plugs.
Since it is lightweight at just 0.34 pounds (154 grams) and 7.3 x 5.4 x 2.6 inches (18.5 x 13.7 x 6.6 cm) in dimension, this adapter can be put in your handbag, perfect for traveling. This device has built-in surge protection to provide safe charging. It is compatible with iPhones, android phones, tablets, and other electronics.
---
#4 Bestek Travel Adapter Converter
The Bestek adapter has the ability to power step down from 220 V to 110 V. The patented technology can convert voltage ratings in different countries, including Australia (100-240V, 50/60Hz) to the US/Japan (110V, 60Hz), perfect for all kinds of devices. It has 4 USB charging ports with a combined 6A output and 3 AC sockets supporting a maximum of 200 W power delivery. You can use it to charge 7 devices simultaneously, perfect for travel use.
This product has NRTL safety tested and proper hardware to protect electronic devices. Its USB outputs are isolated from the AC power to prevent device damage. It also comes with over-current, over-load, over-heat, and short-circuit protections. The 5 ft (1.5 m) detachable power cable combined with a compact design (6 x 3 x 1.57 inches/15.2 x 7.6 x 3.98 cm) makes it easy to bring during travel.
---
#5 Newvanga Travel Adapter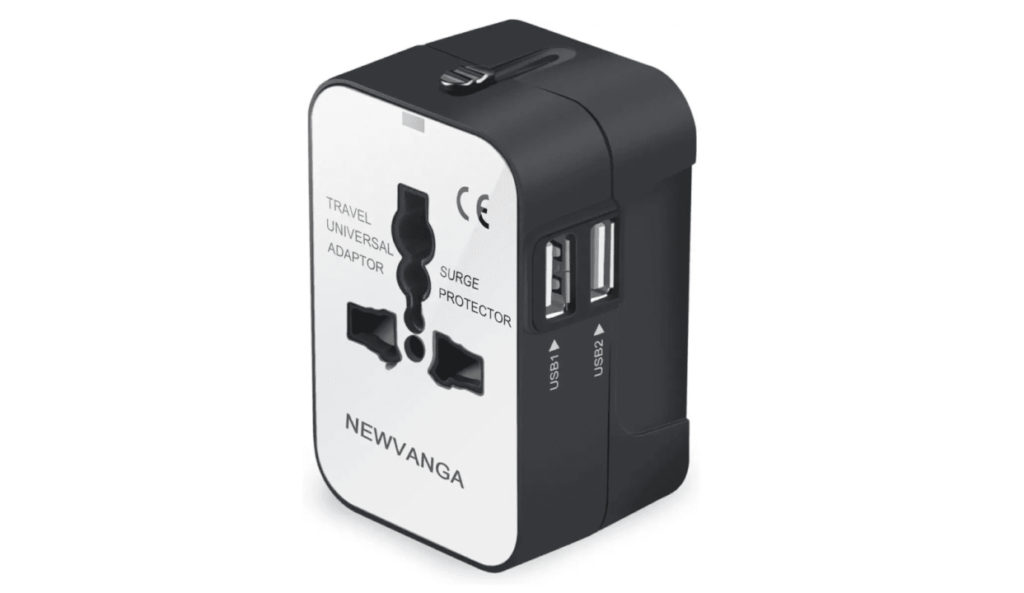 Newvanga Travel Adapter accepts different socket plugs from more than 150 countries including US, EU, UK, and AU. For safety protection, it is equipped with built-in safety shutters to protect you from direct socket outlet touch. It also includes 5 different input plugs that can easily connect to the adapter.
The charging ports are compatible with almost all electronic devices, such as iPhone and Android phones. This adapter can only convert the power outlet, so it can not be used as a current and voltage converter. This Newcanga adapter supports 660 W of maximum power delivery at 110 VAC and 1380 W at 230 VAC.
---
#6 Zendure Passport II Pro
This product from the Zendure brand is not just an adapter but also a high-power charging device with up to 61-watt output. It is an all-in-one world multifunction travel adapter that covers more than 200 countries, including the US/EU/AU/UK plugs. It comes with 5 USB ports (2 USB Type-C & 3 USB-A) and 1 AC outlet. Hence, you can use it to power 6 devices at once.
This adapter is compatible with fast charging ratings (PD 3.0, QC 3.0, PPS 3A, AFC, and FCP) with a maximum power of 1000W at 100VAC and 2500W at 250VAC. The 10A auto-resetting fuse technology enables Passport II Pro protection from overload up to 6,000 times without service or replacement.
---
#7 Mingtong Worldwide All-in-One Universal Travel Adapter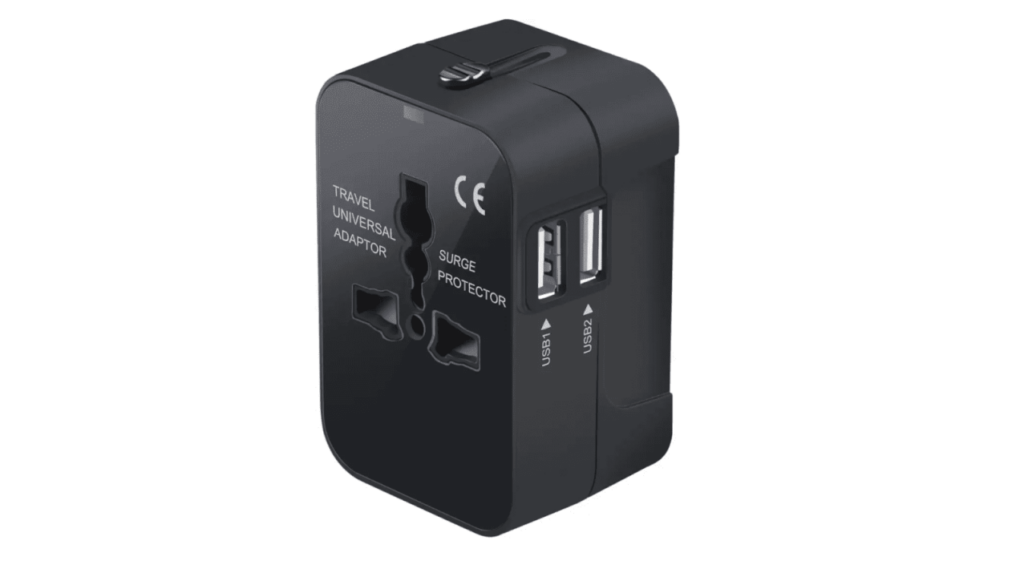 Equipped with 4 international plug adapters, this device can be used for more than 150 countries with US/EU/UK/AU plugs. It can be used for power outlet converters, but cannot convert current or voltage outputs. There are two color variants offered, the black and white series.
Since it has dual USB ports, you can use it for iPhone, Android, tablets, and other small household appliances. But it does not work with high-power equipment such as hair straighteners, flat iron, and hair dryers. For safety and convenience use, it has built-in fuse protection, safety shutters, and an LED power indicator.
---
#8 DANDELION Travel Adapter Outlet Adapter Traveler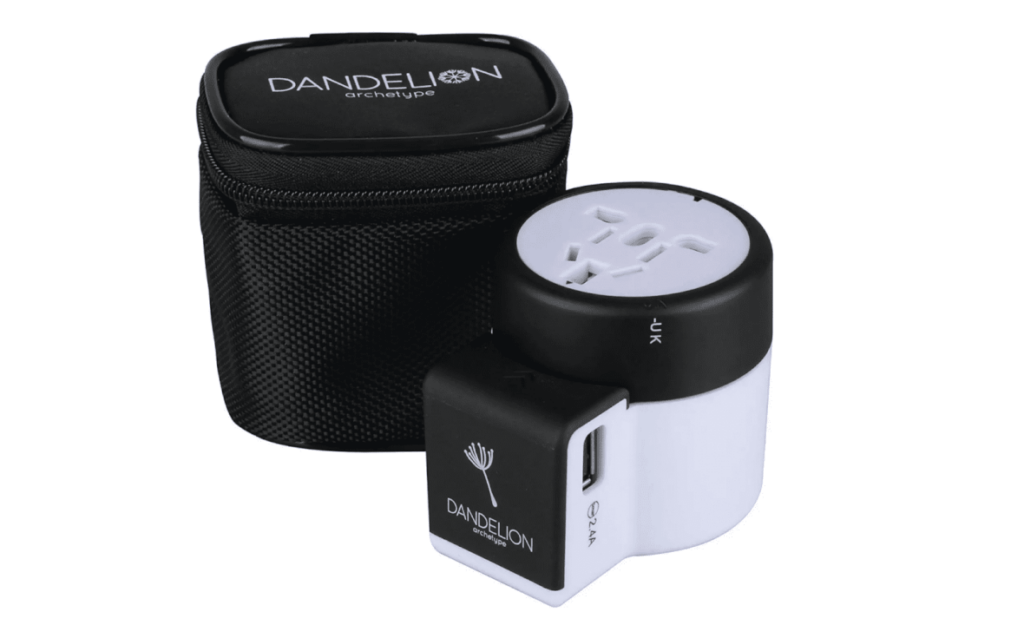 You may find that this adapter has the most unique and eye-catching design. It is easy and safe to use with your electronic gadgets in different sockets in more than 150 countries worldwide. It can be used to power up 3 devices simultaneously with 2 USB ports (2100mA, 5V) for fast charging. It also has 8 holes of sockets for different plug shapes. Constructed from high-quality polycarbonate and fire retardant materials, this power adapter is able to give a long life with excellent performance.
Comes with a 6A overload fuse and a spare fuse, your device is adequately protected from overload or current surge. To pick the preferred plug, you just have to rotate the adapter surface, and the plug will switch. It has a compact design (2.20" wide X 2.36" long X 2.87" tall/5.5 x 5.8 x 7.2 cm) with 0.30 lbs (136 grams) of weight and comes in a handy pouch bag.
---
#9 Key Power Voltage Converter & International Travel Adapter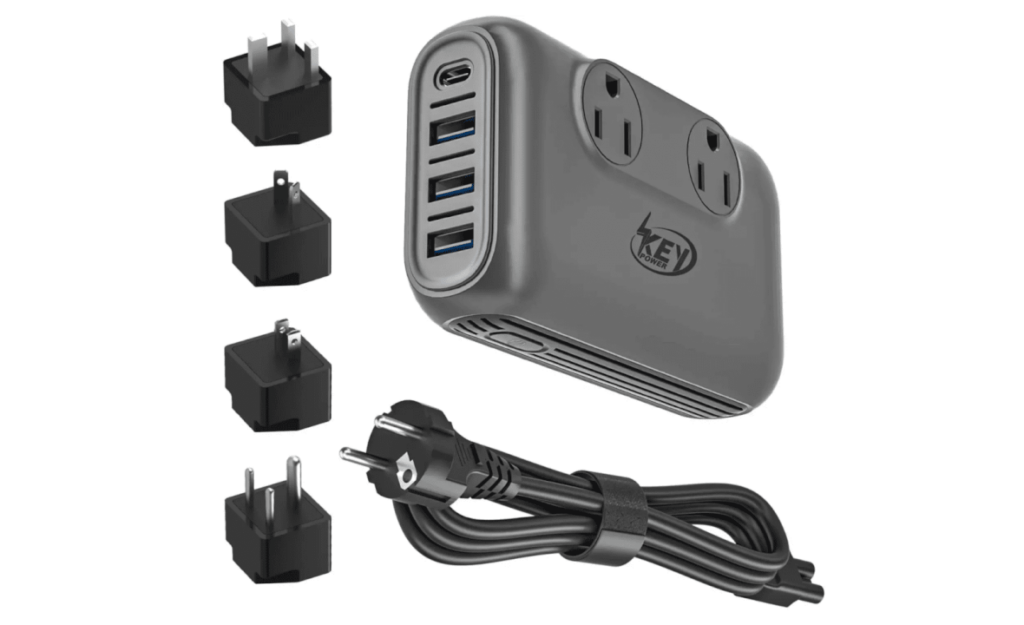 This universal travel adapter is equipped with 4 different socket plugs that can be used in the US, EU, UK, and more. It can be used as a step-down voltage converter from 240V to 110V. With broad compatibility, it is applicable for a small rated device and can be used for higher-rated equipment such as hair dryers, TV, cameras, laptop, and others.
With 4 USB charging ports and 2 standard US AC outlets, you can charge multiple devices simultaneously. Moreover, the USB-C port supports an 18 W high-speed charging feature. As a safety measure, Key Power offers over-current, over-temperature, short-circuit, and overload protection. Its compact dimension of 4.9 X 2.9 X 1.3 inches (12.4 x 7.3 x 3.3 cm) with a carrying bag and a 4 ft (1.2 m) detachable power cable allows you to bring it anywhere.
---