If you're in the market for a portable speaker that you can take with you wherever you go, you might be wondering what the best option is. You'll want something that's small, slim, and unobtrusive, but still packs a punch when it comes to sound quality.
Thankfully, slim Bluetooth speakers exist. They are perfect for those who want to enjoy their music without having to lug around a heavy and bulky speaker. They are also great for those who want to save space and be able to tuck their speaker away when not in use.
Here are 9 of the best slim Bluetooth speakers you could tuck in a pocket:
#1 JBL GO2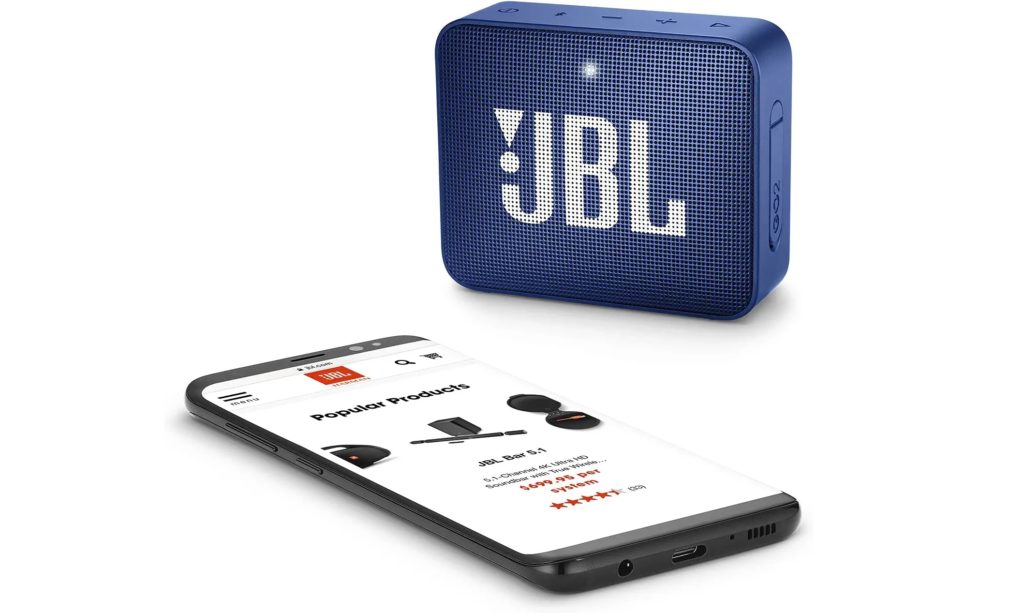 JBL GO2 is a slim, ultra-portable Bluetooth speaker that offers 5 hours of playtime. It features a speakerphone for clear, hands-free conference calls, reducing noise from outside. It is easy to mount and can be taken anywhere, making it a good choice for on-the-go listening.
If Bluetooth isn't available, there's no need to worry — an audio cable input can be used as an alternative connection. The GO2 is also IPX7 waterproof, making it ideal for listening by the pool, at the beach, or even in the shower.
---
#2 INSMY Bluetooth Speaker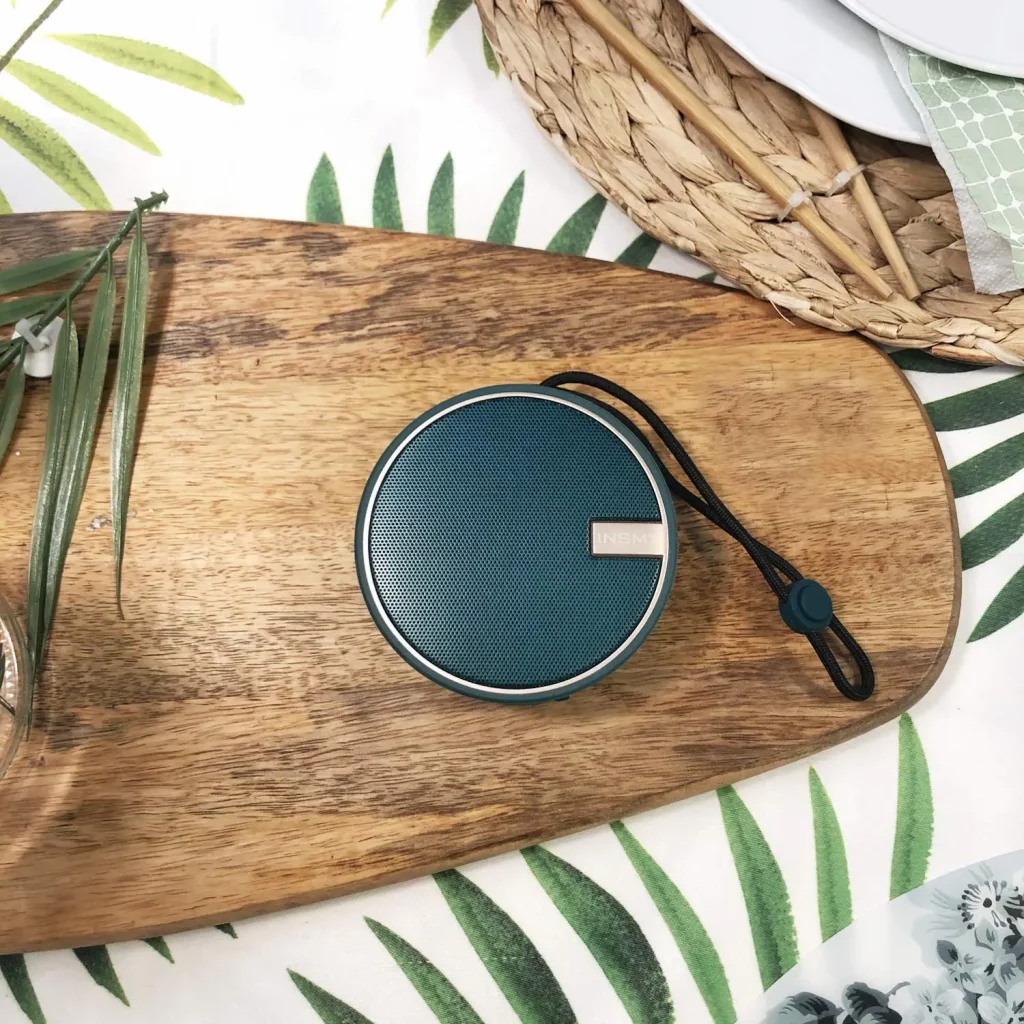 INSMY Bluetooth speaker is waterproof and submersible, making it perfect for use in the shower or poolside. The IPX7 rating means it can be submerged up to one meter for 30 minutes without sustaining damage. It's also dustproof, ensuring no damage from dust.
The built-in mic allows you to take hands-free calls, and the TF/Micro SD card support means you can use the speaker even if your Bluetooth device isn't nearby.
At just 7.4 ounces or 209 grams, the speaker is lightweight, slim, and portable, with a suction cup attachment and a handle that lets you attach it to your bag or bathroom mirror. The 12 hours of playtime give you an entire day of listening, and it only takes 3 hours to charge.
---
#3 Pitras Bluetooth Speaker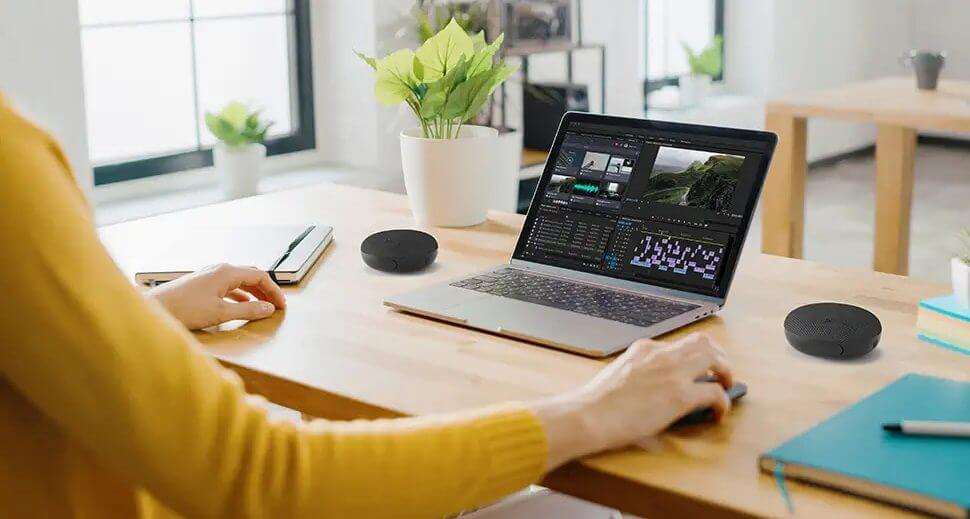 Pitras, the waterproof and submersible Bluetooth speaker, is ideal for music lovers who enjoy both indoor and outdoor listening. With Bluetooth 5.0 compatibility and a 3.5 mm audio jack, Pitras can easily connect to other devices, while the built-in microphone allows for hands-free calling.
Pitras's 800mAh battery provides up to 10 hours of playtime and only takes 3 hours to charge. The slim, stylish matte finish speaker has an attached strap making it easy to transport. When two speakers are connected via Bluetooth, they deliver sound in the left and right channel systems for stereo sound, making it great for parties or watching movies where high-quality sound is appreciated.
---
#4 JBL Clip 4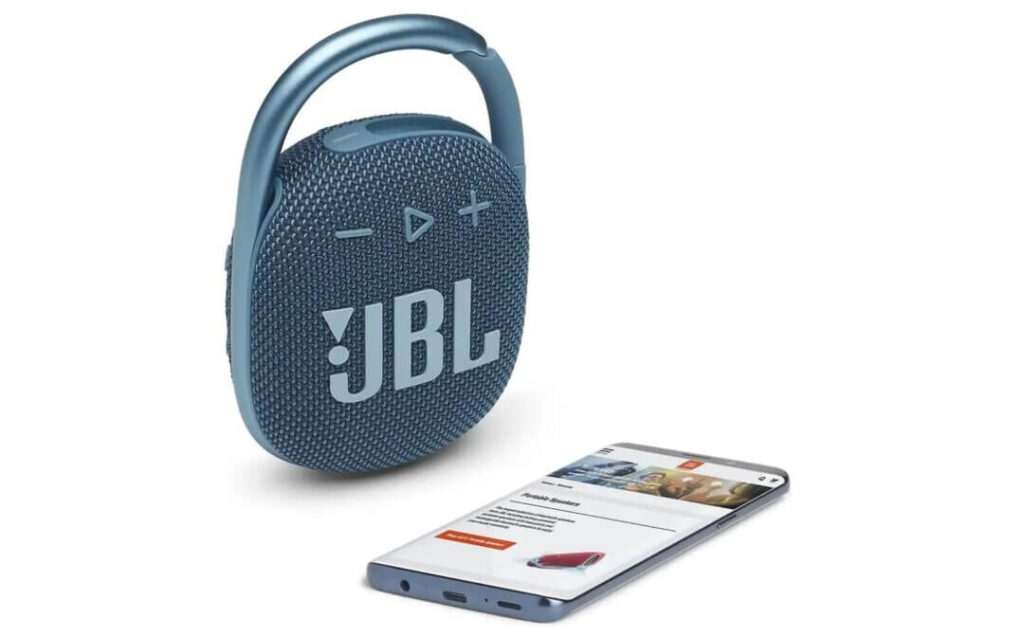 JBL's Clip 4 is a small, but extremely rugged and durable Bluetooth speaker. The IP67 waterproof and dustproof rating means it's ready for just about any environment, whether you're at the beach, hiking, or even in the shower. Attach it to your belt or backpack with the integrated carabiner, and you're good to go.
The sound quality is impressive for such a small speaker. The 10-hour battery life means you can take it just about anywhere without having to worry about recharging. And the included hardshell case protects it from bumps and drops.
---
#5 Amazon Basics Bluetooth Speaker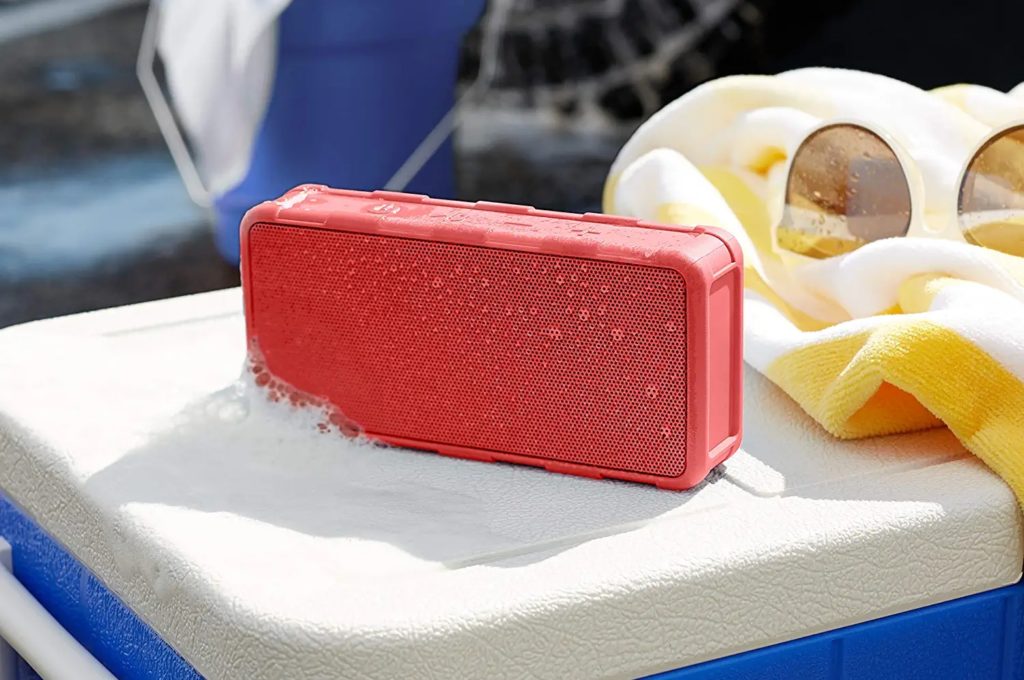 This Amazon Basics speaker is a nice option for a portable, slim, affordable, and waterproof Bluetooth speaker. It has a 5-watt output and Bluetooth 5.0, providing good enough sound quality and a great wireless connection range to your devices. It is also rechargeable, with a micro USB charger included.
Hands-free call, switch volume, and pair to your device with the multifunction button. With the LED light indicators, you can see the speaker's status at a glance.
---
#6 Bose SoundLink Flex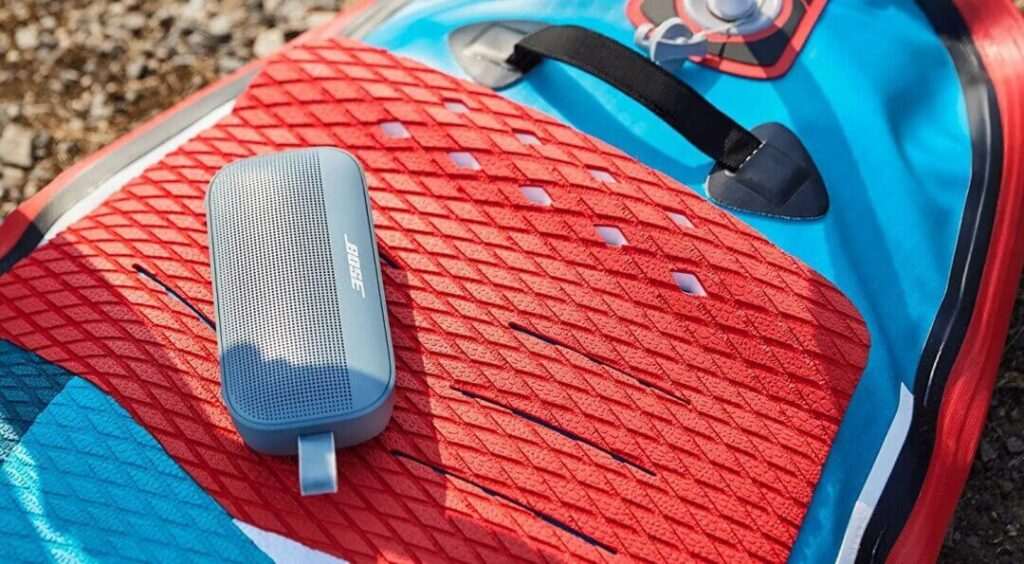 The Bose SoundLink Flex is a slender, portable, waterproof speaker that is likewise tough and easy to carry—it can put up with debris and water, and even withstand drops and other impacts. With a USB-C charging port and a long-lasting battery, it is ideal for taking on the go.
The Bose Connect app also allows you to update the software and change settings on the speaker. Plus, the built-in microphone lets you make and receive calls without having to take your phone out of your pocket. Thanks to its Proprietary Position Qtechnology, the speaker automatically adjusts sound quality depending on where your Bluetooth speaker is located and positioned.
---
#7 AFK Portable Speaker

AFK portable speaker is an ultra-thin, lightweight speaker with a metal frame and leather back, giving it a sleek, sophisticated look, while the powerful subwoofer provides rich, cinematic sound. The connection range of 66 feet (about 20 meters) with Bluetooth 4.1 makes it great for both indoor and outdoor use.
The built-in microphone allows for hands-free calling, and the intelligent noise reduction ensures clear, lag-free communication — allowing you to have clear communication and entertainment for any occasion, whether you're biking, camping, exercising, or just relaxing at home.
---
#8 Anker PowerConf S3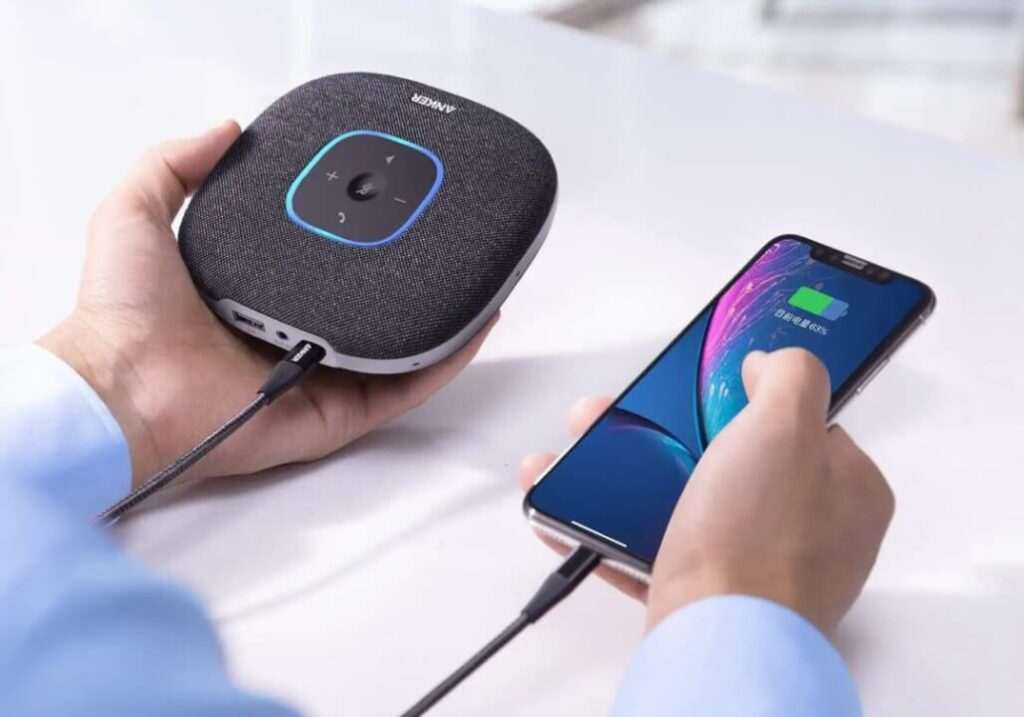 Anker PowerConf S3 Bluetooth speakerphone has a six-microphone array that ensures your voice is picked up clearly from any direction. The DSP algorithm automatically adjusts volume, so it won't be too loud or too low.
The AnkerWork app also allows for easy customization of settings like LED lights, volume, and standby mode. Best of all, the battery lasts for up to 24 hours on a single charge. It's slim and lightweight, making it easy to take with you wherever you go.
---
#9 Lenovo 700 Ultraportable Bluetooth Speaker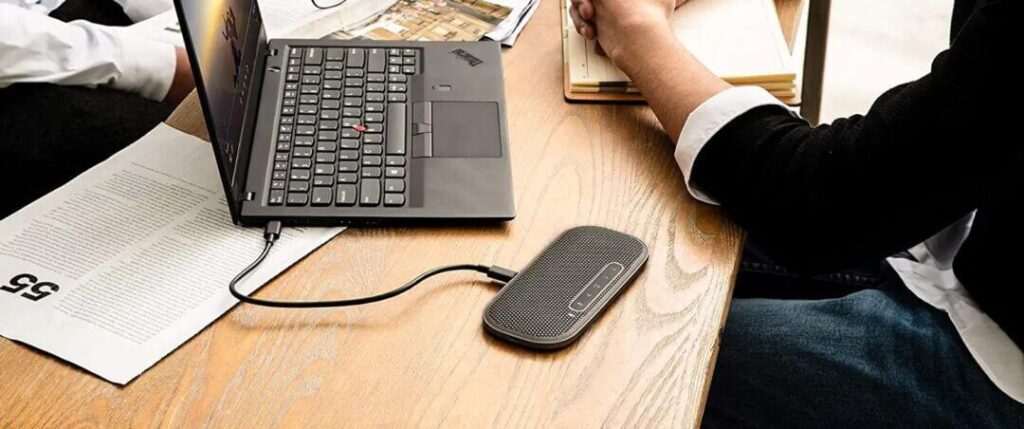 At only 11 mm (0.43″) and 0.32 lbs (145 grams), Lenovo 700 Ultraportable Bluetooth Speaker is significantly smaller and lighter than most smartphone speakers. With a 2-hour charging time and 8 hours of playtime, it's perfect for on-the-go listening. Simply place it in your pocket, or use the detachable wristband, and enjoy your music anywhere.
The 360° sound quality ensures that everyone in the room can enjoy the music. Bluetooth isn't available? Use NFC and USB-C connectivity as alternatives. Control the speaker with either the physical touch panel or integrate with Siri/Google Assistant for hands-free use. And, with its IPX2 splash-resistant design, it's perfect for use in any environment.
---
If you're looking for a Bluetooth speaker that won't weigh you down, there are plenty of options available. These nine pocket-sized speakers offer great sound quality in a compact package. Whether you're looking for something to take on your next hike or just want a speaker for your desk, there's sure to be a perfect fit for you on this list.