Headphones, earphones, or headsets are good audio listening gadgets for portability and flexibility. You just need to plug it in, and you are all set. But if you are a video editor or gamer with long working hours, these audio devices may make your ears feel tired, hot, and uncomfortable. You probably need another audio device that doesn't have to be attached to your ears.
A soundbar is a perfect option that offers powerful audio, easy to use, and doesn't take up your desktop space too much. It has a more compact design than a home theater set but still has almost the same quality. It also gives you freedom from tangled cables since it can usually be connected via Bluetooth wirelessly. Plus, you can use it for hours comfortably.
Here are some of the Under $300 Computer Soundbars recommendations.
#1 Creative Stage V2 2.1 Soundbar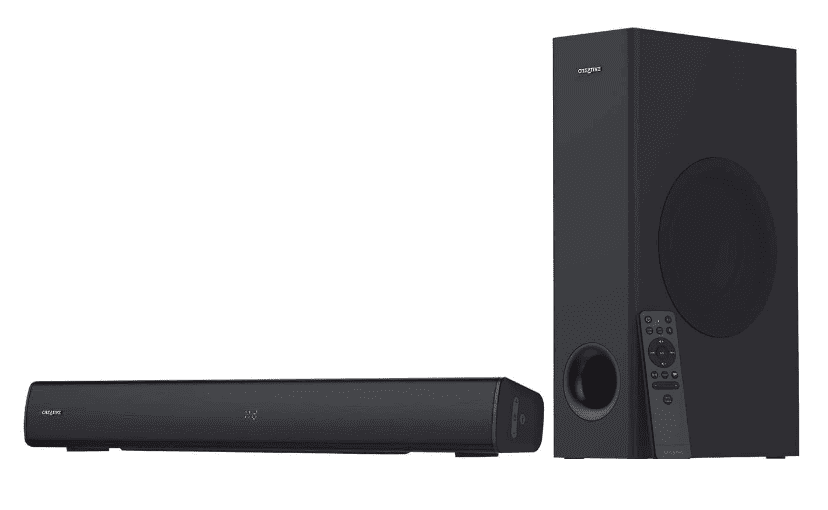 This soundbar offers excellent sound quality, many connectivity options, and compact dimensions. Powered by Sound Blaster technology, it will bring a cinema-like experience with an improved vocal and broader surround experience. The creative Stage V2 2.1 soundbar is equipped with a subwoofer in the package. This feature ensures the audio produced fills your entire room with deep bass.
Armed with many connectivity options such as TV ARC, optical, AUX, Bluetooth, and USB audio, this soundbar is a perfect entertainment system to pair with all your devices. You can listen to podcasts or music from TV, computers, mobile phones, and gaming consoles. It comes with remote control with the ability to do treble adjustment, bass setting, select audio modes, and control the audio track.
---
#2 Roku Streambar Pro

Roku Streambar Pro is able to produce crisp and clear audio, rich music, and dynamic. What makes it unique, the Roku Streambar has a built-in streaming device with 4K quality and access to almost all of the streaming channels. You can enjoy the cinematic sound quality with the expanded frequency range and dynamic bass featuring Dolby Audio technology. Engineered within the Roku OS advanced audio, the volume and speech clarity is improved to add depth to your music.
This soundbar can be paired with almost all Bluetooth-enabled devices. It is also equipped with a TV entertainment feature, such as remote control and voice control. A private listening feature allows you to plug the included headphone into the voice remote, so you can hear louder without disturbing others. The Roku Streambar Pro soundbar comes in 32.2 L x 3.9 W x 2.8 H inches (81 L x 9.9 W x 7.1 H cm) dimensions.
---
#3 RAZER Leviathan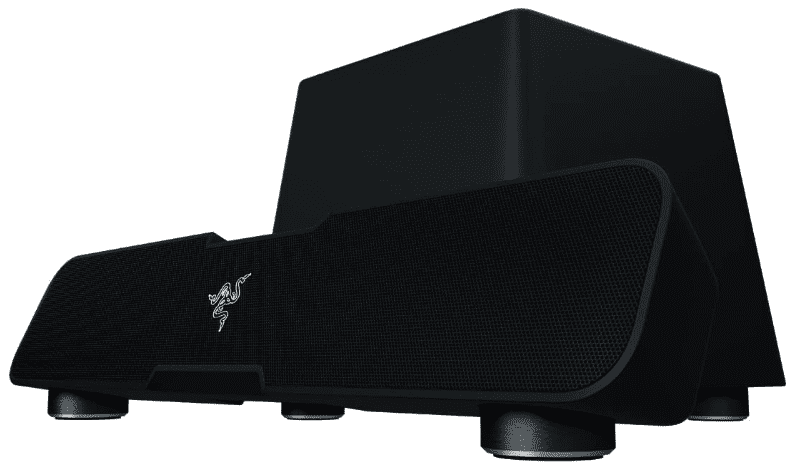 Razer Leviathan is designed to deliver outstanding audio quality for gamers. Designed to be compact, this soundbar can easily fit under any desktop computer, TV, or console setup. Its immersive 5.1-channel surround sound with 4 finely tuned drivers for gaming and movies offers a rich and true-to-life experience. To pair with your device, it is equipped with Bluetooth 4.0 with aptX technology, making the audio quality as stable as a wired connection. The connection range is claimed for up to 10 meters/30 ft.
This product comes with a powerful 5.25-inch (13 cm) downward-firing subwoofer that provides accurate bass reproduction and is distortion-free. Utilizing the power of Dolby 5.1, the Razer Leviathan will convert audio from your sound card into an incredible virtual surround sound stage. Moreover, equalizer presets are available and tuned for gaming, movies, and music. These presets allow you to choose the correct settings quickly with a push of a button.
---
#4 Creative Stage Air
This soundbar will perfectly fit under your monitor since it has a compact size of 16 x 3 x 2.75 inches (410 x 78 x 70 mm). It is equipped with a USB hub to provide a clutter-free connection in your desk setup. This soundbar comes with a dual-driver oversized passive radiator and offers crystal-clear highs and deep bass quality without a subwoofer. The Creative Stage Air produces impressive audio to entertain your room.
Creative Stage Air has dual connectivity mode that allows you to use wireless Bluetooth or wired via a 3.5 mm aux port. It can be used as a standalone music player using a USB storage device without turning your computer on. With battery capacity for up to 6 hours of playtime on a single charge, this soundbar offers portability and flexibility without connecting it to any power source. Stage Air also offers tactical control with the addition of volume and operation buttons on the soundbar side.
---
#5 Monoprice SB-100 2.1-ch Soundbar

The Monoprice SB-100 Soundbar is a good option for you who are looking for a budget-friendly soundbar with decent sound. It has four DSP-tuned drivers with an 80-watt of power rating, providing clear and powerful sound. It also has integrated subwoofer packs to give even more immersive audio. Its compact design with a built-in mounting bracket makes it easy to place in your room.
This soundbar offers versatile connectivity where you can pair it with your TV and home theater using digital optical, digital coaxial, or 3.5mm analog inputs. It can also be connected to Bluetooth-enabled devices through its Bluetooth connectivity. Three EQ presets are available to help you find the best setting for your taste. Plus, you will get a remote control included in the package that allows you to control the audio track, adjust the volume, access the and EQ setting right from the comfort of your seat.
---
#6 LG SL5Y Soundbar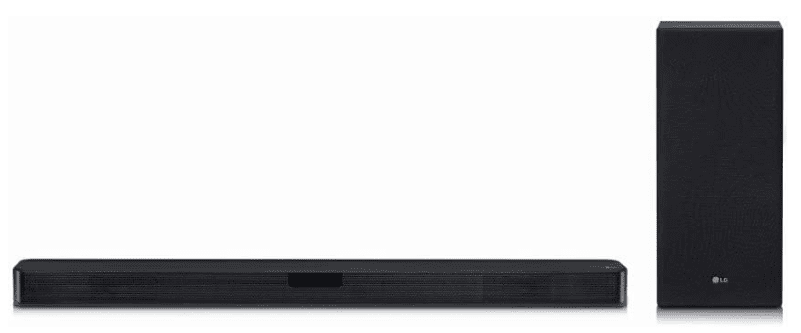 This product from LG is another fantastic soundbar option that can fit with your home theater setup and computer. It has the ability to deliver audio with surround sound of 2.1ch DTS Virtual: X. You may connect it wirelessly with a mobile phone, TV, or other Bluetooth-enabled device using Bluetooth 4.2 connectivity. LG SL5Y has an elegant and minimalist design, which can bring an aesthetic look to match your interior.
LG SL5Y soundbar has leading audio processing technology providing sound quality that surpasses CDs and allows you to enjoy as close as the original sound. It is claimed that this soundbar can produce audio that is heard such as coming from every direction. Moreover, the soundbar system automatically delivers the ideal sound level to create the best setup for different genres or audio types.
---
#7 Sony HTX8500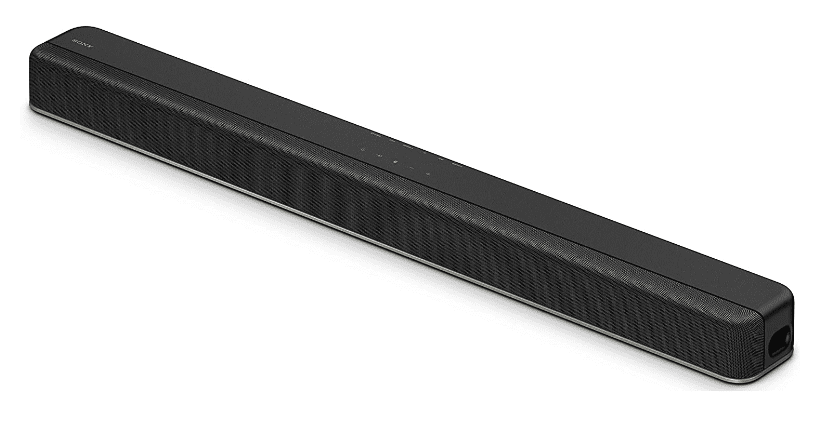 Sony HTX8500 is a perfect soundbar option for you who are looking for high-quality sound. This product supports the Dolby Atmos/DTS X technology with Sound Engine. It allows this soundbar to deliver a virtual effect that is similar to seven or more speakers pointing at you from different directions. It has dual built-in subwoofers on its system to give you a powerful and deep bass experience.
This soundbar has seven sound presets for an enhanced audio experience with greater clarity for gaming, watching movies, or listening to podcasts. It has slim dimensions to support your computer without messing with your desktop. Sony HTX8500's soundbar has one HDMI input, one optical audio input, one HDMI output, and a USB port. Since it is equipped with Bluetooth connectivity, you can pair it up with mobile phones, tablets, laptops, and other Bluetooth-enabled devices.
---