Welcome to the modern era where ergonomics matter in every activity, including typing. You may have heard about the ergonomic type of keyboard, but have not tried it yet. A regular keyboard puts your fingers, arms, and wrist in an unnatural position when typing. This can cause fatigue in a short period or even injury.
Unlike the regular type which has a flat and rectangular design, the ergonomic keyboard usually has a curved and unique design. An ergonomic keyboard offers more neutral typing positions that are able to reduce muscle stress. It can give a more comfortable typing experience, especially for a longer typing period. They come in many shapes, sizes, and configurations, and there are a lot of options that can be chosen.
Here are some of the best ergonomic keyboards that will boost your productivity.
#1 Kinesis Freestyle Edge RGB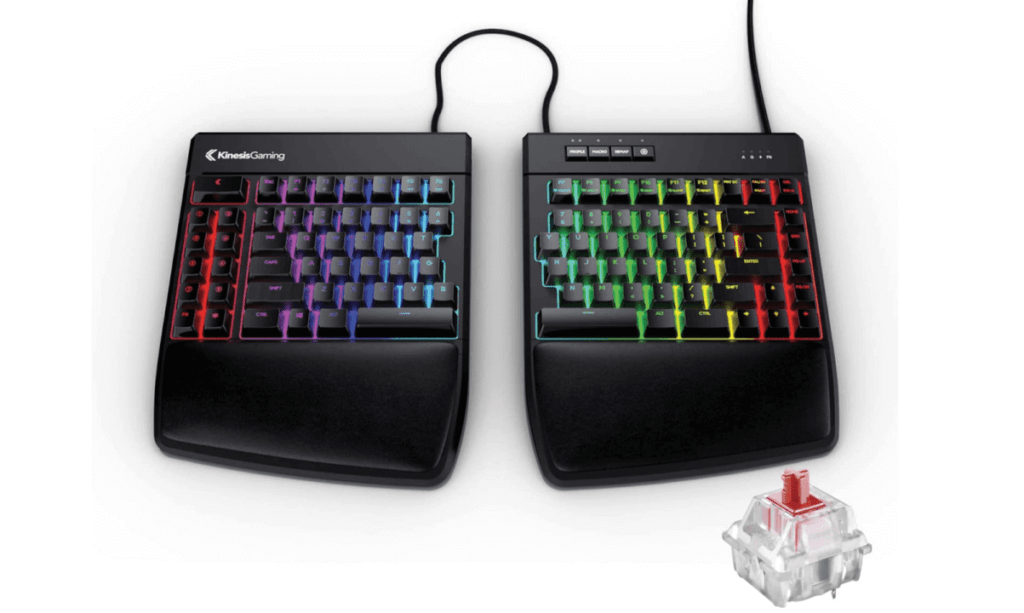 The Kinesis Freestyle Edge RGB keyboard comes with a fully split design and responsive Cherry MX mechanical keys. It is equipped with an adjustable keyboard tent feature for 5, 10, or 15 degrees angles. Since it has two separate parts of the keyboard, you can move and set the best position for your hand, either close together or far apart.
This keyboard is completed with eight extra keys on the left that you can program for macros, as well as the Fn key and a key to toggle the keyboard's backlight. It also has immersive RGB lighting for a custom look. You can select any provided RGB preset such as wave, spectrum, rebound, pulse, and much more. All of the 95 keys are fully programmable. This Kinesis keyboard is compatible with Windows, Mac, Linux, and Chrome.
---
#2 Microsoft Sculpt Ergonomic Keyboard
If you are looking for a keyboard with an ergonomic design but don't want to spend too much, you may consider this Microsoft Sculpt Ergonomic keyboard. It comes with a partial split design, a slightly tented, negative slope, and a cushioned palm rest space to put your wrist in a more ideal typing position.
This keyboard can be paired via a 2.4 GHz wireless USB dongle, so you don't have to deal with the annoying wires typical of fully split ergonomic keyboards. You can feel that this keyboard provides a more comfortable feel to be used for longer hours than the traditional type. Microsoft claims that its natural arc key layout mimics the curved shape of the fingertips for maximum comfort.
---
#3 Logitech ERGO K860 Wireless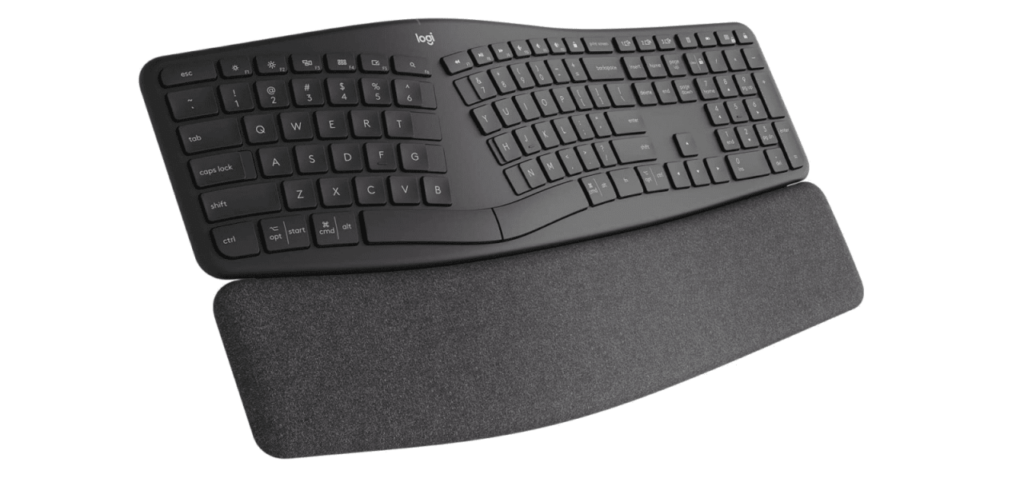 The Logitech ERGO K860 Wireless is a kind of unique keyboard where every piece of the button is aligned in a curved line. It comes with a curved shape and negative angled design to keep your wrist in a natural and more comfortable position. The split-design keyboard with incline settings is able to minimize stress on the user's hand and wrist. Plus, this keyboard is equipped with a wide wrist support.
Logitech ERGO K860 uses scissor switches inside the board, instead of mechanical switches to improve great typing quality. The typing noise is reduced, so you will not be disturbed by any typing activities. It can be paired with Mac and Windows devices wirelessly using the USB receiver or Bluetooth.
---
#4 Kensington Pro Fit Ergo Wireless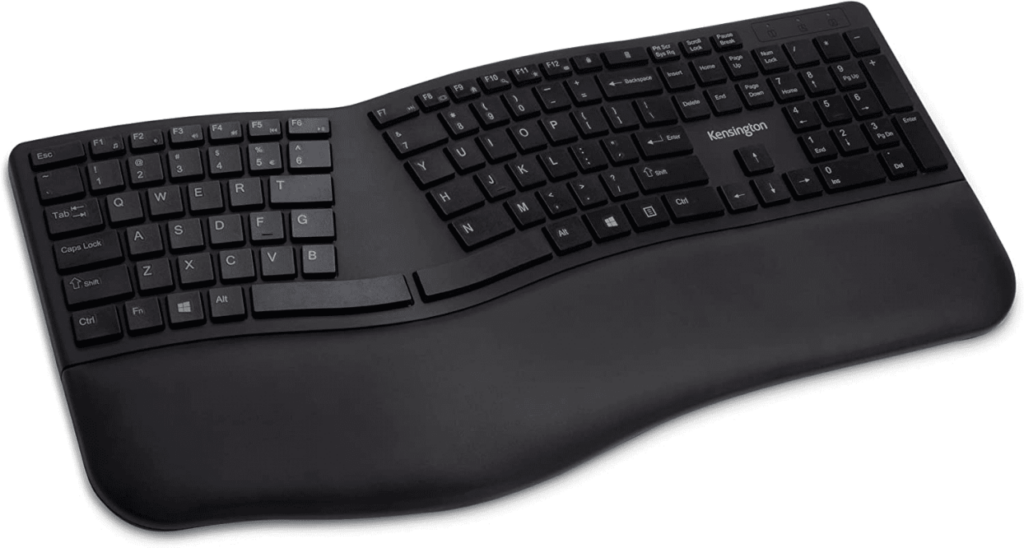 This keyboard from the Kensington brand adopts the higher-end ergonomic type of keyboard, but with more budget-friendly. It has a split design, sloped keyboard, adjustable reverse tilt position, with a curve in the middle allowing the hands to get an easier distance to operate the keys. It is also attached with plushy wrist rest on the bottom side.
Kensington Pro Fit Ergo uses rubber dome switches, providing a light typing experience. Comes with the MIL-STD-810H Method 504.3 standard, this keyboard is spill-proof and easy to be cleaned up; It has Dual wireless connectivity with 128-bit AES encryption security that delivers the flexibility of 2 4 GHz and Bluetooth 4.0 LE with Government-grade encryption. Using the three-mode power-saving switch, you can toggle between 2 4GHz, Bluetooth, or switch it off to optimize the battery life.
---
#5 Cloud Nine C989M Ergonomic Keyboard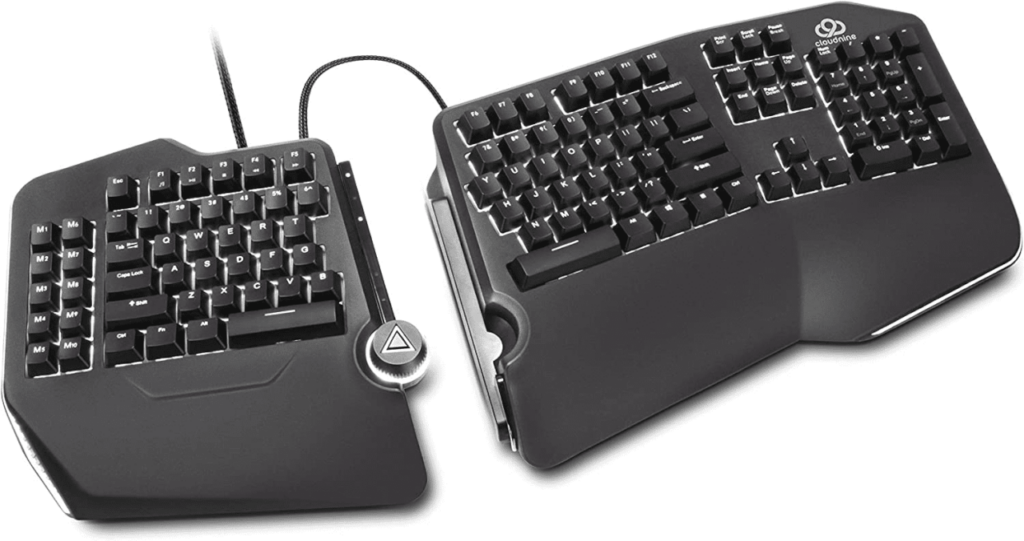 This keyboard features a fully split design, which allows you to break it into two pieces and create your own preferable layout. Each of the keyboard parts has 7 degrees of tenting and can be separated for up to 6 inches (15 cm) apart. This helps to eliminate wrist and shoulder pain while you type by keeping your hands and arms properly aligned. It comes with RGB backlit keys that ensure all characters are illuminated and easy to read.
The left-hand side has a media wheel for adjusting volume, dimming keyboard backlighting, or changing the lighting on your keyboard. It is also equipped with a USB passthrough feature for connecting other peripherals as well as Cherry MX mechanical switches for accuracy and durability. It's compatible with Windows, Mac, and Linux computers. This keyboard has its own software that allows you to set custom RGB lighting schemes.
---
#6 Kenesis Advantage 2
The Kenesis Advantage 2 keyboard has a steep and curve design that offers comfort and convenience, especially for programmers. Even though it is not a full split type of keyboard, the keys are separated into two sides and are nestled into a concave area. It also has a 20 degrees tented design and integrated palm supports to provide a more natural wrist and forearm position.
This keyboard features Cherry MX Brown switches for improving typing accuracy and durability. It has the ability to remap keys for custom layouts and macro recording. It is also compatible with Windows, Mac, Chrome, and Linux operating systems. You just have to plug in the keyboard and start typing.
---
#7 Microsoft Surface Ergonomic Keyboard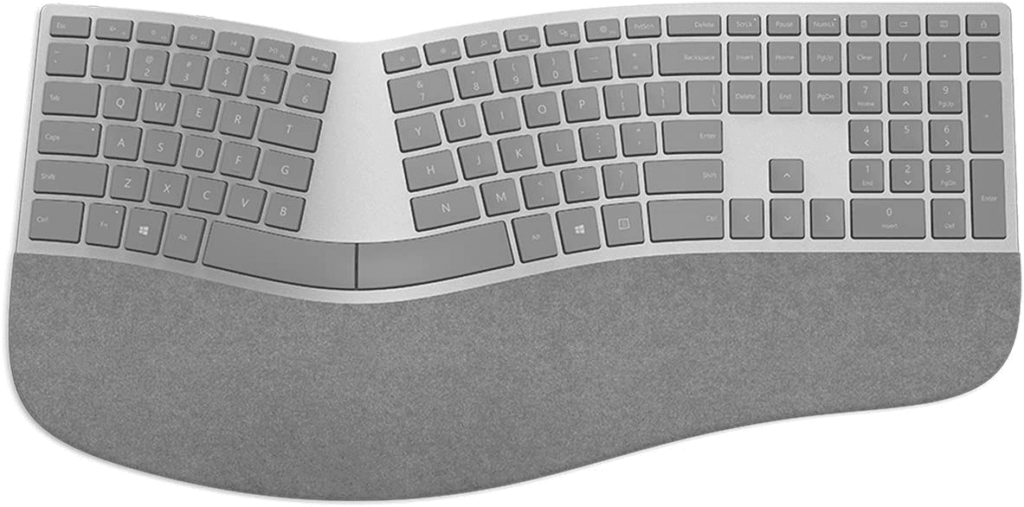 This Microsoft Surface keyboard offers protection for your hands and wrists through its keycap geometry, split spacebar, and a more natural design. The build quality provides excellent stability to be used on nearly any surface. Its key sound, stiffness, and texture provide a stable and quiet typing experience with an optimized grip. Carefully crafted, this keyboard's optimized feedback and return force is able to prevent accidental presses and allow consistent typing.
Utilizing Bluetooth 4.0/4.1 connectivity, this keyboard is powered by three AAA batteries with a 12-month lifespan. The Surface keyboard is wirelessly compatible for up to 32 feet (9.7 meters) away from your device. Its double-cushioned palm rest uses a special and ultra-durable version of Alcantara, a unique material with aesthetic, sensory, and durable quality.
---
Switching from using a conventional to an ergonomic keyboard may need several times to adapt. As you know, this ergonomic keyboard has a different layout and sometimes comes with a fully split design. Your finger muscle definitely has to rearrange its memory to be able to type quickly again. Ergonomic keyboards tend to be more expensive than the average rectangle model. But its effect on our posture and typing comfortability is worth buying.