Shifting from different time zones, daylight hours changing due to seasons change, or taking a long-distance trip may affect the human body. These phenomena can drain people's energy and disturbs mood. Some cases can be more serious such as sleep issues and loss of focus.
Therapy lights or therapy lamps are a treatment device to help people that are suffering from seasonal affective disorder (SAD), sleep issues, mood swings, or jetlag. It adopts the shape of a regular table lamp but is designed with a specified brightness level. Some research has been conducted about the correlation between lighting exposure with serotonin production, "the happy chemical" in the body. It is shown that a lamp with sufficient brightness can boost this hormone to improve our mood.
Dimension, design, and brightness specifications matter before you decide to buy a therapy lamp. You definitely don't want to have a huge lamp that takes up too much space and doesn't look good in your room. A good therapy lamp generally should be able to produce 10,000 lux of light exposure. It is also a good point if the lamp supports the brightness settings to meet the user's preference.
Here are some of the best therapy light recommendations.
#1 Verilux HappyLight Light Therapy Lamp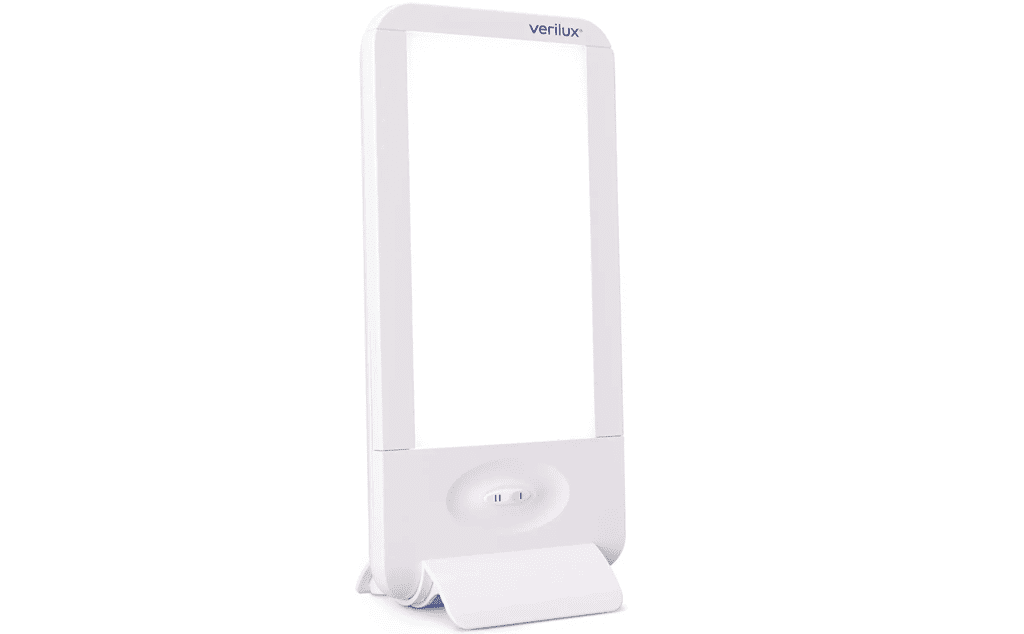 The Verilux HappyLight Light Therapy Lamp has the ability to deliver 10,000 lux of light at its maximum brightness level to provide effective and natural light therapy. You can adjust your preferred brightness level since it comes with two levels of exposure level setting, the brighter one and the dimmer exposure level. It also has 2 interchangeable lenses, a detachable stand, and wall mount features.
Comes in 4″D x 6.25″W x 12.5″H dimension, this lamp doesn't take to much space on your table, desk, or nightstand. Plus, it has an adjustable base that makes it easy to set the angle. By using HappyLight, your body energy will get enhanced, allowing you to be alert and focused when you need it most.
---
#2 Carex Sunlite Bright Light Therapy Lamp
This therapy lamp comes with a simple design without too much cost, making it an ideal choice for those who want to experience the maximum light therapy benefit. The Carex brand offers an easy-to-use lamp where you just have to simply plug it in and press the front button. It is also easy to move around with its only 3.25-pound weight.
The annoying flicker light when using the ordinary fluorescent lamp can be eliminated since it is made of high-efficiency LEDs. It is also claimed to be UV-free, safe, end effective for therapy usage. The white diffusing lens can eliminate annoying glare and is able to distribute light evenly. With 10,000 lux of light, this lamp can help you with jet lag, shift work adjustment, sleep issues, or simply a mood booster.
---
#3 Lavish Home Sunlight Floor Lamp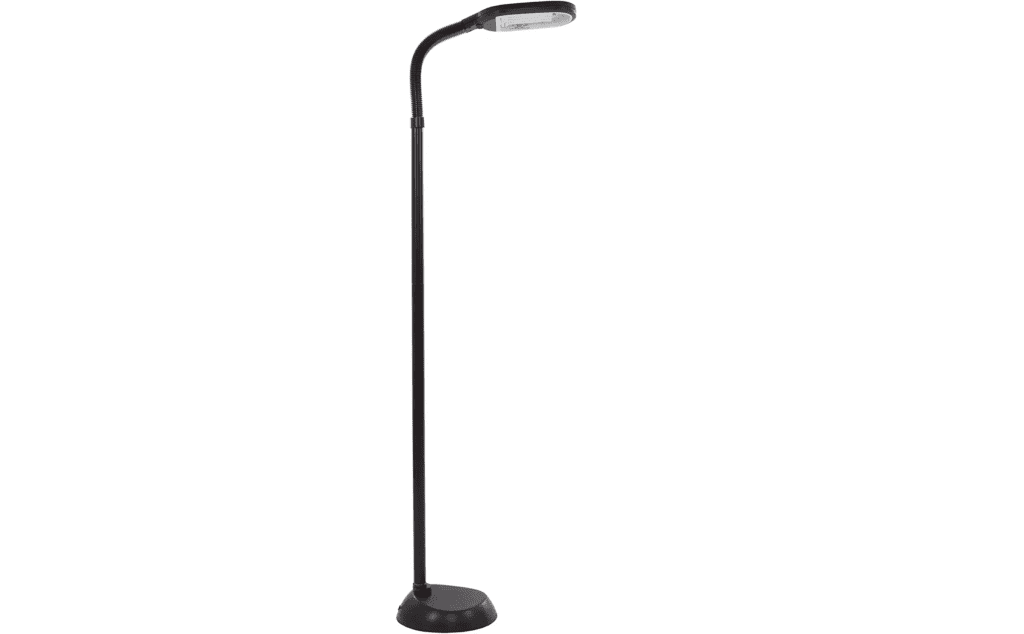 Made with modern lighting technology, the Lavish Home Floor Lamp is the best option for delivering good light diffusion across the room. Lavish claims that it can light up a room over 350 ft square (32,5meter square) since it has a bright overhead light, a tall height design, and a flexible adjustable gooseneck. This lamp comes with a unique and classical design, different from most ordinary light therapy lamps that are shaped like tablets or boxes. This lamp has a 9" D x 10" W x 55" H (22.8 x 25.4 x 140 cm) dimension and comes in 5 color variants.
Lavish uses 27 watts of bulb power rating, 6500K color temperature, and 1300 lumens. Its on/off switch is easy to reach without having to look directly at the light. It has only one brightness setting, you can't decide your preferred brightness, but it gives you the ease of use.
---
#4 Northern Light Technologies Boxelite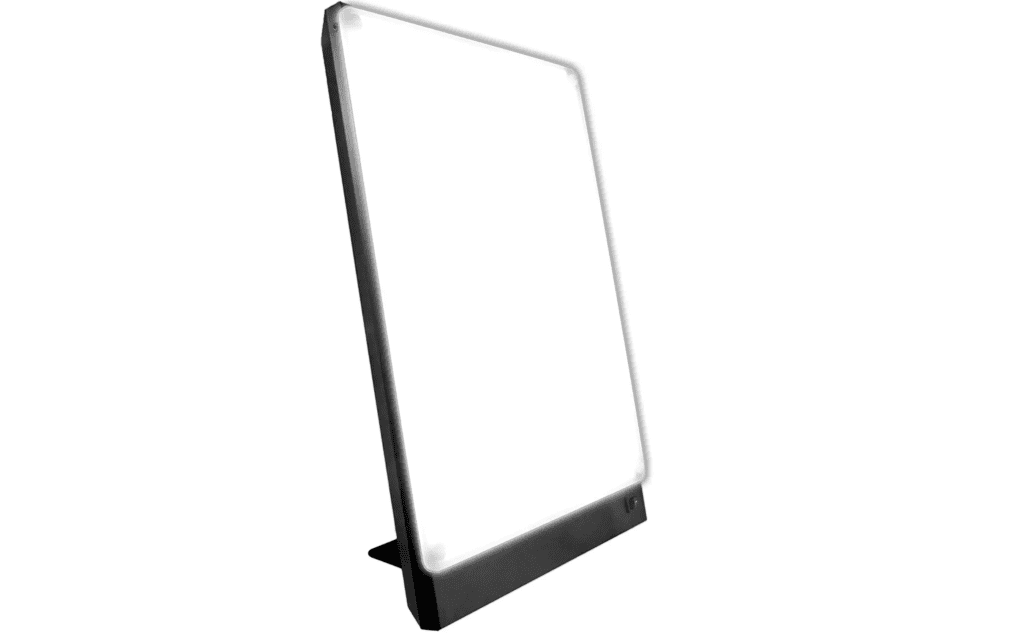 The Northern Light Technologies Boxelite is one of the widest surface areas of therapy lamps on this list, making it a great pick for a large room. A regular smaller lamp requires you to sit at a very close distance (typically 6 inches) that is absolutely not comfortable, while this lamp can be used at up to 14 inches distance. With 17 inches (43 cm) tall and 12.25 inches (31 cm) long, this lamp is slightly bigger than many regular lamps. It will be helpful when you need to diffuse lots of light around.
This lamp uses a fluorescent light source that is able to deliver 10,000 lux providing a bright and comfortable light that mimics natural sunlight. All of the UV light is filtered, making it a safe and effective happy lamp for optimal light therapy. Northern Light Technologies lamps are made with metal construction designed to last long. The light it produced can improve your overall mood and well-being anytime.
---
#5 Erligpowht Light Therapy Lamp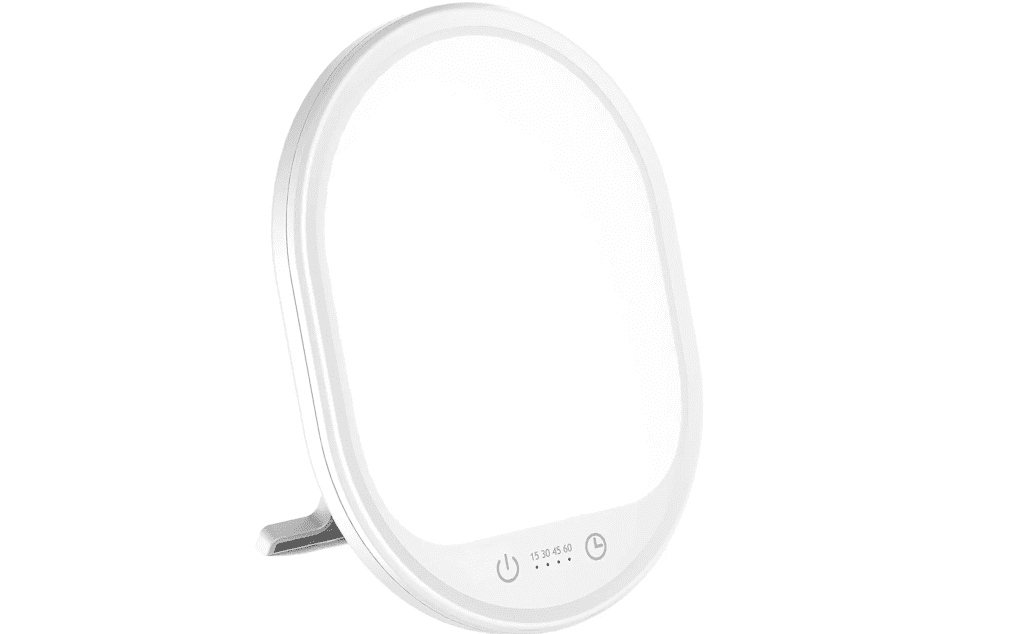 Light therapy can boost our mood at home, but it will be better if we can use this lamp in a hotel room or during travel. This lamp is so compact, helping it less bothersome to store and extremely convenient to carry. It is just 6.69 inches (17 cm) tall and 5.11 inches (14 cm) long that comes with a built-in stand that makes it easy to prop up.
This product comes with three basic operation buttons, which are a power, a brightness, and a timer button. It allows you to adjust the exposure level smoothly with its 3 brightness level adjustments. It comes with a 4-timer function (15 / 30 / 45 / 60 minutes), and it is ready to be your sleep partner. At its brightest setting, it can deliver 10,000 lux of light.
---
#6 Sunrise Sensations DayBright Light Therapy Lamp
You may think that this lamp is just an ordinary home decoration instead of a therapy lamp at first glance. Comes with a pentagonal shape, it is able to project the light across the entire room. Made from a real FSC-certified wood material (not wood-colored plastic), this lamp gives your room a natural and elegant design.
This product has multiple level brightness settings features that you can adjust starting from 5,000 until 10,000 lux. Not only that, it also supports color temperature adjustment to provide a warmer or cooler style of light. Moreover, you will get a remote control to adjust the brightness or color warmth wirelessly.
---
#7 Carex Day-Light Classic Light Therapy Lamp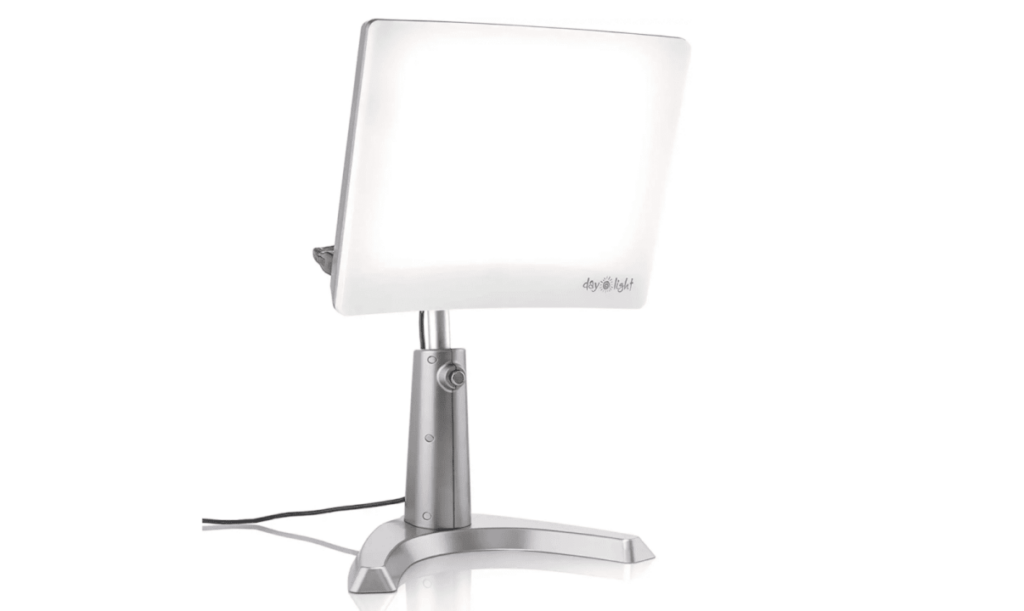 Comes in 12" D x 15" W x 13" H (12 x 38 x 33 cm) of dimension, this therapy light has a quite big size compared to the others. While it is still considered as a table lamp, it is not easy to store or place on the table. Even so, its large size has its own advantages where it is able to deliver a lot of light and higher energy to you. This lamp provides the recommended 10,000 LUX of glare-free white light for therapy usage. Comes with two-level brightness adjustments, and you can find the best suit light intensity that you need.
The Carex brand claims that this lamp meets all of the criteria set by the Center for Environmental Therapeutics for clinical light therapy. It is safe and comfortable to use since it can block 99.3% of UV as recommended by experts for maximum effectiveness. Turn it on and get ready to raise your mood, improve your sleep quality, recover from jet lag, or boost your low energy.
---