Are you tired of carrying around bulky power banks that weigh you down? Do you want a power bank that is slim and lightweight but still packs a punch? We know how important it is to stay connected to the world around us, and we also know how frustrating it can be when your devices run out of battery.
That's why we've put together a list of the 6 thinnest power banks that are perfect for people who are always on-the-go. These power banks are not only sleek and stylish but also provide enough juice to keep your devices charged all day long.
But before we get into that, I want to tell you the basic of power bank sizes and why it matters when choosing the right power banks for you.
Table of Contents
What dictates the size of power banks?
The size of a power bank is determined by how much power it can store. This is measured in milliampere-hours (mAh) or watt-hours (Wh). The higher the capacity of a power bank, the more power it can store and the larger it will be. Think of it like a water bottle – the bigger the bottle, the more water it can hold. Similarly, the bigger the power bank, the more power it can hold.
However, it's important to note that the size of a power bank doesn't always correspond directly to its capacity. Some power banks are designed to be slim and lightweight, while others are bulkier but have more features like multiple ports or fast charging capabilities. So, thinner power banks may come with a smaller capacity and less features in favor of high-portability and keeping the overall weight minimum.
Now that we have established the basic, I can start showing you some of the slimmest power banks that you can get today.
Thinnest power banks available today
The most lightweight: ChargeCard 2300mAh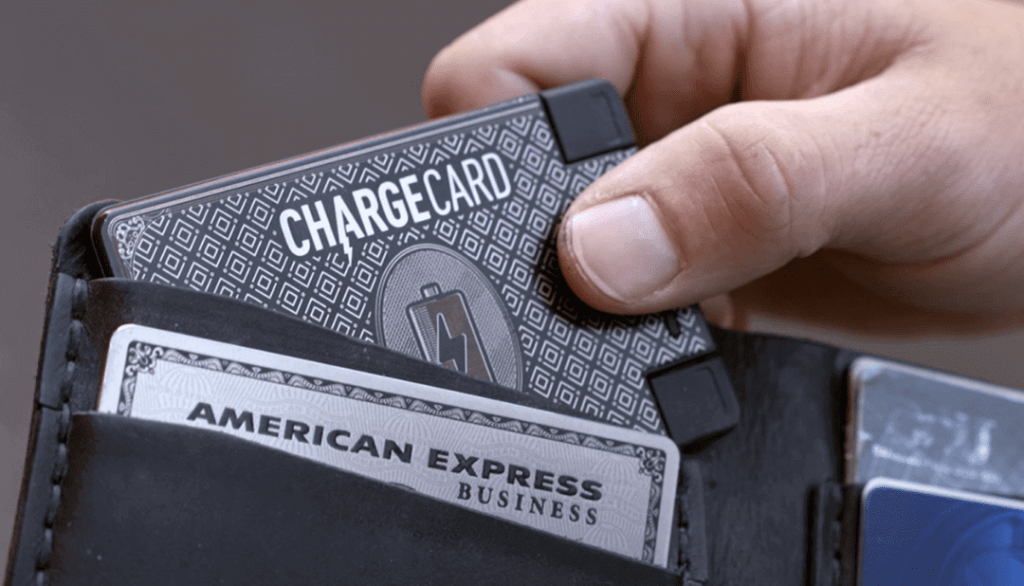 ChargeCard is an ultra-slim power bank that is about the size of a credit card. It's sleek and slender design allows it to fit easily in your pocket, backpack, purse, or even your wallet. You can take ChargeCard with you on every adventure without the bulky weight of a common portable battery bank. It measures just 3.3″ x 2.2″ x 0.18″ (8.4 x 5.6 x 0.5 cm) and weight 2.1 oz (59.5 grams) and has a battery capacity of 2300mAh/1.5A which provides additional power to your everyday gadgets.
ChargeCard includes Lightning, USB-C and Micro USB cables so you can charge your iPhone, iPad, Android, or other wireless devices quickly and efficiently. With the power indicator lights you'll always know how much juice is left in your ChargeCard. Plus, its stainless steel design not only looks good but it protects the power bank from potential damage and scratches.
---
The thinnest: TNTOR Ultra Thin 2500mAh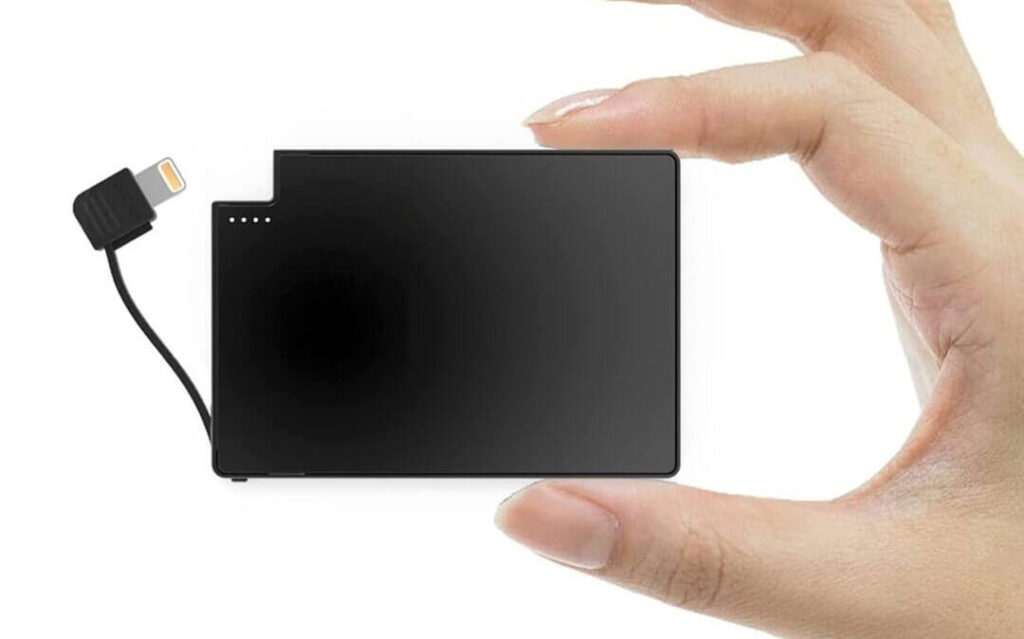 This credit card-sized power bank is super slim, measuring 3.54 x 2.52 x 0.16 inches (about 9 x 6.4 x 0.4 cm) and weighing only 2.34 ounces (66.5 grams)! But don't let its size fool you – this little guy has a 2500mAh battery capacity, which means it can increase your phone's battery life by up to 80% with a full charge.
Additionally, it comes with a built-in cable so you won't have to worry about carrying an extra charging cable around. This power bank is perfect for people who want a backup battery that's easy to use and won't take up too much space in their pocket or bag. And with its simple yet stylish design, it'll look great wherever you take it!
---
Recommended size: Auskang Ultra Thin 5000mAh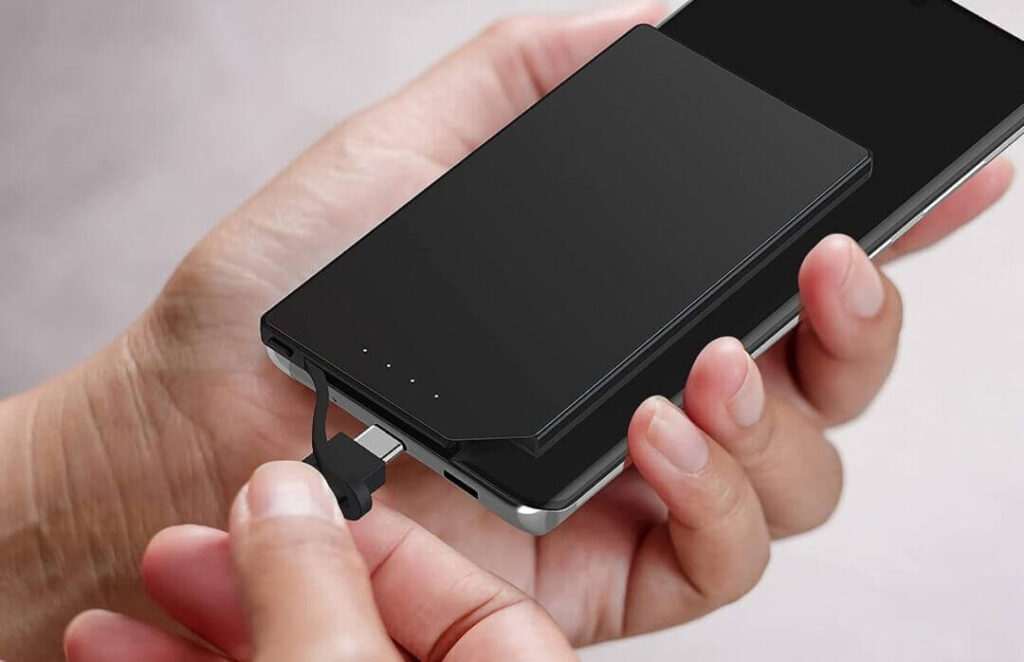 This is a 5000mAh portable charger with built-in data cable that supports all types of C devices. It has a slim, compact, pocket-sized design and weighs of just 115g. It is lighter and smaller than any other power bank of the same type on the market. The power bank has a dimension of 66 x 123 x 6 mm which is smaller than most smartphones, except maybe Palm Phone.
Auskang specializes in ultra-thin electronics and incredibly portable chargers. Their products are designed to be extremely light and slim for everyone's daily use. This power bank is perfect for users who are looking for high-portability and want to take it anywhere they go without feeling weighed down. This is the best thin portable charger that is can almost fully recharge most modern smartphones.
---
Fully recharge smartphones: TNTOR Slim 10000mAh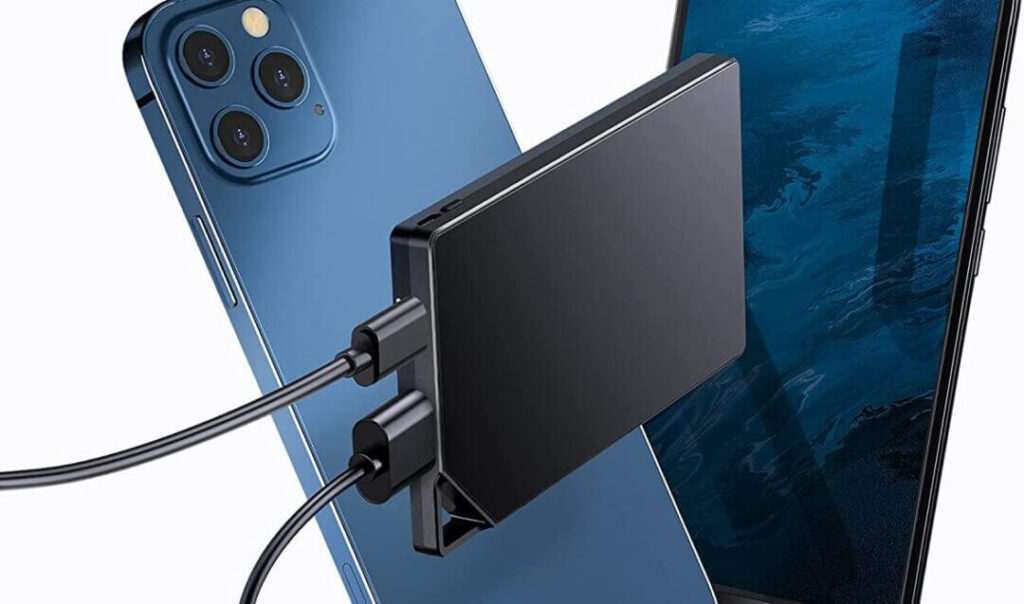 This TNTOR 10000mAh power bank is ultra-light and small, weighing only 6.1 oz and measuring 4.84 x 2.6 inches. It's only 0.35 inches thin, making it easy to stow in your pocket or wallet. The triangular buckle design allows you to fasten the keychain to the power bank, making it very portable for travel and business trips.
You can recharge it anytime and anywhere. It's compatible with iPhone All Model, Samsung Huawei Xiaomi HTC, etc., all Android phones. It has a high-performance battery that can charge 2.2 times for iPhone X, 2 times for iPhone 13, and 2.3 times for HuaweiP10. By the way, this also happens to be the thinnest 10000mAh power bank in our list.
---
Faster charger: INIU Power Bank10000mAh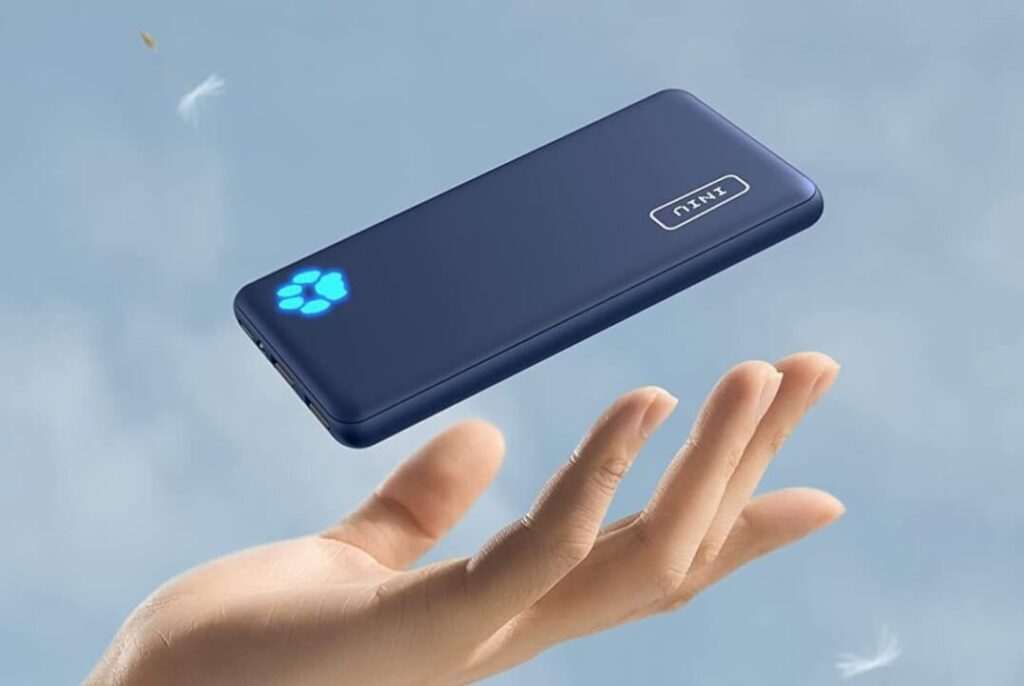 The INIU Portable Charger is a slim and lightweight power bank that weighs only 0.5 inches (1.27 cm) and 6.8 ounces (193 grams), making it easy to carry around in your pocket or purse. It has a 10000mAh battery capacity that can charge your iPhone 14 up to 78% in just one hour with its 3A fast charging feature. This power bank also has a USB-C In & Out port, which means it can charge all devices with your USB-C cables directly.
It has a unique 15-Layer SmartProtect system that shrugs off any unusual charging at the start, taking overheating risk and battery damage away from your devices. With its thinnest body, it is perfect for travel lovers who want to lighten their pockets while having enough power for a whole weekend getaway.
---
MagSafe compatible: Anker 622 5000mAh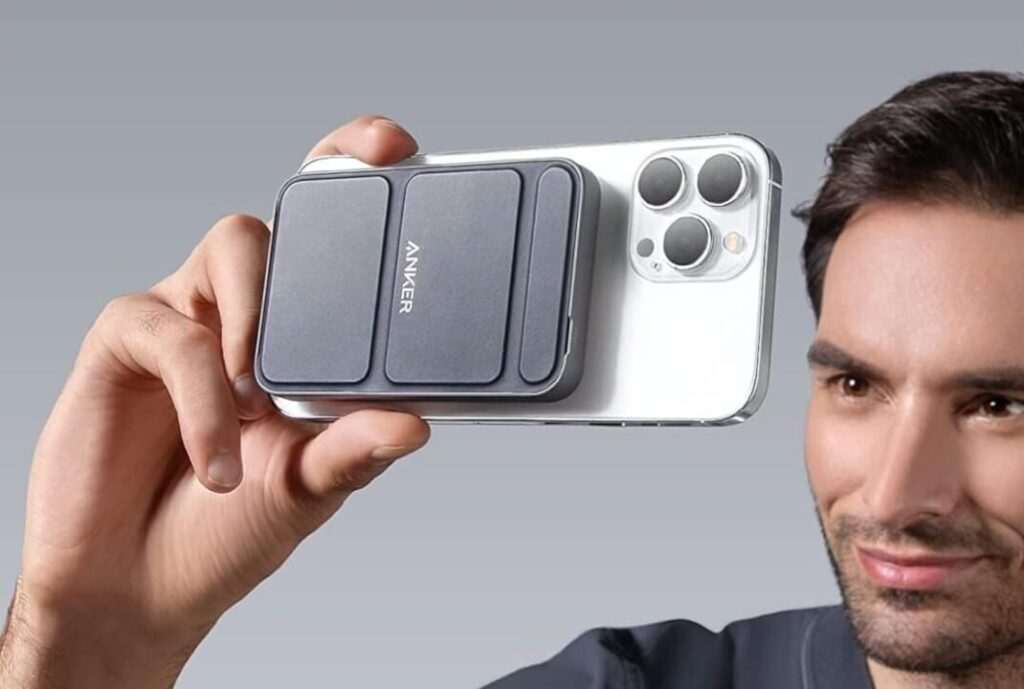 The Anker 622 Magnetic Battery (MagGo) is a sleek and slim portable charger that is only 0.5 inch (12.8 mm) thin. It is designed to be easily carried around and used single-handedly for calls, selfies, and more. The foldable kickstand feature keeps your iPhone 14/13/12 upright for a comfortable viewing angle. The super-strong magnet snaps magnetically into place to ensure perfect alignment and an efficient charge.
Anker's new Mini Cell technology reduces the size of the overall battery without compromising power and charging efficiency. The Anker 622 Mhas a battery capacity of 5000mAh and is compatible with iPhone 14/13/12 Series. It is arguably the thinnest MagSafe power bank available to purchase today.
---
FAQ
Which is the slimmest power bank?
From my research, TNTOR Ultra Thin Power Card is currently holding the number one place of the thinnest portable power bank with a thickness of just 4 mm centimeters and weighing 66 grams.
The second place is awarded to ChargeCard, a slightly thicker but much lighter with a thickness of 5 mm and weights 60 grams. Similar to TNTOR, ChargeCard is considered to be thin enough to be stored inside a pocket, purse, or even your wallet.
What is the thickness of power bank?
It depends from manufacturer to manufacturer but a lot of power banks today uses the 18650 battery cell which is 18 mm in diameter and 65 mm high. This means average power banks are at least 18 mm thick.
However, some products like Anker 521 and BioLite PD utilizing thinner cells to achieve a smaller physical dimension. But this battery cell is generally more expensive.
What is the lightest 20000mAh power bank?
As we established earlier, power banks are like water bottles; the larger its capacity, the heavier it becomes. But Anker 525 is probably the lightest 20000mAh power bank weighing at just 350 grams while similar products are closer to 400 grams.