As its name suggests, a wireless charger is designed to free you from messing around with tangled cables. Built with magnetic induction technology, you can easily charge your device up just by placing them in the charging pads or stands. It offers you pure convenience compared with the old wired chargers.
Even if it sounds like a modern invention, a wireless charger can often generate heat that leads to overheating caused by high wattage. To overcome this issue, now some brands introduced a built-in cooling fan in their wireless charger products. It can dissipate the heat better, protect your device, and maintain the battery life.
Here are some of the best wireless charger recommendations that are equipped with a cooling fan system for you.
#1 SAMSUNG 15W Wireless Charger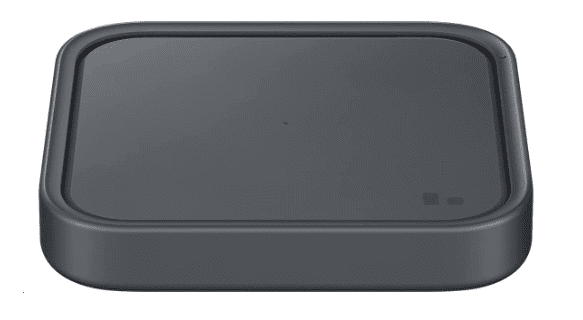 This wireless charger from Samsung is armed with super-fast charging technology. It enables you to charge your device using its 15 W rating quickly. It is also compatible with the USB PD and Adaptive Fast Charging travel adapters to give you convenience. A built-in cooling system with a fan provides direct heat dissipation while you are charging.
Samsung comes with a simple design and easy-to-use product, where you just have to place your device on it. It is equipped with different LED light indicators to show the charging status. The dimension is relatively compact, allowing you to bring it during travel without taking up too much space..
---
#2 VersionTECH. Wireless Charger with Cooling Fan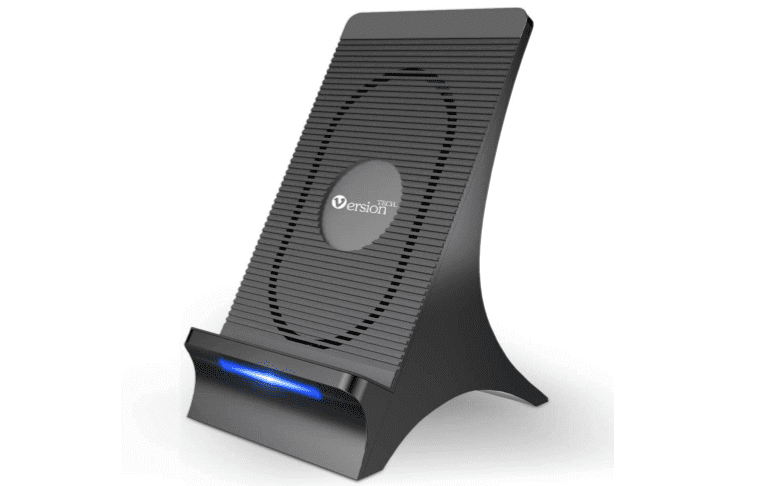 VersionTECH. Wireless Charger is specially equipped with a built-in cooling fan to reduce overheating phenomena while charging a device. It offers a full device protection feature from overcharge, overcurrent, and overvoltage. This product works with most phones with cases less than 5 mm wide. It comes with a high-speed charging mode and can deliver fast charging with up to 7.5 and 10 W ratings.
Two charging coils are provided inside this charger, giving you a wider charging area and faster speed, regardless of device position. As the charging indicator, it has an LED system to inform the charging status. In addition, this product can also be used for mobile phone bracket support. It will be perfect for watching movies, making video calls, and streaming. Its slip-resistant base makes the charger stable, so your phone will stay in position.
---
#3 SAMSUNG 15W Wireless Charger Duo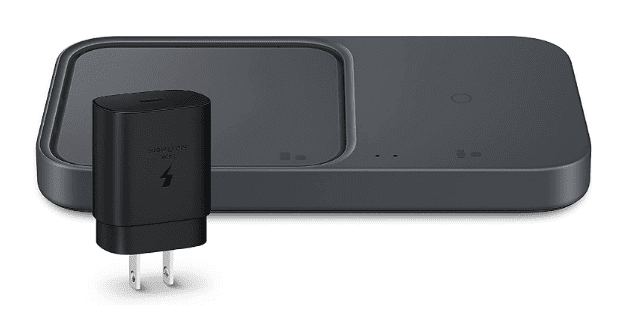 The SAMSUNG Wireless Charger Duo supports fast charging technology with its 15 W power rating. What makes this product unique is its multiple-device charging capability. It allows you simultaneously power up a pair of devices, such as a mobile phone with a smartwatch or earbuds. It has a direct cooling system that utilizes a cooling fan to reduce the heat generated.
This product offers convenience for wireless charging since it has a wide area. You just need to place your device, which will start charging automatically. Its size is pretty slim, smooth, and compact, allowing you to use it without taking up much space. This Samsung wireless charger has an LED indicator system to show you the charging status. You can also dim it off when whenever you want.
---
#4 Google Pixel Stand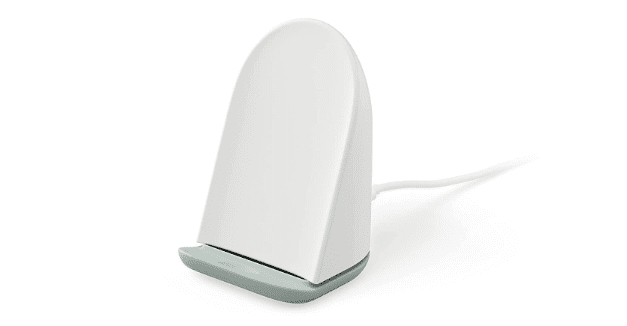 This is the 2nd generation of the Google Pixel Stand wireless charger. It can be used to charge up the Pixel 6 and Pixel 6 pro with the same power as when using the wired charger. It is also compatible with other Qi-certified wireless charging devices. Engineered with up to a 23 W power rating, this product offers a fast charging feature to support your daily activities.
The Google Pixel Stand is equipped with a built-in silent fan that keeps your device cool, especially when you do streaming or calling while charging simultaneously. Since it is integrated with the Google ecosystem, you can open Google Meet and Google Photo, check on Nest Cams, dim the lights, adjust the temperature, and also play music or podcasts. This product is claimed to be made with 39% post-consumer recycled materials.
---
#5 Anker 313 Wireless Charger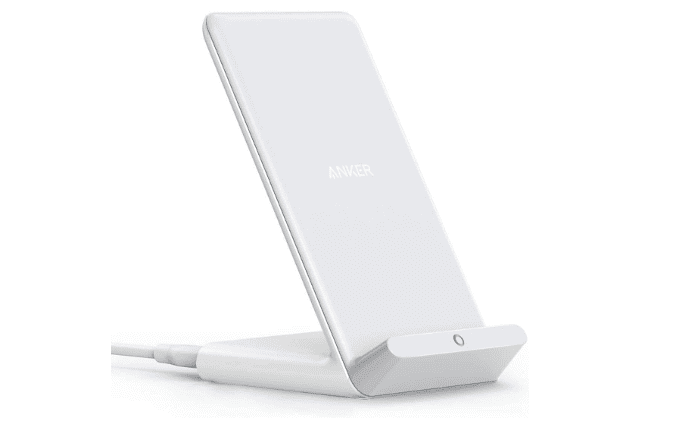 Anker Wireless Charger is geared with a high-efficiency chipset, providing a 10W high-speed charging feature. It supports portrait or landscape phone charging orientations, so you can stream videos or join a meeting simultaneously. This wireless charger is case friendly for rubber or plastic case materials less than 5 mm. It means you don't have to disassemble your phone case when you want to use this charger.
Anker uses the PowerWave technology, which will automatically switch between 10W and 5W charging modes depending on the power needed by your device. Comes with the MultiProtect safety system technology, this charger is equipped with foreign object detection and short circuit protection giving you a safe charging experience. A built-in cooling fan system is introduced to control the temperature from overheating. You will receive the Anker 313 Wireless Charger, 3 ft Micro USB Cable, and welcome guide. Anker gives you a worry-free 18-month warranty.
---
#6 INIU Wireless Charger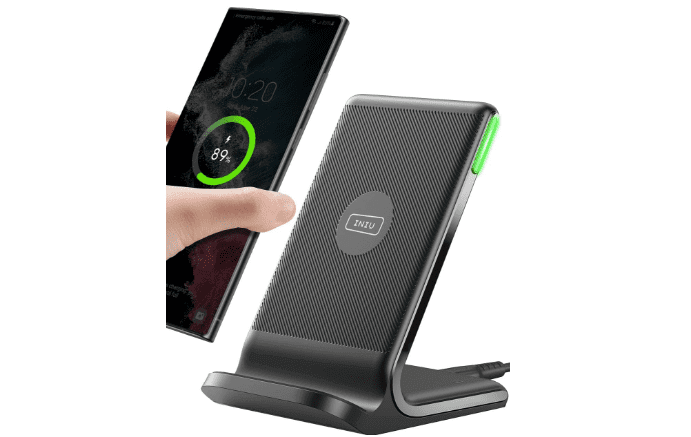 Experienced in producing charger products in the global market, Iniu offers the highest grade materials and safe charging with 3 year warranty period. It has a 15 W fast charging rating combined with the AirFuel technology. This product uses a self-adaptive LED system for the charging status indicator that can be bright during the day and dimmer in the dark, preventing it from disturbing your sleep.
In Wireless Charger is armed with a high-efficiency chip with four upgraded charging modes. It can automatically deliver the power needed by your devices. Its exclusive NTC TempGUard protection is able to control temperature smartly, in real-time, and silently to protect your device from overheating. It also supports portrait and landscape orientation, enabling you to watch videos, make calls, or meet while charging.
---
#7 Olixar Wireless Charger Stand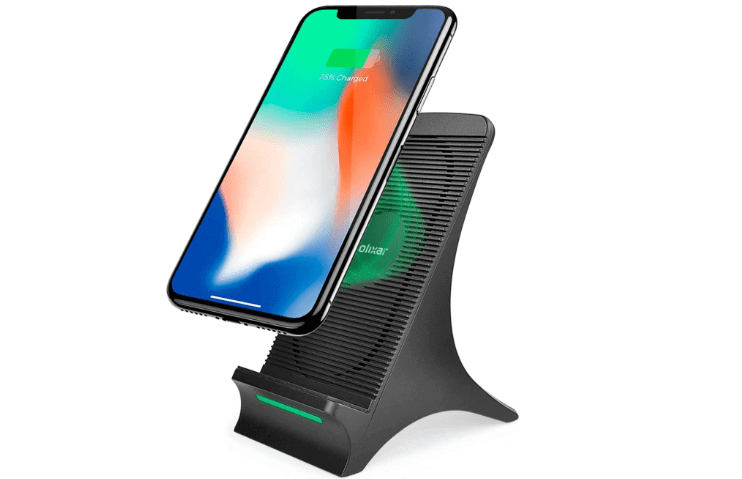 Olixar Wireless Charger Stand is built with a cooling fan that operates silently to protect your device from overheating. It can charge at impressive speeds of up to 10 W without compromising your battery's health. You can set your device either in landscape or portrait orientations, which is ideal for home or office usage.
This wireless charger stand can charge directly through protective cases made from rubber or plastic materials that are less than 5 mm in thickness. Olixar is equipped with an LED indicator for the charging status indicator at the bottom side of the charger. It will show blue light for the power indicator and green light when charging.
---
#8 DTZY Magnetic Wireless Charger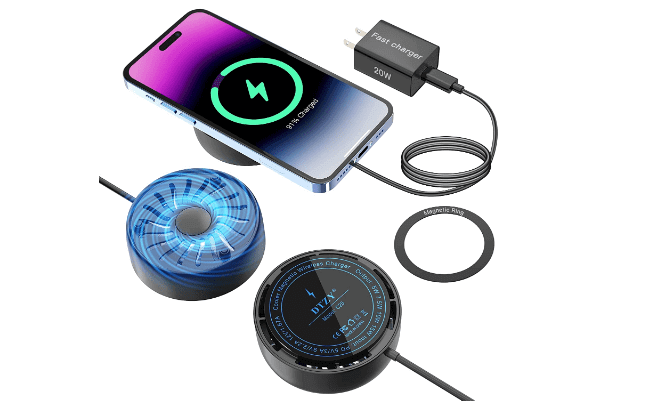 DTZY Magnetic Wireless Charger has a built-in fan and semiconductor cooling system that can cool your phone down quickly. With its 15W power rating, it can deliver a fast charging feature. The strong magnetic ring can make your device stick and fit perfectly. It is compatible with a wide range of mobile phone models, such as iPhones, air pods, and other phones that support wireless charging with magnetic rings.
DTZY Magnetic Wireless Charger has lightweight at only 50 grams and is specially designed for gamers. It has an excellent e-sports appearance with built-in ambient light to indicate charging status. It will show a red light when not charging and blue light when charging.
---