As we all know, productivity is essential for achieving our goals and completing tasks efficiently. In today's world, where we spend most of our time working on our desktops, it's crucial to have the right tools and accessories to enhance our productivity.
These items are all tried-and-true productivity boosters, and they've been selected with the needs of busy professionals in mind. Whether you're looking for a new gadget to improve your office comfort, a desktop organizer, or a time-management device, you'll find something on this list that can help you take your productivity to the sky!
How do I select these items: The whole process took me two days, but in the end, I curated products based on their function, design, features, as well as sentiment from reviewers. Some of these products may serve rather specific needs, but they are ultimately will help your day to day office tasks.
So, let's get started!
Table of Contents
Yeslamp Evo Natural Spectrum Desk Light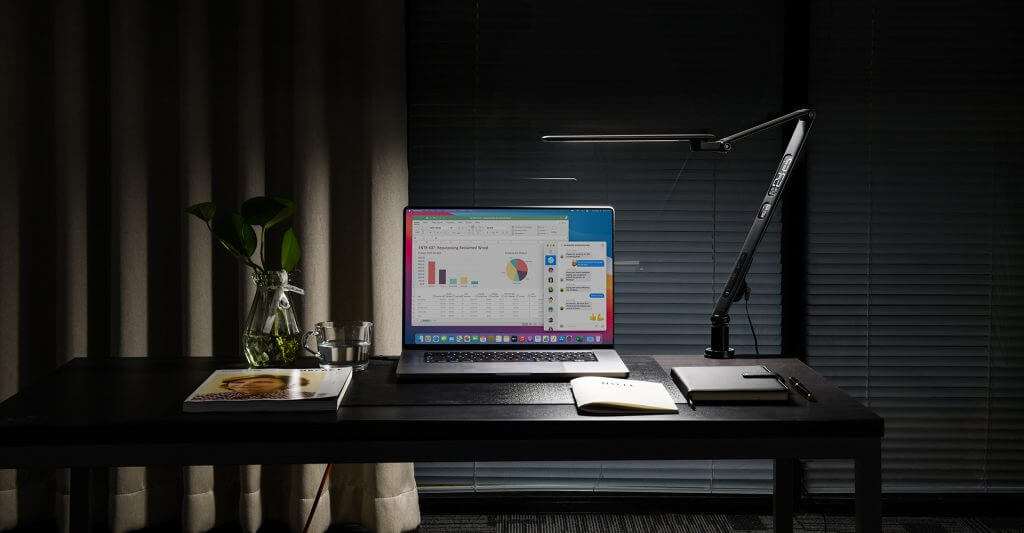 Upgrade your workspace with the Yeslamp Evo, an elegant desk lamp that's more than just a light source. With its three adjustable arms and six rotation axes, this lamp offers endless customization.
On top of delivering natural spectrum lighting, it also features a built-in dual screen with a calendar, alarm clock, thermometer, and hygrometer. Whether you're crafting, designing, or video conferencing, you'll always have the perfect lighting.
---
Ticktime Pomodoro Timer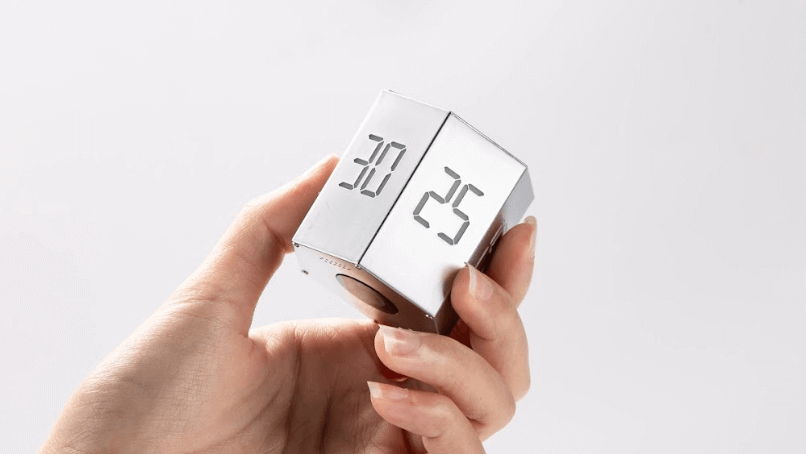 Ticktime is a must-have desktop gadget that will take your productivity to the next level. This compact device combines a timer, clock, and ambient light in one sleek design. With its customizable LED light strip and intuitive controls, you can easily set timers, manage your tasks, and create a calming work environment.
The best part? It comes with 6 preset timings that can be activated simply by flipping the timer. Whether you're working, studying, or simply need a reminder, this timer will help you stay focused and organized throughout the day.
---
Pout H4 Wireless Mouse Charging Pad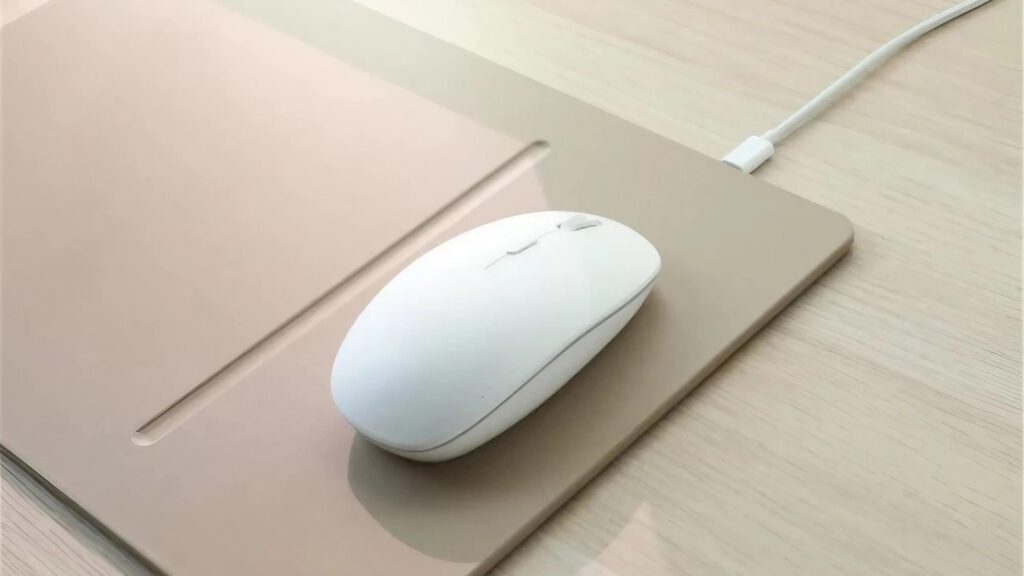 Wireless mice are great for flexibility and ergonomics, but recharging their battery can take quite some time. What if I told you that there is a wireless mouse with an "infinite" battery? Introducing the Pout H4, the ultimate tool for your desktop. With wireless charging capability, you can easily keep your mouse powered up without the hassle of tangled cables.
This ergonomic mouse is designed with your comfort in mind, ensuring a smooth and silent-clicking experience that won't disturb your coworkers. Finally, the sleek and minimalistic design adds a nice touch of style to your workspace.
---
RollerMouse Free3 Ergonomic Mouse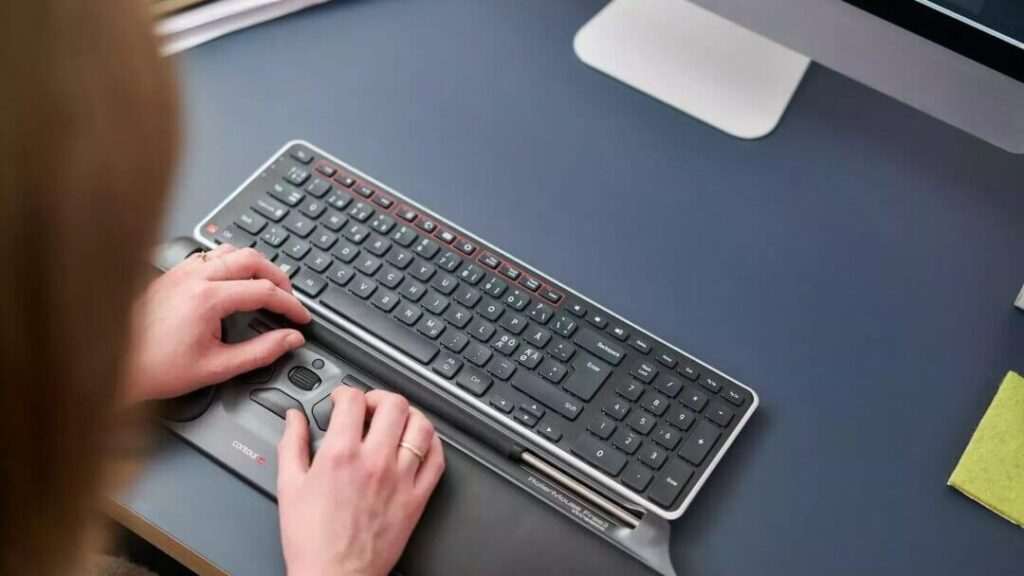 This desktop accessory looks unusual, but it might be the ebst mouse for you. Introducing the RollerMouse Free3, an ergonomic mouse designed to reduce movement and improve posture of both of your hands.
This innovative device features a patented Rollerbar that allows you to effortlessly control the cursor with your fingers and thumbs. With its ambidextrous design and customizable buttons, the RollerMouse Free3 offers a healthier and more productive work experience. Ultimately, it reduces repetitive strain injuries and increase your work efficiency.
---
MOFT Smart Desk Mat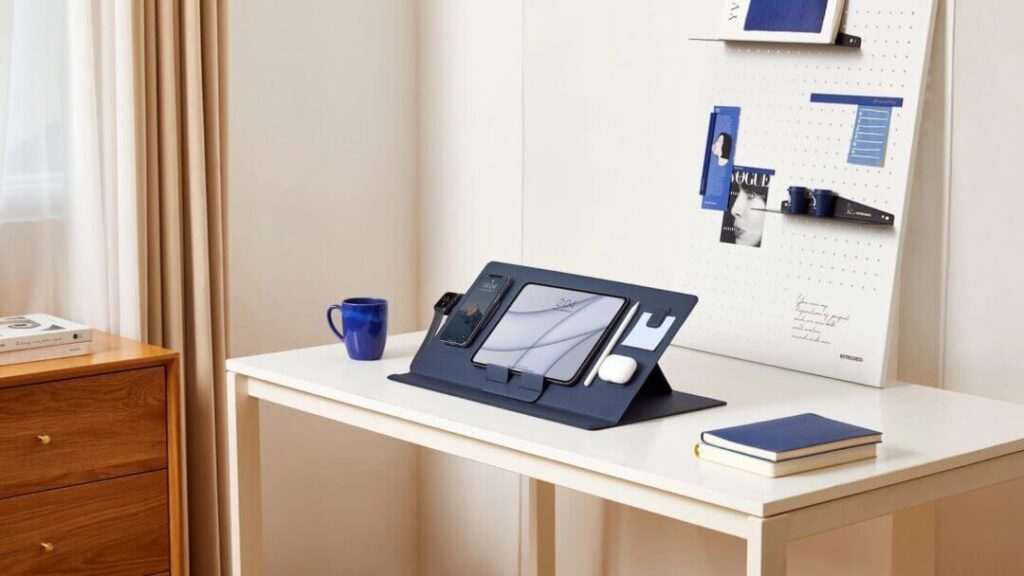 MOFT Smart Desk Mat combines a desk mat, stand, and organization board all in one sleek and compact design. With magnetic modular accessories, you can easily arrange and store all your work essentials for quick and easy access.
This accessory can elevate all your devices at once for a seamless multi-screen ecosystem and use the digital kit for tablet and phone to streamline your workflow. Plus, the mat is easy to clean and built to last, making it the perfect addition to any workspace.
---
Bestek Mountable Power Outlet
This power outlet from Bestek features all sort of features that would align to the style of modern and clean workspace. This compact device features 3 AC outlets, 1 USB-C 3A port, and 3 USB-A 2.4A ports, providing you with all the power you need right at your fingertips.
Its mountable design saves space on your desk as it can be attached at the top or below the table. Whether you need to charge your devices, power your accessories, or declutter your workspace, this gadget has the answer for all.
---
AmberPro Personal Cloud Storage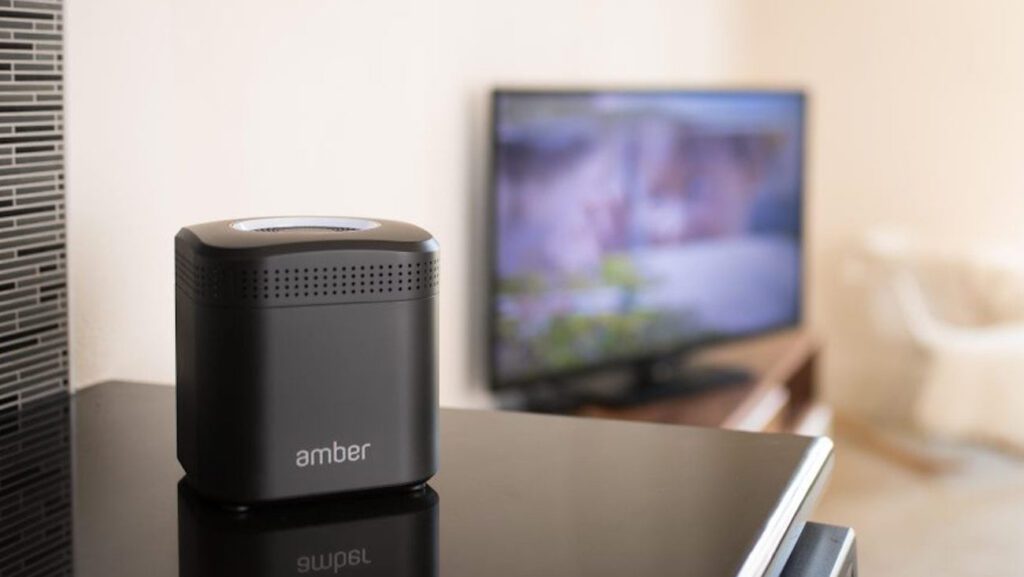 Tired of monthly subscription for a cloud storage? AmberPro might be the best solution for you. In a nutshell, AmberPro is the newest personal storage system from Amber X that lets you store your data privately, right from your home or office without the annoying subscription fee.
It can store up to 2TB of data and offers additional storage capabilities with its USB and SD slots. The device stays connected with the WiFi, so you can access its inside at anytime, anywhere.
---
Molekule Air Mini+ Desktop Air Purifier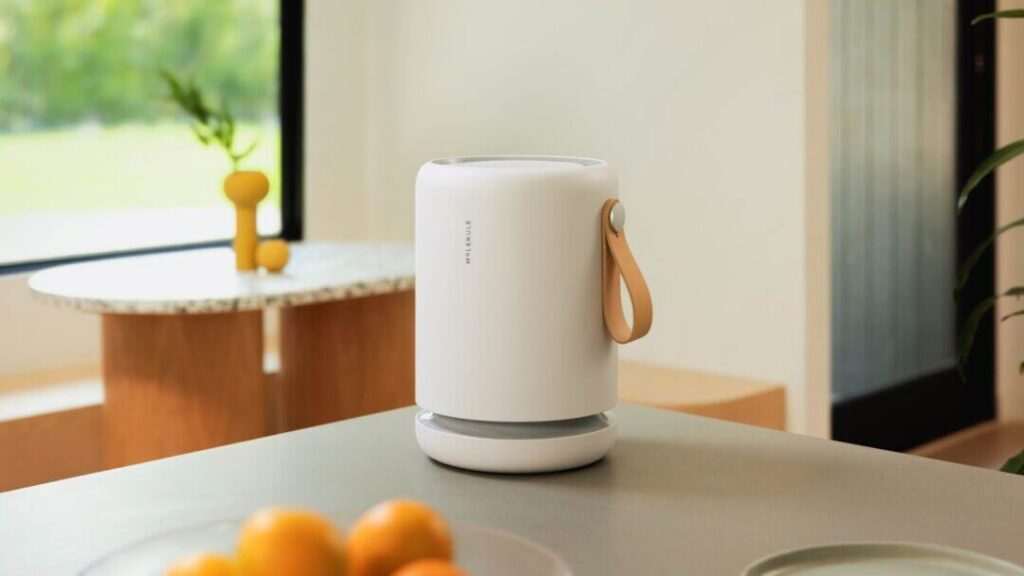 Fresh air is always a recipe for good mood to start your day and Air Mini+ from Molekule can clean the surrounding air while consuming so little space. This compact air purifier utilizes PECO technology and true HEPA filtration to capture and destroy pollutants in small rooms and spaces.
With real-time air quality monitoring and automatic fan speed adjustment, you can trust the Air Mini+ to prioritize your health and well-being. Say goodbye to allergens, chemicals, bacteria, and mold, and breathe in cleaner air as soon as you start to work.
---
Lisen Retractable Multi-Charging Cable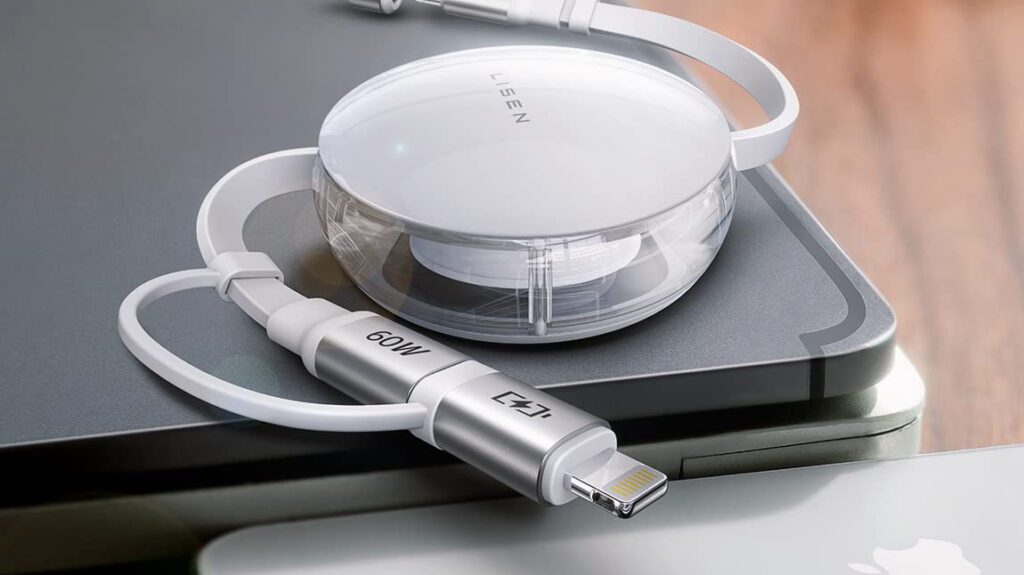 The Lisen retractable USB cord eliminates the need for multiple cables and adapters, reducing clutter in your bag. It features built-in dongles for Android, iPhone, and traditional laptops. With lightning-fast 60-watt charging speeds, you can power up your devices in less than 30 minutes.
This compact, attractive charger fits easily in a purse and makes a great gift for anyone needing a productivity boost. If you are looking for something that can charge various devices, then this is the one that makes sense.
---
ODISTAR Desktop Vacuum Cleaner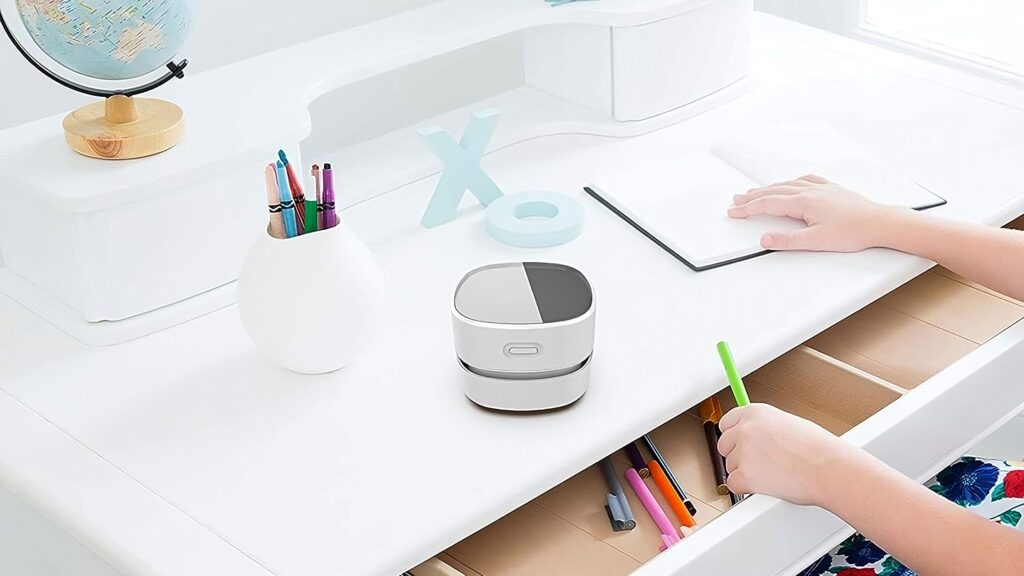 As Jordan Peterson said "Clean up your room!", you can't change the world if you can't take control of your space. The Odistar Desktop Vacuum cleaner is your ultimate tool to keep your workspace spick and span. Compact yet powerful, the vacuum efficiently removes dust, bits of plastic, and even small flakes of metal.
It's highly practical, with amazing suction capabilities, and also takes care of coffee grounds and other minor debris from the table surface. It also offers a rechargeable battery that can be charged either with a simple USB cable or charging pad depending on the model.
---
Novium HoverPen Interstellar Edition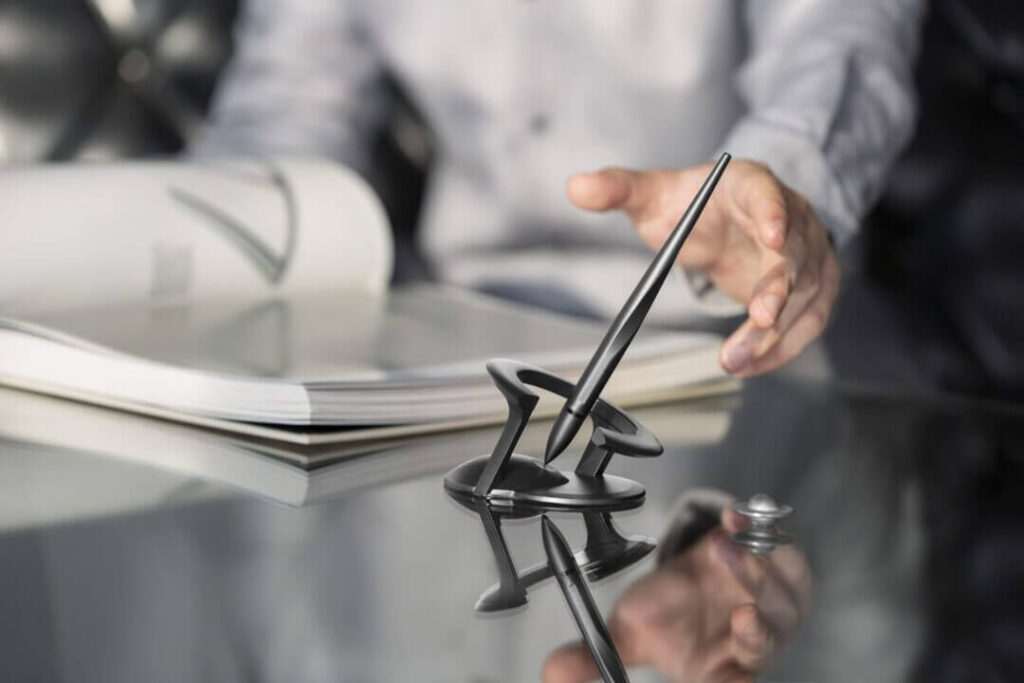 Minimize desk clutter and boost the aesthetics of your workspace with the Novium HoverPen 2.0 Interstellar Edition. This mesmerizing and ultra-fidgetable pen, is inspired by futuristic spacecraft designs, sci-fi themes, and all things cosmos. It levitates above its base magnetically, allowing it to sway and spin when a force is applied.
Crafted from aircraft-grade aluminum and bronze, with a zinc alloy base, this unique accessory isn't merely functional—it's a conversation starter that adds an element of awe to your desktop.
---
Scanmarker Air Digital Pen Scanner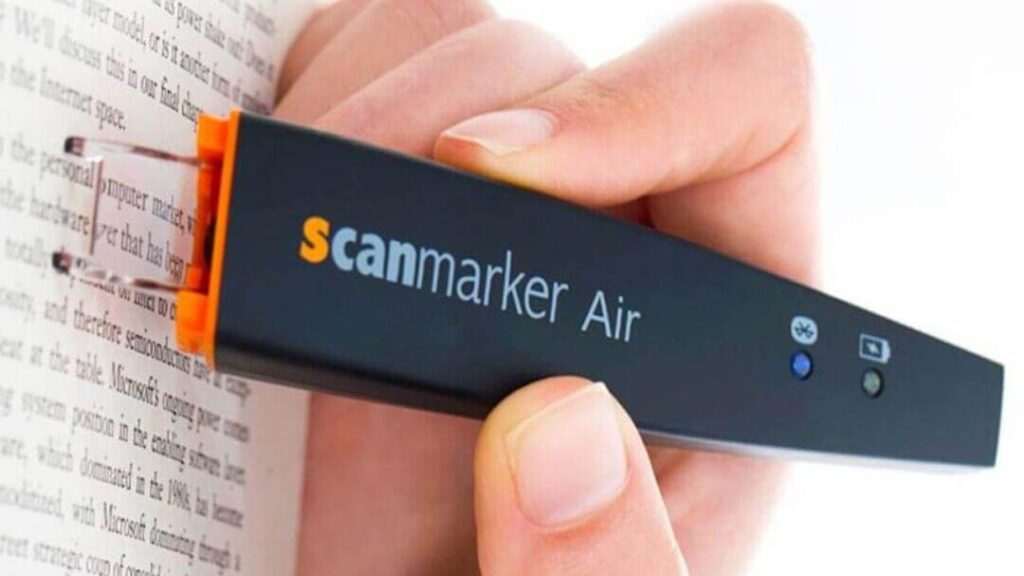 Ready for a game changer in productivity? Meet Scanmarker Air, your ultimate convenience tool that will cut your workload and save time. With this little powerhouse, you can copy text directly from any writing medium to your PC, smartphone, or tablet on various applications.
It can read normal text and even handwritten ones which makes it quite an interesting gadget for students and office workers alike. With the OCR technology, Scanmarker Air can read text with extreme accuracy and translate it to more than 100 languages!
---
Muji Hand-Powered Paper Shredder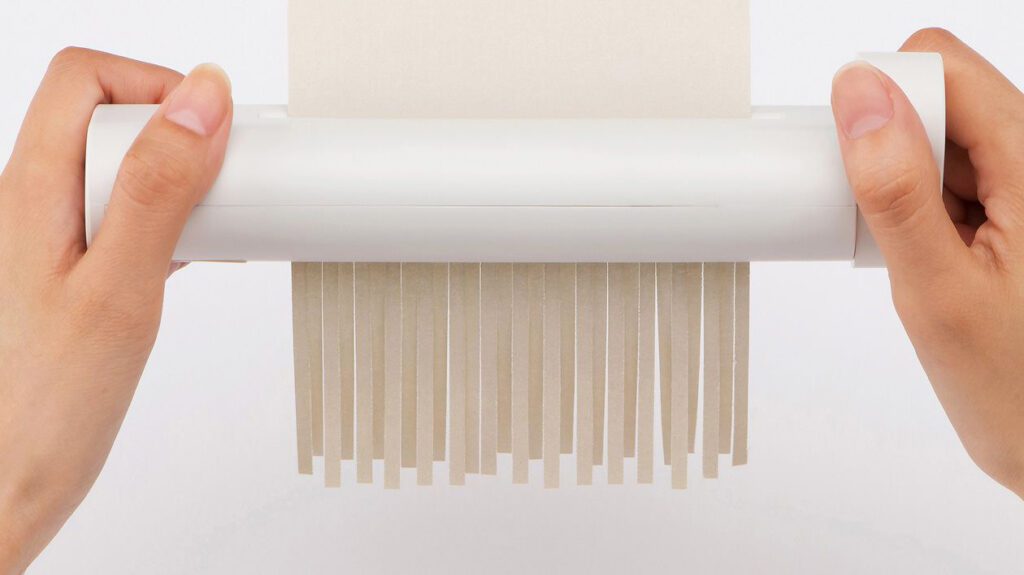 Muji's compact paper shredder is the perfect tool for destroying old bills, bank statements, and any other confidential documents that could aid would-be identity thieves. But what makes this product unique is its electricity-free approach. You will only need to twist the device to start shredding papers.
It's simple, easy to use, and won't take up so much space on your desk. For just $16, this Japan-made product it's a worthwhile investment in the long run.
---
Carpio 2.0 Ergonomic Wrist Rest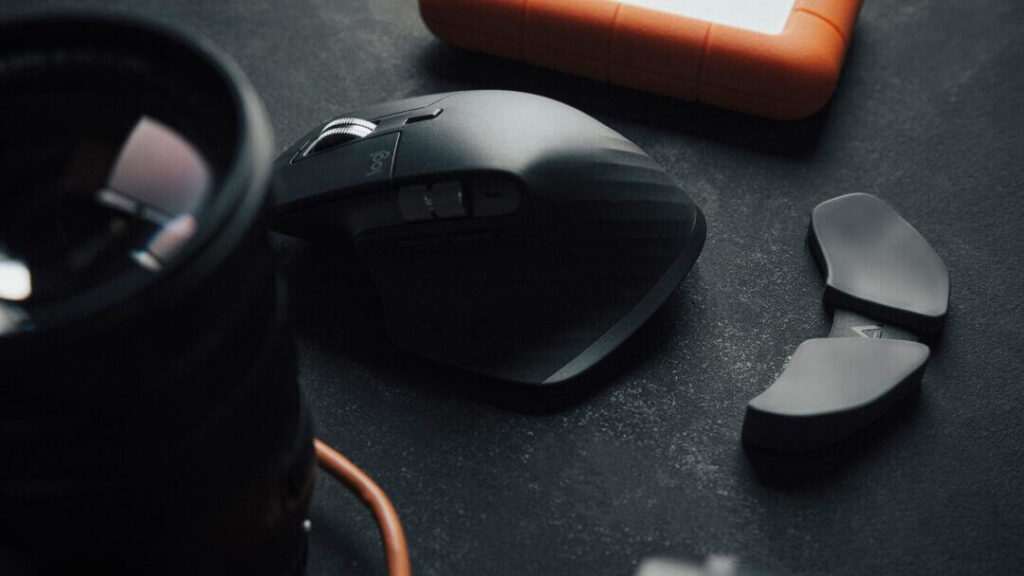 The Carpio 2.0 is a must-have for those invested in desktop productivity. Unlike traditional gel wrist rests that can actually increase the risk of carpal tunnel syndrome, Carpio 2.0 offers a unique design backed by medical experts. With ergonomic silicone pads and PTFE feet, Carpio 2.0 strikes the perfect balance between comfort and stability.
This mouse wrist rest is awesome for both work and gaming, it's designed with comfy cushions on top and a low-profile glide bottom for easy movement. No more wrist braces or carpal tunnel pain, this gadget provides a smooth desktop experience for your right hand.
Luxafor Busy Light Indicator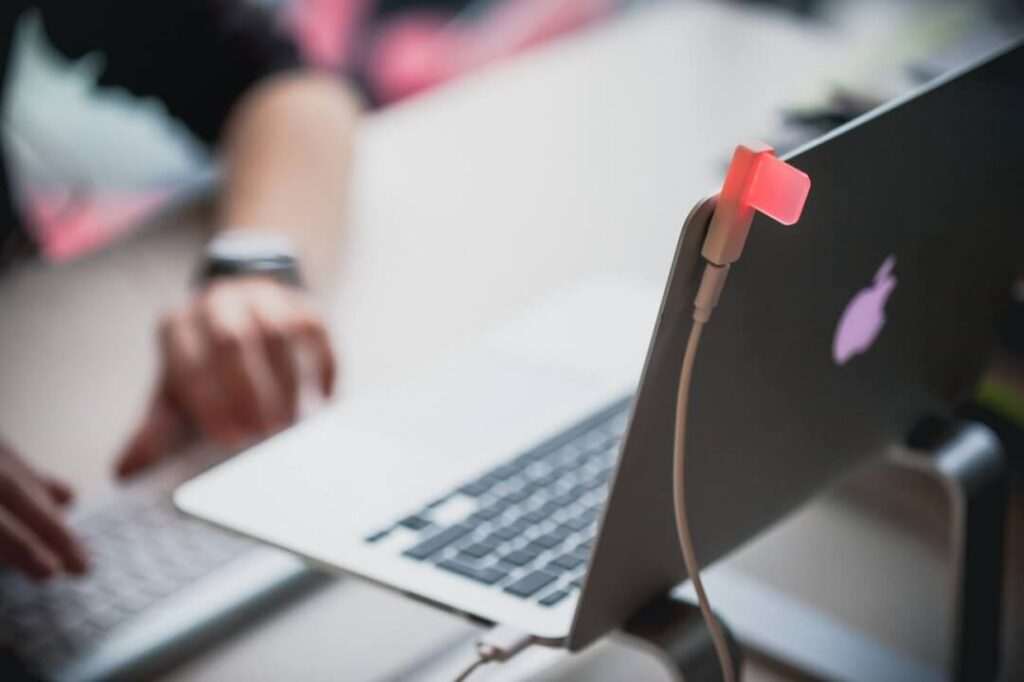 If you want to repel your coworkers away without telling them, then Luxafor Flag is for you. This device attaches easily to any surface with the included magnet. Simply connect it to your computer via the included USB cable and you can start customizing the color depending on your status.
With Luxafor Flag, you can stay focused, stay organized, and stay in control of your workday. Plus, with a 2-year warranty, you can trust in its quality and durability.
---
Wemo Wearable Memo Band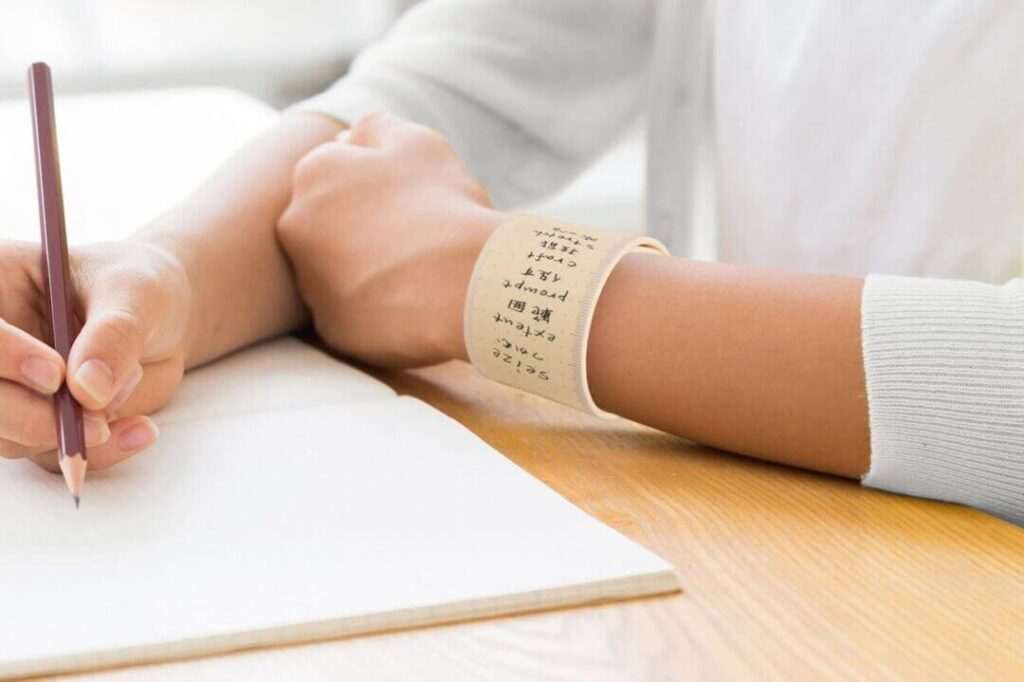 Wemo is a slap bracelet that will revolutionize your daily productivity. Inspired by the need for nurses to take quick notes on the go, this bracelet allows you to write down memos wherever and whenever you need to. Whether it's personal reminders or shopping lists, Wemo has got you covered.
With its reusable design and waterproof feature, you can trust that your notes will stay intact. Available in four stylish colors, this bracelet is the ultimate productivity tool you've been waiting for.
---
This is just one among many listicles that I have created that related to office and stuff. By the way, why don't you check out 5 Best Desktop Robots Companion to Cheer You Up.