Whether you are studying or working from home, we will absolutely need proper lighting to provide a productive environment, especially on our working desks. The same thing can also be said for our bedtime where the light conditions can greatly affect the sleep quality. Today, a good desk lamp can produce an adjustable brightness level and be directed into the area that we need.
A wired-typed desk lamp has limited flexibility since it should be connected to an electric socket every time. Thanks to the battery-operated type of desk lamp that offers us flexibility and portability so it can be used anywhere. Moreover, with a huge battery capacity, you can get enjoy your activity for a longer time.
It can often be tricky to know which desk lamp is suitable for your needs. Here are some of the modern battery-operated desk lamps with long battery life.
#1 DEEPLITE LED Desk Lamp with Flexible Gooseneck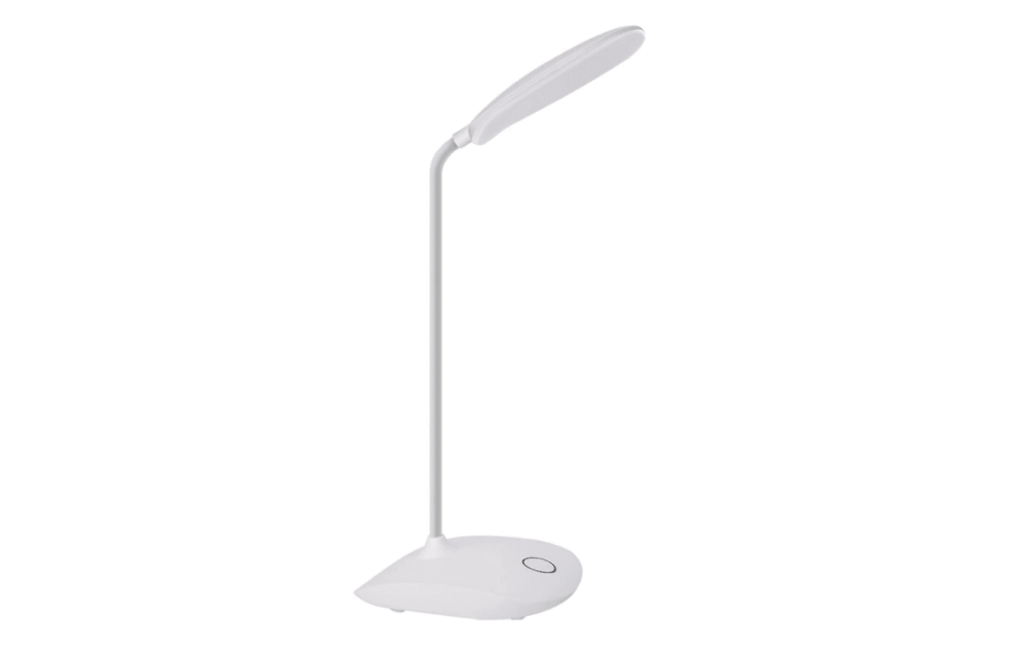 Equipped with an 1800 mAH built-in battery, the Deeplite LED Desk lamp doesn't need to be plugged in when used. With portability in mind, you may place the lamp anywhere. This is proven to be helpful when wall outlets are limited and when the power went out. This lamp has a touch-sensitive control with 3-level of adjustable brightness, perfect for reading, working, studying, or crafting.
Designed with 360° flexibility, the gooseneck lamp allows you to light up and adjust the light directly where you needed. It also can be folded into a small lamp so it won't take up too much space when it is not used and easy to carry on travel.
Equipped with a universal USB charging cable, you can charge this small desk lamp with a USB adapter, power bank, and desktop. This lamp can be used for up to 4-5 hours (high brightness), 6-7 hours (medium brightness), and 7-8 hours (low brightness).
---
#2 DEEPLITE Stepless Dimming Desk Lamp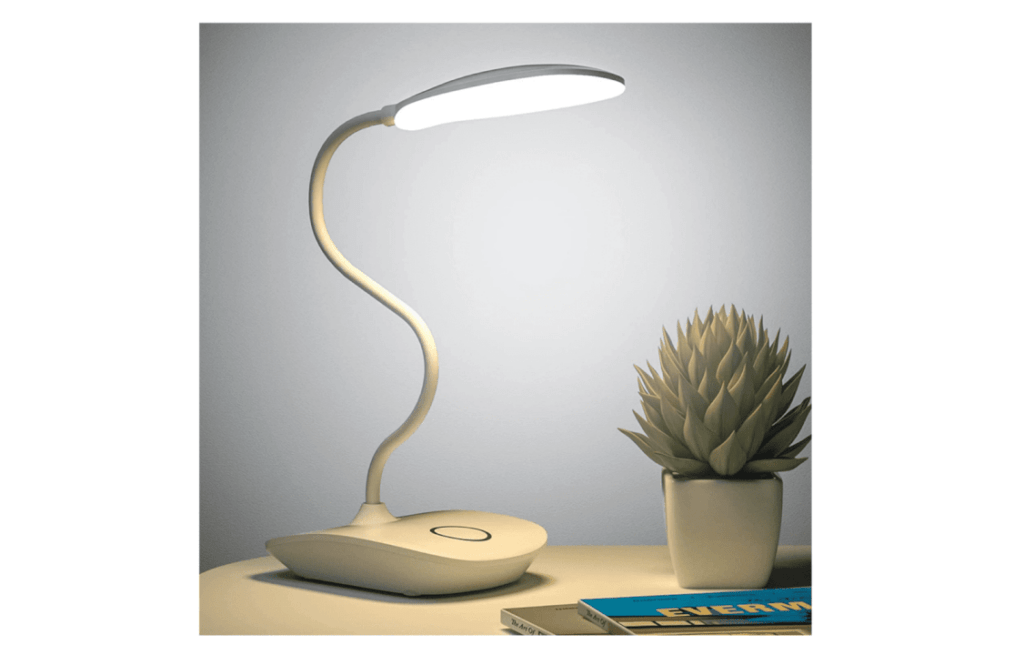 This is another desk lamp product from the Deeplite brand but shipped with more features. Comes in a small size, this desk lamp has a stepless dimming and 3 color temperature adjustments available, which are white light, warm light, and warm white light. The memory function of this mini table lamp will remember the last usage for both color modes and brightness.
This LED lamp is equipped with an 1800 MAH built-in rechargeable battery, that able to be used for up to 4-6 hours at the highest brightness after fully charged. When buying this product, you will get a 4.9 ft (1.5 meters) USB cable that is very handy to charge the lamp with a USB adapter, power bank, USB wall outlet, laptop, or desktop. Lastly, the flexible gooseneck allows users to point the light in any direction effortlessly.
---
#3 COLORLIFE Clip On Reading Light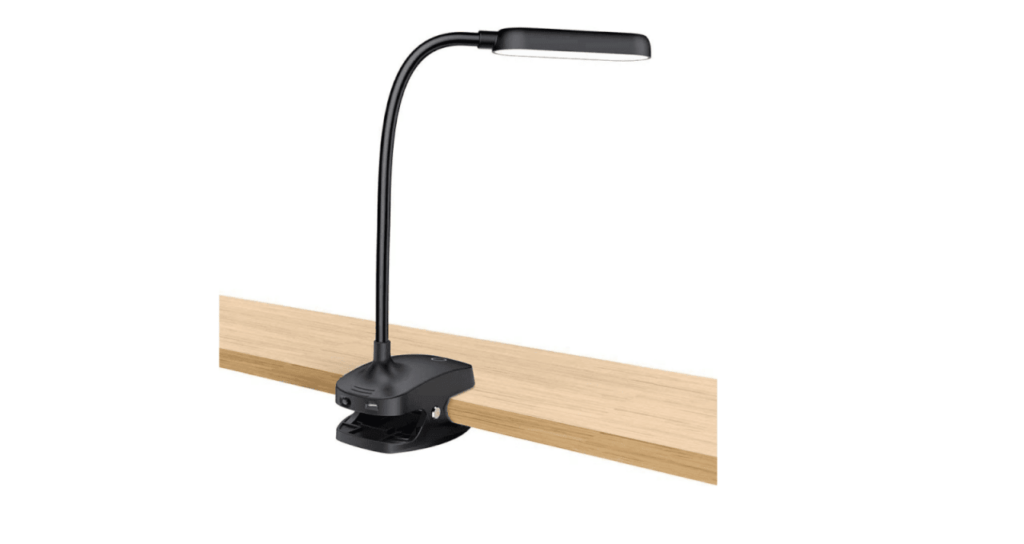 This desk lamp from the Colorlife brand has a 3000 mAH built-in rechargeable with a large battery capacity for up to 5-6 hours on maximum brightness usage. But it can last for up to 100 hours in the lowest setting. You can set the adjustable step-less brightness from 10% to 100%, making it perfect for any activities such as working, reading, and also sleeping. Armed with a wide clip-on clamp, this desk lamp is great to be attached to tables, desks, and beds.
This lamp uses 5500K LED which produces soft lights to reduce eye strain, protect your vision, and reduce eye fatigue. Its flexible gooseneck made of premium aluminum alloy wrapped by smooth silicone allows you to adjust your lamp with ease and direct the light wherever you want.
---
#4 MOICO Eye-caring LED Desk Lamp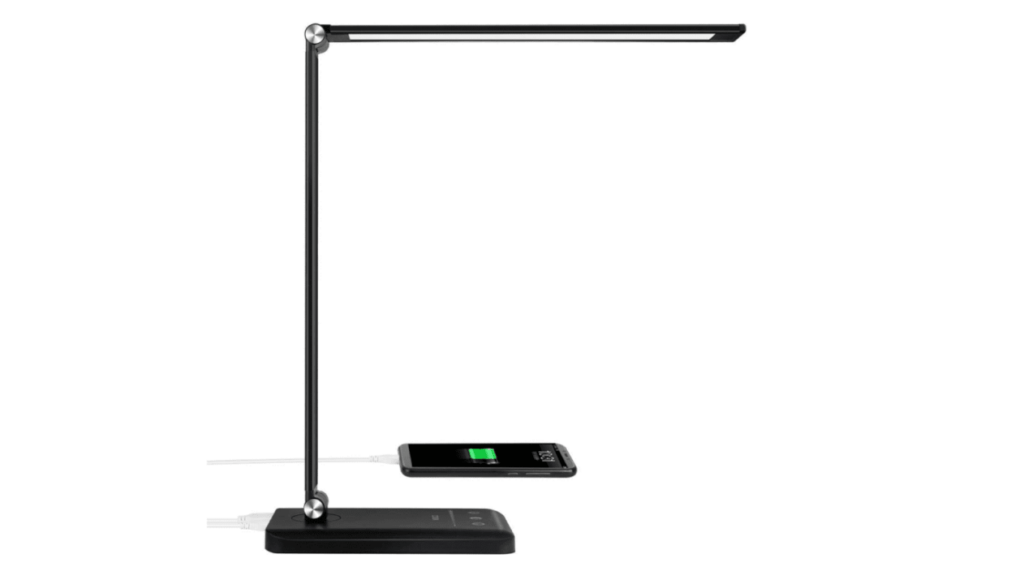 MOICO Led desk lamp is made of 52 pieces of energy-efficient LEDs, low power consumption, with a lifespan of up to 50,000 hours. Designed to produce soft, non-flickering, and no glare light, this lamp can effectively relieve eye fatigue to protect your eyes. This way, you can expect to work longer and feel fresher than using a traditional lamp. This office desk lamp features 5 color modes with 5 adjustable brightness levels, allowing you to find the best setting to meet your needs.
Built with a rechargeable 3000mAh battery, this lamp could last for about 48 hours on minimum brightness and last about 4 hours on maximum brightness before it needs to be recharged. This lamp can be quickly charged using USB in just 4 hours.
Its adjustable head can be rotated 180° up and down while the base can be rotated 90°. You can point and shine a light to wherever spot you want. Since it has a foldable design, you can take it around easily without space constraints.
---
#5 ONE FIRE LED Desk Lamp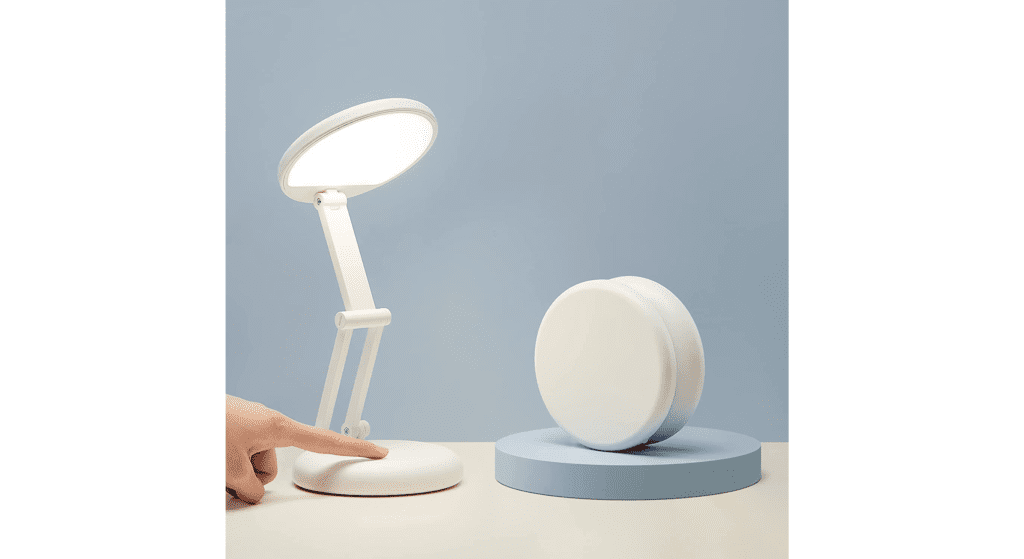 This One Fire LED is a dimmable desk lamp that is able to shine flicker-free and non-glare desk lights. You can adjust the brightness level for any activities such as studying, working, and sleeping. This portable lamp has a small size and foldable unique design. When it is folded, it becomes a tiny "cookie" shape, which can be tucked into your bag.
Powered with a 2400mAh built-in rechargeable battery, this lamp supports up to 6 hours of usage in maximum brightness, 8 hours in medium, and 68 hours in the low brightness level. It also has a light memory, which returns to the last use mode after shutdown. This product come from the One Fire brand with a 12-month warranty period.
---
#6 BASEUS Under Cabinet LED Desk Lamp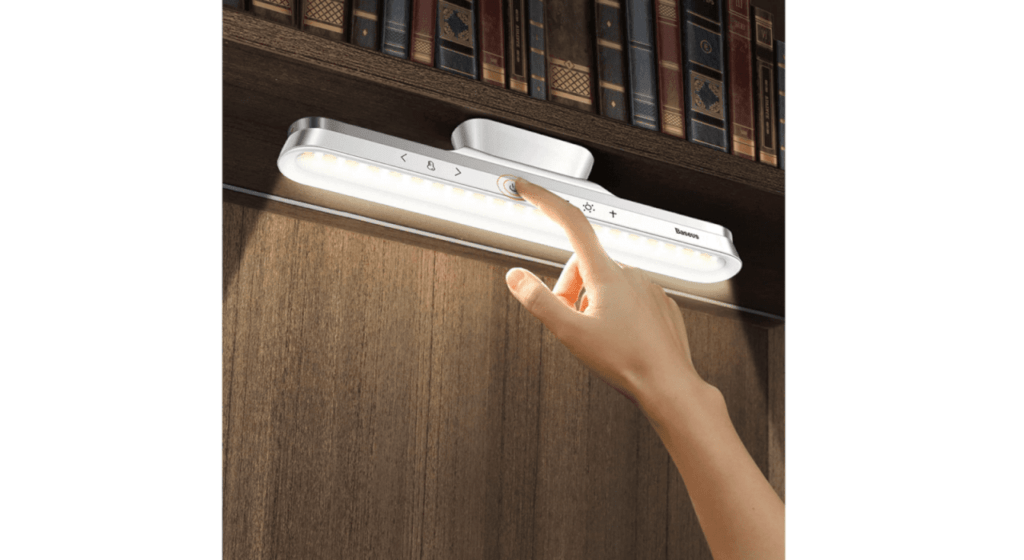 This Desk Lamp from the Baseus brand comes with not only an adjustable brightness level but also a color temperature feature. It has 42 pieces of built-in Energy saving LED that have passed the EU Blue Light RGO Test. Meaning it can produce light with no blue light hazard and no visible strobing, making your eyes healthier and more comfortable.
Comes with a built-in magnet, It can be attached to an iron surface. It also can be attached to a mirror, closet, stairs, or cabinet as a fill light. The lamp has a rechargeable 1800mAh battery that can be used for 4-24 hours depending on the brightness level.
---
#7 MAYTHANK Rechargeable LED Desk Lamp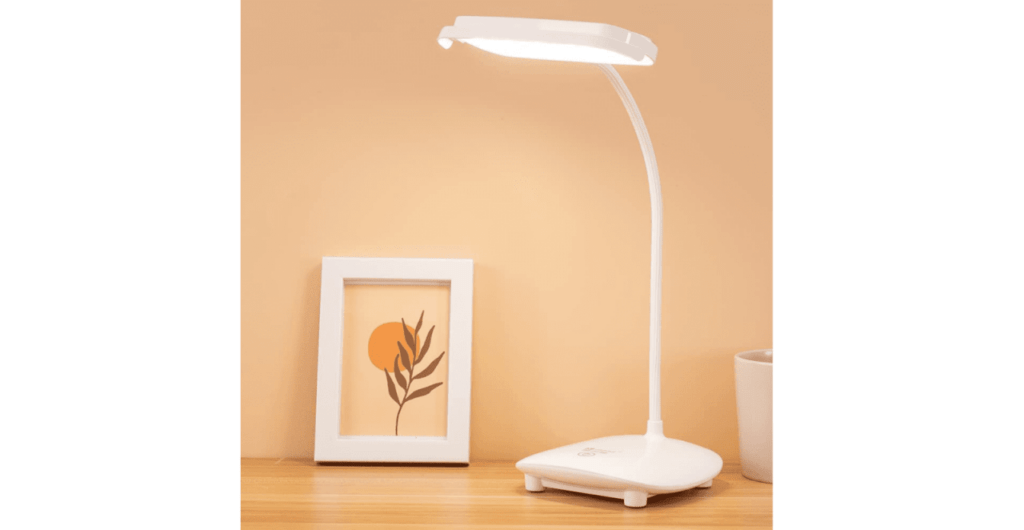 This portable lamp comes with 2pcs of 3200 mAH rechargeable batteries with a USB charging port. It has a touch sensor control with 3 adjustable light colors and 6 adjustable brightness levels. You can choose between cool white, warm white, natural daylight, and other more wonderful light settings.
Boasts with a memory function, the lamp will remember the last brightness setting of each light mode. That way, you do not need to set the lamp each time. This lamp can stand on the bed, desk, table, or bedroom nightstand headboard. Maythank uses 40 pieces of eye-caring LED, with a flicker-free, no dizzy light, and blue light filter to produce healthier illumination for reading a book, studying, and doing office work.
---
Choosing the best lamp sometimes can be a difficult thing because there are so many types and brands on the market right now. It will also depend on your needs, budget, style, and battery capacity. Some desk lamps may seem more expensive than others, but they may have longer battery life and interesting additional features.