Are you a fieldworker that frequently accessed data? Do you need portable storage that can stand in such an outdoor environment? Or maybe you just want to have a tough hard drive? Let's welcome the rugged portable hard drive and SSD.
These rugged external file storage offers some level of drop-proof, dust-proof, and may also be waterproof. They will easily survive during outdoor use with so much dust, spills, knocks, and bumps. Some of them even have military or aircraft-grade protection that is enough to survive in the worst conditions.
Whether you are a photographer, videographer, or engineer, these rugged hard drives can provide ultimate protection to your important files from accidents. Here are some of our recommendations you can obtain today.
#1 ADATA HD710 1TB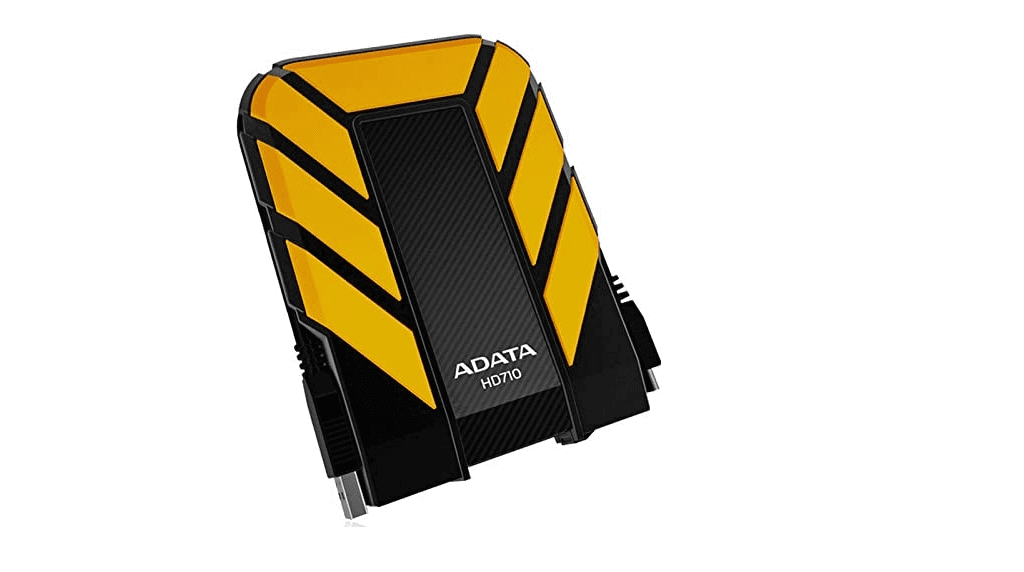 Designed for outdoor people who want rugged devices to record their adventures and then carry their data, the ADATA HD710 may be the most eye-catching rugged drive on this list. It has three primary layers of protection, from tough silicone, a shock-absorbing buffer, and then the tough plastic shell to hold the drive firmly in place. This drive complies with the military-grade standard for waterproof and shockproof construction. It can withstand being submerged in up to 2 meters of water for up to 60 minutes, and MIL-STD-810G 516.5 drop test from 1.5 meters.
This ADATA drive comes with a 1 TB storage capacity, USB 1.1 hard disk interface, and 5400 RPM disk speed. It also has a blue LED indicator light and USB 3.0 technology. HD710 is your best companion in keeping data and files safe whether you go diving, hiking, biking, or simply taking a stroll.
---
#2 Lacie Rugged Mini Portable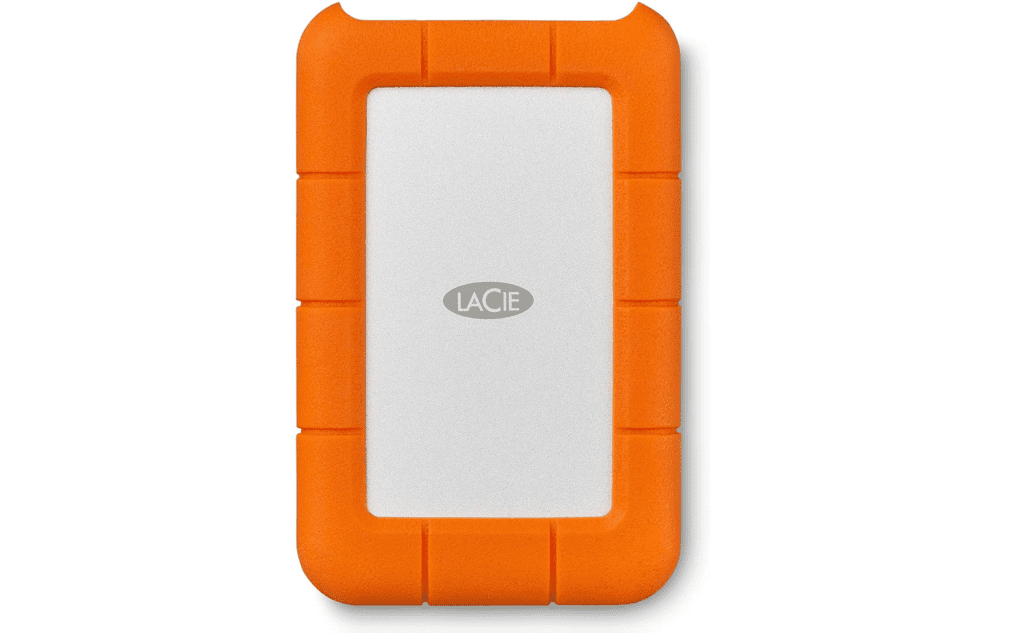 The LaCie Rugged Mini offers an external hard drive that suits almost everyone. For students or office workers, this hard drive is able to store any data and documents on a secure device that fits in a backpack. Its small form factor and toughness make this product perfect for use in the field and outdoors. Plus, its USB 3.0 technology ensures file transfer is done quickly.
Lacie claims that this device is drop proof, rainproof, dustproof, and also crush-resistant. Comes in 1, 2, 4, and 5 TB capacity, the rugged technology is engineered with high capacity and high-speed performance. The LaCie Toolkit software offers one-click and scheduled automatic backups. You may also perform folder syncing across multiple devices.
---
#3 Silicon Power A66 5TB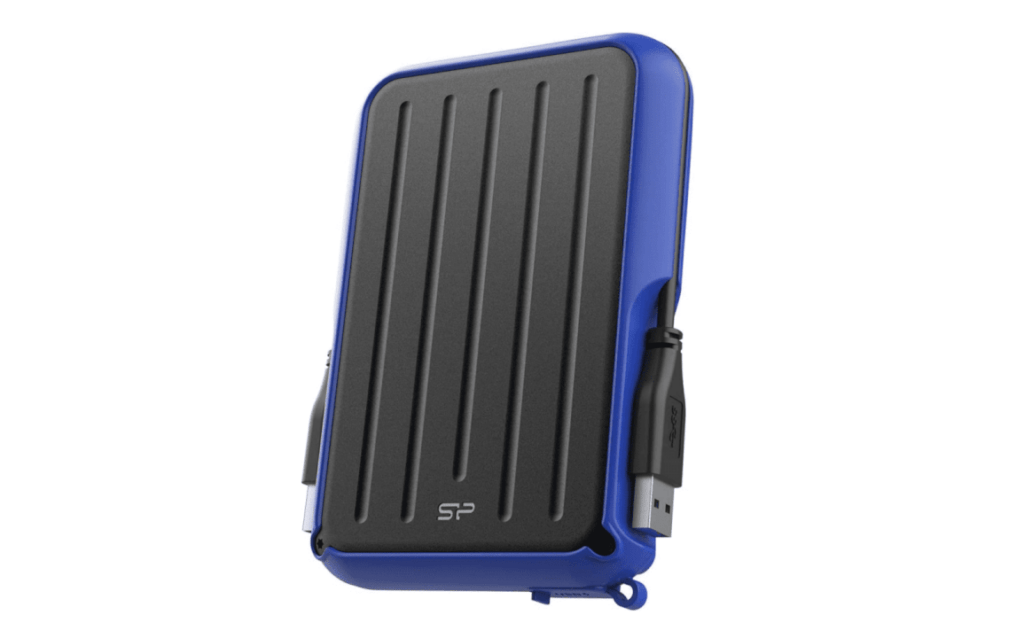 The first thing that you will always remember from this external hard drive is its big size, the 5TB storage capacity. If you are looking for the smaller one, there are also 1, 2, and 4 TB storage capacity variants. It is ideal for any data transfer usage between your devices. Not only comes with military-grade shockproof standards, but this Silicon Power product also has the IPX4 water-resistant protection rating (not immersible).
Comes with the USB 3.2 Gen 1 interface, this device is also compatible with USB 3.0/ USB 2.0. Even though it doesn't come with any software, The Silicon Power A66 has a flexible cable-carry design with an innovative slot for simple cable carrying and storing. If you are interested, you will get a 3-year warranty after buying this.
---
#4 SanDisk Professional 4TB G-DRIVE ArmorATD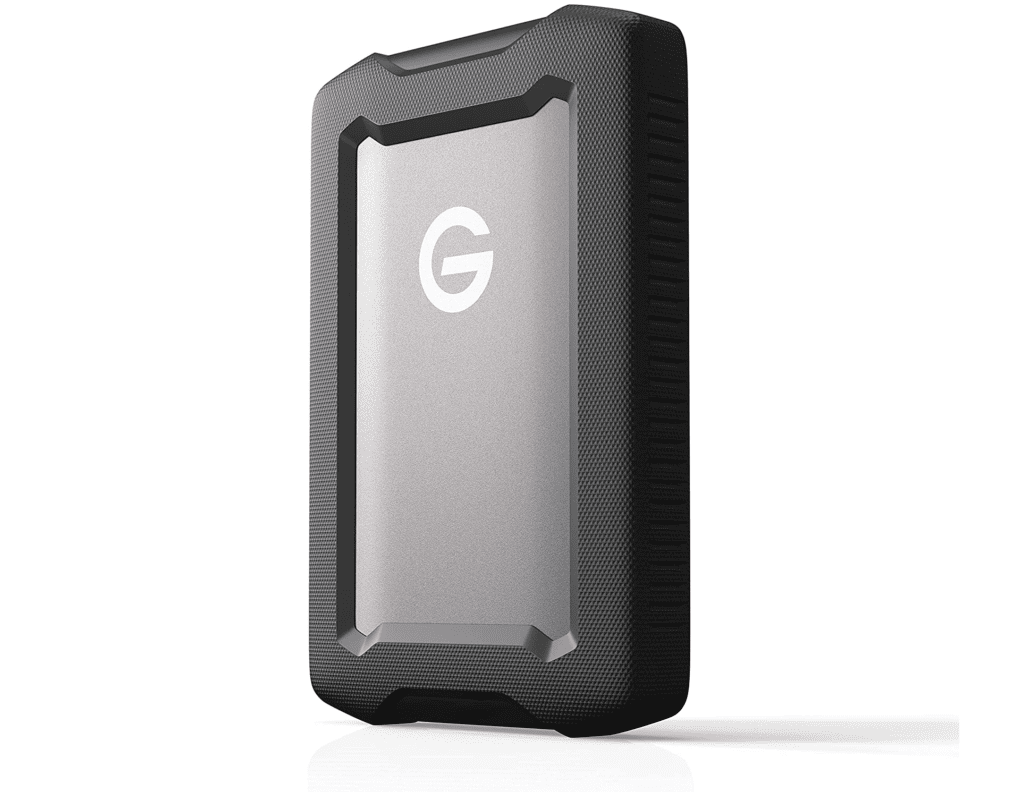 SanDisk Professional is a well-known data storage brand that ensures your data is safe. The G-Technology ArmorATD offers several layers of physical protection and provides reliable plug-and-play technology. Using the USB-C type connection with 5 Gbps of speed, this drive is ready for a quick backup and storage solution. It is also compatible with Thunderbolt 3.
The premium, anodized aluminum enclosure with internal shock mounts provides strong protection that you can feel just by touching them with your hand. This is also supported by its easy-grip bumper for pro-grade durability that you can trust. With an IP54 rating for rain and dust protection and crush resistance up to 1000lbs, you will not have to worry about your critical files.
---
#5 ADATA SE800 1TB IP68 Rugged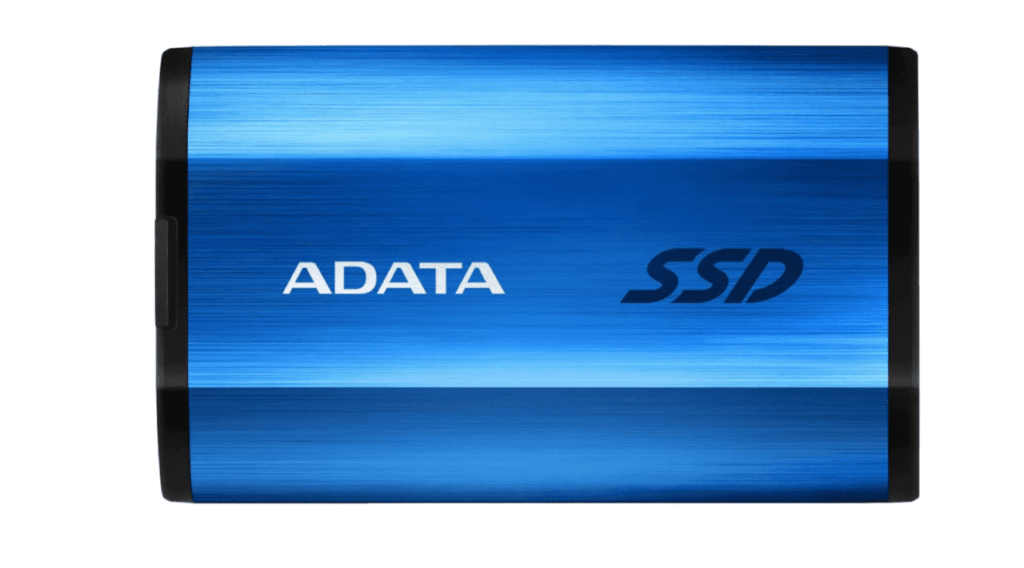 This external rugged SSD has the ability of superfast read or writes speed for up to 1000 MB/s, making data transfer incredibly quick. ADATA offers this SSD with an IP68 rating for waterproof, dustproof, and drop-proof resistance. It comes with a USB 3.2 Gen 2 Type-C interface.
There are two color variants which are black and blue. Comes with a hairline-brushed metal surface, making it appear elegant. With the compact and lightweight build, the SSD can easily fit your pocket. ADATA SE800 is compatible with Windows, Mac OS, and Android.
---
#6 SAMSUNG T7 Shield Portable SSD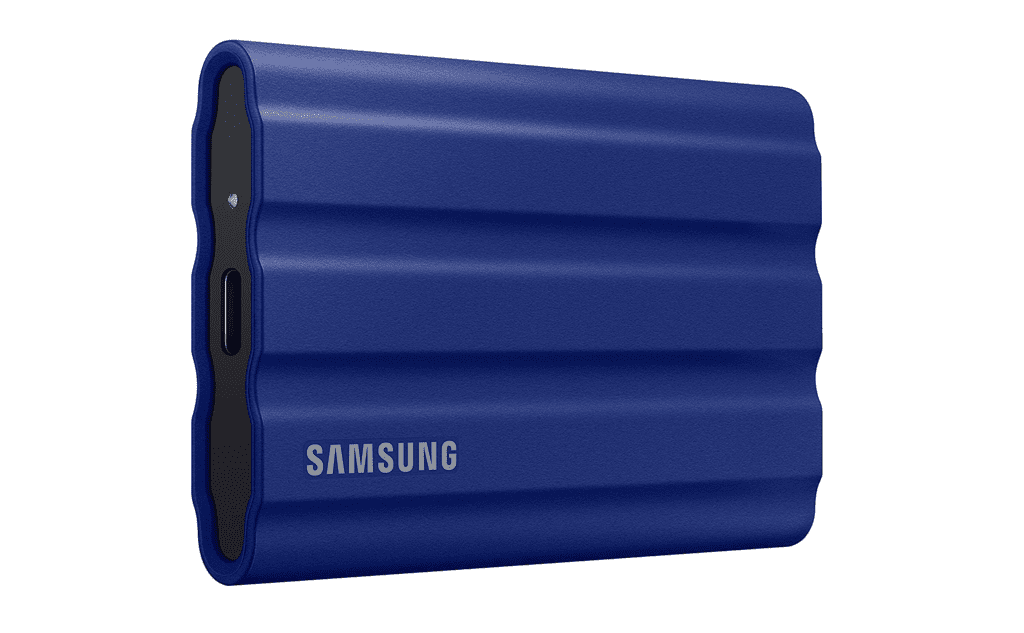 This portable rugged SSD from Samsung is tough, fast, and compact. It is built with an IP65 rating for dust and water resistance features. With this SSD, you can transfer massive files in seconds using the USB 3.2 Gen 2 and PCIe NVMe. It provides read/write speeds for up to 1,050/1,000 MB/s. You can choose the capacity between 1 TB or 2 TB and with various colors as well.
The rugged design and advanced outer elastomer add extra durability that makes this device can endure a 9.8-foot drop. The Samsung T7 shield is compatible with PC, Mac, and Android devices. The high-tech rubber exterior with Dynamic Thermal Guard controls heat is used to maintain steady performance even for giant projects.
---
#7 Buffalo MiniStation Extreme NFC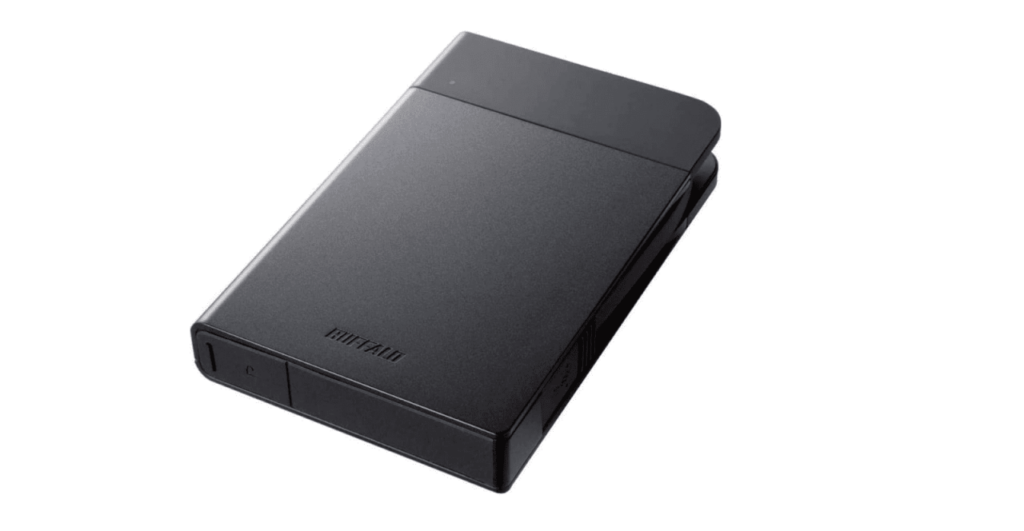 This Buffalo MiniStation Extreme NFC is external file storage with a 1 TB or 2 TB capacity variant and is using USB 3.0 interface. This storage is quite flexible and comes with a rugged case that is dust and water-resistant. Using specialized internal bumpers, it will be able to absorb and transfer shock away from the hard disk. Besides its protection feature, it has 256-bit AES security and NFC (Near Field Communication) features.
The Built-in NFC technology allows users to unlock and access files on the hard drive using the included smartcard without having to remember a password. Buffalo claims that this product has a U.S. military standard spec. With its integrated wrap-around USB cable, you will never lose your cable again.
---
#8 Transcend StoreJet 25M3S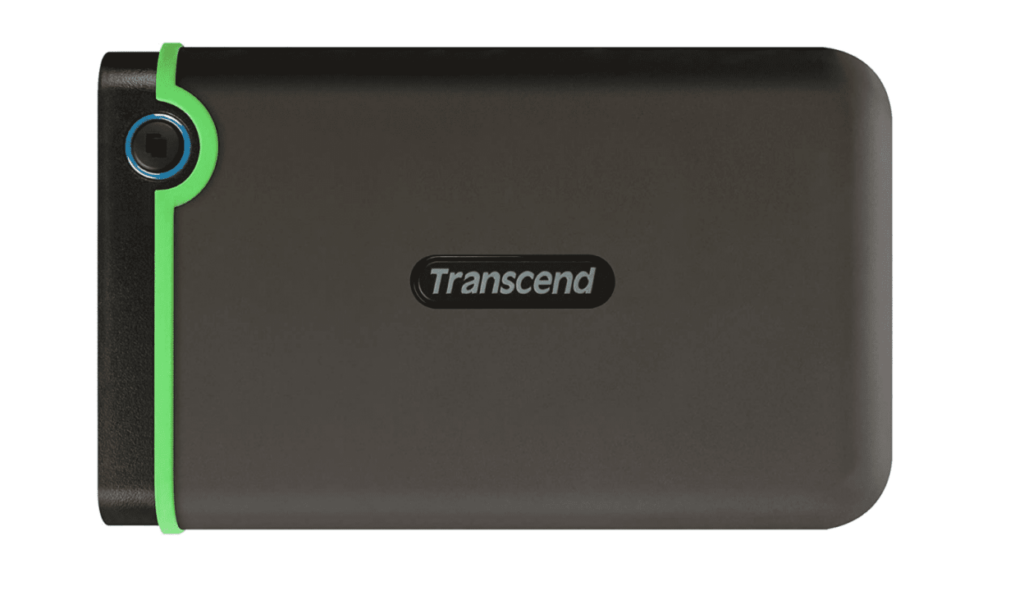 The Transcend StoreJet 25M3S external hard drive is equipped with the USB 3.1 Gen 1 interface with the support of UASP (USB Attached SCSI Protocol), providing ultra-fast transfer rates for up to 5Gbps. It has three-stage shock protection systems that comply with the US military drop test standards. These protection stages include a silicone rubber case, an internal shock-absorbing suspension damper, and a reinforced hard casing.
Transcend offers you two color options: iron gray and military green. This external hard drive is provided with a one-touch auto-backup button that instantly backs up your data with just one press. The button also enables you to reconnect the hard drive to your PC without the need to unplug and reinsert it. Plus, you will get the Transcend Elite apps, an advanced data management software that keeps important files organized, protected, and up-to-date.
---
Buying a rugged drive needs a lot of decision points you'd face. You have to know what kind of interface type you will use, the USB technology version, the removable or fixed enclosure feature, and also the storage type, SSD, or hard drive.
As you know, the SSD-type of external drive storage is more expensive than the regular hard drive. Since SSDs don't have moving parts, they're more reliable and more shock-resistant than traditional hard drives. They're also more resistant to common drops, accidents, and wear and tear because they don't have the small, damage-susceptible parts of traditional hard drives.