As its name suggests, a keychain USB cable refers to a mini USB cable that can fit into your keyrings or keychain. This type of cable is usually short in length, lightweight, and easy to carry anywhere. It is a recommended product for you who have mobile activity and avoid bulky and tangled cables.
Some brands offer this keychain USB cable in different shapes and designs. You can find that some products are also equipped with additional features and accessories to make them more functional. Some products are more focused on portability, which makes them simple and easy to bring.
Here are some recommendations for the best keychain USB cables to support your daily activity.
#1 Lever Gear CableKit Portable 2-in-1 Keychain Charger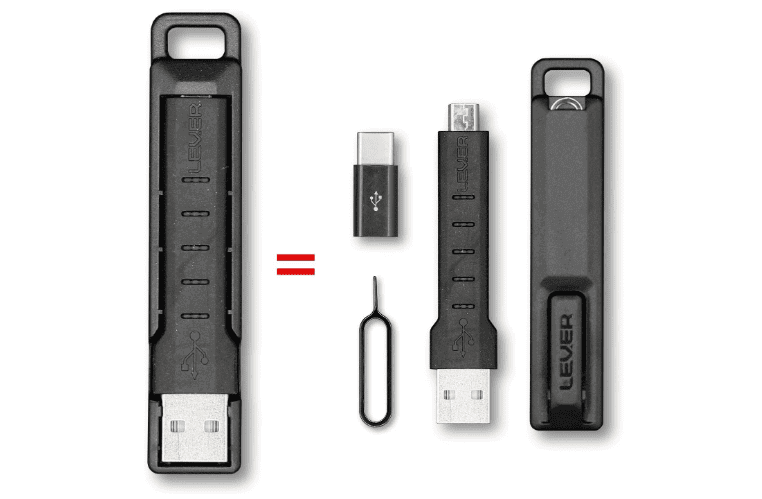 The Lever Gear CableKit is an ultra-portable USB cable with an accessories kit for your phone and other electronic devices. Comes in a length of 3.15 inches (8 cm), it includes a short USB charging and data cable, an adapter, and SIM card tool removal. It has a protective carry case that holds all features together in a little compact package that can be attached to a keyring or clipped into your bag.
Using this cable, you can connect your mobile devices to your computer to quickly sync files and charge simultaneously. It also enables you to charge your gadgets using any USB A power source such as a power bank, car USB port, or wall adapter. The cable is compatible with the fast charging feature.
The unibody cable design eliminates the junction between the cable and connector where most cables break. The TPE cable is flexible enough to bend in half yet tough enough never to tear. This Mini USB cable keyring charger won't get tangled in your bag and will stay in place.
---
#2 Native Union Key Cable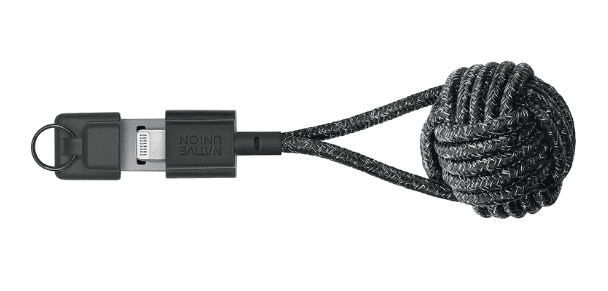 This Native Union Key Cable is a durable lightning cable with an ultra-strong reinforced structure for ultimate strength. It has 7.76 inches (19.7 cm) in length with high-speed charging of up to 2.4 A. This cable has an O-Flex strain relief design at its connector joint, offering controlled flexibility to absorb double stress than a regular strain relief. It is claimed to have more than 10,000 bend lifespans, making it 6 times stronger than other standard lightning cables.
With reinforced braiding and a statement knot design, this cable is ready to level up your charging experience for your iPhones, iPads, and AirPods. Comes in a 2-in-1 charging cable and keychain design, it is a cable solution that accompanies you wherever you go. With an authentic modern essential finish, it gives you stylish cable in timeless form. This keychain cable with concealed connectors means you always have your cable with you to charge and sync your device from any USB power outlet. The Native Union Key Cable is already MFi certified and crafted with a reinforced nylon construction, making it a durable braided cable with a great feel and look.
---
#3 Scosche ClipSync Portable Type-C Keychain Charger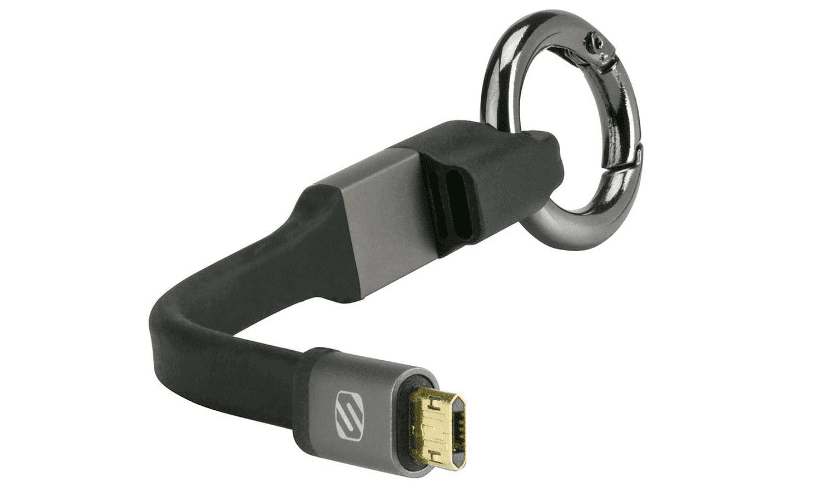 Scosche has produced high-quality and affordable cables and other accessories for about 40 years. Comes with an ultra-compact design, this cable is fit on your keychain, backpack, or luggage, so you will never be stranded without a cable again. It works with all computer and smartphone devices for all transfer and charging needs.
Scosche utilizes a new symmetrical connector that allows users to conveniently insert the charge and sync cable either side up without the hassle of finding the right side. This cable is 6.89 inches (17.5 cm) in length with two different outputs: lightning and USB. Included with a carabiner, it is easy to take the cable to the office, travel, or school.
---
#4 Tera Grand Certified Keychain Lightning Cable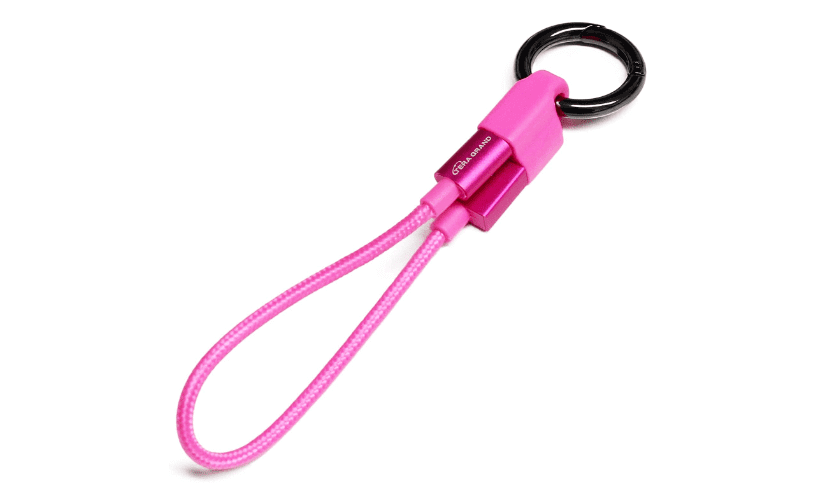 The Tera Grand cable is an Apple MFi-certified lightning braided cable. It is built with a genuine lightning connector from Apple with aluminum housings on both ends. It has a reversible design on an Apple 8-pin Lightning connector. Comes with 6.89 inches (17.5 cm) in length, this short travel-sized cable is equipped with a keychain attachment and is a perfect travel companion. You can attach it to your car keys, backpack, or purse so that you always have a charging cord available with you.
This cable supports fast charging technology with a 2.4 A maximum rating. It can charge iPod, iPhone, or iPad with a lightning connector and syncs with your computer through the available USB port. Since it comes with a simple and short length, this product is tangled-free and easy to carry. Plus, it uses high-quality nylon fiber materials providing outstanding durability and flexibility.
---
#5 Rolling Square inCharge 6 Portable Keychain Charger Cable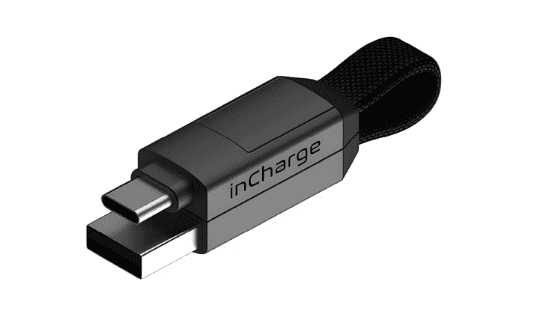 The inCharge 6 cable is a universal keychain mobile cable that offers three port connections: lightning, USB-C, and micro USB. It features both charge and sync functionality which means you can quickly transfer data from mobile devices to computers while charging. Comes with a length of 3.58 inches (9 cm), this cable allows you to quickly and easily transfer power from one phone to another. It is compatible with every device with the same output port as this cable.
This universal cable cord's patented design has a 6-in-1 multi-function. You can use it to connect USB to USB-C, USB to Lightning, USB to Micro USB, USB-C to USB-C, USB-C to Lightning, and USB-C to Micro USB. The inCharge 6 cable is lightweight, portable, and easy to use. Its magnetic design lets you snap the heads together easily and hang it on your keyring. Made of high-quality materials, this multifunctional USB keychain cable features durable zinc-aluminum alloy metal housing, a TPU cable guard, and 90 braided copper wires along the interior. It is a must-have tech gadget.
---
#6 Chafon Multi Charging Cable Short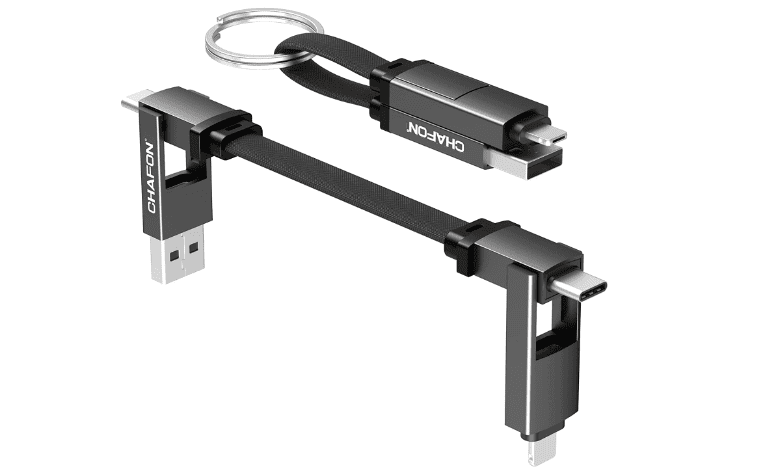 This universal cable has 3.74 inches (9.5 cm) in length with five different types of cable inputs and outputs, which are: USB A and USB C (inputs) and micro USB, USB C, and lighting (output). You can choose one of these available combinations to charge any device quickly. Equipped with a magnetic attachment feature, it easily snaps the heads together and hangs them on your keyring. Made from a zinc alloy case and black nylon high elasticity cloth, its durability, connectivity, compatibility, and performance are guaranteed.
Chafon cable has an output power rating of up to 20 V 3 A with 60 W fast charging, which is high-speed and safe to use for charging. Each interface supports data transfer at up to 480 Mbps from your device to your PC or laptop while charging.
---
#7 Rolling Square inCharge X Portable Keychain Charger Cable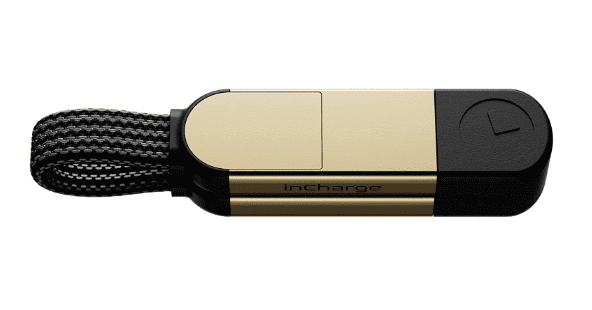 Comes with a unique design of 3.74 inches (9.5 cm) in length, this universal cable connector has 6 different types of inputs and outputs. It offers all the connectivity possibilities you will need for today's connection ports. There are USB to USB-C, USB to Lightning, USB to Micro USB, USB-C to USB-C, USB-C to Lightning, and USB-C to Micro USB. This multi-function cable can be used to charge any device from any power source, data transfer, and features ultra-fast charging of up to 100W and Apple's fast charging of up to 18W. This cable is lightweight, portable, and easy to use. The magnetic design allows you to snap the heads together and hang them on your keyring.
inCharge X cable can transform your USB-C phone or tablet into a convenient power source when no charging ports are available. This cable can even charge laptops and tablets thanks to the proprietary chip. Made of high-quality materials, this cable features durable zinc-aluminum alloy metal housing, a TPU cable guard, and 200 braided copper wires along the interior, making it ultra tough.
---